Extending broadband's reach
Friday, November 1, 2019
Whitacre studies the impact of bringing high-speed internet access to rural America
Once upon a time — early in the 20th century, actually — electricity was a new thing, limited to large cities. It took time, money and a lot of work to bring electrical power to rural America.
Today, that history is repeating itself with highspeed internet access.
"Electricity fundamentally changed rural America, and in the 21st century, researchers and policymakers understand the so-called digital divide is similarly important with repercussions for quality of life and economic development," said Dr. Brian Whitacre, holder of the Sarkeys Distinguished Professorship in Agricultural Economics with Oklahoma State University's Division of Agricultural Sciences and Natural Resources.
Broadband access contributes to many quality-of-life factors, including business location decisions as well as residential ones, research finds. While today's goal is to provide broadband to all, defined as internet speeds of at least 25 megabytes per second by the Federal Communications Commission, bringing broadband to sparsely populated rural areas isn't cheap.
Research conducted by a number of scientists, including Whitacre himself, has shown providers that service rural locations tend to focus on the number of houses in an area, with some consideration for education and income levels but with less emphasis on other characteristics.
"This makes sense in that broadband service providers can spread more of their initial fixed costs over a greater number of customers and may cater to households more likely to subscribe to their services given the well-established link between broadband adoption to education and income levels," Whitacre said.
Bottom line: It is more cost-effective to focus on customers per mile than miles per customer, which was a major issue of rural electrification back in the day. But that issue was solved. Whitacre believes the digital divide in rural America can be overcome as well, and he is working to do so.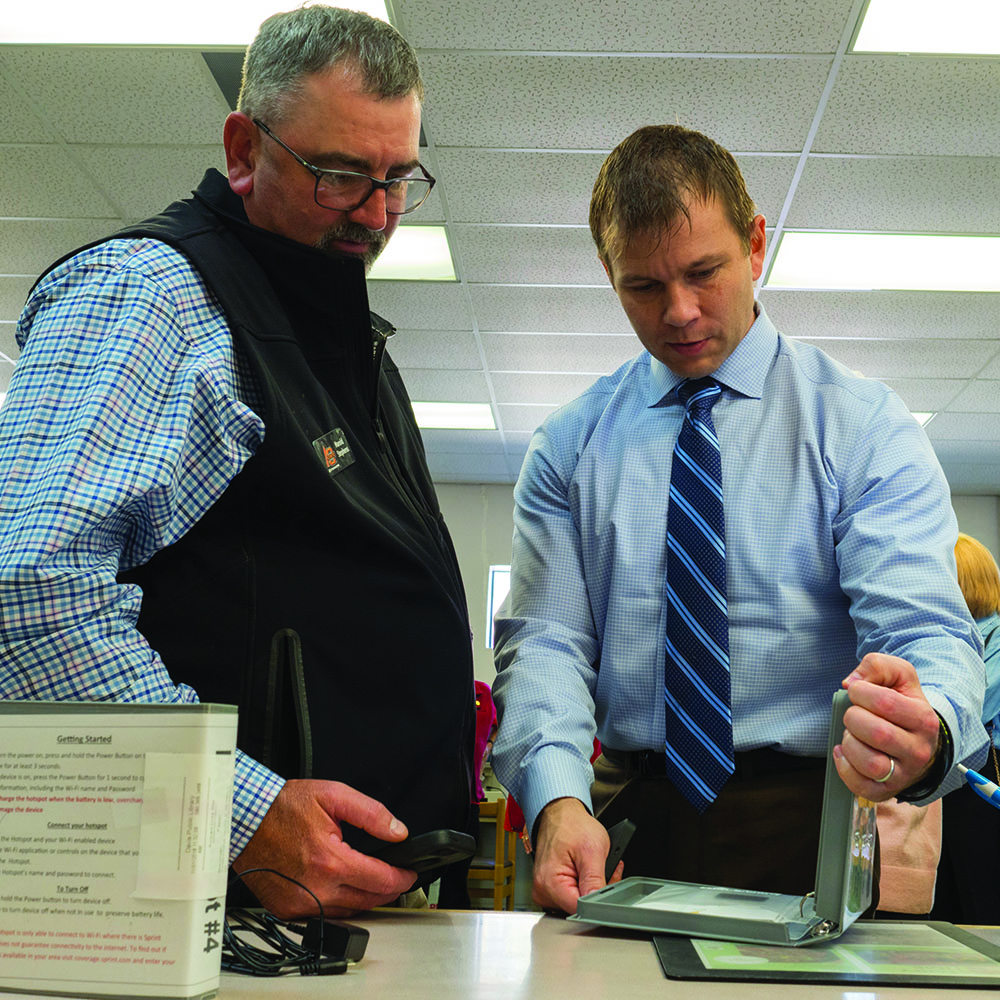 Studying the numbers
In 2019, Whitacre and fellow researcher Steven Deller of the University of Wisconsin's Center for Community and Economic Development published the results of their study on the effect of broadband availability on rural housing values.
"We found a positive and statistically significant impact, with the positive relationship holding across five of the seven internet speed categories considered," Whitacre said. "We weren't surprised to see the relationship disappear for very high speeds of 250 megabytes per second or greater, which have only recently become a factor in the marketplace."
Does that mean your own house in the country is more valuable if broadband is available? Not necessarily. But in terms of governmental investment for such an expansion, higher home values — and higher property tax revenues — could offset some of that cost.
"Our analysis suggests that after broadband arrives in a rural community, resale values in future years will increase modestly," Whitacre said. "Our main findings can be used to assess increases in property tax collections over several years that might result from broadband investments."
Essential services
Internet connectivity is also vital in today's health care. As the usage of electronic health records, health information exchanges and mobile health technologies rise, high-speed internet connections become more important. Whitacre worked with Denna Wheeler and Chad Landgraf of the OSU Center for Rural Health in Tulsa to study the health care connectivity gap, publishing their findings in 2016.
"We used data compiled from the National Broadband Map to compare levels of health care facility connectivity across non-metropolitan and metropolitan counties," Whitacre said. "The data clearly show health-related institutions in nonmetropolitan counties connect with lower speeds than their more urban counterparts. We also found the connectivity gap generally has been getting worse, not better."
The study found many rural health care facilities — doctor offices, pharmacies, clinics and health departments — working with lowspeed internet connections. Those high-tech medical technologies don't work well with such connections.
Another area often reliant on broadband access is civic engagement. Whitacre teamed up with Jacob Manlove, then a doctoral graduate student in the Department of Agricultural Economics, to study the effects of broadband on civic engagement in rural areas.
They found that broadband adoption rather than broadband access matters most in civic engagement. This was true for many of their questions related to participation in local organizations as well as for contacting public officials to express opinions or expressing opinions over the internet.
Using broadband — not just the ability to access it — was also found to have a stronger positive influence on rural economic growth.
Whitacre joined with fellow researchers Roberto Gallardo, leader of Mississippi State University's Intelligent Community Institute, and Sharon Strover, the Philip G. Warner Regents Professor in Communication at the University of Texas, in studying how broadband contributes to the economic growth of rural America.
Their findings were another indication that rural development efforts should focus on getting people to subscribe to and regularly use broadband.
Library access
Whitacre has championed broadband adoption in rural areas and teamed up with AARP Oklahoma to help more than a dozen public libraries expand their broadband capabilities.
"Dr. Whitacre and the OSU Rural Broadband Outreach Program have been invaluable," AARP State Director Sean Voskuhl said during ceremonies at the Davis Public Library. "Together, we hope to empower Oklahomans in our more rural areas to take better advantage of digital services such as health care, entertainment, and job and education resources, while also being able to be more socially connected and personally fulfilled."
The program employs hotspot devices that use cellular networks, the same as smartphones. As long as the cellular network provider used by the hotspot has service in that area, the devices will provide broadband access.
Generally speaking, most libraries taking part in the program allow adults with a valid library card to check out the devices for up to a week.
Surveys of patrons at participating libraries indicate OSU's Rural Broadband Outreach Program is overwhelmingly popular, with more than 90 percent of respondents ranking it a nine or higher out of 10.
Many respondents even called the mobile hotspots "a blessing." More libraries are expected to come on board as funding becomes available.
"As a comprehensive land-grant university, we measure our successes by how we help others to succeed," said Keith Owens, associate vice president of the Oklahoma Agricultural Experiment Station system, one of the university's two state agencies and the division's official research arm. "Dr. Whitacre's efforts are a testament to that."