Finding a New Foundation
Friday, November 1, 2019
Tyler Ley's latest research project focuses on fitting concrete to its environment
OSU's Dr. Tyler Ley calls himself a concrete maniac. And his industry-leading research at the Bert Cooper Lab is concrete evidence of it.
Ley, a professor of civil and environmental engineering, is currently leading a research project to understand how to design better concrete.
"When you design concrete, you don't really have a good feel for the local weather [where the concrete is going]," Ley said. "And so, you have to design something really conservatively. You design for the worst-case scenario."
"Engineers like numbers and data," Ley said. "We're going to try to physically compare these different environments and then maybe simulate some of those environments in the lab with concrete of different qualities and see how they perform."
Ley compared the project to planting.
"The way we design concrete now is like planting the same plant everywhere, just because we know it's going to survive," Ley said. "That's kind of limiting. If you want different flowers or different crops, then you should understand a little bit more about the soil and the environment."
Concrete is much the same. Designing concrete for a specific environment means that unnecessary costs can be reduced and life expectancies of structures can be increased.
Ley and Dr. Nicholas Materer, a chemistry professor, along with others from chemical engineering, geology and mechanical engineering started measuring local air quality and weather in 2014.
The idea was to create low-cost sensors to measure the local environment.
"We had this project with the Department of Energy to try to measure CO2 and methane at oil well production sites where they were shoving CO2in the ground and trying to shove oil out," Ley said.
Once the project was complete, he realized the same sensors could be reused to measure changes in concrete from the environment.
"While some of the design could be reused, a lot had to change," Ley said.
One of the things that had to change was the data logger or minicomputer used to record the outputs from the sensors. These minicomputers are printed circuit boards designed and built at the lab.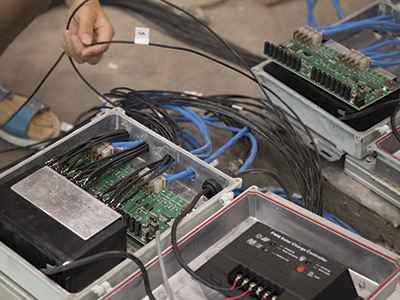 Sensors are set in mortar, then encased in a concrete cover that looks like a block. Wires run out of the block and connect to the minicomputers that are powered by a solar panel. These systems can be left out in the environment for years, with data being recorded to an SD card.
"The boards measure the moisture content and the temperature of the concrete over time," Ley said.
These "homemade" minicomputers and the system they are a part of is just one example of how the Bert Cooper Lab is leading the industry in concrete research. Designing and building their own boards is more than about saving money.
"It's probably saved us around $2,500 per box," Ley said, "But the other thing is that there's not anything really out there that does this. I mean, it doesn't exist because measuring concrete is crazy."
One of the grad students working with Ley is Lichun Chen, a doctoral student who designed and built the data loggers used in the blocks with help from Materer and Ley.
"If you build your own sensor then you can upload your own program," Chen said. "We can always change our code and do the measurements for every 10 minutes or every day or every minute."
At the moment, 14 states are asking for the blocks. Each state will receive three blocks and choose where to put them to gather the most accurate weather data, Chen explained.
"We have instructions for them on how to use everything together," Chen said. "We will ask them to take out the SD card every three months and share the data with us."
The systems have shipped and will begin logging data this year. Ley hopes to have usable results in a few years.
"We're going to probably look a little bit at that data and then try to pick a few more environments to send them to," Ley said. "And then sit back and, you know, watch the data roll in."
His passion for concrete and willingness to try things out of the ordinary has propelled him into the spotlight of his industry. Ley was named among the Most Influential People in the Concrete Industry this year by Concrete Construction magazine.
This honor is part of a long list of awards the man who is crazy about concrete has won. And while his passion for concrete is strong, Ley also has a passion for education.
"We're as much building people and helping people develop because in some ways that's as important if not more important than the findings we have," Ley said. "We've got to generate the next generation of scientists and engineers to go out and figure out stuff that we've never even dreamed of yet."
Outside the lab, Ley shares his enthusiasm on his YouTube channel with more than 23,000-plus subscribers.
"I love concrete. But I also love my students and the people I get to work with. I want to help them in their paths forward," Ley said. "I think they're going to do amazing things that I've never even dreamed about. I'm so excited to see that."