Improving Research Writing
Friday, November 1, 2019
OSU's Dr. Stephanie Link moves closer to launching intelligent online tutoring system for research-writing instruction
After completing a $50,000 National Science Foundation Innovation Corps (NSF I-Corps) program grant, Oklahoma State University assistant professor Dr. Stephanie Link has moved one step closer to launching her web-based learning environment, Wrangler, for rounding up research writing resources.
The technology offers instructional videos and support tools that leverage the power of artificial intelligence and natural language processing to provide feedback to give research writers immediate insights.
As a part of researching and developing Wrangler, her four-member team was selected for the NSF I-Corps program, where they interviewed 130 potential customers throughout the country. They spoke with university administrators and research faculty, gathering feedback for developing the Wrangler tool beyond an OSU campus audience and into a thriving product with commercial potential.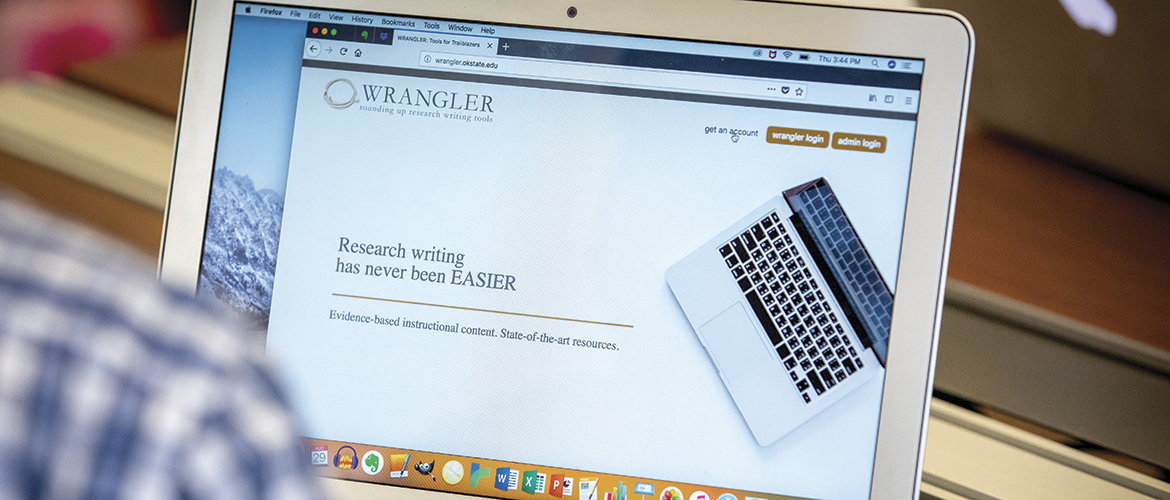 "We want to know 'Is Wrangler solving the critical issues that students and faculty are experiencing?'" said Link, an assistant professor of teaching English as a second language/applied linguistics in OSU's English department. "The feedback has been positive. I understand that academia is a hard market to crack, but as an academic myself, I know how big of a concern research writing is in this context, and I want to find solutions."
In talking with graduate college deans and vice presidents of research, Link's team learned that university educators across the country crave a stronger research writing ability among graduate students.
"It takes years of practice to become an experienced writer," Link said. The philosophy behind Wrangler is to introduce a systematic, linguistic approach to critically reading research as a way of structuring the process of research-focused writing.
"Wrangler helps to raise awareness of how language is used to communicate meaning," Link said. "As an applied linguist, I'm all about discovering and developing technologies for the purpose of enhancing language learning. Specifically, I look at second-language writing and written science communication. A lot of our research writers are second-language learners; however, we are finding that our approach through Wrangler is also applicable to native speakers, especially first-generation college students and STEM students."
"So much of what a researcher does is affected by their ability to communicate their work, explain why people should care about it and how it fits within current research.The more tools writers have at their disposal to improve their communication, the more confidence they can have as they document and share their research."
- Victor Baeza
OSU linguistics doctoral student Robert Redmon, co-entrepreneurial lead on the NSF I-Corps team and core software developer of Wrangler, said much has been learned about Wrangler and its potential during the 130 face-to-face interviews.
"We've learned that there's a need for writing instruction at the level of abstraction Wrangler provides, which is to say something more detailed than topical outlining and bigger-picture than grammar," Redmon said. "We've learned that this is especially the case in STEM programs, where writing is often institutionally neglected in a way that seems to generate
Link called working with Redmon, Victor Baeza and Harold Teague in the NSF I-Corp program terrific.
Baeza, an associate professor at OSU's Edmon Low Library and entrepreneurial lead on the NSF I-Corps team, said the interviews showed the quality of scientific writing needs to improve and students should have access to writing assistance at any hour.
"Through instructional videos and supportive tools, Wrangler can let students work on various aspects of their writing at their own pace and whenever they want," Baeza said. "So much of what a researcher does is affected by their ability to communicate their work, explain why people should care about it and how it fits within current research. The more tools writers have at their disposal to improve their communication, the more confidence they can have as they document and share their research."
Harold Teague, vice president of engineering at Virtium, a California-based solid-state storage and memory solutions provider, was the industry mentor on the NSF I-Corps team.
"The purpose of NSF I-Corps is to improve the success rate of academic entrepreneurs in commercialization of their technology developments," Teague said. "Through the program, the Wrangler team learned that significant opportunity exists to provide an improved writing and research tool to researchers in academia, research institutions and others."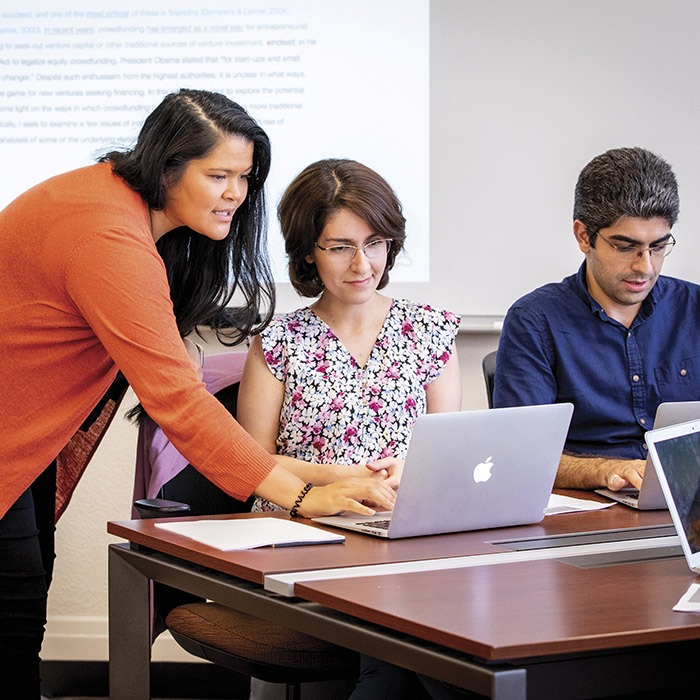 Link started Wrangler development in 2017 and uses it in dissertation and thesis writing workshops today.
"A lot of writing resources focus on the writing process, how to psychologically prepare for that process, and how to work through revisions," Link said. "We take a step forward by constructing an ecosystem of resources into an intelligent learning environment that offers tools and automated feedback for immediate learning potential. Our main target users are graduate students. We hope by supporting them in their research writing process we can also support faculty, who will then have more time to work on their own research agendas and writing."
Nikki Clauss, an experimental psychology doctoral student, used Wrangler extensively in Link's GRAD 5193: Preparing Publishable Manuscripts course, which is open to all Ph.D. students who have data in their research.
"Before taking Dr. Link's class, I never paid much attention to all the patterns and mechanics of style in the scientific articles I read or wrote," Clauss said. "My main focus was always the project I was attempting to write about. This class and the tasks in Wrangler helped me think more deeply about and dissect writing, which made the task of research writing less daunting."
Recent integrative biology doctoral graduate Christina Anaya said Wrangler was a great tool.
"In my opinion, it is a revolutionary tool for students to use while they are learning how to read and write science," Anaya said. "As scientists, we don't get training in writing. Using Wrangler, students can accelerate that learning process."
Katherine Golden, a natural resource ecology and management doctoral student also benefited from Wrangler, saying the video tutorials were helpful.
"The most important thing I learned is how to take the lessons I learned from Wrangler and how to apply them to all types of writing," Golden said. "Wrangler has made research writing much easier because of how Dr. Link set up the lessons and how you can annotate articles within the program/app."
As the Wrangler team continues to develop the technology, Link would like to see its availability grow on campus.
"We are going to continue development and make sure that OSU can become a hub for written science communication support," Link said. "We want to build on our momentum and contribute to the university's goals of enhancing research, reputation and retention. Wrangler fits perfectly into this mission by supporting the productivity of not only our students but also our faculty. As a Carnegie research university, we want to keep pushing our research forward, and our team is excited to lead the journey ahead."