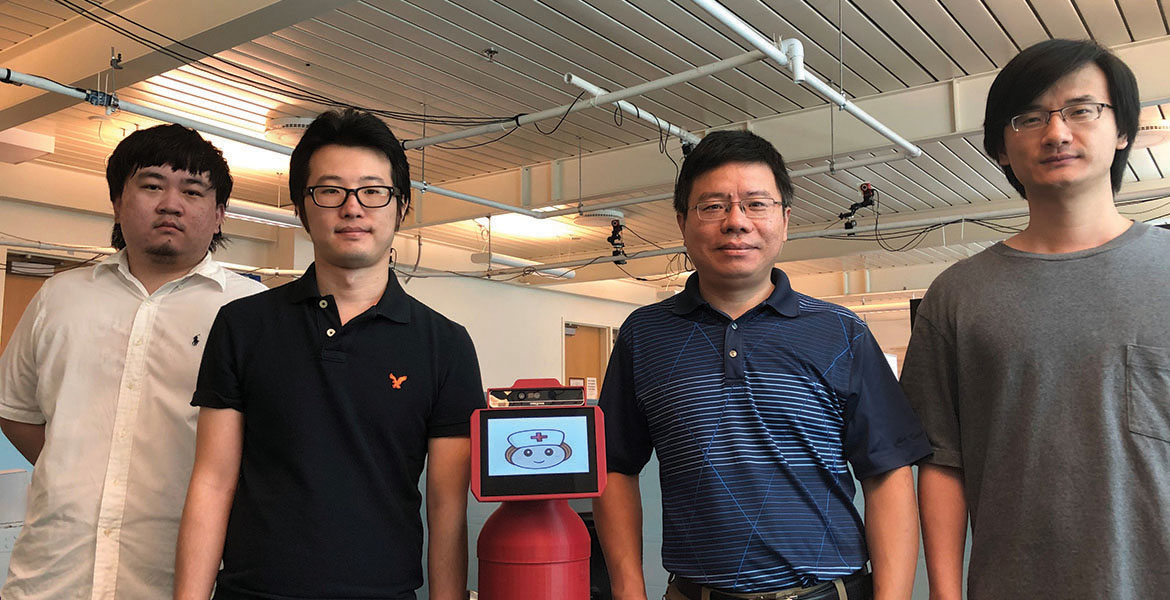 Enhancing Geriatric Health Care
Friday, December 18, 2020
Owning a home-based health care robot might not be so far off, according to a team of researchers from across Oklahoma who are developing technology that could be the future of health care for older individuals.
Dr. Weihua Sheng, from the College of Engineering, Architecture and Technology at Oklahoma State University, is leading the team, which has members from engineering, human sciences and psychology at OSU and the University of Oklahoma's College of Nursing.
"This is a truly interdisciplinary endeavor," said Dr. Alex Bishop, an associate professor and Brian Close Professor in Adulthood and Aging from OSU's Department of Human Development and Family Science, and an expert in gerontology. "I don't see how we could complete this project without looking through the different lenses of our team members."
Sheng's focus has always been on robotics, and he brought his research to OSU in 2006. The idea for Elsa, the geriatric assistance robot, was born from a recognition of challenges faced by geriatric populations, including health monitoring and intervention, as well as mental and psychological needs.
Also, the team has identified a new challenge that is prevalent in Oklahoma: the need for attentive health care in rural environments. Populations that are geographically isolated pose a unique challenge to health care workers. Elsa is designed to address a number of growing challenges.
The unit interacts with its patient through both audio and visual interfaces, each providing unique benefits to missions such as medication reminders, patient monitoring or even providing interactive entertainment. The project has received several grants from the National Science Foundation. Most recently, work on Elsa has focused on the collection and use of sound data to trigger Elsa's action or intervention.
For instance, if Elsa creates a baseline of "normal" sounds from a collection of sound data, then it could recognize an abnormality, such as a fall, and seek assistance. Elsa can also administer routine mental and physical check-ups. Through a series of questions and data collection, the unit can determine whether the patient is in good mental and physical health or if assistance or further examination from a health care professional is needed.
However, each of Elsa's tasks and services comes with its own set of unique challenges in technical, psychological and in some cases legal issues. Overcoming these challenges will dictate the next steps in the development process. Technical challenges include the actual collection of sound and video data. While technology exists that can collect the data, Sheng says those means of collection must be refined to meet the rigorous requirements that a home health care robot will face.
"The unit must be able to learn and adapt to numerous possible situations," Sheng said. "The robot must be able to understand the context and intricacies of human interaction in order to accurately interpret the data it collects."
While a person might be able to understand the context of a minutely delayed response to a memory-based question, a robot will collect the audio data and strictly apply a given set of rules in order to determine if the response meets the requirements and can be deemed acceptable. Also, legal concerns pertaining to the active monitoring of an individual through either video or audio are already in play today.
Questions about upholding individual privacy will play a prominent role in any in-home interactive audio or visual device. The future of this in-home health care device will depend on the trust people are willing to place in a robot to provide accurate and dependable health care.
As technology becomes more integral to day-to-day life, the more likely it will become that a device such as Elsa will be acceptable and welcome.