NIFA grant funds OSU molecular genetics research into vital pollinators
Friday, September 17, 2021
Media Contact: Harrison Hill | Research Communications Specialist | 405-744-5827 | harrison.c.hill@Okstate.edu
A bustling laboratory at Oklahoma State University is trying to develop resources and genetic tools to assist scientists who are trying to understand why pollinators are in decline — especially honey bees.
Honey bees and the beekeeping industry are responsible for more than $15 billion in annual agricultural productivity. They deliver indispensable pollination services that benefit more than 90 crops. Their increased death rates have been called one of the greatest threats to food production by industry analysts, scientists and environmental activists alike.
Darren Hagen of OSU's Division of Agricultural Sciences and Natural Resources received a grant from the National Institute of Food and Agriculture (NIFA) in January to study the molecular genetics of honey bees. Molecular genetics focuses on the flow and regulation of genetic information between DNA (deoxyribonucleic acid), RNA (ribonucleic acid) and proteins. Think of Hagen's charge as developing the building blocks that will make future scientific inquiries possible.
Collaborators at the U.S. Department of Agriculture Agricultural Research Service Bee Laboratory in Maryland have been busy collecting biological material that will be used this fall to begin the genetic sequencing, he said.
Researchers worldwide have been studying the molecular and genetic bases for honey bee responses to living and non-living physical and chemical environmental stressors. However, new sequencing technologies have rarely been applied in honey bee gene sequencing and prediction, so genomic studies are limited by sometimes incomplete or inaccurate data. Furthermore, there is a lack of reference information on epigenetic modifications in honey bee RNA that play important roles in gene regulation.
Hagen's team is studying the gene profiles from diverse tissues of Apis mellifera, the western honey bee, using new RNA-sequencing technologies, he said.
"Our primary goal is to expand and enhance the catalog of functional elements — which determine when a gene should be expressed and by how much — in the known honey bee genome as a way to promote improved honey bee health," Hagen said.
The OSU grant is one of 11 Pollinator Health Research grants awarded by NIFA as part of the USDA Agriculture and Food Research Initiative. NIFA was created through the Food, Conservation and Energy Act of 2008.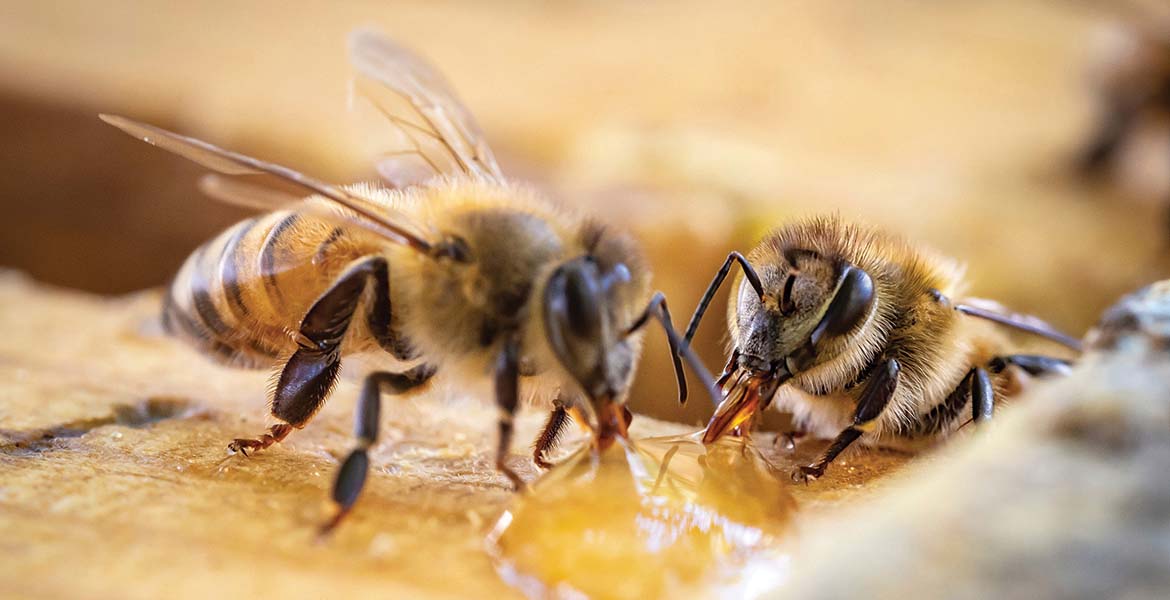 Research undertaken by OSU that will eventually promote bee health and better bee genetics is good news, said Rick Schantz, a Lincoln County beekeeper who has about 150 hives. That number dropped from 250 a couple years ago because of the coronavirus pandemic — Schantz had fewer places to sell the honey as farmers markets and other venues shut down. He has long been active in renting out pollinators, and he provides seedstock to help new beekeepers get started.
"Genetics has always played a major role in my operation," he said. "Bee genetics can change more quickly than many other species. It's like raising cattle: You want to get rid of the poor performers in terms of production and health, but also keep those that do best in Oklahoma conditions."
Dane Strickland, president of the Northeast Oklahoma Beekeepers Association, likewise was excited to learn about OSU's research involving bees.
"Bees are trying to survive under what has increasingly become adverse conditions," Strickland said. "It's not just pesticides. Somebody exiting a convenience store spills a sugary drink on the pavement. In turn, bees may slurp it up, but they are also getting who-knows-what from the pavement. There are a great many things for science to study when it comes to bee health. It is great to hear OSU is playing a role in that process."
Hagen, the NIFA grant's principal investigator and an assistant professor with OSU's Department of Animal and Food Sciences, is part of scientific teams associated with nine NIFA grants, including serving as principal investigator on another NIFA grant studying the genomics of beef cattle.
OSU ag research such as Hagen's various studies supported by NIFA grants accounts for about a third of all research conducted at OSU and about 85% of research royalties that flow back into the university.
---
Photos By: Shutterstock
Story By: Donald Stotts | donald.stotts@okstate.edu