OSU Turfgrass program is world-renowned for its quality
Friday, September 17, 2021
Media Contact: Harrison Hill | Research Communications Specialist | 405-744-5827 | harrison.c.hill@Okstate.edu
From Qatar to Kansas City, OSU's Bermudagrass has an impact on champions
The Kentucky Derby, World Cup, Olympics, PGA Championship and the U.S. Capitol don't seem to have much in common on the surface — or do they?
Some of the ground surfaces at these locations have used or will use a bermudagrass created at Oklahoma State University.
On a plot of land just off of Virginia Avenue in Stillwater, turfgrass researchers are constantly looking to improve varieties of bermudagrass that are used globally because of their excellent qualities.
A warm season grass, Bermuda has adapted well to climate change, its lush green color withstanding heat that other grasses can't. Its hardiness and durability make it a popular choice for turfgrass managers anywhere, with OSU's researchers working to expand the regions where it can be grown so it can endure the colder weather which has historically been a bane of its existence.
"Our breeding objective is and has been to improve cold hardiness," said Dr. Yanqi Wu, professor of grass breeding and genetics at OSU. "That means previous varieties use a region below 34 degrees latitude. Now we have developed these new grasses like Latitude 36, NorthBridge and Tahoma 31. They can be used at (latitudes) 38 and 39, even up to Pennsylvania. That is close to 40 degrees latitude, so you can see the improvement."
OSU started working on modern turfgrass breeding and improvement research in earnest immediately following World War II, with the first Oklahoma Turfgrass Conference being held in 1946. The baby boom was in full effect, and more and more houses were being built that needed genuine lawns.
Almost 20 years later, the Oklahoma Turfgrass Conference had grown enough that the Oklahoma Turfgrass Research Foundation was founded as a nonprofit organization in 1963.
Dr. Wayne Huffine is credited as the father of the OSU turf organization, releasing Oklawn centipedegrass in the 1970s, the first genuine turfgrass from the school.
By 1986, a few years after Huffine retired, the United States Golf Association provided universities with grants to develop high-quality playing surfaces.
Under the leadership of Dr. Charles Taliaferro, OSU started laying down the groundwork for what would become one of the top-tier sports turfgrass producers in the nation.
Dr. Dennis Martin, professor and turfgrass extension/research specialist, arrived in Stillwater in 1990, right as OSU started looking into African Bermudas. Martin's predecessor, Dr. Mike Kenna, had convinced Taliaferro to look into the grass as a playing surface.
African bermudagrasses didn't end up working out for release directly to the market, but it did provide excellent parent materials for grasses in the future. The varieties OSU creates now are interspecific hybrids of those elite African Bermudas and the best common Bermudas.
"So you have your breeding lines there that you have used over the decades and have excellent performance characteristics and high fertility, but you also have to have the trait be inheritable," Martin said.
"You pick good parents, so to speak. Let's say Dr. Wu has 10,000 crosses made with those elite parents — only a very small percentage of them will ever turn out to be the super elite stuff, so he may store that parent somewhere, and you have to keep it clean and alive so you can use it later."
It is a complex procedure when researchers are looking toward a new variety, as 10,000 progenies are narrowed down to around 800 to 1,000 plants, which are then planted in a field nursery to grow for an average of three years before the best 10 to 20 plants are picked.
OSU's grasses are a product of intense natural selection, making those 10 to 20 plants selected the absolute best of the best.
For sports, they must withstand the constant bombardment of players' cleats or divots from golf clubs, as well as hold up throughout the year's weather fronts.
Dr. Justin Quetone Moss, head of OSU's Department of Horticulture and Landscape Architecture, said choosing the best grasses is a painstaking process of trial and error. To test traits such as drought resistance, low mowing height and cold hardiness, researchers will put those grasses through that stress to see which plants survive.
"There is no secret to this: We will basically plant those things in a greenhouse and get a pair of scissors and keep mowing them with scissors and cutting them as low as you possibly can," Moss said. "You quickly find out that some of them immediately die, and some of them survive. Of the ones that survive, you put them in bigger pods and keep mowing them, and (the best) continue to survive and thrive."
Those few plants that are chosen are then tested nationally in a five-year study called the National Turfgrass Evaluation Program (NTEP).
"We will get data on them across five years and have a nice data package to look at," Moss said. "Then we have more in the pipeline for the next five-year test."
Martin is a tester in the NTEP trials as OSU hosts grass from a mix of about two dozen universities and private firms across the country to see how they fare in the Oklahoma climate. Other schools, like the University of Georgia, Texas A&M and the University of Florida, among others, test OSU's grass in their climates as well.
Martin said it is revealing to see what issues arise from a grass being grown outside its normal use environment. One of several things OSU researchers learned about from various studies is a problem with nematodes. While Oklahoma has its share of these parasites, the sandy soils of the Gulf Coastal Plain and very high nematode numbers like those faced in Florida can cause problems with the grass.
With that data, OSU researchers like Dr. Nathan Walker, an entomology and plant pathology professor, can work on making the bermudagrass sturdier against nematodes, as well as other parasites and diseases.
From those NTEP trials, OSU has seen its grasses continue to come out as standards in the turfgrass industry.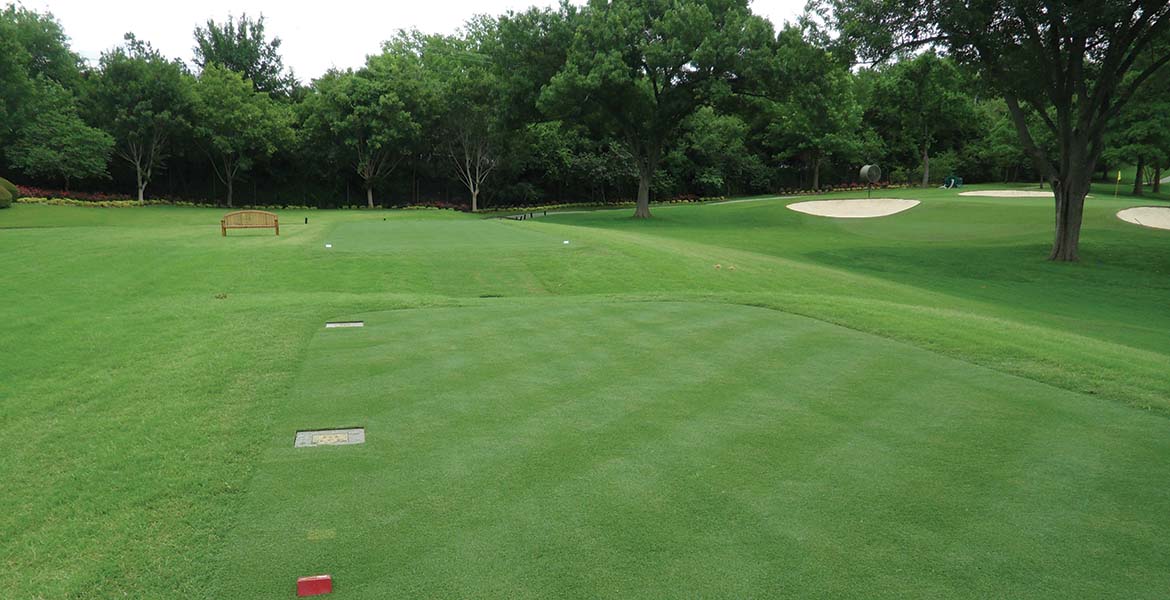 The release of Yukon, Riviera and Patriot in the early 2000s saw courses and stadiums around the country — and world — clamor for the grass.
The 2008 Olympics in Beijing featured Riviera on several of its fields.
Patriot was used on the practice field of the Peyton Manning-led Indianapolis Colts during their Super Bowl-winning season in 2006.
Fittingly, practicing on a grass named Patriot allowed Manning to get past his rival: Tom Brady and the New England Patriots.
In 2011, OSU released two more popular varieties in NorthBridge and Latitude 36. NorthBridge is used all over the country, including at Southern Hills Country Club in Tulsa — home of the 2022 PGA Championship — and a number of NFL stadiums like Arrowhead Stadium — home of the Kansas City Chiefs.
Latitude 36 is also widely used, from Petco Park in San Diego to Bryant-Denny Stadium — home of the University of Alabama football team. Wu said it is being used on the practice fields in Qatar, home to the 2022 World Cup. Even the football, soccer and softball fields at the University of Oklahoma use it.
Latitude 36 was the national standard for bermudagrass, the yardstick by which all other Bermudas are measured.
Martin said the reason why it is so popular, especially in golf, is its resistance to heat, high water use efficiency, tolerance of traffic and recuperative ability. When considering OSU Bermuda varieties, they are known for improved winter hardiness as well.
Putting greens are the next target for the OSU bermudagrass development team. The team hopes to release a variety for golf course putting greens in the not too distant future. For decades, the majority of golf courses have used creeping bentgrass, but with climate change making temperatures climb higher and higher, Bermuda has proven to be a better option on many golf courses in Oklahoma.
"That is why Bermuda is a superior putting surfaces for most of the year," Martin said. "Even the club managers tell us for where their rounds are played, most of them are played from Memorial Day through Labor Day, and Bermuda is a much more natural fit. Sure, there are golfing days after Labor Day and before Memorial Day, but overall in the business of running a club in Oklahoma, Bermuda is frequently a better grass for when your traffic occurs, thus an improved putting surface Bermuda is the team's next target."
OSU is constantly looking to improve on its grasses. Tahoma 31, released in the past few years, has improved on what Latitude 36 and NorthBridge had to offer.
Tahoma 31 has been sodded in a number of places, including the USA Softball Hall of Fame Stadium in Oklahoma City, as well as the U.S. Capitol Lawn in Washington, D.C. In June, Churchill Downs announced it will be sodding Tahoma 31 at its facility, which hosts the Kentucky Derby every year.
Even with all of the program's success, Wu said he and the team of Moss, Martin, Walker, Dr. Charles Fontanier and Dr. Eric Rebek are always attempting to improve on what they have done.
"There is a lot of team effort, I will stress that. We have a team that has different expertise so we can work together in the same way so we can get there," Wu said.
"Our grass is pretty good, believe it."
---
Photos By: Sod Solutions and Amanda Hill
Story By: Jordan Bishop | jordan.bishop@okstate.edu