OSU partners with USA Rare Earth's new Stillwater facility
Friday, October 21, 2022
Media Contact: Harrison Hill | Senior Research Communications Specialist | 405-744-5827 | harrison.c.hill@okstate.edu
Stillwater and Oklahoma State University have worked together in innovative harmony for years. Now, they are taking another leap forward.
The announcement that USA Rare Earth (USARE), the first rare earth and critical minerals processing facility in the United States, is coming to Stillwater means OSU has a new partner in its effort to make a positive impact on the state and the nation.
After a review of over 50 sites in multiple states, USARE chose Oklahoma and the City of Stillwater because they present a unique business, labor and operating environment for the company to develop the project.
But there was another significant factor for the company's decision: proximity to a strong research university, OSU.
"OSU has what they're looking for on two levels," said ​​Russell Hopper, senior licensing associate in OSU's Office of Technology Commercialization. "One, we've got the scientific and engineering skills, capabilities and equipment to do what they need and two, Stillwater is a nice place to live."
USARE is a U.S.-based company establishing a domestic supply chain for rare earth elements and neodymium permanent magnets, which are used in commercial and defense technologies, according to the company.
The process to make these magnets is complicated but OSU hopes its research and expertise can help the process, Hopper said.
"When they came to tour, I contacted physics and mechanical engineering, material science and chemistry to see who had research that would be applicable, based on the kind of interest they had. And we had a lot of interest," he said.
The reaction USARE had to that tour was what OSU had hoped for.
"They were like, 'Wow, OK, this is a world-class research institution,'" Hopper said. "'And we may not be doing what they need because nobody's doing what they need right now, but we have the skills and capabilities to adapt to what they need."
Both USARE and OSU hope to see the partnership grow over the coming years.
"We have been engaged with the leadership at USA Rare Earth for some time now, and I am convinced that OSU and USA Rare Earth will be great partners," said Dr. Kenneth Sewell, OSU vice president for research. "From unique internship opportunities for our students to joint research efforts, our partnership is poised to generate mutual benefits on many levels."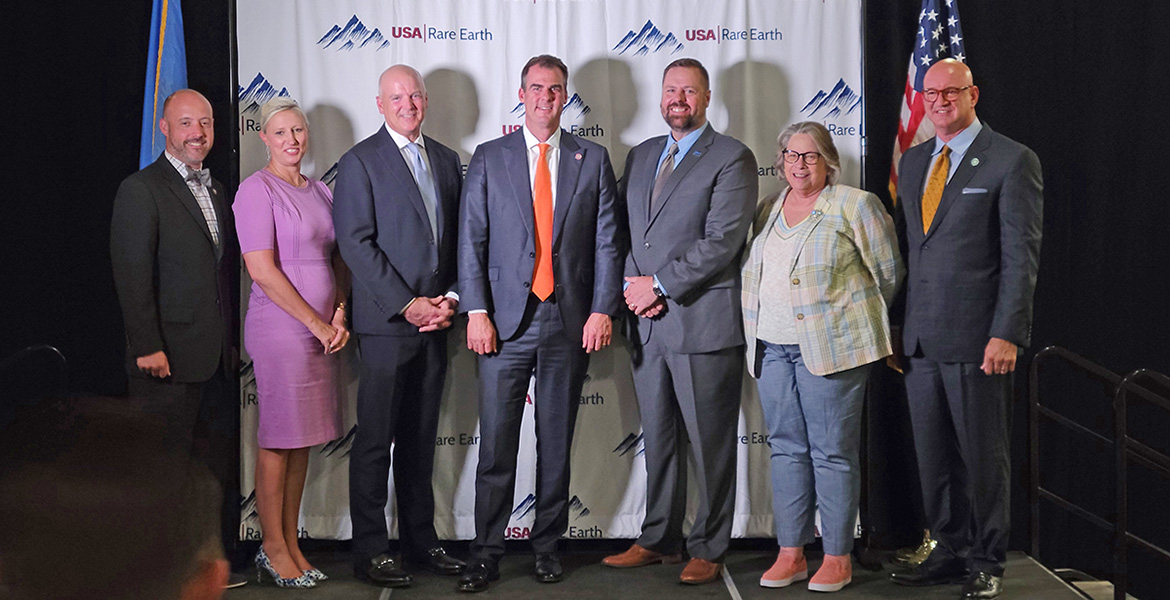 Bob Fredette, director of magnet operations at USARE and a recognized expert in magnet materials and processes, recently relocated to Stillwater to kick off the recommissioning and is excited to expand the company's operations there, he said.
"Access to the Oklahoma State University system will allow for more extensive research and development around advanced materials and critical minerals, as well as the potential for specialized job opportunities in the community," he said.
With operations in Florida, Colorado, Texas and now Oklahoma, USARE is currently developing the only heavy rare earths project in the Western Hemisphere at the Round Top minerals deposit in Texas — in a joint venture with Texas Minerals Resource Corporation.
At the new Stillwater facility, USARE is now recommissioning the only commercial-scale rare earth permanent magnet manufacturing equipment in the U.S.
"Currently, the United States, European Union, Japan and much of the developed world is largely reliant on China for critical rare earth element production," said Thayer Smith, president of USA Rare Earth. "Our goal with this project is to advance U.S. manufacturing capacity."
USA Rare Earth is developing a fully domestic mine-to-magnet supply chain, while the lithium at Round Top will also support the manufacture of battery electric vehicles, Smith said.
"We look forward to a long-lasting relationship with OSU to create an even more productive and innovative future for the state of Oklahoma," Fredette said. "The exchange of ideas and transfer of expertise to the next generation of students and researchers provide for a uniquely collaborative environment in which to foster growth and progress in a highly specialized industry."
---
Photos By: AllaboutStillwater.com
Story By: Harrison Hill | Research Matters Magazine