Easing Childhood Hunger
Wednesday, August 1, 2018
Cooking for Kids aims to help schools better feed children
By Christy Lang
Growing, learning and even just playing are difficult when your stomach is growling with hunger and you don't know when or where or what your next meal will be. That's the reality of life for thousands of children throughout Oklahoma.
And it's why public-school nutrition programs are so important.
The United States Department of Agriculture (USDA) defines food insecurity as a "lack of consistent access to enough food for an active, healthy life."
Food insecurity touches many Oklahoma families. According to the Oklahoma State Department of Education, more than 692,000 — about 61 percent of children here— were eligible for free or reduced-cost school lunches in 2016-17.
Lunches have changed, too. From 2012's USDA standards to 2015's amended Healthy and Hunger- Free Kids Act, schools now must offer more fruits and vegetables and less fat, sugar and salt. In addition, school nutrition programs have had to increase whole grains and to follow specific calorie ranges for different age groups. Combined, these changes have challenged schools operating on limited budgets.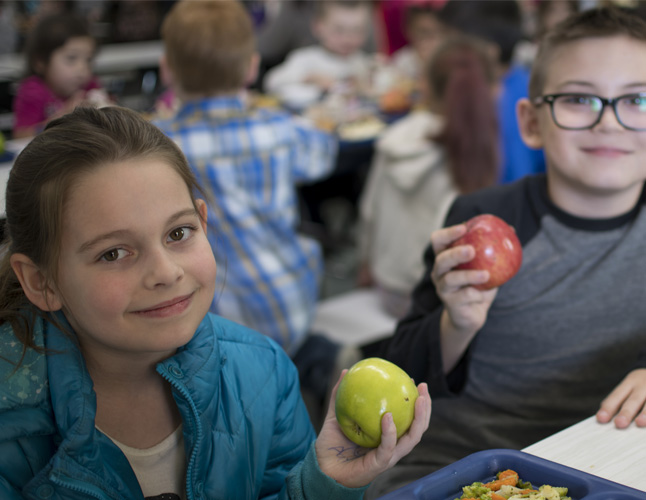 "Schools have about $3 [per meal] to produce school lunches, including labor, food and other direct costs," nutritional sciences associate professor Deana Hildebrand said. "[Each lunch] must include an entrée, fruit, vegetable, whole grain and a half- pint carton of milk."
That's where Oklahoma State University is helping out.
The Cooking for Kids program is helping school nutrition programs provide healthier meals for school children. Developed from scratch at OSU, Cooking for Kids is a collaboration with OSU's Department of Nutritional Sciences in the College of Human Sciences, Oklahoma Cooperative Extension and the Oklahoma State Department of Education. The program is funded by a grant from the Oklahoma State Department of Education, Child Nutrition.
Cooking for Kids invests in school nutrition programs and the individuals who oversee and deliver them in order to increase the availability of freshly prepared foods, feed more children and expand public support for child nutrition programs.
Cooking for Kids offers training, consultations and resources at no cost to the schools. School nutrition professionals participate in culinary skill development training and management training. The aim is to offer more healthy and delicious from-scratch food options that will entice kids.
Each summer, Cooking for Kids offers a series of three-day training opportunities for school nutrition professionals across Oklahoma. A rotating group of chefs, all with culinary industry training and teaching and education backgrounds, teach such subjects as knife skills, flavoring food, cooking whole grains and using herbs and spices. Participants review and taste new recipes.
"School nutrition professionals say the program has given them skills and confidence to try to new things," Cooking for Kids education outreach coordinator Cass Ring said. "After they receive training, they are more comfortable with cooking recipes from scratch."
The second option is a one-day culinary management training during the summer for those responsible for menu planning and purchasing, including child nutrition directors, managers and school administrators. Cooking for Kids leaders cover advanced menu planning with an emphasis on variety, food purchases, local sourcing and emerging trends for school nutrition directors and decision makers.
Completion of the first two training sessions prepares a school or a district to apply for a chef consultation. During the school year, an industry-trained chef partners with the school nutrition staff to assess needs and develop a personalized action plan for the school district. Through a series of on-site visits, the consulting chef helps develop menus and create schedules and a marketing plan. The chef also assesses available equipment and how to best use it in addition to making recommendations about equipment needs and purchases.
"It's about building capacity, skills and self- efficacy," Hildebrand said. "We want participants to believe, 'I can do this.' How can we build your capacity to take it to the next level?"
The program also engages K-12 students. Consulting chefs have hosted Junior Chef Cook-Offs at school sites, showing children that they can cook and teaching them basic skills. Junior chefs have even developed recipes that are now used in their school cafeterias.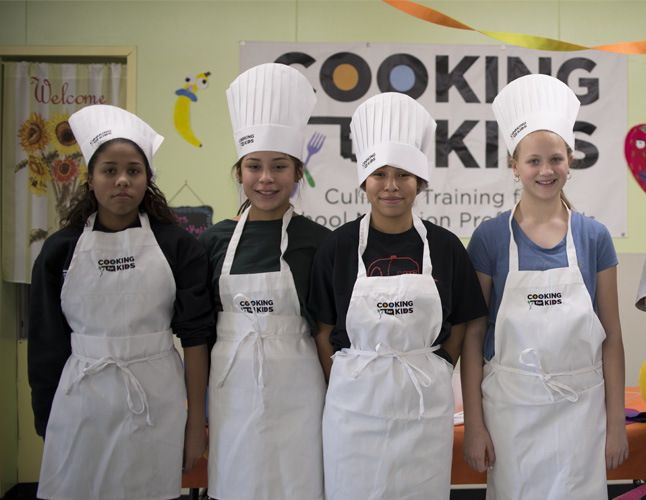 To date, Cooking for Kids has served 169 school districts and 850 school nutrition professionals to provide healthier meals for more than 133,000 Oklahoma school children over the last five years.
For the past three summers, members of the nutrition staff at Sapulpa Public Schools have attended Cooking for Kids trainings. Sapulpa Nutrition Director Nancy Sitler said the program has reinforced the important work of child nutrition professionals. While all of her participating employees have returned with new knowledge, Sitler has seen a major change in at least one employee.
"[This employee] didn't necessarily buy into the importance of child nutrition. After going to classes and a visitation with a [consulting chef], she has gone out of her way to experiment with seasonings. She has been really good about tasting and trying new things and adding flavor without raising sodium. She has fixed some of our recipes. She is a lot more invested in her job now."
A true example of OSU's land-grant mission, the team at OSU has used their expertise and experience to develop Cooking for Kids to meet the needs of Oklahoma public school nutrition programs.
A former director of nutrition for Edmond Public Schools, Hildebrand also worked at the State Department of Education in child nutrition for 10 years before joining the faculty at OSU. She is proud of the Cooking for Kids team and the work it is doing.
"The thing that stands out is that Cooking for Kids is meeting a need. It is helping schools better implement the Healthy and Hunger Free Kids Act. It is better equipping school nutrition professionals to do more scratch cooking, and (in turn) students want less processed food,"
- Hildebrand
In a survey of schools that worked with a consultant chef through Cooking for Kids, child nutrition directors noted that the "amazing and dynamic program helps bring together students, staff and child nutrition." School nutrition staff are becoming more comfortable with cooking healthy recipes from scratch and emphasizing vegetables in a "new, appealing, appetizing way."
School nutrition programs also cited new ideas to help with the cafeteria flow, service and overall atmosphere.
"I am proud that we can say, conservatively, that over $600,000 have gone back to the schools in the form of small equipment grants, chef consultations, and developing action plans," Hildebrand said. "When kids eat healthier food and are better nourished, they perform better academically, fulfilling the primary mission of the school."