The Art of Kindness
Wednesday, August 1, 2018
Classroom project teaches young students compassion as well as drawing
By Will Carr
If there's one thing Haley Curfman would like to go viral, it's kindness. And with the help of social media and her second-grade students at Blackwell Elementary, she's making that happen. Curfman is a 2015 elementary education graduate who grew up in Blackwell, Oklahoma. She's now in her second year of teaching second grade in her childhood school district.
Like many schools, Blackwell Elementary was forced to suspend its art classes due to budget cuts. In 2016, Curfman was searching on Pinterest for possible art projects she could do with her students when she stumbled on a post showing students drawing on a white dress. She knew immediately she wanted to give her students a similar experience.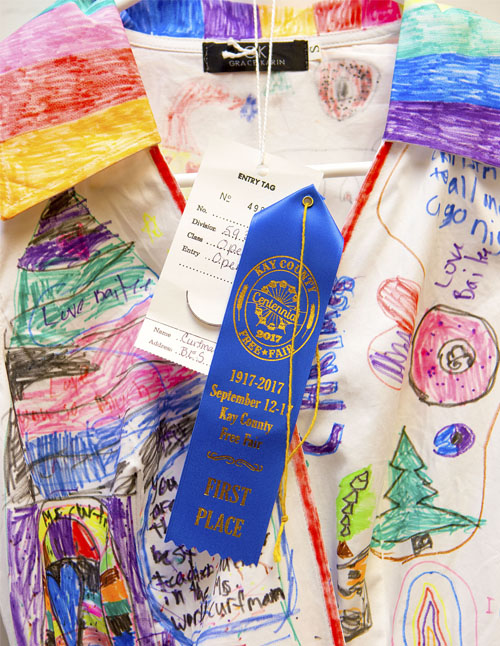 "The idea was that it would be the students' Christmas gift to me," Curfman said. "The dress was full of Christmas drawings like Santa Claus, presents and snowmen."
She ended up entering the dress in the Blackwell-Kay County Street Fair, where it won first place in the open art category.
"The kids were so excited to see it up in the building all week with the blue ribbon on it," Curfman said. "They got to show their parents and their friends who aren't in my class."
After the success of the first year, Curfman decided to bring back the idea for the 2017 school year. Each year, Blackwell Elementary celebrates "Kindness Week" to help teach students how to
be caring and compassionate toward one another. This past year, the week fell around Valentine's Day as well. Curfman thought this might be the perfect time to try the project again.
"My only instruction was to draw what makes them happy and to not cross anything out," she said. "There were a lot of hearts, puppies and kind words — more cutesy kinds of things this year."
Curfman posted a picture of the dress to her Facebook page, which she uses to show her family and friends all of the fun things happening in her classroom. The post went viral; with more than 345,000 shares, it has been seen by millions of people.
"I woke up one morning, and I had messages from people all around the world," Curfman said. "It was really neat to hear from people from different states and overseas about how it brought back memories of their childhood when their teachers would do a similar project."
The messages were full of different stories from different generations. One former teacher told Curfman about how he would let the kids decorate his van in washable paint.
She has said yes to the dress becoming a class tradition, and her current students began the year asking when they would get to participate in the art project.
"Some kids this year had heard about it in the past because they saw it in the fair or their siblings were in my class last year," Curfman said. "They were really excited."
Curfman hopes the project continues to grow and make a positive impact on her students. She plans to keep experimenting by moving when the dress gets decorated every year, allowing different lessons to be taught and different drawings to be expressed.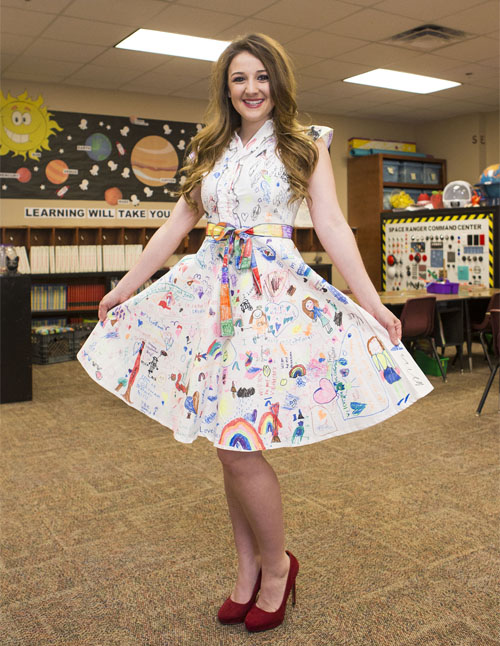 "I think it would be interesting to do one around New Year's and see what they draw or the differences," Curfman said. "Dr. Seuss Week would be really cool, too, so they could draw Dr. Seuss things. I have had a few different ideas about when to do the next one."
In addition to the dress project, Curfman came up with the idea of "kindness shirts" for the students at Blackwell Elementary.
"I print 'kindness' across the front of all of the shirts and lay them out around the classroom," she said. "The kids then go around the room and write kind things on each other's shirts."
The "kindness shirts" weren't just an activity in Curfman's classroom this year. All of the second- grade teachers at Blackwell Elementary loved the idea and asked her if she would make shirts for their classes as well.
"I made all of the shirts for them, and they turned into our field-trip shirts," Curfman said. "When we went on field trips, we told all of the kids to wear their shirts. In a way, we were spreading kindness everywhere we went."
In addition to spreading kindness, Curfman likes to use these projects to help her students find their passion. It's an important opportunity in a school no longer able to fund art education.
"Blackwell doesn't have an art class, so being able to do that in the school was such a creative outlet for kids who don't otherwise get to do that in school," she said. "I have had some amazing illustrators in my classroom who if I wouldn't let them do projects like that, they wouldn't get the opportunity."
Opportunities for her students were one of the many things Curfman and her colleagues were fighting for when they participated in the Oklahoma teacher walkout in April. Blackwell schools were closed for two weeks, and Curfman said she went to the Capitol all but two days.
"We were down there for 16-hour days," Curfman said. "We would leave at 4 or 5 in the morning and wouldn't get home until almost 11. Then, we would get up and do it again the next day.
"The support we had from the community and surrounding communities was amazing. Still to this day, we hear parents say thank you for fighting for their child's education. It's really amazing to know I work in a community that is going to give back 100 percent."
- Haley Curfman
The common themes of kindness, support and pride run deep in Curfman's classroom and extend beyond dresses, shirts and walkouts.
"I really want to help the kids and give them different ways to be kind to each other," Curfman said. "Kindness doesn't have to be just one week out of the year."