Chad Weiberg used his OSU roots to excel outside of Stillwater. Now, he's riding again for the brand.
By Chase Carter
"You walk out onto that floor," Weiberg says, pausing. "It can be in the middle of the day when no one else is in there, and I still have that feeling."
Looking up from Eddie Sutton Court, Weiberg can always spot the banner that bears his brother's name, Jared Weiberg, who was killed in the 2001 plane crash in Colorado.
"I think he would be excited that I'm back, and proud," Weiberg says of Jared. "I know he'd be happy for me to be back."
After nearly 20 years, Oklahoma State University alumnus Chad Weiberg has returned to OSU Athletics as deputy athletic director. Like many Cowboys, his connection with Oklahoma State goes back to his childhood. But until recently, he didn't know if he'd ever get back to Stillwater.
Weiberg was born in the southern Oklahoma town of Pauls Valley, but he grew up all over the state.
His father, Mick, was a basketball coach. The family moved to Poteau and Warner before landing in Stillwater when Mick was hired by OSU men's basketball coach Paul Hansen.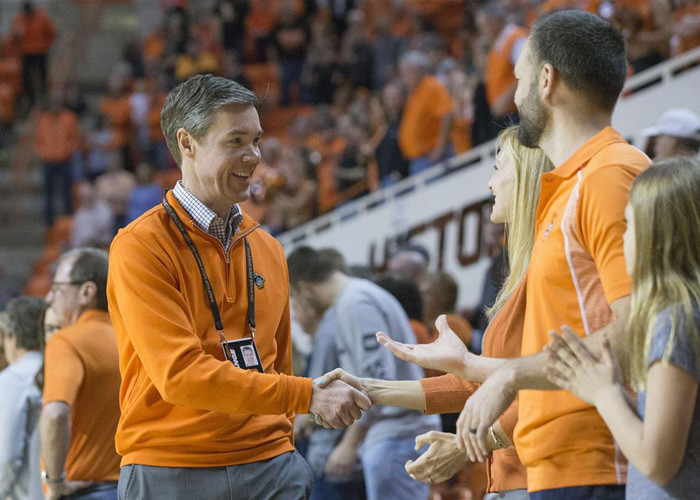 "When I first went to an OSU game with my dad, it was still the old Gallagher," Weiberg says. "It still had the wooden seats, but I remember it being loud."
Ultimately, Weiberg finished high school in Tonkawa after his father became the head coach at Northern Oklahoma Junior College. Weiberg attended Northern for one year before transferring to OSU, where his uncle's career helped set his own course.
"I knew pretty early on I didn't want to coach," Weiberg says. "My uncle was on the administrative side of athletics. I saw what he was doing and thought I could do something like that." (His uncle, Kevin Weiberg, served as the second commissioner of the Big 12 Conference from 1998-2007, among other positions.) With a business major, Weiberg was still unsure about his future until a fraternity brother appointed him to the Student Athletic Advisory Council to help the athletic department engage with students on campus.
"From that, I ended up interning here my junior and senior years, and fortunately, they started paying me my senior year," Weiberg jokes. "That's when I started thinking this is what I really wanted to do and pursue."
A Life-Changing Conversation
Dave Martin wore many hats with OSU Athletics, serving for more than three decades as a senior associate athletic director and as interim athletic director twice. He also was interim commissioner of the Big 12 Conference in 1998.
You could almost always find Martin within Gallagher's halls, and one morning in 1995, he nearly ran into Weiberg — literally. "One of the guys I had interned for in POSSE had left unexpectedly and gone into the private sector," Weiberg says. "One day, I was walking into the arena, and as I was rounding a corner, I almost bumped into Dave Martin. And Dave, in Dave's way, said, 'Weiberg, are you going to apply for that job or what?'
"The truth was, no, I wasn't planning on it, but I knew the answer at that point was yes."
Although he'd been looking at entry-level positions all over the country, Weiberg landed his first job out of college at his alma mater, handling corporate sales and donor relations.
"We didn't have any video boards back then," Weiberg jokes. "I was really only selling some signage and program ads and helping to put on fundraising events."
Several years later, Weiberg got a call from Larry Shell, vice president of the OSU Alumni Association. He asked Weiberg to be thinking of candidates for a field operations position that was opening up. But Weiberg didn't have to look very far.
"Even then, it made me nervous, and I had to give it a lot of thought and talk to a lot of people," Weiberg says. "But I thought it'd be good experience so I decided to make the transition, and it was great."
With the OSU Alumni Association, Weiberg traveled across the country meeting Cowboys from coast to coast. Through it all, he says he learned two things.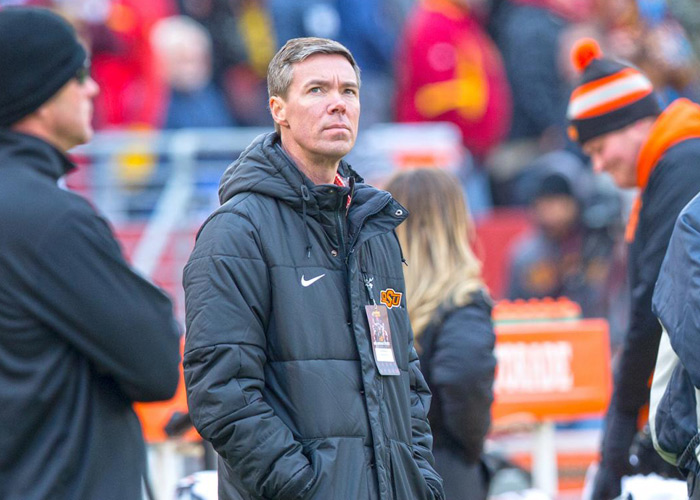 "First, I learned how to travel, because I traveled a lot," Weiberg says. "But I also learned there were alumni just as passionate about OSU and OSU athletics living in L.A. or Chicago. They couldn't come to every home football game, but I remember learning that didn't make them any less passionate."
Weiberg's time at the OSU Alumni Association was marked with both great happiness and deep sorrow. His younger brother, Jared, a student manager for the Cowboy basketball team, was one of 10 people killed in the Colorado plane crash on January 27, 2001. He met his future wife, Jodi, while attending a Big 12 Alumni Conference in Austin. At the time, Jodi was working for the Kansas State Alumni Association. Because of the distance, Weiberg says the two were friends for a long time before they started dating. He proposed to Jodi in a suite high atop Gallagher-Iba Arena before the K-State-OSU football game in 2003.
By this time, Weiberg had moved on to fundraising as an OSU Foundation employee, first for the College of Business and then back with OSU Athletics, where the first phase of the Boone Pickens Stadium campaign was just beginning.
"Jodi and I had to figure out how to get in the same town at that point," Weiberg says. "We both applied for jobs in both places and had to decide what the better combined option was, which ended up being at K-State."
Purple Pastures
Weiberg started in the KSU Foundation as the director of corporate relations. It's a position that he says allowed him to build many good relationships on campus, including one with K-State athletics.
"I had only worked at the foundation for a year when the athletic director called me about a position," Weiberg says. "I was very thankful I had the time in the corporate relations position because of everyone I got to meet."
Drawing on all his experience from OSU, Weiberg hit the ground running as a fundraiser for K-State Athletics. He assumed the lead role in 2009 and, over the next five years, his team doubled the number of donors to the department. He was named National Fundraiser of the Year by the National Association of Athletic Development Directors during his final year at KSU.
"I ended up using a lot of my experience from the OSU Alumni Association there, harkening back to the realization there are passionate people who care just as much about athletics but can't come to every football game," Weiberg says. "We implemented a program that reached beyond the state's boundaries, and what we found was people just hadn't been asked to support the program; they'd only been asked to buy season tickets. It was really separating the need for tickets and the ask for support. That made the difference."
In 2015, another opportunity presented itself to Weiberg.
"When I was asked what my next steps were, it was hard for me to say because I couldn't picture it," Weiberg says. "I can tell you I would have never imagined it would be Texas Tech in Lubbock, but I knew almost immediately the opportunity was right. It all just seemed to fit."
The offer came from K-State alumnus and Texas Tech Athletic Director Kirby Hocutt, who hired Weiberg as his second- in-command. In this role, Weiberg was responsible for the day-to-day operations and oversight of the department.
"I was very fortunate to get that opportunity," Weiberg says. "We were happy there and could have been there for a long time, until this opportunity happened."
Coming Full Circle
In spring 2017, that opportunity came when Dave Martin — the longtime administrator whose encouragement originally led to Weiberg's first job with OSU athletics — announced his retirement.
"I've given Dave a lot of credit for that conversation, and at his retirement event, he talked about that," Weiberg says. "From his perspective, it was an inconsequential conversation. From mine, it was life-changing. That's what's cool about fast-forwarding to now, trying to fill Dave's shoes essentially. It's come full circle, and it's an honor for me to get to do that."
Weiberg says he views his role as one who connects the dots helping the staff, the programs and the coaches with the challenges and opportunities they face.
He also says it's vital to emphasize the impact of the fans' experience.
"I want them to know and understand how important they are," Weiberg says.
"Their support and presence is something I hope we never take for granted, and I hope they never take that for granted, because it is so important."
And for all of us championing the success of our Cowboys and Cowgirls, Weiberg says it's important for our student athletes to compete with heart, much like his brother, Jared.
"He was not the most talented, and he knew it," Weiberg says with a grin. "But his heart got him to even that point. He overachieved to even have the opportunity to be here.
"I think that's what you hope for everyone is just to get to a place where they can exceed what they even think is possible for them."
For Chad Weiberg, that place is Oklahoma State.