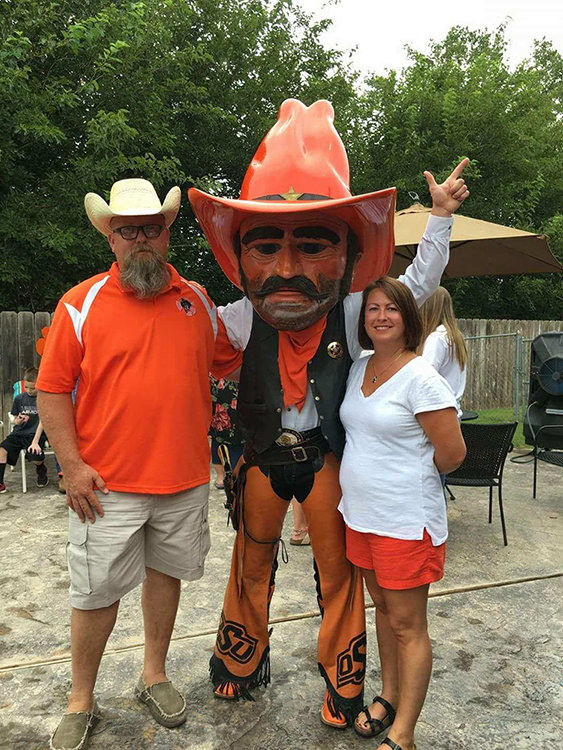 Chapter Leader
Tuesday, May 1, 2018
By Leanna Smith
Justin Landers was born and bred to be an Oklahoma State University Cowboy. Growing up in Altus, Oklahoma, Landers played football and participated in the National FFA Organization, and his heart was set on attending OSU.
"I was always an OSU fan growing up," says Landers, now the president and social chair of the Jackson/Harmon Counties OSU Alumni Chapter. "I was raised to be a fan."
Landers' upbringing in southwest Oklahoma and the influences of family and friends led him to pursue a degree in animal science at OSU. He lived and worked on a purebred ranch as a student and spent time helping out at the beef barn for the university. Landers assisted with overseeing a 300-head cow-calf operation and was actively involved in breeding cows. Outside of working, Landers enjoyed watching Cowboy football.
One of Landers' favorite memories from OSU was walking across the stage at graduation in 1997 when he obtained his bachelor's degree in animal science.
After graduating, Landers returned home to continue working on a cow-calf operation at Bar-S Food Company, where he still works today. But his love for OSU didn't stop.
"I'm really passionate about Oklahoma State, so I felt as a graduate, it was my duty to become an Alumni Association member. Over the years, it grew into a lifetime membership, and then I started serving as a chapter officer."
- Justin Landers
Landers says his favorite chapter event has been the annual Cowboy Caravan. The most recent caravan hosted more than 600 people for its signature ribeye steak meal. Eleven OSU students received scholarships from the chapter at the event.
"It's extremely rewarding to be able to give out scholarships to help out students," he says.
Landers says he enjoys being a chapter leader, citing the ease of networking with other alumni in the area. The importance of building relationships is one of the many things he learned at OSU.
"Nearly all of the friends I have today who I really value are ones I made in Stillwater," Landers says.
Being an OSU Cowboy means sharing in the passion and love everyone has for the university.
"We're a family, whether you're a past student, current student or future student," he says. "And we have the most beautiful campus, as far as I'm concerned."