OSUIT Alumni Bring Power to Puerto Rico
Tuesday, May 1, 2018
By Sara Plummer
Responding to storm-ravaged areas is part of the job for a lineworker with electric companies and utilities. Last year's hurricane season was especially devastating and kept the country's lineworkers busy; many are still working in Puerto Rico, the hardest-hit American territory in 2017.
Several OSU Institute of Technology alumni from the High Voltage Lineman program were among those who spent several weeks in Puerto Rico. Hurricane Maria demolished much of the island, including its entire power system, when the Category 4 storm roared ashore on September 20, 2017.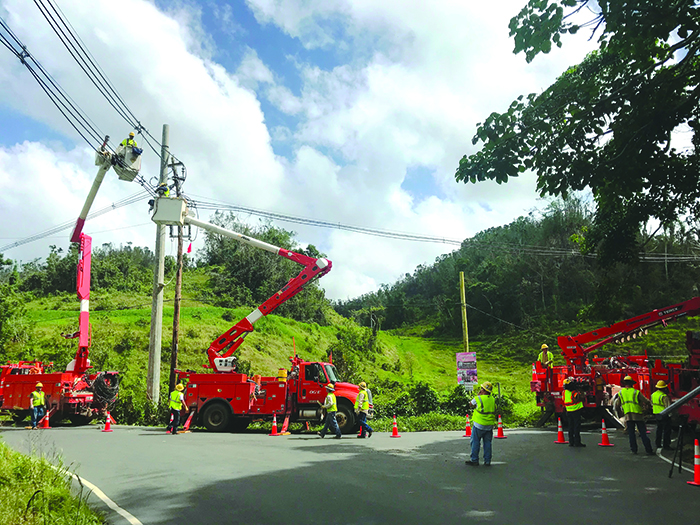 Bruce Paulus, a journeyman lineman for Oklahoma Gas & Electric Company, was one of those who arrived in Puerto Rico in January.
When he and his crew arrived, power was still out on about 35 percent of the island.
"It was complete devastation across the whole island," says Paulus, who graduated from OSUIT in 2007. "There were still poles everywhere. Still were when we left."
There are myriad reasons why recovery is taking so long in Puerto Rico, but Paulus says just the location alone is a big hurdle for those working in the field trying to restore power.
"It's an island. They just didn't have the materials; they didn't have the manpower. For the longest time, they didn't have anything," he says.
Michael Dickinson, who graduated from OSUIT in 2008, says working in Puerto Rico had its own unique complications.
When he and his crew arrived, power was still out on about 35 percent of the island.
"Anything that gets to the island gets there from an airplane or a ship. It just takes a while to get there," says Dickinson, who has been with OG&E for 10 years and has worked at many storm recovery sites. "This was different. The terrain, the narrow roads. It was pretty challenging."
Both men worked in and around Arecibo, on the northeast coast about 40 miles west of San Juan, for two weeks.
"Some (people) have electricity, but it's just running their refrigerators and a couple lights. They're not charging their cell phones every night," Paulus says. Still, the residents rejoiced when they saw crews driving into their neighborhoods.
"Just seeing us pulling in, they were grateful. People cheering, out in the street dancing. One hundred forty days without power and they were great."
- Michael Dickinson
That had a big impact on Dickinson.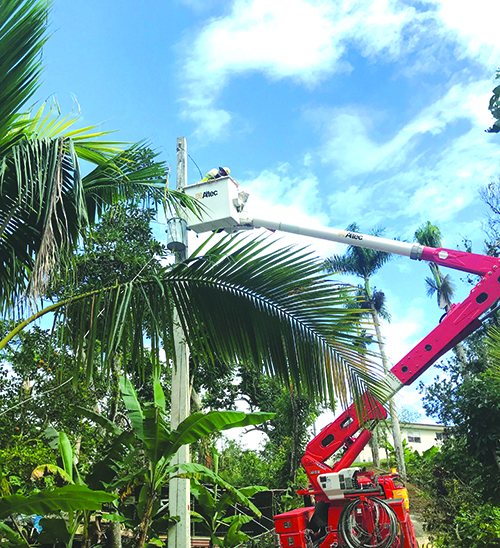 "They're the most grateful people I've ever been around. Everyone wants to give you something. They may not have a dollar to their name, but they want to give you something — a bottle of water, a Coke, some food," he says.
But helping people is why they do what they do.
"We got a skill — we know how to fix the power. We do it for the pride of it and to help people out. It makes you feel good," Dickinson says.
It also puts things back home in perspective, Paulus says.
"They just lost everything and you're there to help them and get them the basics of power," he says. "You never realize what you have until it's gone."
Both say recovery is continuing and will take years for some residents to get back to a sense of normalcy.
"We did get a lot of lights on, but it felt weird to leave knowing you didn't get everybody's lights on," Dickinson says, adding he's glad he was able to make a difference to some families. "We're proud to have the opportunity to work for a company that would send us down there to help people. It was a once-in-a-lifetime opportunity."