Powered by Orange
Tuesday, May 1, 2018
From the front office to the field, four OSU alumni witness history as the Houston Astros capture their first championship.
By Chase Carter
There's a lot of love for orange in Houston.
The second-largest metropolitan area in Texas is home to more than 6 million people, including nearly 8,000 alumni and fans of Oklahoma State University.
But the Cowboys aren't the only ones proudly wearing orange.
On November 1, 2017, the Houston Astros topped the Los Angeles Dodgers in game seven of the World Series, earning the first World Championship in the franchise's 56-year history.
The win capped an emotional season that included a city brought to its knees by Hurricane Harvey. Fans needed something to believe in and cheer for. They needed an escape from the disaster and subsequent cleanup.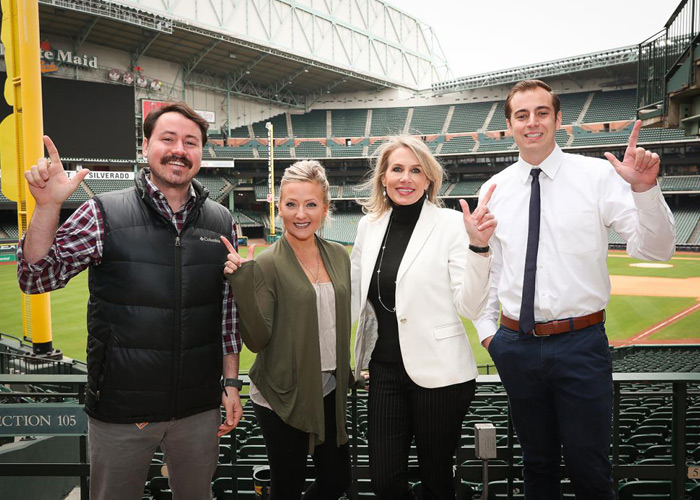 And the Astros delivered, with the help of some Cowboys.
In-game host
"When we won the World Series, the first thing I did was throw up my guns and take a picture at Dodgers Stadium," says Lauren Blackwell.
When she's not on camera, she's writing public address announcer scripts, making batter headshots in PhotoshopTMor working on any number of pieces of in-game content.
"I always knew I wanted to do some kind of reporting in baseball," Blackwell says. "I was hired as a producer, but the experience I had helped my position evolve to what it is now."
Blackwell grew up in Chicago but knew at an early age she was going to go to OSU.
"When I was 9, my cousin played football for OSU, and I went to Homecoming," she says. "I told my dad that's where I'm going to school, and that's where I went."
In Stillwater, she was part of OSU's budding sports media program and gained a lot of experience through the Sports Media Club before graduating.
"I tell everybody OSU is the greatest thing that ever happened to me," she says. "I think everyone who went there feels the same way."
'Special connection'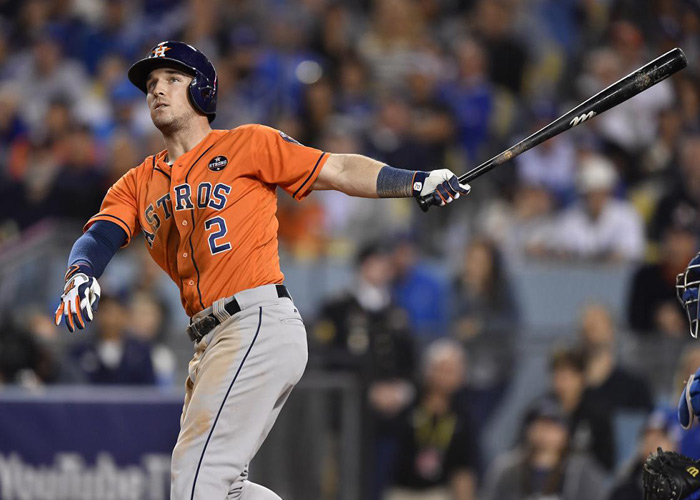 Rob Runnels, the Astros' production manager, is also an OSU alumnus. The Plano, Texas, native was the first in his family to go to college, and after visiting several schools, something kept bringing him back to Stillwater.
"I had a special connection with OSU from the start," Runnels says. "I loved the campus and loved how it was more of a small-town feel from what I was used to."
Runnels studied marketing and management at OSU and graduated in 2010. Outside the classroom, he says he learned a lot by working in several positions at Joseppi's Italian restaurant in Stillwater.
"I really felt that was my real-world application to what I was studying in school," he says. "I worked there all four years of school and several summers, and one thing I learned was the importance of putting the customer first. That's probably the biggest part of my experience there."
Back in Houston, Runnels says that "customer first" mantra is something he emphasizes with his team every day at Minute Maid Park.
"Our main goal is to make sure when someone comes to the ballpark, they are going to create a memory that will last the rest of their life," Runnels says.
The 2017 season filled the bases with memories for Astros fans. The team took down historic powerhouses: the Boston Red Sox, the New York Yankees and the Los Angeles Dodgers. Longtime Astros first baseman Jeff Bagwell was inducted into the National Baseball Hall of Fame, and second baseman Jose Altuve was named the American League Most Valuable Player.
Playing on Stillwater
"The environment in our ballpark was deafening," says Brannon Ramos, a 2014 management graduate and group sales account executive for the Astros. "The best way I can explain the postseason is opening day on steroids. It's almost like a full month feeling of Saturday tailgating at a college game."
Like many students, Ramos says tailgating was a favorite pastime while he attended OSU. After he and his mom searched for "top sports management programs" on the internet, he landed in Stillwater in 2010 and graduated 41⁄2 years later.
"I like to say my first sale was getting myself an extra semester in college from my mom," Ramos jokes.
Ramos landed a job with the Astros just three weeks before graduating. Baseball has been his favorite sports since he was 5, and he says Stillwater's environment helped him build the skills he's using today.
"I specialize in bringing groups to the ballpark," Ramos says. "We host performances, business conferences, family reunions and we attach tickets to all of those events."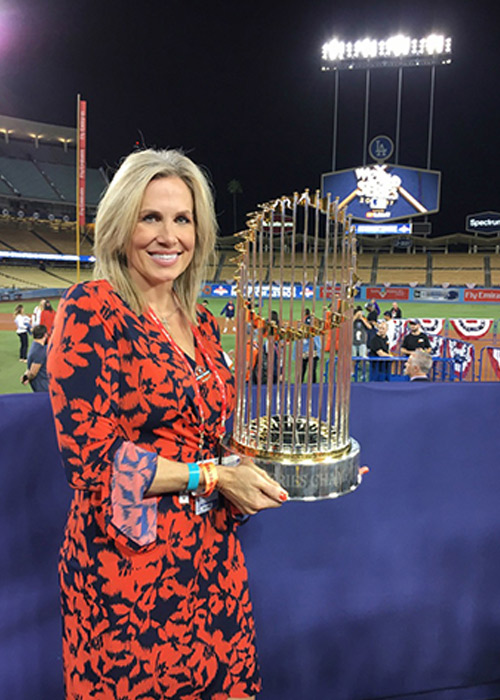 "In my opinion, the intangibles are probably more important when you're trying to get into the business industry," he says. "In Stillwater, you can just walk up to anyone and start a conversation, and you don't have to feel like you're bothering people. I was growing up and maturing at the same time, acquiring a skill to build relationships that I brought to Houston."
Opportunity knocked
Those intangibles like integrity and friendship stuck with Brenda Schiro as well. The 1988 elementary education alumna worked as a teacher for nearly a decade after graduating, but a phone call two years ago threw her a curveball.
"I was working for a Harris County (Texas) politician when I received a call one day from an Astros investor, asking if I knew Jim Crane and would I be interested in working with him," Schiro says. "I had a great job, but I never turn down an opportunity."
Jim Crane and the Crane Capital Group had purchased the Astros in 2011. Schiro says she sent Crane her résumé and four interviews later, she was offered the job as his executive assistant.
"He's an amazing boss," Schiro says. "He's very generous, respectful and kind. Every day is different."
Schiro grew up in the small Oklahoma town of Okarche and says she was a fan of baseball before, but in the two seasons she's been with the Astros, she and her sons have become their biggest fans. She described the World Series win as "surreal," as she ended up on the Dodgers' field holding the trophy after the game.
"I would say my favorite part of this job is the people I work with first and foremost," Schiro says. "I've never worked with such a great group of people before in my life."
The Astros are already looking to repeat as champions in 2018. OSU Day with the Astros has already been set for Friday, July 27, against the Texas Rangers. You can bet the Cowboys behind the team will be providing a lot of orange power for the upcoming season.