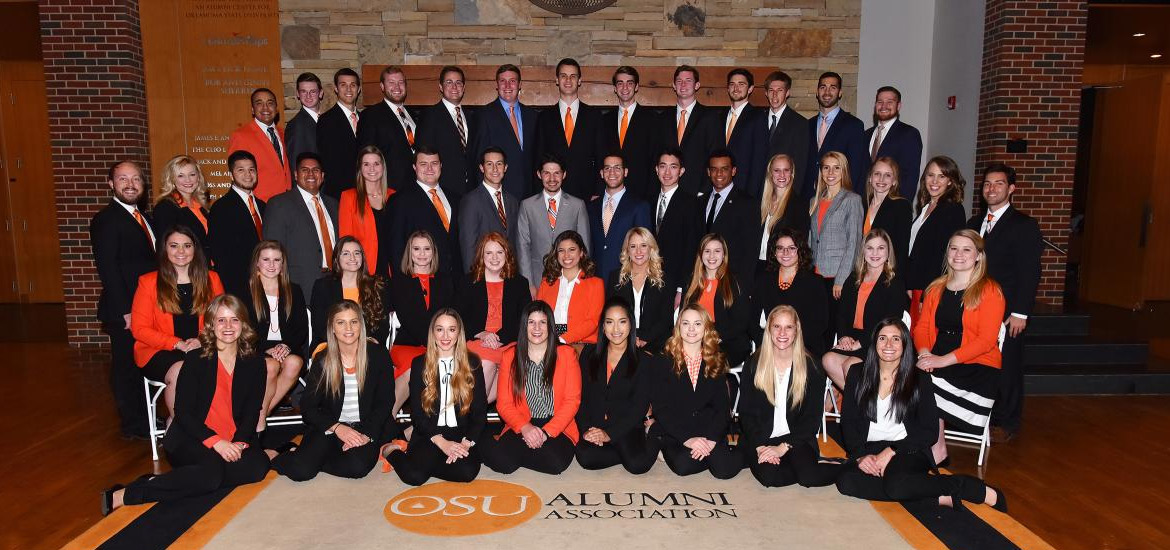 2017-18 Seniors of Significance
Tuesday, May 1, 2018
2017-18 Seniors of Significance
The OSU Alumni Association has honored 48 students with the Senior of Significance Award for the 2017-18 academic year. The award recognizes students who have excelled in scholarship, leadership and service to campus and and community and have brought distinction to OSU.
"These students will go on to become impactful alumni upon graduation and will undoubtedly make Oklahoma State proud," says Chris Batchelder, OSU Alumni Association president and CEO.
The 48 students represent the top one percent of the Class of 2018 and include all six OSU undergraduate colleges. A reception recognized the winners and their families on November 30 at the ConocoPhillips OSU Alumni Center.
Alicia Aguilar, Edmond, Oklahoma Chemical Engineering and Biochemistry
Brooke Bastie, Dallas, Texas English, Spanish and Geography
Allison Brockette, Dallas, Texas Communication Sciences and Disorders
Gage Calhoon, Tulsa, Oklahoma Finance
Brya D'Abrosca, Dallas, Texas Health Education and Promotion
Cody Dean, Agra, Oklahoma Agricultural Education
Megan DeVuyst, Morrison, Oklahoma Agribusiness
Ashley Donovan, Lawton, Oklahoma Psychology and Applied Sociology
Lana Duke, Edmond, Oklahoma Nutrition
Jake Fanning, Laverne, Oklahoma Agribusiness
Stephanie Ferrante, Chardon, Ohio Biochemistry, Microbiology/Cell and Molecular Biology
Claudio Ferrer, Enid, Oklahoma Economics and Finance
Cassidy Gierhart, Choctaw, Oklahoma Chemical Engineering
Micah Gillezeau, Amarillo, Texas Biochemistry and Molecular Biology and Spanish
Tyler Goldsmith, Texarkana, Texas Chemical Engineering
Emily Hart, Edmond, Oklahoma Animal Science
Erin Hart, Edmond, Oklahoma Marketing
Hammons Hepner, Freedom, Oklahoma Agricultural Economics and Finance
Nathan Herrmann, Stillwater, Oklahoma Accounting
Averie Hinchey, Guymon, Oklahoma Communication Sciences and Disorders
Omar Ibarra, Guymon, Oklahoma Health Education and Promotion
Michael Jamaleddine, Tulsa, Oklahoma Microbiology, and Cell and Molecular Biology
Brittany Krehbiel, Hydro, Oklahoma Agricultural Economics
Grayson Kuehny, Elmore City, Oklahoma Agricultural Economics
Logan Kunka, Owasso, Oklahoma Aerospace Engineering and Mechanical Engineering
Wendy Lau Wong, Oklahoma City Industrial Engineering and Management
Courtney Mapes, Alva, Oklahoma Animal Science
Tyler Martin, Omaha, Nebraska Chemical Engineering
Aubrey McCutchan, Collinsville, Oklahoma Civil Engineering
Alexis Miller, Aurora, Colorado Management Information Systems and Management
Angel Molina, Johnson City, Kansas Agribusiness
Gonzalo Morillas, Lima, Peru Finance and Marketing
Taylor Neilson, Meeker, Colorado Animal Science and Biochemistry and Molecular Biology
Nicholas Nelsen, Stillwater, Oklahoma Mathematics, Mechanical Engineering and Aerospace Engineering
Grace Ogden, Muskogee, Oklahoma Plant and Soil Sciences
Macy Perry, Prather, California Animal Science
Ashleigh Rauner, Tulsa, Oklahoma Strategic Communications
Libby Schultz, Wichita Falls, Texas Biochemistry and Molecular Biology
Andrew Schulz, Pullman, Washington Mechanical Engineering and Mathematics
Josh Seaberg, Moline, Illinois Chemical Engineering
Madison Slawson, McAlester, Oklahoma Biochemistry and Molecular Biology
Gatlin Squires, King sher, Oklahoma Agribusiness
William Starr, Tulsa, Oklahoma Microbiology and Molecular Genetics
Link Strickland, Tulsa, Oklahoma Mechanical Engineering
Liza Van der Laan, Frederick, Oklahoma Plant and Soil Sciences
Luke Werth, Elk City, Oklahoma Agribusiness
Caleb Wilson, Tulsa, Oklahoma Biochemistry and Molecular Biology
Darcy Worth, Tahlequah, Oklahoma Management and Marketing