2021 Women for OSU Symposium recognizes leaders in philanthropy
Wednesday, August 25, 2021
Media Contact: Mack Burke | Editorial Coordinator | 405-744-5540 | editor@okstate.edu
During the 2021 Women for OSU Symposium, audiences gathered both in-person and online to experience a much-needed sense of community within the Cowboy family as they celebrated philanthropy at Oklahoma State.
The symposium honored Cathey Humphreys as the 2021 Philanthropist of the Year and 13 outstanding student scholarship recipients. The event featured keynote speaker Leigh Anne Tuohy, a philanthropist and author who inspired Sandra Bullock's role in the blockbuster hit The Blind Side.
The Women for OSU Council also had a special surprise in store for OSU First Cowgirl Ann Hargis as she and President Burns Hargis prepared for their retirement in June. An anonymous donor and the Women for OSU Council gave $50,000 to establish the Ann Hargis Pete's Pet Posse Endowed Fund to support the Pete's Pet Posse program, which Ann established in 2013. Later, the new OSU Center for Pet Therapy was also announced, which will house Pete's Pet Posse in the Student Union.
Women for OSU's annual symposiums have drawn alumni and friends to campus since 2009, and organizers pivoted the event to include a virtual audience after COVID-19 began affecting gatherings last year. This year's hybrid audience included nearly 2,000 viewers.
"We are beyond grateful for our sponsors who have helped make the livestream of this event free to the entire Cowboy family for the past two years," said Michal Shaw, director of Women for OSU and assistant vice president of donor relations at the OSU Foundation. "Going virtual helped us extend our reach and share inspiration with so many more people."
It's one of the many ways Women for OSU continues to evolve, she said.
Another example of that growth is the new Partnering to Impact initiative, which provides funding for unbudgeted on-campus projects in health and wellness, campus beautification, education, and arts and culture.
Women for OSU awarded the first grants at the 2021 Symposium from a pool of 23 applications.
Winners were selected by Women for OSU Partners — those who give a minimum of $1,000 annually to the Partnering to Impact Fund. For those 35 and younger, the minimum annual contribution is $500.
"Women for OSU channels women's passions and strengthens their connection to the university. It's an organization that celebrates leaders and women making positive change in the world," Shaw said. "Partnering to Impact is Women for OSU's newest initiative and provides an opportunity for Women for OSU benefactors to collectively guide their philanthropy and further engage with the campus community."
Dr. Lou Anella has long wanted to create a walking trail that connects the Botanic Garden with the nearby OSU Insect Adventure. He said he appreciated how Women for OSU took an interest in the project.
"We've been wanting to do this nature trail for a while," he said. "This is going to allow us to meet a goal that we have had for many, many years."
John Mark Day, director of leadership and campus life, applied for funding to help fill gaps in basic needs security funding for students at OSU. He commended Women for OSU for embracing the opportunity to help students through the grants.
"It's been great working with Women for OSU," he said. "That group has just embraced the need, and automatically understands the opportunity and the chance here to really make a significant difference in the life of a student. We're so excited and so thankful to put that money to great work here for students at OSU."
The Blind Side
Those who attended or watched the event also heard from Leigh Anne Tuohy, philanthropist and inspiration for The Blind Side book and movie.
Tuohy is recognized as a strongwilled and caring woman, although her story truly began when she married college sweetheart Sean Tuohy in 1982. Together, they were raising two children, Collins and Sean Jr., when they added a new member to their family in 2004 by legally adopting Michael Oher, a teenage foster child they had already taken in and considered family. They raised him, gave him the opportunity to get the education he deserved and encouraged his passion for football. With the Tuohys' love, support and protection, that once homeless 17-year-old boy grew to be a member of the 2013 NFL Super Bowl champion Baltimore Ravens.
Tuohy and her family's inspirational journey are proof that when we give a bit of ourselves to other people, we can make the world a better place and help others. Tuohy is a philanthropist, mentor, interior designer and a New York Times best-selling author. Her newest release, Turn Around: Reach Out, Give Back and Get Moving, challenges readers to rethink what it really means to be a generous person. She dives deep into what it means to give sacrificially, abundantly and immediately within your own community.
"If you're listening to me, you have the ability to make a difference in someone's life," Tuohy said. "There are small things everyone can do."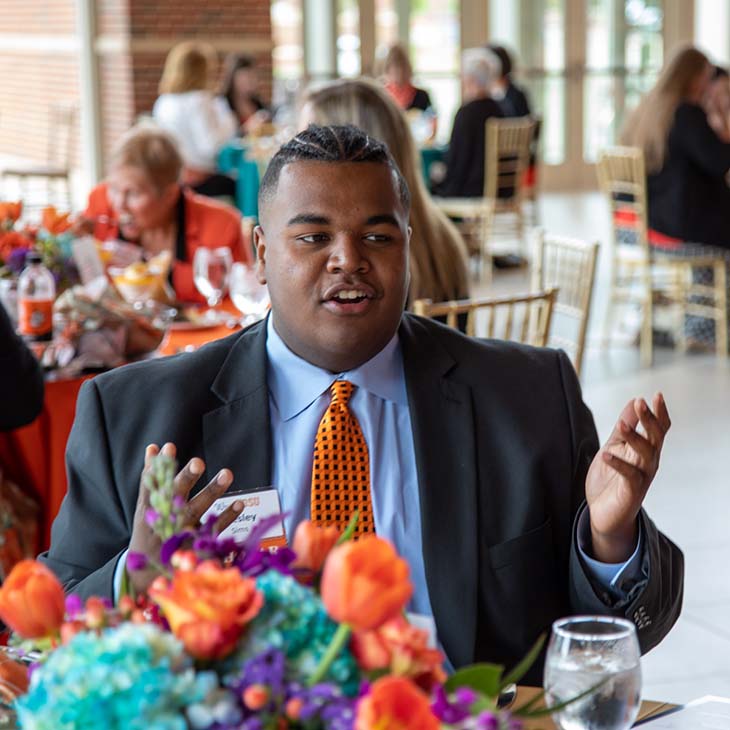 After her inspiring keynote address, Tuohy also sat down with several Women for OSU leaders for an in-depth panel discussion. The panelists included Julia Benbrook, emcee; Jami Longacre, chair of Women for OSU; Denise Webber, CEO of Stillwater Medical Center; and Blaire Atkinson, president of the OSU Foundation and honorary member of the Women for OSU Council. The panelists shared details of their own experiences. From strengths to weaknesses, each told honest, open and inspiring stories from their own lives.
2021 Philanthropist of the Year
For more than a decade, Cathey Humphreys and her husband, Don, have given Oklahoma State University students the world.
The Dallas-area couple has been instrumental in advancing global programming at OSU, providing countless study abroad experiences for OSU students and creating a legacy of selfless giving along the way.
Cathey and Don Humphreys made headlines in 2010 when they donated $6 million to create endowed faculty chairs and student scholarships in the OSU School of International Studies and five colleges as part of the Branding Success campaign. The couple served as the campaign's vice chairs, and their gift was among the first to leverage T. Boone Pickens' matches for chairs and scholarships. The total impact of the couple's generous gift totaled around $14 million.
Cathey said she and Don were inspired to give based upon their own travels.
While living abroad, Cathey saw how important and impactful spending time in other cultures was for her and her family. That knowledge, coupled with the pair's passion for higher education, inspired them to be leaders in supporting study abroad at OSU.
The couple put advocates for study abroad throughout campus with the creation of endowed School of Global Studies chairs. They also endowed semester-long study abroad scholarships and long-term grants for undergraduate and graduate students.
"Global programming at OSU would not be where it is today without Cathey," said Dr. Randy Kluver, dean of the School of Global Studies and Partnerships. "Her vision and generosity have made a profound impact on hundreds of OSU students, providing them with the means to encounter and begin to understand the people and cultures all over the world."
Although Cathey is applauded for her vision when it comes to global studies, she gives a lot of credit to Dr. Shida Henneberry, the Humphreys Inaugural Endowed Chair for International Studies in the Ferguson College of Agriculture.
"Shida was a big mentor to me in developing this program over time," Cathey Humphreys said. "She and her husband, Dr. David Henneberry, helped guide Don and me to create something that would impact as many students as possible."
And that program has accomplished what Cathey and Don hoped for, sending over 480 students to more than 70 countries. Cathey always puts those students first and jumps at the opportunity to meet and visit with them each year at a luncheon on campus.
"While Cathey did not attend OSU as a student, her commitment to Oklahoma State could not be stronger," said former First Cowgirl Ann Hargis. "She encourages faculty and students to dream big and shares her international experiences to encourage others to broaden their perspectives."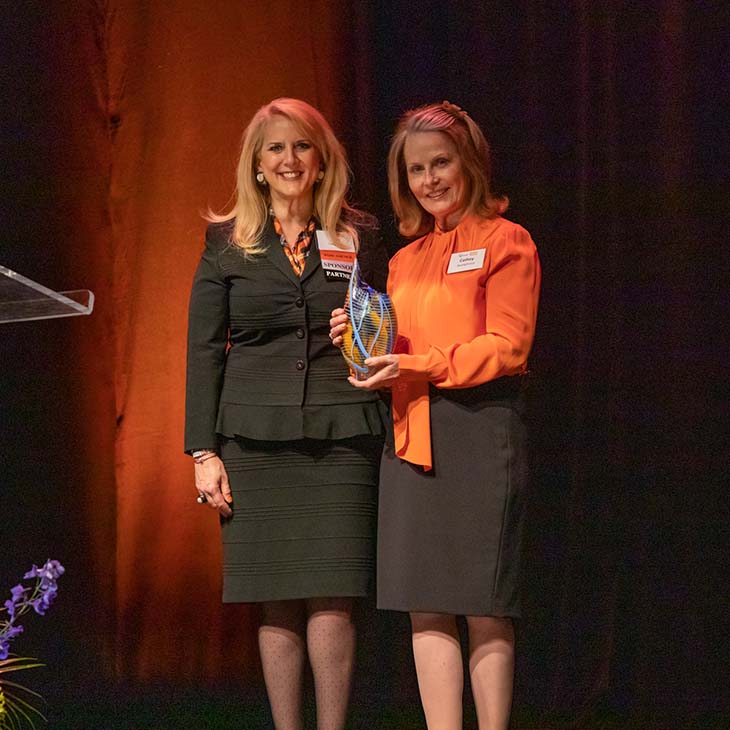 The Humphreys have also given significantly to the New President's Residence Fund and the Ann and Burns Hargis Legacy Fund. She and Don have also made significant donations to the University of Oklahoma, Wharton School of the University of Pennsylvania and the University of Tulsa.
Cathey's impact also shows in her support of the arts. She has served on the board of directors for the Crested Butte (Colorado) Music Festival and she and Don are Patron donors to The McKnight Center for the Performing Arts. Cathey hopes her vision, enthusiasm and generosity will continue to provide students with life-changing study abroad opportunities and inspire others to seek out experiences that will help them grow.
---
Photos By: Lauren Knori
Story By: Grace Janes | STATE Magazine