Dr. Kayse Shrum's achievements mark her path to leading the OSU System
Wednesday, August 25, 2021
Media Contact: Mack Burke | Editorial Coordinator | 405-744-5540 | editor@okstate.edu
Growing up in rural Oklahoma, Dr. Kayse Shrum had no idea where her journey would take her.
Now, the newest president of the state's largest land-grant institution wants to show everyone that where they come from shouldn't limit their potential.
With everything she has accomplished, Shrum has consistently tried to achieve at the highest level.
She threw softballs in her garage every day as a little girl to earn a college scholarship as a pitcher.
She went from being encouraged to apply for medical school to becoming a physician.
She dreamed of having a family and became a mother of six.
And she moved up the academic rungs from being a professor at Oklahoma State University's Center for Health Sciences to being its first female dean and then its first (and youngest) president — and now the first female president of the OSU System.
Shrum has never stopped pursuing excellence.
High Aspirations
Patti Plunk always thought her younger sister was striving for something greater.
As a little girl, Shrum would hold meetings with her stuffed animals — a piece of paper and a crayon in each outstretched paw as Shrum held court over the entire affair.
"I would open her door and she would say 'Get out, we're in a meeting,'" Plunk said. "That's one of my best memories. … Now she's in meetings all the time."
The daughter of Dennis and Nita Donnelly, Shrum grew up in Coweta, Oklahoma — a town about 30 miles southeast of Tulsa. Dennis worked for Southwestern Bell and Nita took care of their two daughters.
A natural athlete, Shrum initially wanted to be a horse jockey but eventually settled on playing softball. She started at catcher. But at one tournament in Bartlesville during her eighth-grade year, she saw a pitcher get an individual trophy. Confused, Shrum asked her dad why the pitcher got her own award.
"I said, 'Well, because that's a skill position,'" Dennis Donnelly said. "And when I came home, she was throwing a ball against the wall. For two or three days, she kept throwing the ball against the wall. So I thought, well, you know, I'll get her some lessons. And then she started throwing the ball in the garage, and she was throwing the ball through the garage, into the den and then through the windows."
Shrum practiced daily and developed a repertoire of pitches, her favorite being the rise ball. She played for her high school along with a club team, the Tulsa Eagles, year-round across the Midwest.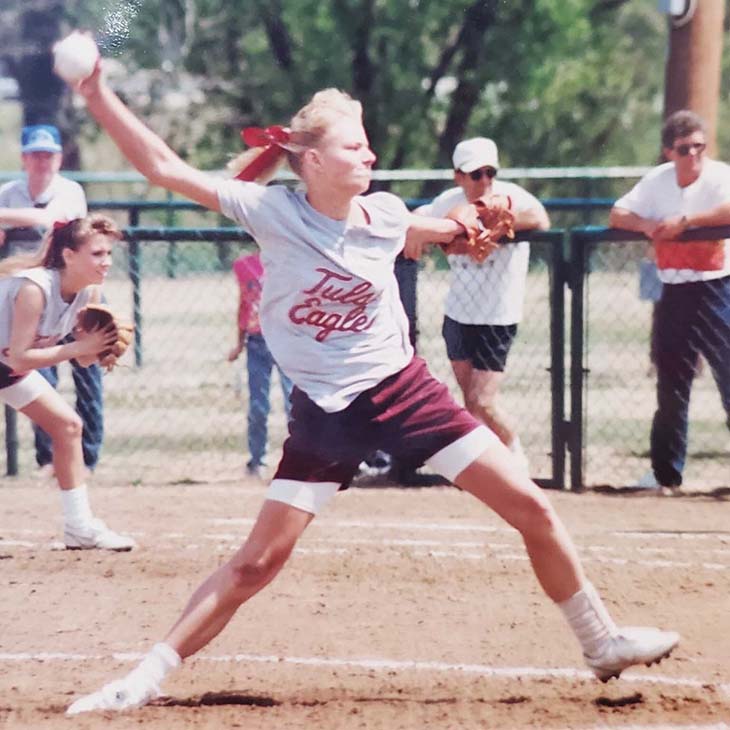 She pitched a perfect game in high school, her prowess garnering attention from Big 12 Conference schools like the University of Oklahoma and the University of Nebraska.
However, Shrum was a small-town girl. Norman and Lincoln seemed like distant metropolises. In Coweta, she was used to walking down Main Street and knowing everyone's name.
For Shrum, softball was a passion. While it earned her a scholarship to Connors State College in Warner, Oklahoma, it never was the end all, be all.
More than three decades later, she can't recall her batting averages or even what she was thinking after she threw her perfect game. But she looks back on those days with a smile.
"A lot of times you focus on moments you wished you would've played better, or you can think through a lot of wins, but my best memories are with my teammates," Shrum said. "It's been 30 years, and I think those are my favorite memories — either riding in the bus or being in the dugout. Those are the things that stick out in my mind the most: the people.
"And although I learned a lot from athletics and having that experience certainly shaped who I am and how I address issues, it was my teammates who have left the biggest impact on me."
Expanding Her Horizon
When she wasn't in the pitcher's circle, Shrum was studying for her classes at Connors State.
Her favorite area of study was science — an affinity that dates back to dissecting frogs in high school. It continued to grow in college.
An undergrad trip to OSU's neuroanatomy lab introduced her to brain research and pushed her curiosity further, compelling her to study physiology.
"For most people, that is not something that is so fascinating to them," Shrum said. "It's probably offputting, but I think that's why it's important that we expose students to a broad education because you never know what's going to ignite your passion."
Her dedication to science put her at the top of her class. One day after a summer physiology class, she was approached by her professor. He told her that everyone else in the class was a pre-med major or had already been accepted to medical school and asked why Shrum hadn't put herself out there.
"That was really kind of the turning point for me," Shrum said. "Having grown up in a small town and gone to a smaller high school and knowing that I needed to work hard had me feeling somewhat intimidated by the environment. I was just showing up every day and studying and trying to do the best I could. I had no idea what my potential was.
"It wasn't really until that moment that I thought [medicine] was something that was a possibility for me. I realized at that time how empowering it is for someone to tell you that you can, and it really opened my eyes to the possibilities."
She went to visit her hometown physician, Dr. Ronnie Carr, an OSU graduate who had taken care of her family for generations. Shrum asked him about his experiences in the medical profession and after talking to him, decided she would apply for medical school.
"I thought, you know, this is where I want to get my medical education, and that's the kind of doctor I want to be," Shrum said. "And that's how I want to treat people. And so that's really what led me to medicine and Oklahoma State University."
Opening Eyes
Wanting to make a difference in young people's lives, Shrum decided to study pediatrics.
After earning her degree from the OSU College of Osteopathic Medicine in 1998, she joined a private practice in Muskogee. There, she saw firsthand how the health care industry was suffering in the rural areas.
"If you have access to health care, you live longer," she said. "That's a tragedy that is sometimes the determining factor. And so that kind of became a passion for me."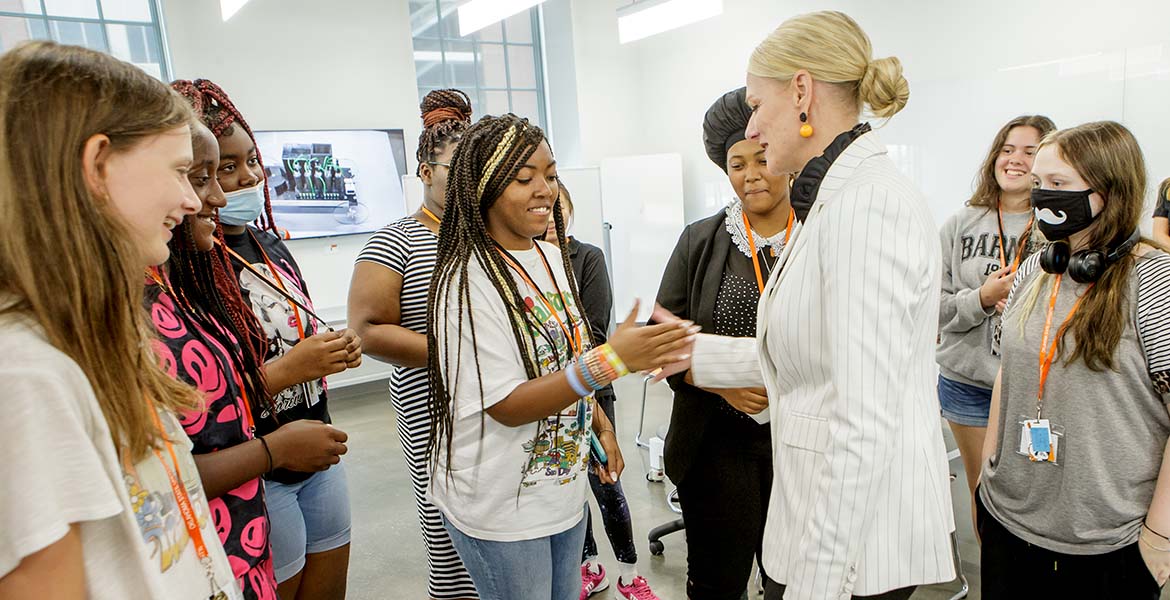 As a pediatrician, Shrum worked to ensure children would have healthy starts to their lives and put them on a trajectory for a full life. After a few years in the field, she returned to OSU as a professor in 2002, focused on filling the pipeline of rural physicians.
Shrum believes rural health care access is an issue with far-reaching implications.
"It's where agriculture happens, it's where our food comes from. And if we don't have access to health care in rural areas, it really starts to have a bigger, more global impact," she said.
Shrum credits her time in the field with giving her problem-solving skills that she has used in every facet of her life since and looks to use as president of OSU.
"You learn a lot about communication and empathy," Shrum said. "As a pediatrician, many times, your patients aren't going to tell you what's wrong with them. You have to observe, and you have to ask questions, and you have to understand. As a president — a university president — a big part of your job sometimes is solving problems, understanding what's going on, listening and communicating."
Family and Career
While Shrum was going through college, medical school and working in a private practice, she was also raising a family of her own.
She met her husband, Darren, walking into the Broken Arrow Walmart when she was an undergrad.
A few years removed from graduating from the University of Central Arkansas, Darren was in Walmart's management training program. He had been going to different stores in the region and that day, he happened to see Kayse walk through the door. That was that.
After a few years of dating, they married and soon decided they wanted a big family. But after suffering several miscarriages, they began exploring adoption.
Then, while on vacation in Mexico, Kayse had good news for Darren — she was pregnant again. In the winter of 1996, while she was in medical school at OSU's Center for Health Sciences, Shrum gave birth to Colton. Shrum tried to time his arrival with Christmas break. The two then had a daughter, Kyndall, whose birth Shrum had planned for summer break.
Shrum couldn't plan everything, though.
"Kayse graduated in May (1998) and started a job in Muskogee," Darren said. "I was in Little Rock, working at a laboratory at the time, and she called and she was crying. I said, 'What's going on?' and she said, 'I'm pregnant.' I said that it was awesome. She said, 'No, it's not; I'm supposed to start my job. I'm starting today and now I'm going to have a baby.'"
That baby turned out to be Karsyn, their second daughter.
Early on, Darren said, the couple's job demands made it tough to care for all three kids, but they managed.
The Shrums were a content family. Kayse's career had taken off as she was named dean of the College of Osteopathic Medicine in 2011 before adding the title of president of OSU-CHS in 2013. Darren had worked for Zebco for a few years after leaving Walmart before starting a career at Abbott Laboratories, which he left after more than a decade to open a fitness center in Muskogee. In 2010, Darren sold the gym and opened his own garage in Coweta so he could spend more time with his family.
About that time, some family friends told the couple they were adopting from Ethiopia. It was a flashback for Kayse and Darren, who had the seed of adoption planted years before. Before making the decision to send Darren across the world, they had a family meeting with Colton, Kyndall and Karsyn.
The family agreed to expand, so Darren traveled more than 8,000 miles to Ethiopia.
Darren came home with two boys — Joseph and Kilientn — and had plans for a third, Kason, but the orphanage had lost him. A few years later, an adoption agency located Kason and contacted the Shrums to see if they still wanted to adopt.
For Kayse, it was an easy answer. Nearly four years after first meeting Darren, Kason arrived in Oklahoma. The Shrum family was finally complete.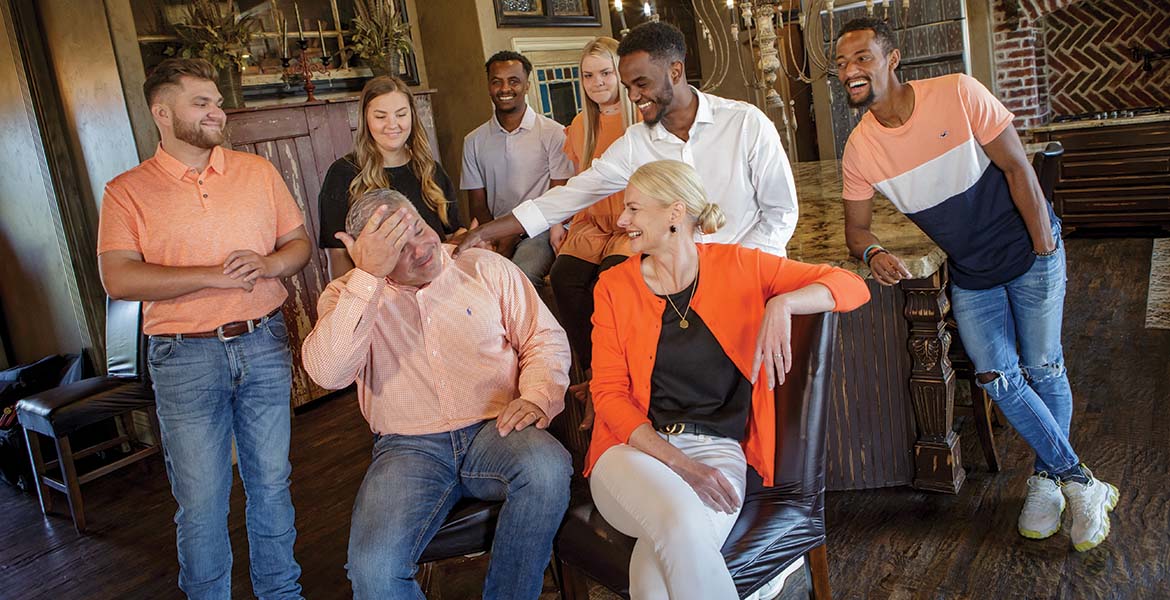 Although it has been tough to juggle their busy careers and lives, Kayse and Darren have been able to handle it all.
"I think that was always something that I wanted … to not have to choose one or the other," Shrum said. Still, she advised, balance and selfcare are key to keeping it together.
The Shrum children have benefited from the family atmosphere Kayse and Darren built, as they were all involved in either athletics or livestock shows. All six are now college-age, with Colton and Kyndall having recently graduated in May 2021.
"She is literally Superwoman," Kyndall Shrum said. "She makes sure everything is done when it needs to be done and makes sure everyone feels loved and cared for and appreciated. I don't know how she does it."
Paying it Forward
Through her experiences, Shrum has learned something at every stop that she feels will help guide her as she takes over as the 19th president of OSU, replacing longtime predecessor Burns Hargis, who retired in July.
She credits a lot of her success to what she learned at OSU.
"I feel like what I have accomplished in life is in part due to the experiences that I've had at Oklahoma State University as a student and a faculty member," Shrum said. "I want to see Oklahoma State University have the visibility that it deserves. And to really start focusing on building our academic reputation and talking about all the wonderful things that are happening and just continuing the success."
First and foremost, Shrum wants students to know the same thing she told her patients and kids over the years: Anything is possible. As she takes over the university that put her on her career path, Shrum wants to help others who grew up like she did — students with a strong work ethic just waiting to discover their true potential.
"I think that's important at a land-grant university because a lot of students are from small communities [or] first-generation college students," Shrum said. "So I think having that background and being mindful of that and thinking about how we at a land-grant university are serving a lot of students with rural backgrounds — the environment that we create has to make them feel welcome and comfortable and provide a great space for them to get an education."
---
Photos By: Gary Lawson and Provided
Story By: Jordan Bishop | STATE Magazine