Facilities Management uses campus as a hands-on lab for students — and wins honor for it
Wednesday, August 25, 2021
Media Contact: Mack Burke | Editorial Coordinator | 405-744-5540 | editor@okstate.edu
From landscaping to behind-the-scenes tours of new facilities, programs open students' eyes
Oklahoma State University has long been lauded for the beauty and quality of its campus grounds and buildings. These days, Facilities Management has added another dimension to its care and upkeep of campus — an educational one. Facilities Management is offering the campus as a cost-effective learning lab, turning the buildings, infrastructure and grounds into hands-on classrooms.
That commitment helped the department bring home the 2020 Effective and Innovative Practices Award from the APPA (formerly the Association of Physical Plant Administrators) last fall for supporting student education.
"We help students succeed by providing practical applications that add to the standard classroom lecture to enrich the learning process," said Ron Tarbutton, chief facilities officer for OSU. "When we are helping students and professors, we are adding enrichment to their course study that's tangible. You can touch it and feel it, and then you can better relate to it."
The new OSU Central Plant opened in 2018, complete with a 60-person classroom in the basement. Just inside the main doors on the first floor, the observation room with its floor-to-ceiling windows lets guests watch the industrial chillers and boilers in operation.
"So often students only see lines and numbers on paper," said Craig Spencer, director of energy services and assistant chief facilities officer. "Tours of the central plant give them the opportunity to see in real life what their books and professors teach them in the classroom. As much as the tours give students a tangible example of coursework, they do the same for the employees, giving them a greater connection to the university and a reminder of its daily mission."
A partnership with the Ferguson College of Agriculture has led to incorporating student landscape design elements into university building projects. Another example: Students in architecture get behind-the-scenes tours of chillers, generators and air-handling units.
"Tours of the central plant give them the opportunity to see in real life what their books and professors teach them in the classroom."
— Craig Spencer, director of energy services and assistant chief facilities officer
Zone manager Steve Ledbetter appreciates the opportunity to speak to students and share his experiences.
"It was rewarding and made me feel valuable as a facility staff member, knowing students would want to see and know more about how HVAC units work, what equipment is needed for operations and how the design choices they could make in the future would affect the people who do the maintenance and upkeep on the building," he said.
The concept is mutually beneficial. The School of Mechanical and Aerospace Engineering has partnered with Facilities Management for aerial inspections of the Lake Carl Blackwell dam, thermal imaging of buildings to detect areas of heat loss and aerial nighttime lighting surveys. Fire Protection and Safety Engineering Technology developed a semester-long project with students serving as loss prevention consultants.
Leslie Stockel, a clinical assistant professor in the fire protection and safety program, works with Facilities Management and OSU's Department of Environmental Health and Safety, bringing her classes to areas of basic industrial infrastructure like steam generators and building ventilation systems as well as to specialty areas such as the grain elevator and furniture repair shop. The collaboration gives students a real-world application of theories they learn in class, like the hierarchy of hazard controls.
"There are many ways to control that risk. The whole risk management process is about identifying a hazard, evaluating that hazard and then engineering protective and workable solutions to mitigate the risk," she said. "A fire protection and safety professional has to be able to develop a solution that will protect the people and the property, but not break the bank."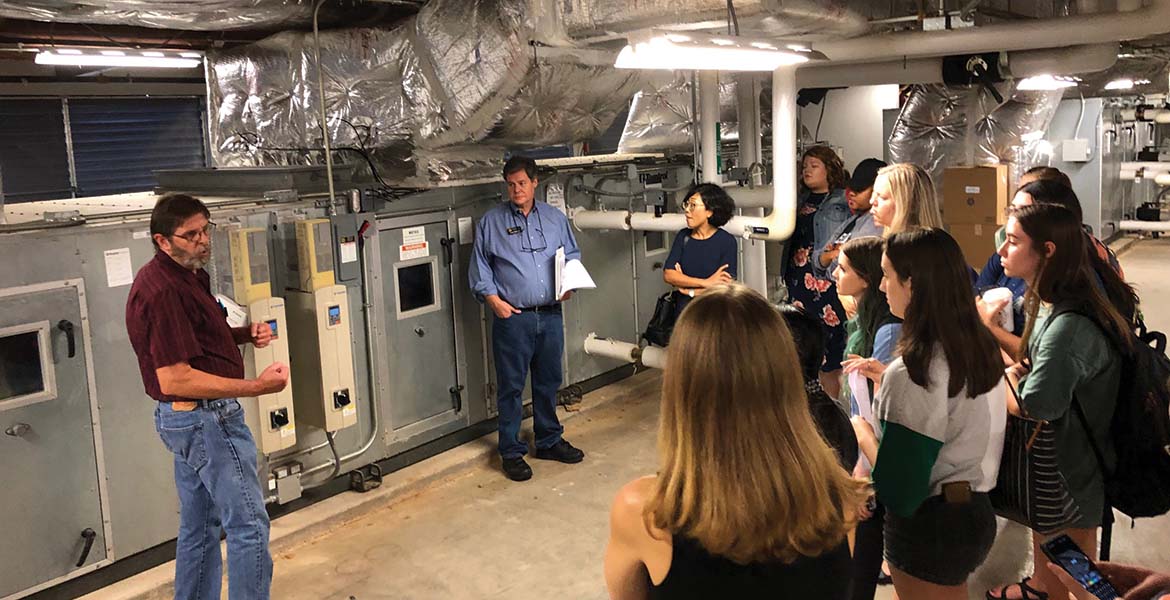 Larry Secrest, Facilities Management safety coordinator, said the fresh sets of eyes looking at the work spaces has been invaluable.
"If you see something every day, there comes a point when it no longer registers," he said. "The students assess the environment for fire, chemical and safety issues. Besides identifying the risks, they put together a risk reduction plan and help us identify what correcting the issue will cost, and they provide alternative solutions."
Seth Durham, a biosystems engineering undergraduate, said working with Facilities Management "has been nothing short of a blessing."
"I have been able to develop and practice both my technical and communication skills in a diverse number of environments," he said. "Working alongside professional engineers as well as surveyors, project managers and maintenance workers has been an essential supplement to my education. I have no doubt that my experience with Facilities Management has made me a better student and prepared me for a career in practical engineering."
Tarbutton said the possibilities are endless.
"There is no limit to the partnership opportunities between FM and academics," Tarbutton said. "The entire campus, facilities and grounds can be a cost effective learning lab. Our core mission is educating students. This lets us directly be a part of that mission."
---
Photos By: Gary Lawson and Phil Shockley
Story By: Shannon Rigsby | STATE Magazine