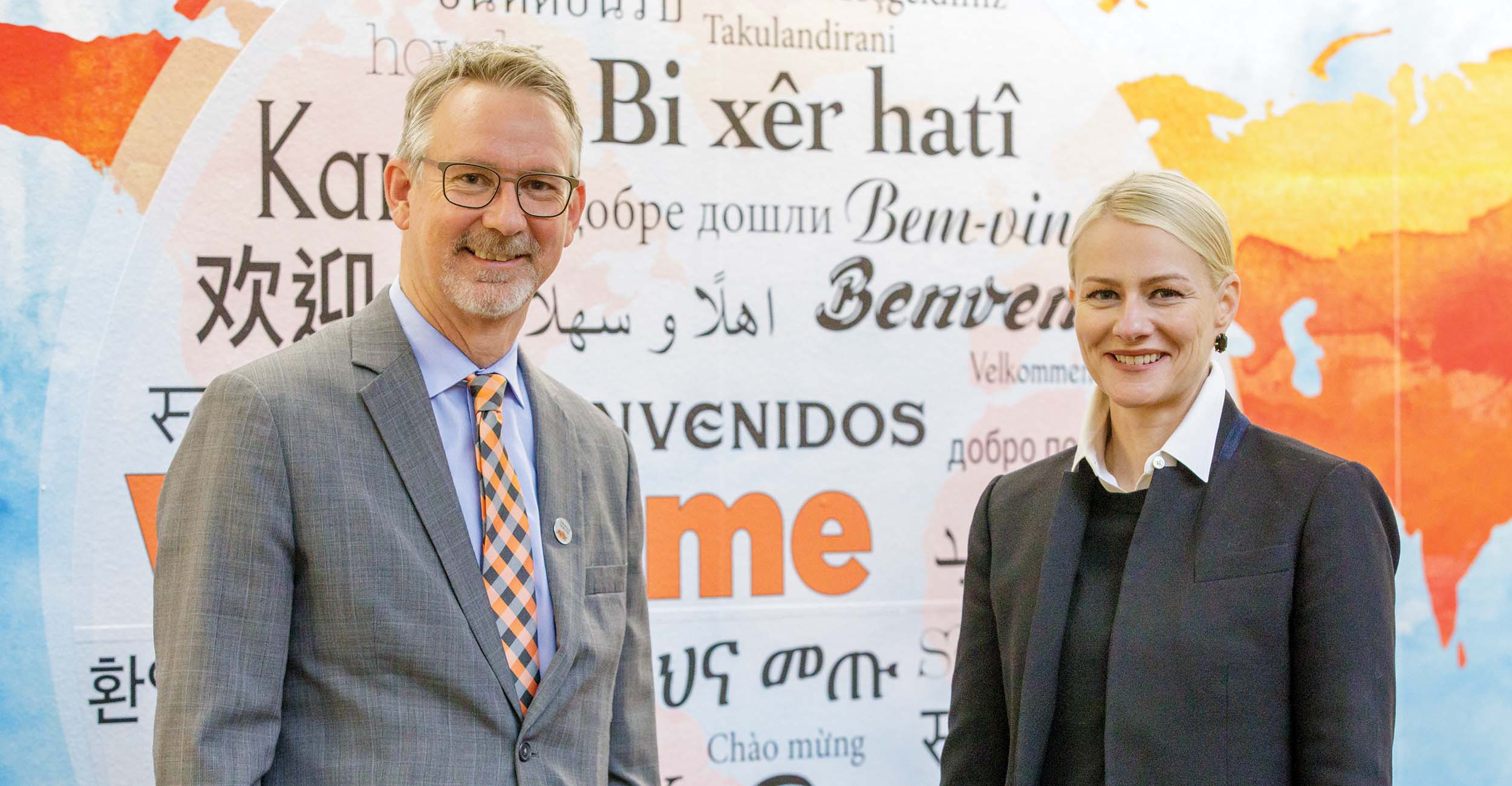 OSU wins global recognition for work in sustainability
Wednesday, August 25, 2021
Media Contact: Mack Burke | Editorial Coordinator | 405-744-5540 | editor@okstate.edu
University ranks in top 10 for addressing U.N. Sustainable Development Goals
Already firmly established as a state and regional leader in public impact research, Oklahoma State University now has received global recognition for its efforts to address the United Nations Sustainable Development Goals.
OSU ranked No. 85 out of 1,115 institutions around the world and No. 8 in the U.S., according to the Times Higher Education's 2021 impact rankings — the first rankings to assess universities' progress toward the United Nations 17 Sustainable Development Goals (SDGs). This year, OSU submitted evidence of its activities for six goals: zero hunger, good health and wellbeing, clean water, clean energy, sustainable cities and communities, and partnerships for the goals.
"We are honored to be among the world's leading universities in sustainable development," then OSU President Burns Hargis said after the April announcement. "As a premier land-grant university, OSU has a long, proud history of working to stop hunger, improving water quality and supply, and advancing sustainability on campus and around the world."
The Times Higher Education's rankings are based on research, outreach and stewardship. Vivian Wang, OSU's director of global partnerships, said OSU's ranking boosts its global reputation significantly while moving OSU (and the world) closer to the key objectives established and adopted in 2015 as part of the United Nations' 2030 Agenda for Sustainable Development.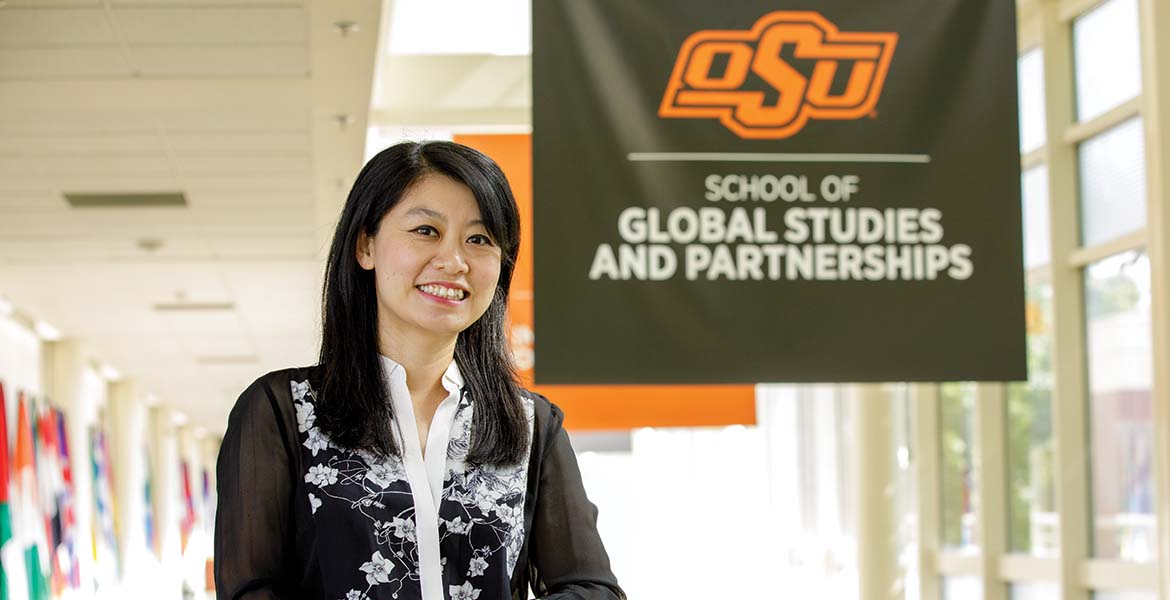 "Overseas institutions and prospective students pay attention to those rankings," she said. "This ranking is really about the impact the university can have around the world. It's really trying to understand, to let each institution tell the world what they're doing the best. And certainly we're among the best of the best."
Associate Provost and School of Global Studies and Partnerships Dean Randy Kluver said OSU has adopted the goals as a framework for global partnerships and engagement.
"The SDGs are completely in line with what a university like OSU is about: improving the quality of life for communities both locally and around the world," Kluver said.
Wang noted that OSU is educating the next generation with the hope they will help build a more sustainable future. To that end, she said the rankings highlight student contributions as well as faculty research. OSU's first foray into the rankings process wasn't easy, but Wang had buy-in from across campus. More than 25 departments and units provided input and evidence, and 164 articles of evidence were submitted.
"The SDGs are completely in line with what a university like OSU is about: improving the quality of life for communities both locally and around the world."
- Randy Kluver, dean of the School of Global Studies and Partnerships
"That's a key point," she said. "It's not one office that can get this done. We needed campuswide involvement, and I think a lot of our faculty and staff love to share what they're doing. It could be outreach, it could be a teaching project or a student-volunteer activity. I think those are great stories we should share."
Many of those stories were new even to Wang.
"It's very fascinating. I've been at OSU as a student and a staff member for more than 10 years, and there are a lot of things I don't even know. So how we can tell those stories and share those efforts through this ranking is a great reward for me."
Sustainability Coordinator Kristeena Blaser, who took over for outgoing Sustainability Coordinator Ilda Hershey in the spring, said OSU has a lot of momentum, and she's hoping to build on Hershey's work and collaborations.
"I hope to build on the foundation that she has laid," Blaser said. "Two initiatives that are at the top of my list to get established are a campus sustainability plan and a climate action plan. … Alongside the campus sustainability plan, I am developing a climate action plan, which will include an overarching plan for carbon neutrality and resilience. My hope is for Oklahoma State University to join the list of universities and colleges that have signed the American College & University Presidents' Climate Commitment (ACUPCC)."
Regardless of the result of this ranking, Wang said OSU remains true to its mission.
"The rankings reflect what we do the best and allow us to show our strength. But we'd continue to do this with or without the ranking. As a land-grant institution, it's our mission. As a graduate of OSU, itmakes me proud, because OSU is working to change the world."
Where OSU Stands Out
SDG 2 Zero Hunger
OSU ranked 10th in the world and second in the U.S. on zero hunger, which measures universities' contributions toward food security, better nutrition and sustainable agriculture. The assessment highlighted OSU's strong research on agriculture and hunger issues and demonstrated OSU's strong commitment to address food security locally and nationally, as well as operational practices to reduce food waste.
SDG 6 Clean Water and Sanitation
OSU ranked 18th globally and third in the nation for its efforts toward SDG 6, which assesses universities' contribution toward clean water and sanitation for all. OSU is an EPA Energy Star Partner, recognized for using Energy Star resources to reduce energy and water waste. OSU's Water Resources Center is one of 54 centers across the country that focuses on highlevel water quality and sustainable use of regional water supplies. One example of OSU's efforts is the OSU chapter of Engineers Without Borders, which has been volunteering to build point-of-use water treatment systems to provide clean drinking water in Guatemala since 2015.
SDG 11 Sustainable Cities and Communities
OSU ranks 29th globally and sixth in the U.S. on SDG 11, which focuses on how universities strive to preserve and promote art, heritage, culture and environment in their communities. This acknowledges OSU's efforts toward a more sustainable transportation strategy and minimizing negative environmental footprints with new buildings and housing. OSU's partnership with the city of Stillwater on local planning and development is part of this. OSU also plays a key role in preserving culture in Oklahoma and enriching the cultural life of communities through academic programs and campus events.
SDG 17 Partnerships for the Goals
OSU ranks 86th globally and fifth in the U.S. This measures how universities support all the SDGs through engaging with local and national governments and international organizations to develop policy and strategies. It also gauges universities' collaborations to identify solutions and promote best practices. OSU was recognized for implementing global partnerships for sustainable development. As a public research institution, OSU works closely with private and public sectors, NGO partners and global partners, to study, teach and develop technologies, encourage best practices and develop strategies to address global challenges.
---
Photos By: Gary Lawson
Story By: Mack Burke | STATE Magazine