OSU's work in aviation traces its roots to early plane called a Vornado
Wednesday, August 25, 2021
Media Contact: Mack Burke | Editorial Coordinator | 405-744-5540 | editor@okstate.edu
Ralph Odor thought of craft in 1930
In the early 1930s, Oklahoma was in the depths of the Great Depression and its western areas were dealing with the Dust Bowl. Officials at Oklahoma Agriculture and Mechanical College were exploring options to keep the institution open, offer employment for students, staff and faculty, and provide the residents of Oklahoma with practical advice to remain economically viable.
Most people would not think of this as a good time for taking a risk. But there are times when an institution needs to take a chance without guarantees for success and with the hope that an idea will lead to future opportunities. Beginning in 1932, some at OAMC were willing to gamble on Ralph Odor's vision — and his Vornado airplane.
Ralph Keely Odor was born on the family farm near Arcadia, Oklahoma, on April 5, 1895. His parents were William Harrison Odor and Myra Eva Keely Odor, and the farm was known for the round barn his father constructed south of Arcadia along Route 66. He attended Central State Normal (now the University of Central Oklahoma) in Edmond briefly and then transferred to OAMC in fall 1912 where he was enrolled through spring 1915.
On campus, he participated in the college military band as a private, assisted with the student newspaper, The Orange and Black, and served as reporter for the Omega Literary Society. He provided musical entertainment at campus gatherings and was known for his trombone solos.
Odor was drafted Dec. 10, 1917, to serve in the U.S. Navy during World War I. His first assignment was in New York City before being selected as the first trombonist in the Great Lakes Naval Station Band north of Chicago. John Phillip Sousa served as the band director, after coming out of retirement for the war. Odor attained a rank of first musician. More importantly, he became intrigued with aviation during the war.
On Jan. 7, 1920, Odor married Rosalie Lupus in Philadelphia, returned to Oklahoma and initially lived with his parents before moving back to Pennsylvania in 1923. Their oldest daughter, Dorothy, was born in Oklahoma, but sons William, Ralph Jr. and Paul joined the family while they were living in Upper Darby Township, Pennsylvania.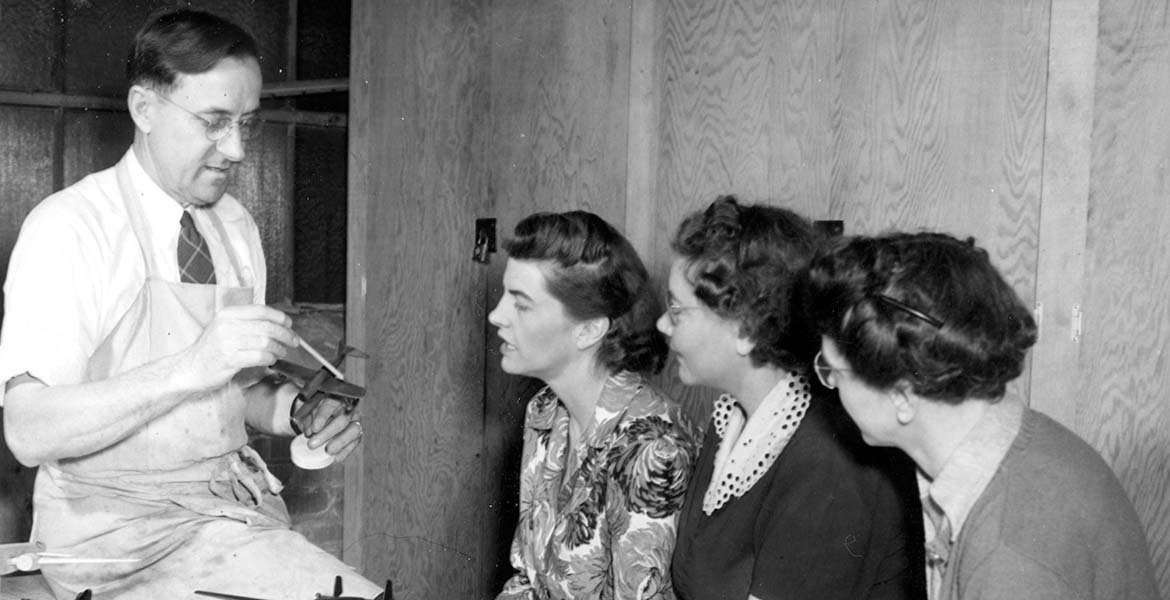 Odor's infant daughter, Rosalie, only lived a few weeks and died in 1926. He was an airport designer in Philadelphia before the family returned to Oklahoma in 1928. Odor was listed as an insurance salesman in the 1930 U.S. Census, but in his spare time, he continued to tinker on model aircraft.
In 1932, the Odor family's youngest daughter, Katherine, was born and the family became Stillwater residents. At OAMC, Ralph Odor went to work designing and building a new propulsion system with plans for a revolutionary airplane with the support and encouragement of the college administration. He began working in the shops of the Industrial Arts Building with the cooperation of Dewitt Hunt, superintendent of shops. Hunt coordinated hiring students to assist Odor in the various design, layout and construction phases.
OAMC engineering students had filmed a test flight of Odor's Vornado airplane model in the spring of 1931 in Edmond. The model was tethered and the electric engine connected to its power source wrapped around the tether line. The small plane could only circle around the secured source but with each circle, it picked up speed and ultimately went airborne, rotating around its earthly anchor. Tests with early models suggested cruising speeds of 300 to 400 miles per hour, and with take-off and landing speeds of only 30 miles per hour, it was suggested that the plane could land anywhere.
While Odor continued his experiments on the plane's aerodynamics and construction techniques on the OAMC campus, the college explored the development of a revenue stream to support the efforts. The William K. Odor Foundation and Vornado Trust was established at OAMC in 1935 to manage financial and legal considerations of the venture. With reduced state support and without a campus funding method, a new revenue source was developed with the creation of the Odor Foundation. Dean Phillip Donnell, head of the School of Engineering, served as the foundation president.
Dr. Henry Bennett, president of the college, served as the vice president with E.E. Brewer, purchasing agent for the college, as treasurer, Ralph Odor as secretary and Roy E. Hayman as a trustee. Hayman was the manager of rural electrification for the Oklahoma Gas and Electric Co. Over 60% of Odor Foundation members were residents and Odor family members in Edmond and Stillwater, but membership included those from as far away as Pennsylvania, Delaware, Illinois and Maine. If the planes were constructed and sold, the Odor Foundation would receive a portion of the proceeds to support additional aerodynamic projects.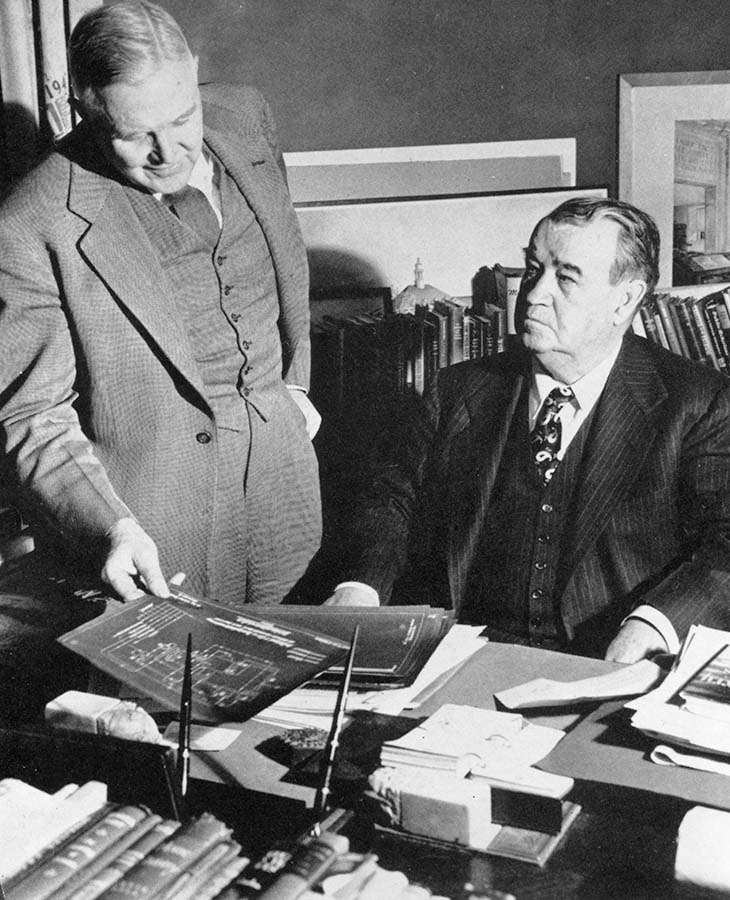 Odor's concept planes utilized the principles of air flow, force and power found in a tornado, but under a controlled environment. The specially designed propellers located in one or two fixed cylinders, each with an inserted cone, would create a power vortex of air, moving the plane forward and upward. To brand this concept, Odor created the portmanteau word, Vornado, by combining the two words vortex and tornado. Scale models of the plane were tested in wind tunnels at the University of Michigan and other locations.
It was suggested that the Vornado could carry heavier loads at faster speeds than conventional aircraft of that time. Odor traveled extensively and collaborated with engineers and faculty at locations including the University of Oklahoma, California Institute of Technology, Philadelphia and New York.
In June 1935, Odor authored an OAMC Division of Engineering Publication published by the Engineering Experiment Station titled "A New Type of Propeller Assembly for Aircraft" that provided a progress report on his investigations. He was still hoping to build a full-scale model at that time and had submitted a U.S. patent application for his propeller assembly on July 31, 1934. It was approved May 24, 1938.
In the meantime, the OAMC campus was kept informed of the latest Vornado developments through articles in the student newspaper. Odor and his airplanes were also featured in the Daily Oklahoman and other state newspapers. Testing on campus continued into the fall of 1935 as Odor adjusted propeller shapes, angles and speed of rotation. Smoke candles were used to determine wind turbulence. His final "life-size" model was completed and then dismantled in October. It was still hoped the final production model would be constructed at the Stillwater Airport, but some in Oklahoma City and Tulsa were also submitting manufacturing bids.
The first piloted model of the Vornado was to be built of fabric reinforced over a steel structural frame, but it was thought the final production models would be made entirely of steel lined with asbestos for safety. Odor hoped to start construction by Jan. 15, 1936, and had arranged for test pilot Roy Hunt of Oklahoma City to fly the Vornado in early July of that year. But in December 1935, various pieces of the plane were subcontracted to several aeronautical companies with final assembly to take place in Stillwater. In the meantime, Odor had moved his family to Oklahoma City and with the delayed patent approval, enthusiasm for the project dwindled. Eventually, Odor took a job in Kansas.
The Vornado plane never achieved commercial production, but the designs Ralph Odor created and the patents he developed led to a popular and successful air circulation system used in a fan known as the Vornado. Odor would continue to be an innovator and research engineer for the rest of his life and secured nine U.S. patents. He died at age 91 on Feb. 10, 1987.
The college's collaboration with Odor would ultimately lead to the creation of a university foundation with resulting new revenue streams to support a growing number of institutional programs and priorities. The college's involvement in aeronautics literally took off beginning in the early 1940s with the subsequent development of World War II training programs, a flight school, collaborations with NASA and eventually cuttingedge developments in drone technology. All of these achievements can be traced to a little plane that never carried a passenger and only flew in circles. Thank you, Mr. Odor, for sharing your vision with us.
WRITER'S NOTE: I would be interested in communicating with any members of the Odor family to learn more about Ralph Odor. Please contact me at David.peters@okstate.edu or 405-744-6597.
---
Photos By: OSU Archives
Story By: David C. Peters | STATE Magazine