Sportswriters across the country trace their beginnings to OSU
Wednesday, August 25, 2021
Media Contact: Mack Burke | Editorial Coordinator | 405-744-5540 | editor@okstate.edu
Through the years, sports reporters have had the chance to tell the tale of some of the greatest athletes to walk the earth. From the gridiron to the hardwood, the baseball diamond and beyond, sports are bigger than ever and the people covering them — including some Oklahoma State alumni — are still getting the chance to witness greatness.
Finding His Niche
Reporting courtside from the 2017 NBA Finals, Anthony Slater couldn't believe how far he had come as a sportswriter. Less than a decade prior, he was writing his first story at The O'Colly.
It was a long way from covering his brother's Division II baseball team.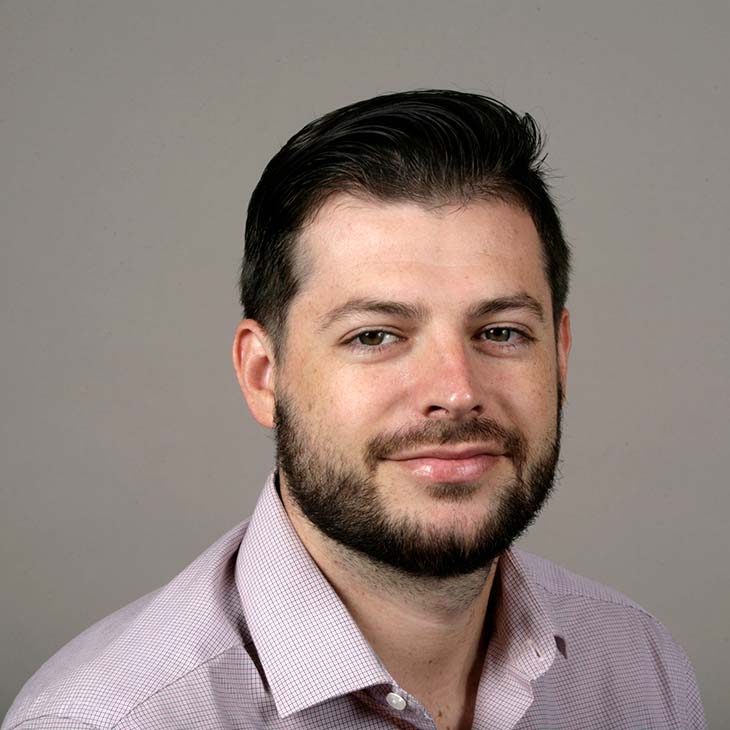 Slater — a native of Rohnert Park, California — had no idea what career he wanted to pursue, but he awakened something when he started writing about sports at Sonoma State University, covering everything from the NHL's San Jose Sharks to the college baseball team.
His articles were warmly received, which prompted Slater to explore a career in sports journalism. A Google search on prominent sports media programs pointed him to Oklahoma State University.
"I was 20 and lived in the same state my whole life, so I just felt like something different," he said. "I wanted to try this profession, and it turned out to be the best decision that I have made."
Slater immediately joined OSU's student newspaper, The O'Colly, where one of his first stories was about a young receiver on the Cowboy football team.
"My first story was 'Can Justin Blackmon become the next great Oklahoma State receiver?' and I think I was very lucky that season that he blew up," Slater said.
Covering Blackmon and quarterback Brandon Weeden put Slater in contact with some of the state's professional sportswriters, including Berry Tramel and Jenni Carlson at The Oklahoman. Slater parlayed that connection into an internship and eventual job at the paper, where he quickly made a name for himself as the Oklahoma City Thunder beat writer.
"I think Oklahoma City was a good appetizer for a reporter," Slater said. "I got that job at 23, and there are benefits to covering a small-market NBA team."
One of Slater's eye-opening moments in covering an NBA team came during his first season, as he was asked to come on for an interview on NBA TV.
"It was the first time I had gone on NBA TV and Shaq was interviewing me," Slater said.
After a few years of covering the Thunder's ascent, Slater had the opportunity to go back to California to cover the Golden State Warriors for The Mercury News in San Jose and eventually to his current position at The Athletic.
Going from small-market OKC to the San Francisco Bay area was quite a transition, but Slater's time at The Oklahoman and at OSU prepared him well for a bigger stage. It didn't hurt that Slater wasn't the only newcomer to the area, as former Thunder star Kevin Durant joined the Warriors that same year.
"It wasn't necessarily a pirate ship, but you would go into the locker room postgame and there are guys having beers in there, media members everywhere having rambunctious conversations, guys having political conversations," Slater said, comparing the rowdiness to the Thunder's low-key environment. "… It was professional but like a much looser, laid-back version of that with NBA royalty all around."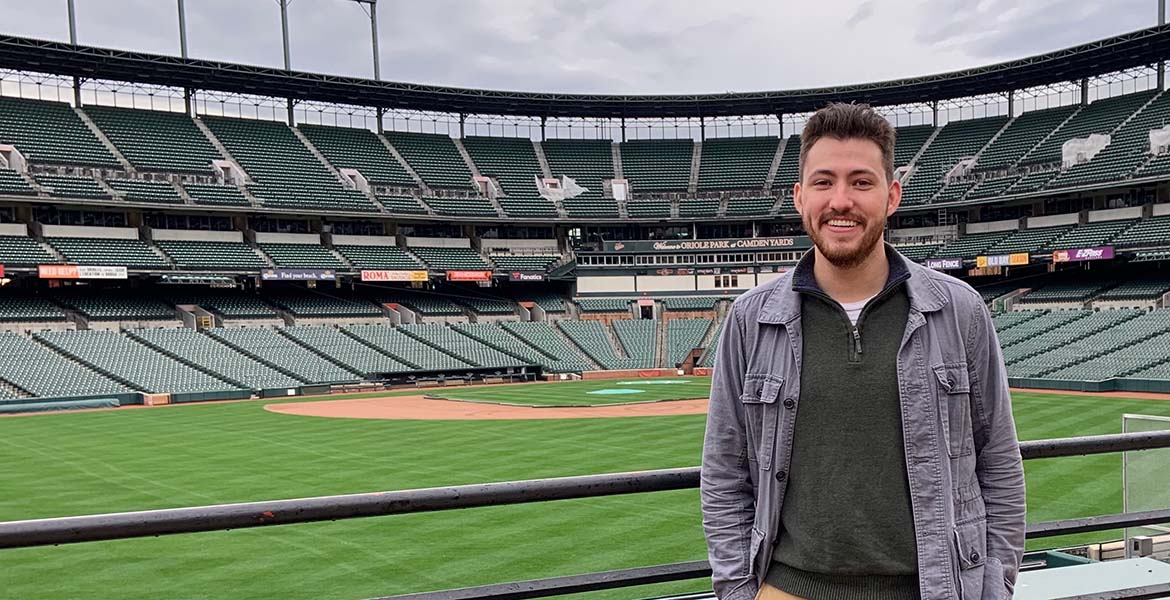 Making the Majors
Another western transplant who worked his way up from the OSU sports media program to the majors is Nathan Ruiz, who covers the Baltimore Orioles for The Baltimore Sun.
Ruiz — a native of Reno, Nevada — was an avid baseball fan growing up and loved the San Francisco Giants. He knew he wanted to cover Major League Baseball, and at OSU he laid the groundwork to do just that.
"Oklahoma State's sports media program came up, and from that point on I was set," Ruiz said. "I went to my mom, and she was a [Chicago] White Sox fan and I remember saying, 'Mom, Robin Ventura went there,' and she was a country music fan so I said, 'Mom, Garth Brooks went there.' … I really didn't know anyone or have a whole lot of familiarity with the area, but it became home in a lot of ways."
Ruiz also got his start at The O'Colly on a variety of beats, eventually fulfilling his dream of covering baseball. After amassing clips reporting on Josh Holliday's Cowboy baseball team, he landed an internship with mlb.com covering the San Diego Padres and eventually earned a job covering OSU sports for The Oklahoman.
A few years in, Ruiz saw an opening for a position covering the Orioles for The Baltimore Sun, where famed baseball writers Tim Kurkjian and Buster Olney once worked.
Although the Orioles have had some lean years, Ruiz had experience covering a then-rebuilding squad with the Padres, so he felt he was up to the task and in 2019 packed his bags for the East Coast.
"It definitely creates this aspect of it where some nights, it is hard to put together the narrative but at the same time, I grew up loving the sport, and there are worse things to do on a given night than figure out how to write about a 6-1 Orioles' loss," Ruiz said.
While the pandemic has made it tough to establish a rapport with players because of disjointed Zoom calls, Ruiz has adjusted. And he's had plenty of unforgettable in-person moments.
"I covered a game at [Boston's] Fenway Park, and I remember walking out onto the field from the visitors' tunnel and thinking Babe Ruth and Lou Gehrig and all of these other players who always played at Fenway Park, they walked out of the same tunnel," Ruiz said. "It is cool that I get to sit here and do that. A decade ago, it was something I really wanted to do, and now here I am doing it."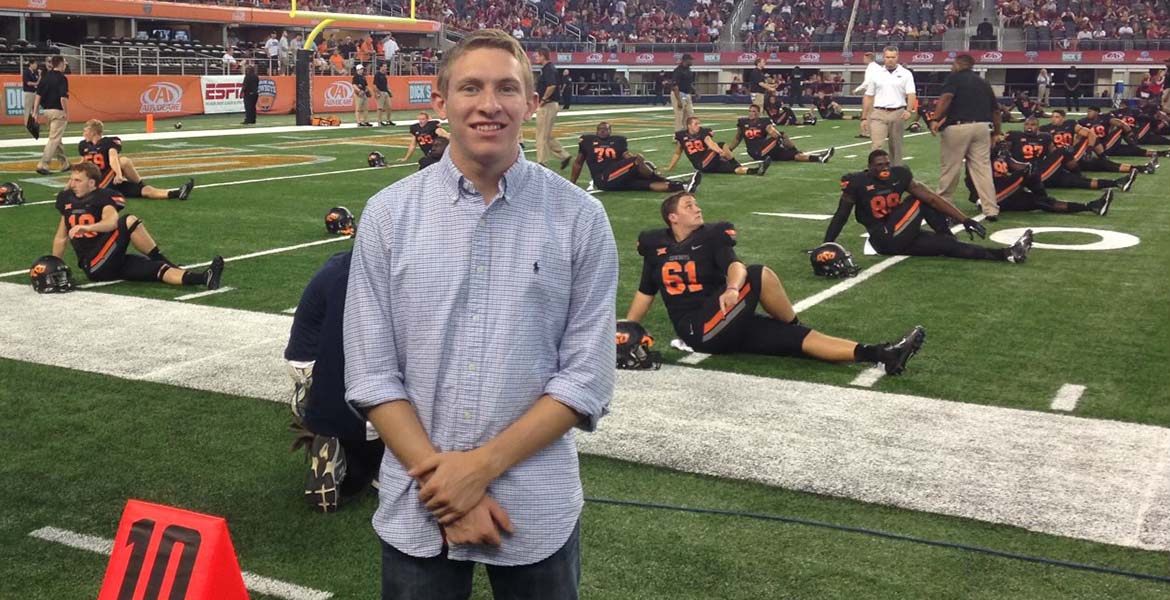 Spinning the Losses
Cody Stavenhagen has had to come to terms with the reality that covering sports isn't always glamorous.
Stavenhagen works for The Athletic, covering the Detroit Tigers, another rebuilding baseball team. Growing up in Amarillo, Texas, he loved the minutiae of baseball, from the minor transactions in a season to following the minor league teams. So even though the Tigers are struggling, Stavenhagen still finds ways to craft compelling stories.
"It is interesting: You kind of dream of covering Major League Baseball, and growing up you think every game will be like Game 7 of the World Series. But in reality, sometimes you cover a team that is not very good, and it is not always thrilling and exciting," Stavenhagen said.
It was a bit of a transition for Stavenhagen, who covered winning OSU football and baseball teams for The O'Colly and the University of Oklahoma for the Tulsa World. Once he joined The Athletic, he was still on the winning side, covering the University of Michigan.
But with his dream of covering an MLB team in hand, there was no way he would turn down the opportunity. Going from writing about wins to covering a team that had been in a rut was a challenge, but Stavenhagen was where he wanted to be.
"I think something's happening here with being a rebuilding club whether it works out and they win the World Series or whether it all goes down in flames, you are watching something unfold every day," he said.
Stavenhagen also hosts a weekly podcast called Turning the Corner with fellow OSU alumnus Kieran Steckley, a fervent Detroit sports fan.
"I sometimes wonder why I am up here in Michigan and what led me here. You sit back, and it is really crazy that the one team that I cover is also the team that my best friend is a fan of," Stavenhagen said.
Writing for The Athletic, Stavenhagen has had a chance to talk to some of his sports-writing idols, which makes some of the days covering a losing team worth it.
"There was a day where I looked at the MLB page and my story was up there with Ken Rosenthal, Jayson Stark, Peter Gammons and then there was Cody Stavenhagen," he said. "I watched the rest of those guys on Baseball Tonight or read them in Sports Illustrated growing up, so to even see my name on the same page as them is kind of surreal."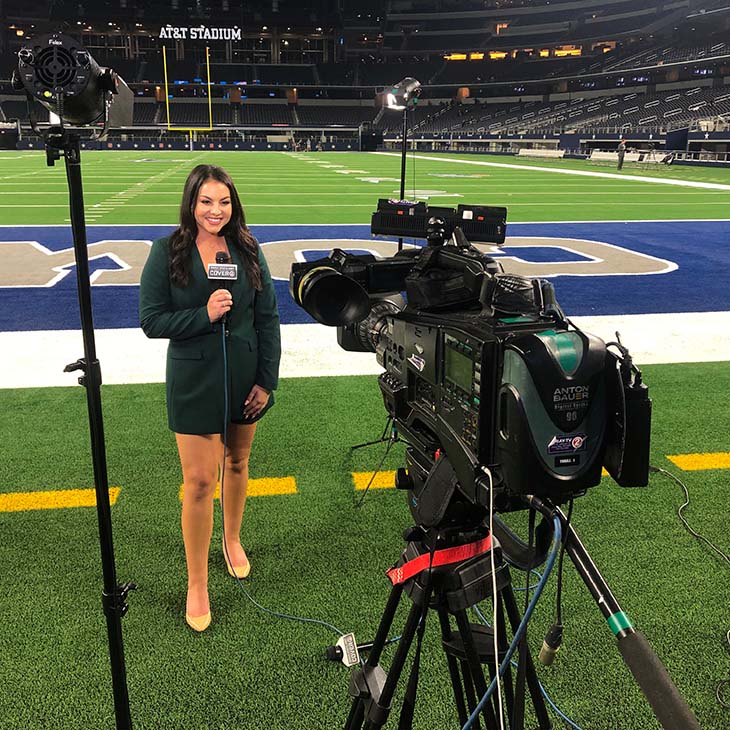 Paying Her Dues
On the opposite end of the spectrum, OSU alumna Baillie Burmaster covered one of America's proudest franchises in what is known as "Titletown, USA."
While a sports anchor at WBAY-TV in Green Bay, Wisconsin, Burmaster covered the Packers for two years before recently taking a job to cover Cleveland's major-league sports franchises for WOIO.
Burmaster came about her career from the athlete's perspective, as she came to OSU not only for its sports media program but also to join the Cowgirl soccer team.
She made a deal with her dad that if she could major in sports broadcasting, she would also major in marketing to have a fallback option. She did — and thinks that studying two majors while being an athlete made her the person she is today.
"I think a lot of people who go through sports media or journalism at some point kind of go, "OK, why am I doing this? It is not for the pay, I am sacrificing a lot, is it really worth it?'" Burmaster said. "And I can say, I am 28 now and have been doing this for five years, and I have never once had the thought if I wanted to be doing this. I am doing exactly what I am supposed to be doing."
Burmaster started her career at KAMC in Lubbock, Texas, and as an Austin native, she enjoyed returning to Texas.
After paying her dues covering Texas Tech University, Burmaster applied to cover the Packers. Green Bay is another small TV market, but with the NFL dominating national ratings, Burmaster knew she would be able to continue building her résumé.
"I remember landing here and before I went by my apartment, I wanted to drive by Lambeau Field," Burmaster said. "If you have never been here before, you are really driving in this small, little town and all of a sudden there is this big stadium that takes your breath away. It is magical ... because you hear so much about it and it lives up to the hype."
Burmaster said her background as an athlete makes talking to personalities like Aaron Rodgers and Davante Adams easier.
"A locker room isn't intimidating to me," Burmaster said. "… At the end of the day, if you treat people how they want to be treated and respect them, they understand you have a job to do and they have a job to do."
Burmaster said it's a career path fraught with challenges — long hours, demanding workload, little time off and competitive job market — but she said OSU's sports media program prepared her to overcome any obstacle.
"There is not enough I could say that could be put into words about the sports media program," Burmaster said. "I am a big believer that as long as you put in the work, the professors will give you the tools to be successful. I have seen it firsthand. I truly, truly owe a lot of my career to what Oklahoma State and the sports media program did for me."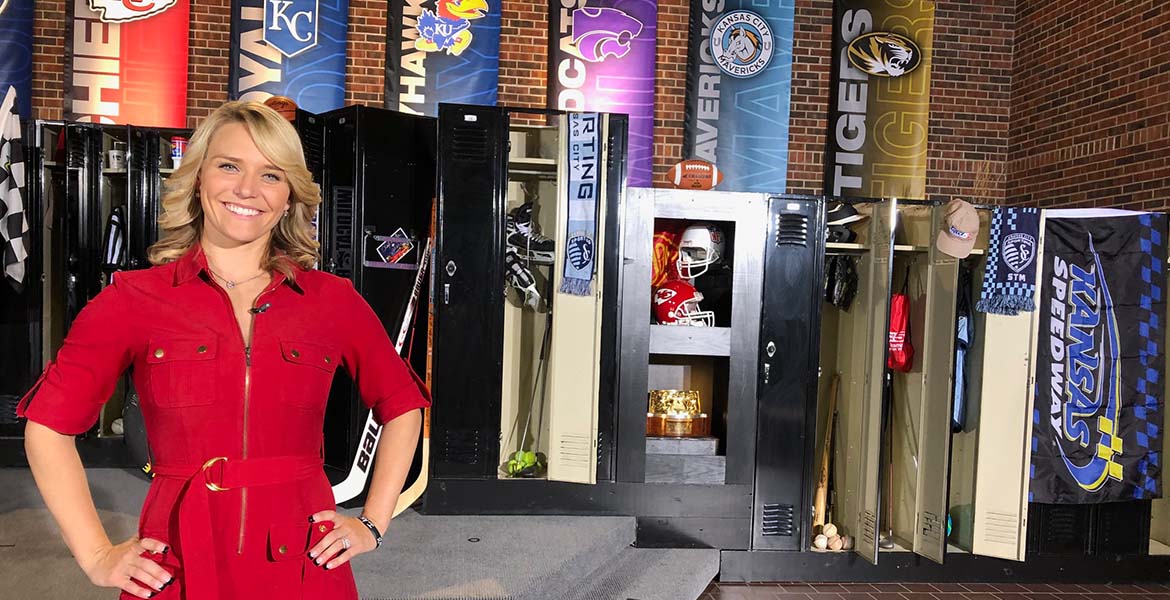 Breaking Barriers
When she was applying for a job on the Kansas City Chiefs radio team, OSU alumna Dani Welniak was asked to draw a route tree. She found a Starbucks napkin and jotted the football play down, earning the job on the spot.
Welniak, now the sports director for KCTV and KSMO, played professional football for the Dallas Diamonds, earning a Super Bowl ring in 2008.
Working in a male-dominated field and covering the male-only NFL, Welniak uses her football background to connect with players.
"It definitely gives me an edge when I talk to these athletes, especially the professional football players because you don't meet a whole lot of people or especially a whole lot of women who have taken a hit or suffered a concussion just like a lot of these guys have," Welniak said.
She recalls interviewing defensive tackle Chris Jones during his first year in Kansas City. Her Super Bowl ring caught his attention and he expressed his admiration for her playing football and said the Chiefs would get a ring someday, too.
They did, with Patrick Mahomes and Co. becoming one of the biggest stories in sports the past few years. Welniak — a native of Keller, Texas — recalls when she first moved to Kansas City that everyone was wearing blue because the Royals were coming off of a World Series title.
Now, she said every sports fan in Kansas City wears red. Welniak said it has been an adjustment for the national media to be at every practice, but her time at OSU has prepared her for the busy days during the NFL season.
Her favorite part of her job is making players more relatable with her features.
"I want to tell these guys' stories and tell the world that yeah, Patrick Mahomes might be this multimilliondollar superstar but at the heart of it, he is just a kid who enjoys playing video games and grew up with a dad in a clubhouse and was that little kid who ran around with a glove," Welniak said.
She also loves that she has gotten a chance to break barriers, both on the field and as part of the first all-women's radio broadcast crew when she covered the 2019 Cure Bowl.
A Great Start
The OSU sports media program continues to develop talented journalists, as well as public relations professionals, with many alumni going on to prominent roles for organizations like the Pittsburgh Steelers and Houston Rockets.
Dr. Craig Freeman, director of OSU's School of Media and Strategic Communications, said OSU's success is built on student work ethic and faculty members' attention to detail. At OSU, he said, students are afforded opportunities to start working as soon as they step on campus.
"We have this place where we welcome students to experiment and grow. We have students who are humble and hungry," Freeman said. "You have a faculty who is willing to give criticism. So when they pop out like a Baillie or a Slater, it is not a surprise."
---
Photos By: Provided
Story By: Jordan Bishop | STATE Magazine