Burns Hargis built the perfect background for leading OSU
Wednesday, April 28, 2021
Media Contact: Mack Burke | Editorial Coordinator | 405-744-5540 | editor@okstate.edu
Vaden Burns Hargis wasn't born in Oklahoma, but he got here as fast as he could. Sort of.
He was born Oct. 29, 1945, in Victoria, Texas. His father was a geophysicist, moving his family (including Burns' younger brother,
Dick) across Texas, Louisiana, Mississippi, Oklahoma and Canada for his work in the oil patch.
"Nobody's sure the exact count, but we think I moved about 21 times, and my parents moved about 52 times," Hargis recalled. "So, we never lived anywhere very long at all. Most of the moves were when I was very young. San Antonio was the longest we lived anywhere."
From an early age, Vaden was called Burns, which was his mother's maiden name. Vaden was his grandmother's maiden name (dad's side).
"When you're red-headed and named Burns, that's a hard way to grow up," he said. "You can pretty well count on getting into a fight at each new school, and I learned it's best to just go ahead and let the guy win because if you beat him, somebody tougher is coming along."
His dad's work brought the family to Oklahoma City during Burns' sophomore year of high school. He attended John Marshall High School where he played football, baseball and golf. When it came time for college, his family moved again, to Bartlesville and later to Houston.
"All my family is from Texas, and everybody went to the University of Texas. My great-grandfather was in the first graduating law class at the University of Texas in 1885. His name was J.C. Burns. He practiced law for 70-some-odd years and was a judge in south Texas," Hargis said. "My father was the first in his family to go to college, and he went to the University of Texas and was a die- hard Longhorn fan."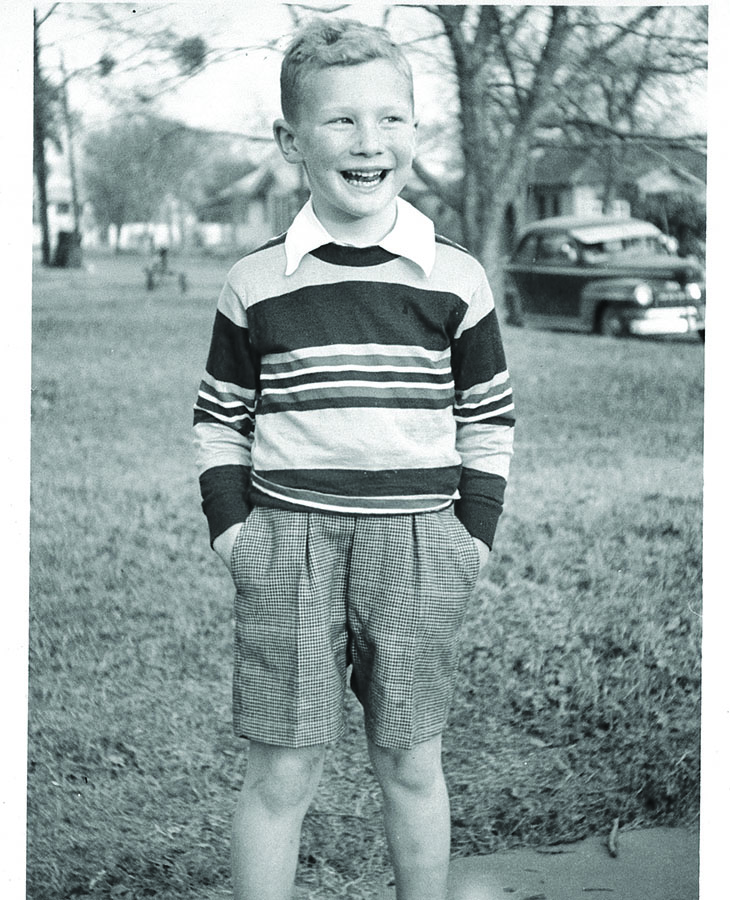 When it was time for Burns' college decision, he felt comfortable in Oklahoma and had friends going to Oklahoma State.
"It was always assumed I would attend UT," Hargis said. "But I'd moved so many times. I liked living in Oklahoma, and I didn't want to start over again."
When he visited the OSU campus, he found much of the same thing prospective students find today.
"I loved the campus and the friendliness of the people. So, I'd like to say I came to Oklahoma State for some academic reason, but I really didn't. I knew I wanted to go to law school and I needed a bachelor's degree first. I enrolled in legendary Department Head Wilton T. Anderson's basic introduction to accounting," Hargis said. "To my shock, I really loved it because he was such a great teacher. He just had a way of bringing the whole subject to life. Before I knew it, I was an accounting major."
Hargis arrived as a freshman at OSU in the fall of 1963, just months before the assassination of President John F. Kennedy in Dallas. He joined Sigma Nu Fraternity, and it wasn't long before a meeting set him on a course that helped define his entire career. Fraternity leaders told him they selected him to run for freshman class officer — and he didn't really have a choice.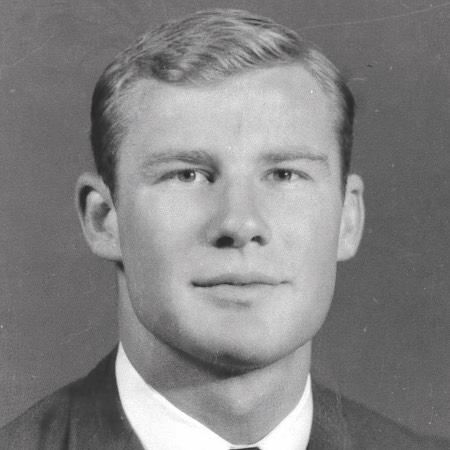 "I had never done anything like that, but I did it," he remembered. "Thanks to my pledge brothers and fate, I was elected freshmen class vice president. I continued to be active in student government and served as president of the Interfraternity Council.
"I always talk to our students about finding their passion. If you find your passion, you're going to be happy, and you're going to be rich. Sometimes it is with money, sometimes just with job satisfaction, but you will be enriched. The goal is to make your vocation your
avocation. The passion I found was service."
With that political victory under his belt, Hargis became extremely active on campus for all four years, "which was far longer than I'd lived anywhere," he said. "This was my first real community."
Hargis was involved in many campus activities, including the Blue Key honor society. "There was always something, and that's the great thing about a college campus," he said. "There are tons of things to do, and you meet so many people doing them, and unknowingly, you're learning how to collaborate and be a team member."
Another activity that kept him busy at OSU was Air Force ROTC, mandatory at the time. He switched to Army ROTC his senior year, going into military intelligence. "It just sounded good to me. The first James Bond movie was out then."
After graduation, Hargis enrolled in law school at the University of Oklahoma instead of the University of Texas.
"I went to OU Law School because I loved Oklahoma, and I didn't want to leave. I was very involved in that community."
In law school, he worked one summer in Houston (where his parents lived) and met Ann Whiting through an OSU friend.
"Ann went to the University of Texas, so that made my dad happy," Hargis said. "She graduated with degrees in math and Latin and was working for IBM as a systems engineer in Houston."
Ann and Burns became engaged Christmas 1968 and married in June 1969. Son Matt was born in 1971, and daughter Kate joined the family in 1974. Ann and Burns have three grandchildren, Peighton, Preston and Oliver.
After graduating from law school while completing his military obligation, Hargis settled into Oklahoma City and began a 28-year legal career. He was a litigator and handled many bankruptcy reorganizations. He represented the FDIC in the high-profile closure of Penn Square Bank.
"The goal is to make your vocation your avocation. The passion I found was service."
— Burns Hargis
It wasn't long after his return to Oklahoma City that Hargis jumped into politics and community service. He worked on Henry Bellmon's successful campaigns for re-election to the U.S. Senate and governor of Oklahoma. He was chairman of the Department of Human Services during Bellmon's administration. Hargis ran for governor in 1990 to succeed Bellmon but lost in the Republican primary.
In 1992, he teamed with Mike Turpen, a Democrat and former Oklahoma attorney general, to debate the presidential campaign between Bill Clinton and George H.W. Bush on KFOR-TV. The Hargis-Turpen pairing was so popular that KFOR launched Flashpoint in 1993. Hargis teamed with Turpen for 15 years before he left the weekly news and politics program when he became OSU president in 2008.
"We had enough common sense to make it informational, but enough nonsense to be entertaining," Hargis said.
The pair also took their political perspective and wit on the road, entertaining crowds across Oklahoma.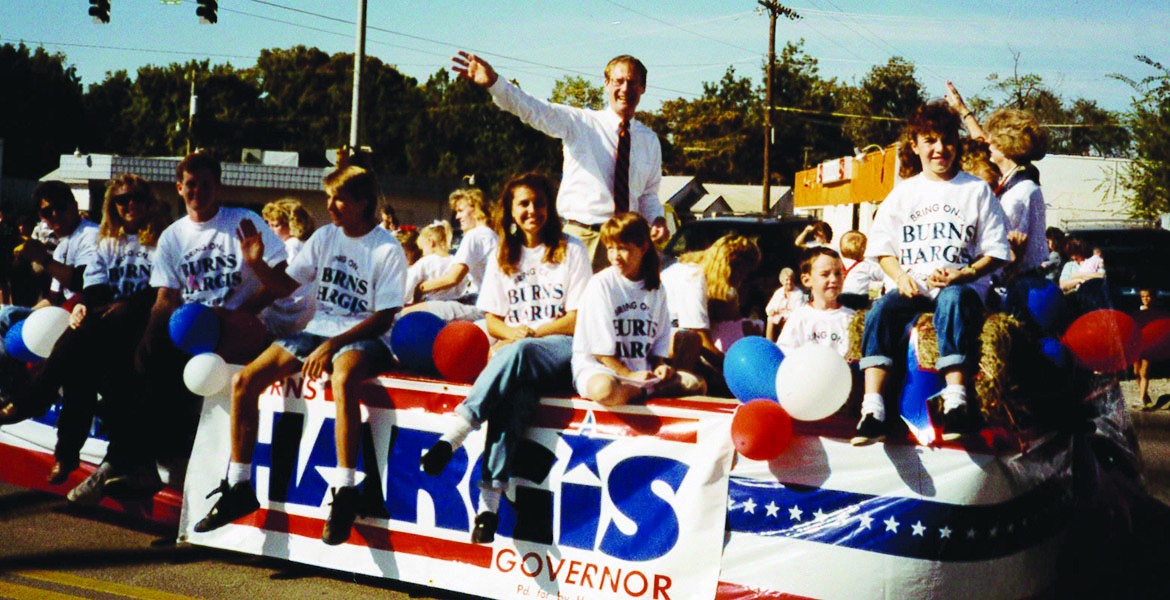 As if he didn't have enough to do, Hargis became more active in community service.
"My real passion is service," he said. "I enjoyed law and banking, and the other things I've been involved in kind of supported my passion for service and trying to make things better."
One of his proudest community service accomplishments was helping establish the Regional Food Bank of Oklahoma, where he served as founding chairman. He was chairman of the Greater Oklahoma City Chamber of Commerce and he supported the first MAPS (Metropolitan Area Projects) initiative.
"MAPS was a creative idea with value," Hargis said. "Creative ideas that have value can result in positive outcomes that no one ever envisions or anticipates."
His passion for creativity, imagination and collaboration was also on display when he became the founding chair of the Oklahoma Creativity Project.
In 1993, Hargis joined the board of the Bank of Oklahoma and in 1997, he went to work for the bank as vice chairman. Hargis continues to serve on the bank's board. He was appointed to the OSU/A&M Board of Regents in 2002 and left the board in 2007 when the opportunity to become president of OSU presented itself.
But that's another story.
---
Photos By: provided to STATE magazine
Story By: Gary Shutt | STATE magazine