Ditzlers establish endowed scholarships and professorship
Wednesday, April 28, 2021
Media Contact: Mack Burke | Editorial Coordinator | 405-744-5540 | editor@okstate.edu
Deniece and Eddy Ditzler are investing in the future, one student at a time.
The Edmond, Oklahoma, couple recently finalized a gift to create an endowed scholarship and endowed professorship in the School of Accounting where Eddy is a proud alumnus and has worked as a lecturer since retiring in 2017. Their gift, which utilizes portions of their estate, also includes plans for an endowed football scholarship.
"Deniece and I come from families of meager means, and we know how important a college education is," Eddy said. "My dad's main focus in life was to ensure that my sister and I had the opportunity to earn our college degrees."
Deniece worked her way through college at Southwestern Oklahoma State University, where she graduated in 1978. She said it's important she and Eddy are helping others achieve their goals.
"It changed our lives," she said of their education.
Once Eddy graduated from OSU in 1978, he began working for Grant Thornton, an accounting firm in Oklahoma City. Among his duties was new talent recruitment, which often brought him back to OSU. His company's matching program enticed him to make annual donations to OSU's School of Accounting. During his career, he greatly enjoyed encouraging all OSU alumni at Grant Thornton to utilize the matching gift program and give back to OSU. More so, he enjoyed personally delivering those contributions to OSU.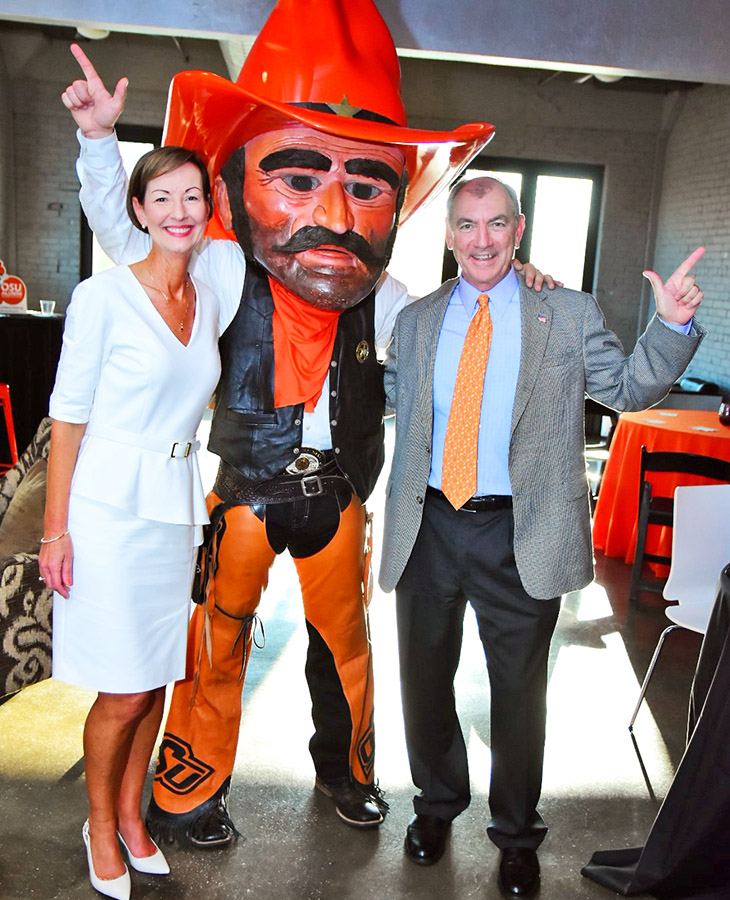 "It was great to be able to do that and see how appreciative those in the School of Accounting were. The School of Accounting always had a need for additional resources," he said.
Eddy and Deniece expanded their involvement with OSU Athletics when they co-hosted a fundraising event to benefit the renovation of Boone Pickens Stadium. Subsequently, they have continued growing their friendships and affinity for OSU and OSU Athletics by holding season tickets in football, basketball and baseball and donating to the men's and women's golf programs.
"We give to athletics because we love the culture and want to do what we can to make OSU more competitive," Eddy said. "For OSU Athletics, it's not a win-at-all-costs culture. At the end of the day, Building the Future Couple establishes endowed scholarships and professorship the culture is building young people and making them better citizens and adults."
They view their investment with the School of Accounting the same way.
"Their scholarship support is so important, as it will help transform lives and serve our school for years to come."
— Audrey Gramling, School of Accounting
"The School of Accounting has a great reputation, and the goal is to keep it that way and help it stay competitive," they said.
Audrey Gramling, head of the School of Accounting, said the program's vision is "Building the Future of Accounting," and she appreciates that the Ditzlers are making that possible.
"Their gifts will help us recruit and support outstanding accounting scholars, who will in turn help us build the future of accounting by educating our many students," she said. "Their scholarship support is so important, as it will help transform lives and serve our school for years to come."
The Ditzlers aptly incorporated "Building the Future of Accounting" into the name of their scholarship and professorship funds.
"That's really the impetus for this gift," Eddy said. "We are building the future by investing in students."
Ken Eastman, dean of Spears Business, said the gift is especially meaningful coming from a member of the college's faculty.
"Their gift demonstrates their passion and dedication to our students and the School of Accounting," he said. "We are humbled that they care enough about us to give back as they have — including Eddy's time as a lecturer. What makes this gift very special is that I know that it comes from the heart."
The Ditzlers' gift is providing critical support for students and will be included in the Brighter Orange, Brighter Future scholarship campaign. The initiative focuses on raising funds for both merit- and need-based awards.
Eddy and Deniece are hopeful their gift will inspire others and will make a lasting impact for students who struggle financially.
"We know what it's like to work through school," Deniece said. "We want students to be able to focus on their education and take advantage of the opportunities college provides," Eddy added. "Hopefully, we will help make that happen."
---
Photos By: provided by the Ditzler Family
Story By: Amanda O'Toole Mason | STATE magazine