University's top cheerleader looks back
Wednesday, April 28, 2021
Media Contact: Mack Burke | Editorial Coordinator | 405-744-5540 | editor@okstate.edu
Ann Hargis has been a tireless advocate for health, wellness and everything Oklahoma State during her tenure as First Cowgirl, and we're going to miss her enthusiasm and excitement as she and husband Burns retire. We asked her to share a bit about her experiences and memories at OSU.
Is there a story that stands out from your first year as the First Cowgirl — something or someone who made you realize the impact you and President Hargis could have in your new roles?
It was a whirlwind. Every event is so different! Early on, we attended a birthday celebration in Dallas for Boone Pickens. We were up until the wee hours of the morning and in the presence of celebrities such as Sarah Brightman and Andrea Bocelli. Less than 12 hours later, we were back in Stillwater and involved in a major fundraising announcement on the Library Lawn. Boone was announcing a $100 million donation to the university. As the event was winding down, a woman approached me with tears in her eyes. Kechia Bentley and her son, Dillon, were visiting campus and on a tour. They lived out of state, and she was overwhelmed about leaving her son on campus the following fall. I gave her a hug and assured her we would take great care of Dillon. We exchanged contact information and stayed in touch. That August, I met Dillon and both his parents and helped him move in to his residence hall. It was such a joy to watch Dillon get settled and meet his roommate. I felt like a freshman myself! Today, Dillon is a civil engineer, married and expecting his first child. Kechia and I stay in touch. It made me realize we can all be overwhelmed in our own little worlds, and there were 25,000 other "Dillons" on campus who could also benefit from a little kindness. I think that experience really set the tone for how I viewed students in future years.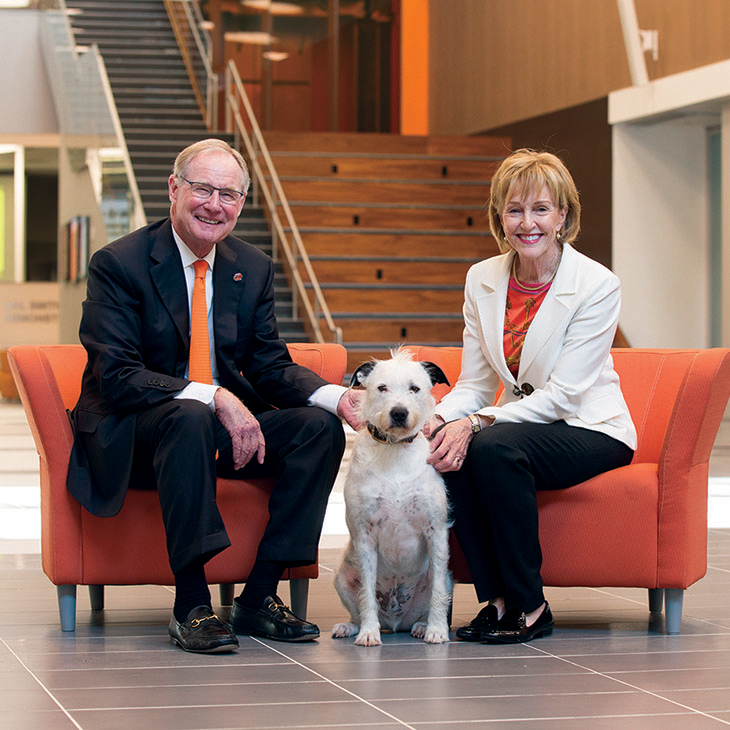 How have the last 13 years been different than you expected? How have they been exactly what you expected?
For some reason, I envisioned Friday nights in the basement of the house, inviting students over, throwing down bean bags, popping corn and watching movies. It was none of that but so much more! Honestly, I am not sure what I expected, but the time we have spent at OSU has been an experience beyond anything I could have ever imagined [with] the relationships we've developed, the energy of the students, the creativity that exists on this campus. I felt at home from the moment we arrived, and that is a testament to the character of the Cowboy family. The people who represent this university are incredibly special. When we talk about the Cowboy Code, just know that it truly exists.
What will you remember most about serving as First Cowgirl?
Reserved Princess Parking! There's no such thing as too much orange! It has been one of the greatest honors of my life to be part of something so incredibly fascinating and profoundly important. It has been more fun than I ever dreamed possible. No one tells you how exhilarating this position is. As Burns says, "If you ever get the chance to be a university president, take it." The same is true for my position.
What initiative did you undertake that you are most proud of?
I wanted to identify initiatives that enhanced Burns' mission as president without taking away from his impact. Since I am not employed by the university, I viewed my role mainly as cheerleader, celebrating all the magical things happening on campus. Wellness is important to me personally. Being able to share my love of the nutritional, physical, spiritual and emotional components of wellness really completed the circle for me. I believe we are better together and when we try to improve ourselves, we also improve others around us. We are all a work in progress but providing resources and tools to help people live more fulfilled lives is very gratifying. Describe a favorite memory from the last 13 years. There are so many favorites! Perhaps one of the most recent is The McKnight Center. Opening Night was magical, but for me, the emotions were a culmination of all the wonderful accomplishments leading up to that moment. Seeing members of the New York Philharmonic mentor OSU students in every facet of performing during the weeks before the performance was incredibly special. The New York Philharmonic had not made an appearance in Oklahoma for more than 30 years, and here they were, in Stillwater, America, providing a world-class education to students from rural Oklahoma. It was so powerful to me to witness this mentorship. For the Opening Night Gala, I commissioned a talented OSU mom to upcycle a ballgown from my closet. It featured musical notes with orange rhinestones, depicting the score of our alma mater! The playing of the alma mater at the end of the performance, seeing the OSU faithful, many of whom we cheer alongside during sporting events, stand and sing and link arms ... I will never forget it. Once the event was over and the Philharmonic returned home, we sent each of the key players in the organization a pair of orange running shoes with a note that said, "Hurry back!"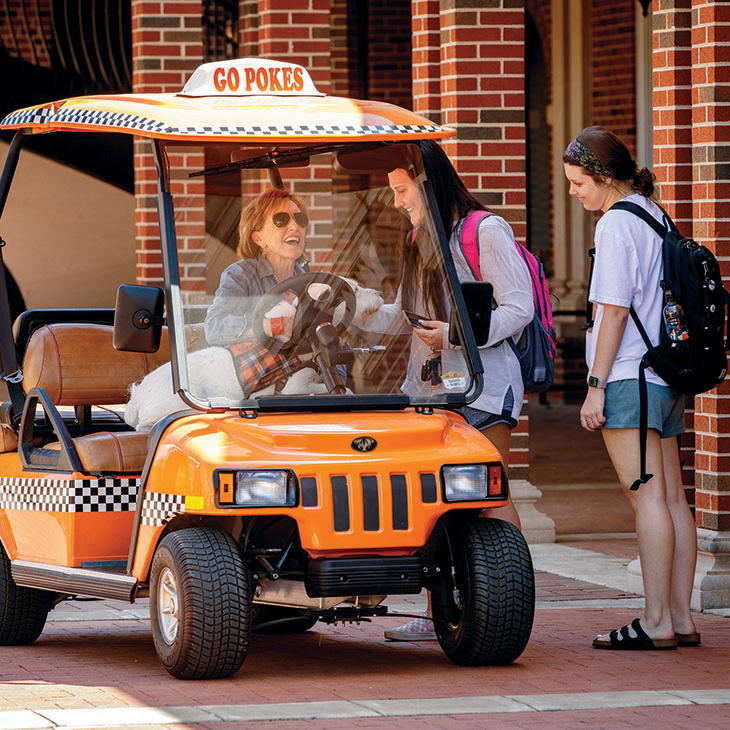 Describe the hardest day in your role from the last 13 years.
There were, of course, challenges along the way; however, I don't think anything could compare to the loss we shared as an OSU family after the women's basketball plane crash and the OSU Homecoming Parade tragedy. Watching Burns absorb these losses and take them so personally was especially difficult. The support shown to the families and the desire to be with other members of the Cowboy family during those times is a feeling I will never forget. There was so much shock, disbelief and hurt. There were so many heartfelt stories of Cowboys helping Cowboys without caring about receiving recognition. The compassion and love of friends and family gathered at the home of the Budkes the morning of the plane crash. Pistol Pete, Taylor Collins, rushing a young child injured in the parade tragedy to the ER. Tyler Zander, an OSU student who lost his leg in a farming accident, mentoring Leo Schmitz, who lost his leg in the Homecoming Parade tragedy. I hope one day all of these stories can be told. We had no answers during these times. All we could do was try to comfort. However, in true Cowboy fashion, the OSU faithful came together, and we all lifted each other. It's a testament to the strength and resiliency of the Cowboy family.
What is your favorite campus tradition / favorite spot / piece of art, etc.?
Graduation, of course! I love to disappear into the general seating at GIA and just randomly join a family and friends. Here is where one enjoys the very best stories of their sacrifices, pride and sheer joy. Taking pictures for them, screaming when their graduate's name is called. It's a celebration deluxe. Tell us something about Ann Hargis that might surprise our readers. And something about President Hargis that would surprise us! I have driven BOB (Big Orange Bus) and was crowned the ROADeo champion one year! I love big trucks and heavy equipment! Burns starts every morning with a banana.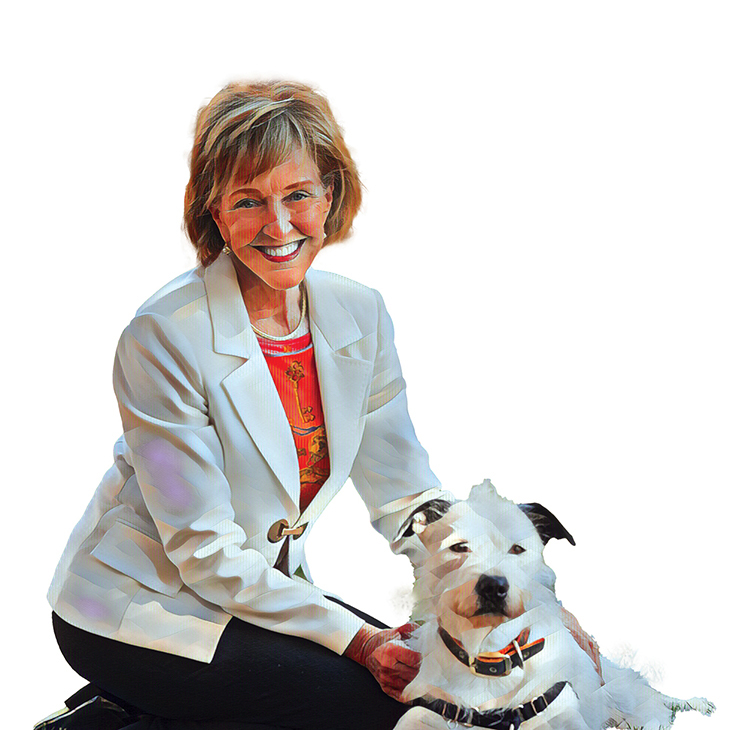 What does this next chapter look like for you? What will you miss most about being on campus?
It's our turn to graduate. We have had the most incredible education and experience. Just like our students, I will look forward to being an OSU alumna. Stillwater and OSU will always feel like home, and I plan to continue giving back to the place that has given so much to me. I'll remember little things that have become such a big part of my day, many I have taken for granted: The sound of the library bells, the roar of the crowd at athletic events, the seasonal plantings, the incredible zaniness of skateboards, unicycles and purple hair, students in hammocks, sidewalk chalk, A-frames, Clementine [her personal orange golf cart] carrying students to class, groups of potential students and families touring campus carrying their orange bags, the international influences of food, dance, dress or conversation, campus during class change. … And the short commute that makes Stillwater so wonderful!
What is next for Pete's Pet Posse? Is there a new champion for it?
I could talk all day about the impact. Students have always championed this program, and we often encounter those who say they chose OSU because of pet therapy. I do think this emotional health program is part of our culture, and I hope its value continues to be embraced and celebrated. Over 100 teams have been trained, over 250,000 lives touched, and we'll soon expand to four campuses. Not only do the dogs make a difference by providing a touch of home and unconditional love, but the owners/ handlers also serve as ambassadors for the university by providing resources. The impact has been so positive, and I could not be prouder.
What advice do you have for students who will come to campus in the years ahead?
Enjoy every moment! Take advantage of every opportunity. Never be afraid to ask for help or share your thoughts and ideas. Get plenty of sleep, exercise and eat right! OSU is a wonderful place, filled with wonderful people who want to see you succeed. We are family. And I so want you to enjoy the journey.
---
Photos By: provided by Phil Shockley and Gary Lawson
Story By: Monica Roberts | STATE Magazine