Hargis years see OSU rise to new heights
Wednesday, April 28, 2021
Media Contact: Mack Burke | Editorial Coordinator | 405-744-5540 | editor@okstate.edu
In many respects, the best measure of success boils down to one simple question: Did you leave things better than you found them?
For Burns and Ann Hargis, the answer is clear and historic.
They depart as president and first lady of Oklahoma State University after leading a 13-year transformation that has elevated the university to new levels of achievement, ignited a campus makeover and injected new pride in all things orange.
The Hargis presidency, which began March 10, 2008, and ends July 1, 2021, has greatly strengthened OSU's academic position and facilities, engaged more alumni and donors and prepared Oklahoma State for continued success. In the eyes of many, the future has never been brighter for Oklahoma State University.
"Along with First Cowgirl Ann, Burns has overseen an extraordinary resurgence at OSU during the past 13 years and has been a transformational leader," Oklahoma Gov. Kevin Stitt said. "As a graduate of OSU, I am proud of my alma mater. As governor, I am grateful to both Burns and Ann for their exceptional service."
"Oklahoma State University is stronger today than at any time in its 130-year history due to the historic leadership of Burns Hargis," said Rick Davis, chairman of the OSU/A&M Board of Regents. "We are grateful beyond words for the dynamic leadership and dedicated service of both Burns and Ann."
When Hargis was named to the position in 2007, then-Gov. Brad Henry was strikingly prophetic, saying Hargis "has the vision and intellect to take OSU to even greater heights in the state's second century. More than anything, Burns loves his alma mater, and he will work harder than anyone else to see that it succeeds at all levels. I think he will be a perfect fit for OSU."
However, when the Board of Regents began the presidential search to replace David Schmidly, serving as a university president was about the last thing on Hargis' mind.
Current OSU Regent Doug Burns was chairing the search committee and suggested to Hargis, then a member of the Board of Regents, that he consider the position. Doug Burns said Hargis replied, "You must be out of your mind."
But Hargis talked to Ann about the idea and continued to mull the possibility.
"I started considering my experience as it related to a modern university," Hargis said. "I was seeing a lot of instances where nontraditional individuals were becoming presidents of universities. I just decided maybe I would be qualified for this."
To apply for the position, Hargis was required to resign from the Board of Regents and had to convince the faculty and others he was qualified for the job despite his lack of an academic background. For some on the search committee, that was a major red flag.
The search committee asked Hargis directly why he thought he was prepared and qualified to be OSU president.
"He said he had been thinking about that for months," Doug Burns recalled. "He said that as he looked back at his career since graduating from OSU, he had been preparing to be the president of OSU the entire time. His explanation of how to connect all that past experience to what OSU needed for the future absolutely blew the whole place away. His answer convinced everyone he was the right person for the job."
See an interactive timeline of Burns Hargis' 13-year presidency:
What Hargis lacked in academic credentials, he more than made up for through his business, legal, public service, television and community experience. His previous jobs led to vast and diverse connections and allowed him to build expertise in fundraising, managing and leading large organizations, communications, consensus building and navigating the political landscape.
Hargis was the 18th president of Oklahoma State and is its third-longest-serving president behind Henry Bennett (23-plus years) and Oliver Willham (14-plus). Hargis and Willham, who was president when Hargis arrived as a student, are the only two OSU graduates to serve as its president.
While Hargis guided OSU through historic success, he also led the university and the broader Cowboy family through times of horrific tragedy. Hargis was a comforting voice during the 2011 plane crash that killed women's basketball coach Kurt Budke and three others, as well as the 2015 Homecoming parade tragedy that killed four.
From the moment he became president, Hargis took seriously OSU's land-grant charge to educate the masses, do great research and share its knowledge and teaching through extension and service.
Hargis approached his position at OSU with the same philosophy he recommended to students throughout his time as president.
"Preparation coupled with passion creates results and great success," he said.
No person worked closer with Hargis than Gary Clark, who, as OSU senior vice president and general counsel, has an office next to the president.
"He has worked tirelessly to unite students, faculty, staff, alumni and donors behind his vision of a stronger, more impactful university," Clark said. "With just the right balance of seriousness and humor, Burns has led us to many successes and changed the arc of OSU's history."
Hargis' impact reaches beyond Stillwater. As president of the OSU System, he oversaw growth and success at OSU's campuses in Oklahoma City, Tulsa and Okmulgee, including significant advances at the OSU Center for Health Sciences.
"Burns and Ann inspire and empower those around them and lead by example and conviction," said OSU Center for Health Sciences President Dr. Kayse Shrum. "Our state has been made better and stronger because of them."
Mike Turpen, former Oklahoma attorney general and a current state regent for higher education, and Hargis became close friends and sparring partners on the long-running Oklahoma City-based television show Flashpoint. Turpen said Hargis has been successful "because he's likeable, he listens well and he builds a consensus."
Of course, the Hargis success story at OSU was a team effort, with much work from First Cowgirl Ann, a fixture on campus.
"She absolutely embraced OSU," Burns said. "She loved the students and all the richness of the university experience. I could not have done this job without her by my side."
For Burns Hargis, his 13 years as OSU president continued a long career grounded in an ethos of public service that established its roots when he was a freshman at Oklahoma State University. Clearly, he is happiest when he is serving.
"I just love it," he said. "It's not work for me. I love people; I love to work with people."
Love, of course, goes both ways. The Cowboy family loves Burns and Ann Hargis
Seven areas where Hargis had the most impact
The Hargis years elevated OSU in historic fashion, situating the university perfectly for the 21st century. Here, we offer a deeper look into seven notable areas where the president's impact shines bright.
Academics and Research
Throughout his OSU presidency, Burns Hargis strove to advance academics and research.
The primary focus of fundraising was to boost Oklahoma State's academic standing through student scholarships, endowed faculty chairs and professorships, academic and research facilities and other initiatives. He also pushed to improve OSU's U.S. News and World Report rankings.
But the most prominent gain, for Hargis, was the addition of a Phi Beta Kappa chapter, the nation's oldest and most distinguished academic honor society.
OSU had solid gains in scholar development under Hargis' presidency. The OSU Honors College is rated among the
best in the nation and has enjoyed steady growth. Through the Henry Bellmon Office of Scholar Development, OSU students continue to win the nation's most prestigious awards, including the university's 18th Truman Scholar in 2020.
Hargis had a bold vision of a modern land-grant university that cuts across disciplines. Beyond the traditional academic experience, Hargis emphasized service and leadership, creativity and innovation, undergraduate research, entrepreneurship, team building and international exposure. He wanted to provide OSU graduates a well-rounded education that gave them an edge as they pursued their careers in a global economy.
"President Hargis was always quick to state that he was not an academic by background and would say that he didn't really understand the world of research," said Kenneth Sewell, OSU vice president of research. "But in reality, he was a champion of the research enterprise at OSU. He knew the value of how our faculty create new knowledge through their research, share it with the world to benefit society and prepare our students to do likewise."
The Arts
Soon after he became OSU president, Burns Hargis learned of another item for his to-do list.
When he asked a faithful OSU alumna why she had given a beautiful art collection to the University of Oklahoma, she said, "Well, you don't have an art museum. There's nowhere to put the art."
She was right. And Hargis set out to change that.
He knew OSU had outstanding visual arts and performing arts programs with extremely talented faculty and students. And while the Seretean Center had served the university well, Oklahoma State desperately needed new facilities.
What followed was the OSU Museum of Art in Stillwater's former Postal Plaza; the enhanced Doel Reed Center in Taos, New Mexico; The McKnight Center for the Performing Arts; Greenwood School of Music; public art across campus and more.
Oklahoma State announced ambitious plans for a world- class performing arts center in 2014. Thanks to Billie and Ross McKnight and more donors, The McKnight Center for the Performing Arts opened its doors on Oct. 11, 2019, with the New York Philharmonic.
"I think this will transform how we think of ourselves and the experience our students, faculty and community are going to have," Hargis said at the opening. "To be around the greatest musicians on the planet is an amazing opportunity for any college student, but for a center like this to be at your own home — it's just incredible."
Thanks to lead donors Anne and Michael Greenwood and others, the Greenwood School of Music building opens this year. The state-of-the-art facility will connect to The McKnight Center and create an environment to teach, learn and perform that is second to none.
Hargis and his wife, Ann, led an impassioned mission for the arts.
Along the way, the two received the George Nigh Public Service in the Arts Award for their outstanding support of the arts.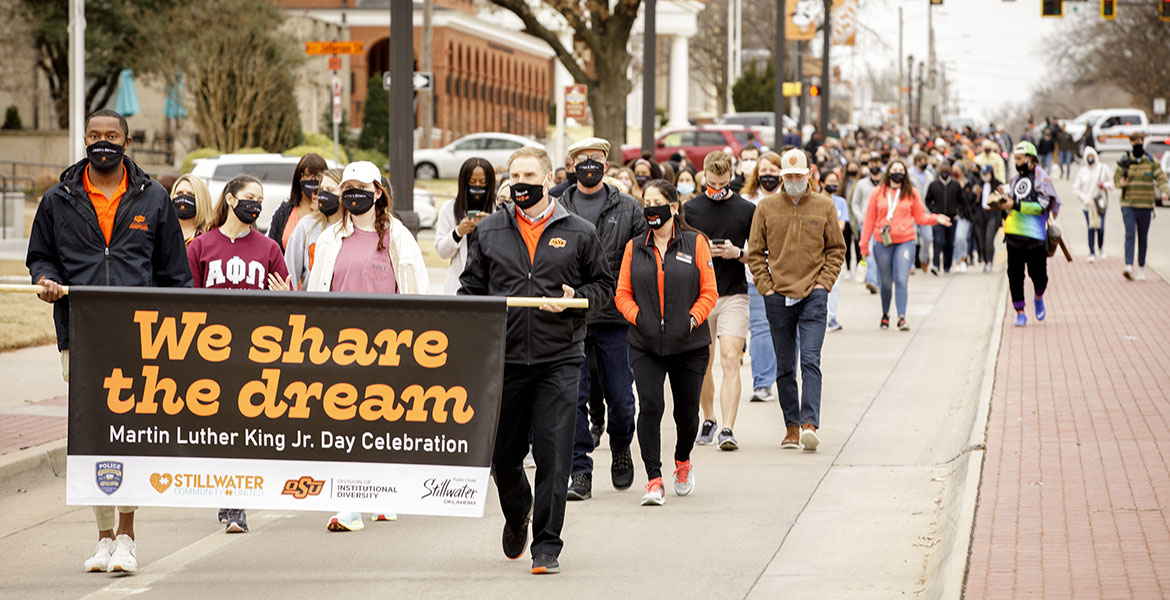 Diversity and Inclusion
To understand why Oklahoma State University has made significant progress in diversity over the past decade, Dr. Jason F. Kirksey says look no further than Burns Hargis.
Kirksey should know — as the vice president for institutional diversity and the chief diversity officer, he has been the head of OSU's diversity office since 2009.
"A significant aspect of President Hargis' legacy is the university's unwavering commitment to advancing diversity and inclusion," Kirksey said. "His efforts unquestionably have broadened and deepened OSU's comprehensive efforts to sustain and enrich our culture of inclusion. He was the right person, at the right time to lead the university through this important, enduring and meaningful cultural transformation."
Under Hargis, OSU has worked hard to grow minority enrollment, increase minority faculty members and address inequality. During his presidency, OSU saw a 139 percent increase in minority freshman enrollment. Along the way, the university has won numerous awards for its leadership in diversity and inclusion.
None were more prestigious than the Higher Education Excellence in Diversity Award presented by INSIGHT Into Diversity magazine. OSU is one of seven institutions across the country and the only one in Oklahoma to earn the award for nine consecutive years. The magazine also has named OSU as one its few elite Diversity Champions for being a national leader and role model.
As America confronted horrendous incidents of racial injustice this past year, OSU strengthened its commitment to advancing social justice and equity and creating a campus that welcomes, respects and values all members.
In the past year alone, OSU has taken many positive steps, including the un-naming of Murray Hall and North Murray Hall and the creation of a Diversity Equity and Inclusion Council. In 2020, 25 percent of Outstanding Seniors were students of color and two buildings on the Stillwater campus were renamed to honor civil rights pioneer Nancy Randolph Davis, the first African American student to attend OSU.
Facilities and Grounds
If you've seen Burns Hargis walk across the OSU campus, you might have seen something unusual for a university president: He picks up trash.
Hargis, after all, treats the OSU campus like it's his own yard.
"President Hargis knew that the grounds were the first impression of campus," said Steve Dobbs, director of landscape services.
OSU graduates who have not been to Stillwater in recent years are amazed at the new and updated buildings and the beauty of the grounds.
From day one, Hargis knew OSU had to upgrade and modernize its facilities to attract students and faculty, and to remain competitive in academics, research and athletics.
The construction list is mind-boggling. Here are just a few highlights:
The McKnight Center for the Performing Arts and adjoining Greenwood School of Music.
The new Business Building.
An updated and expanded Student Union.
The Henry Bellmon Research Center.
The ENDEAVOR research building.
The new wing of the Nancy Randolph Davis building (formerly Human Sciences).
A refurbished Old Central.
The expanded Donald W. Reynolds Architecture Building.
The new Central Plant.
The West End Zone of Boone Pickens Stadium.
The Greenwood Tennis Center.
O'Brate Stadium for baseball.
To further revamp the campus, Burns and Ann Hargis had a vision for campus landscaping, improving streets and walkways, adding parking garages and offering plenty of trash cans.
"Burns and Ann are truly the reason for the beautiful campus transformation that has evolved at OSU," Dobbs said. "They were passionate advocates for the outdoors and sustainability. They frequently gave donor tours of our many unique gardens and were our biggest cheerleaders."
Dobbs said the single most important Hargis initiative for landscaping was installing an irrigation system.
"That changed the entire look of campus and recruitment," he said. "Without having to hand water, our team had more time to devote to landscaping, creative seasonal color displays and maintenance."
"Without a doubt, if not our greatest president, certainly in the top two. It's him and Henry Bennett. Burns has been transformative for the university. Can't say enough about what a wonderful president he has been and what has been accomplished during his time."
— Doug Burns | OSU regent
Fundraising
Someone once joked to Burns Hargis that if the university ever did a statue of him as president, he would have his hand out.
During his more than 13 years as president, Hargis did ask often — and OSU was rewarded to the tune of more than $2.2 billion in private support. The donor generosity and the numbers are astounding — 82,000 new donors, doubling OSU's endowment and raising the number of $1 million-plus OSU donors from 137 to 422.
Jump-starting Oklahoma State's fundraising success was the late Boone Pickens, who donated an extraordinary $652 million to his alma mater during his lifetime.
"Boone's incredible generosity inspired others to join in the transformation of Oklahoma State," Hargis said. "Boone's impact has gone far beyond his own gifts and is changing OSU forever. His gifts showed us what we could do and changed how we thought about ourselves."
For former OSU Foundation president Kirk Jewell, it was a blessing and the highlight of his career to serve alongside Hargis during this historic period.
"Burns fully embraced his role as chief fundraiser," Jewell said. "His vision to make OSU a top land-grant university was always at the forefront of his plans and actions. His passion to make OSU greater inspired not only the donors but the Foundation staff. OSU will be forever changed because Burns and Ann invested themselves at our alma mater."
When Hargis became OSU president, he knew his No. 1 job was to raise much-needed funds for student scholarships, faculty, facilities and programs. The need was huge, and Hargis wanted an audacious goal. OSU reached its seven-year, $1 billion Branding Success goal nearly two years early.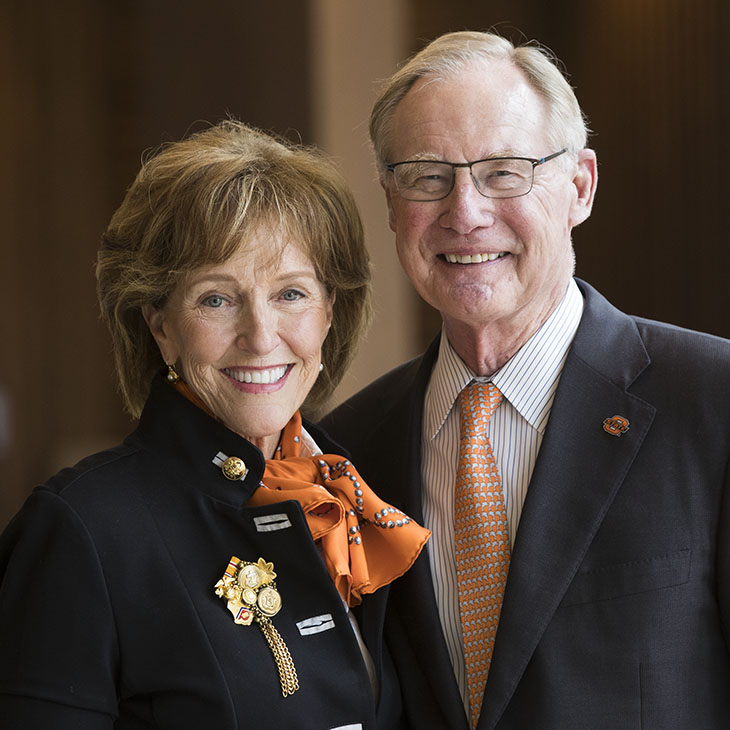 Leadership
It seems only right that Burns Hargis began to develop his leadership skills as a student at Oklahoma State. After all, he returned to become one of the finest leaders in the history of his alma mater.
"Without a doubt, if not our greatest president, certainly in the top two," said Doug Burns, an OSU regent throughout Hargis' presidency. "It's him and Henry Bennett. Burns has been transformative for the university. Can't say enough about what a wonderful president he has been and what has been accomplished during his time."
The transformation touches nearly every inch of the university. Hargis has overseen years of record enrollment, extraordinary fundraising that has totaled more than $2.2 billion, historic construction, iconic new facilities, new highs in levels of donor and alumni engagement, an eye-popping campus makeover and the list goes on.
The transformation went beyond the visible signs of success. "President Hargis was transformative in how OSU thinks of itself and its ability to raise big money to accomplish big goals," Doug Burns said.
Look at any list of leadership qualities, and Burns Hargis checks all the boxes: vision, communications, courage, humility, cooperation, integrity, enthusiasm and more.
"One of the things I admire most about President Hargis is that he takes his job very seriously, but he doesn't take himself that seriously," said Ken Eastman, dean of the Spears School of Business. "His sense of humor and his ability to poke fun at himself have endeared him to thousands, and it has greatly enhanced his leadership ability. He really energized our alumni, and the proof is in our fundraising totals and the passion of our grads."
The university will continue to draw from Hargis' leadership insight and skills after his retirement as he will lead OSU's student-focused Center for Ethical Leadership.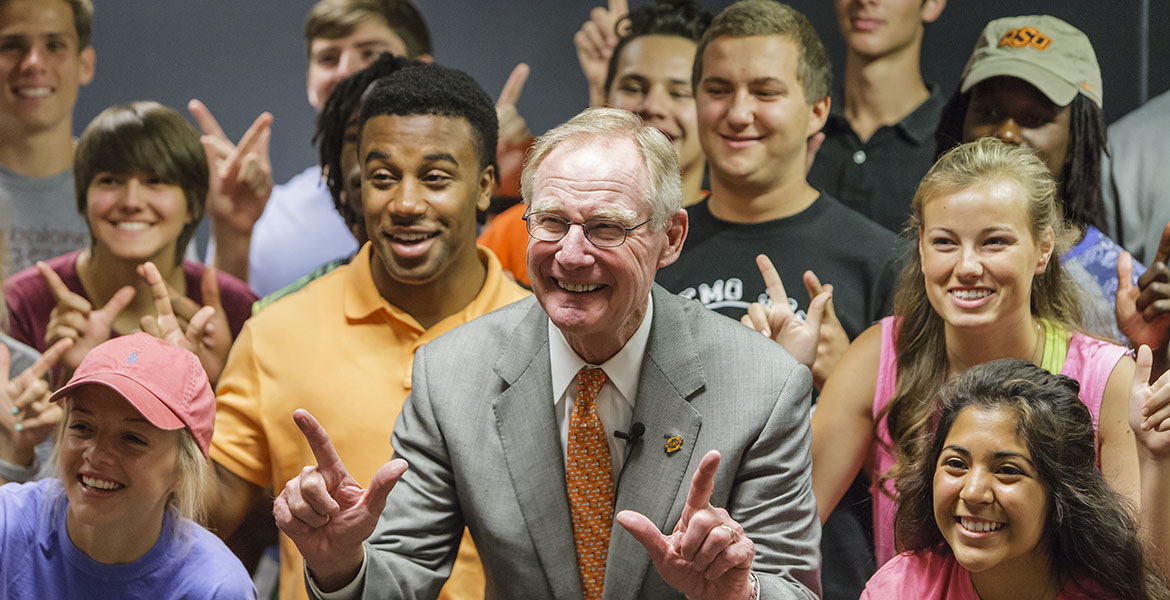 Students
Without question, the one thing Burns and Ann Hargis missed most during the pandemic was interacting with students.
Thanks to record enrollment gains — including the five largest freshmen classes in university history — and improvements in retention and graduation rates, there have been plenty of students during the Hargis years.
"The thing that has been the most rewarding is how invigorating it is to be around our students," Hargis said. "There's an energy transfer that is just amazing. Ann and I love engaging with students."
Kyle Wray, vice president of enrollment and brand management, saw that love and concern for students firsthand.
"They were mainstays at scholar recruitment programs. Parents and prospective students would form lines to visit with them. Burns and Ann always stayed until the last family had a chance to talk and ask questions. They epitomized what OSU stood for and meant to so many people."
That rock-star status continued when students came to campus. A selfie with Ann and Burns was a must-have for students.
"I had the privilege of meeting the president and the first lady at a Black alumni award meeting," said Godwin Ekpek, class of 2013. "They were lovely and down to earth; the speech they gave still motivates me to keep pursuing excellence."
Erik Williams, class of 2018, said, "Burns and Ann embodied true servant leadership as they listened, cared and acted to improve, promote and build OSU. When I think about the beloved family reputation of OSU, I immediately think of the Hargises."
Lee Bird, who served as vice president for student affairs for much of Burns Hargis' presidency, said, "What I appreciated most about President Hargis was his sense of humor and his genuine care and concern for students.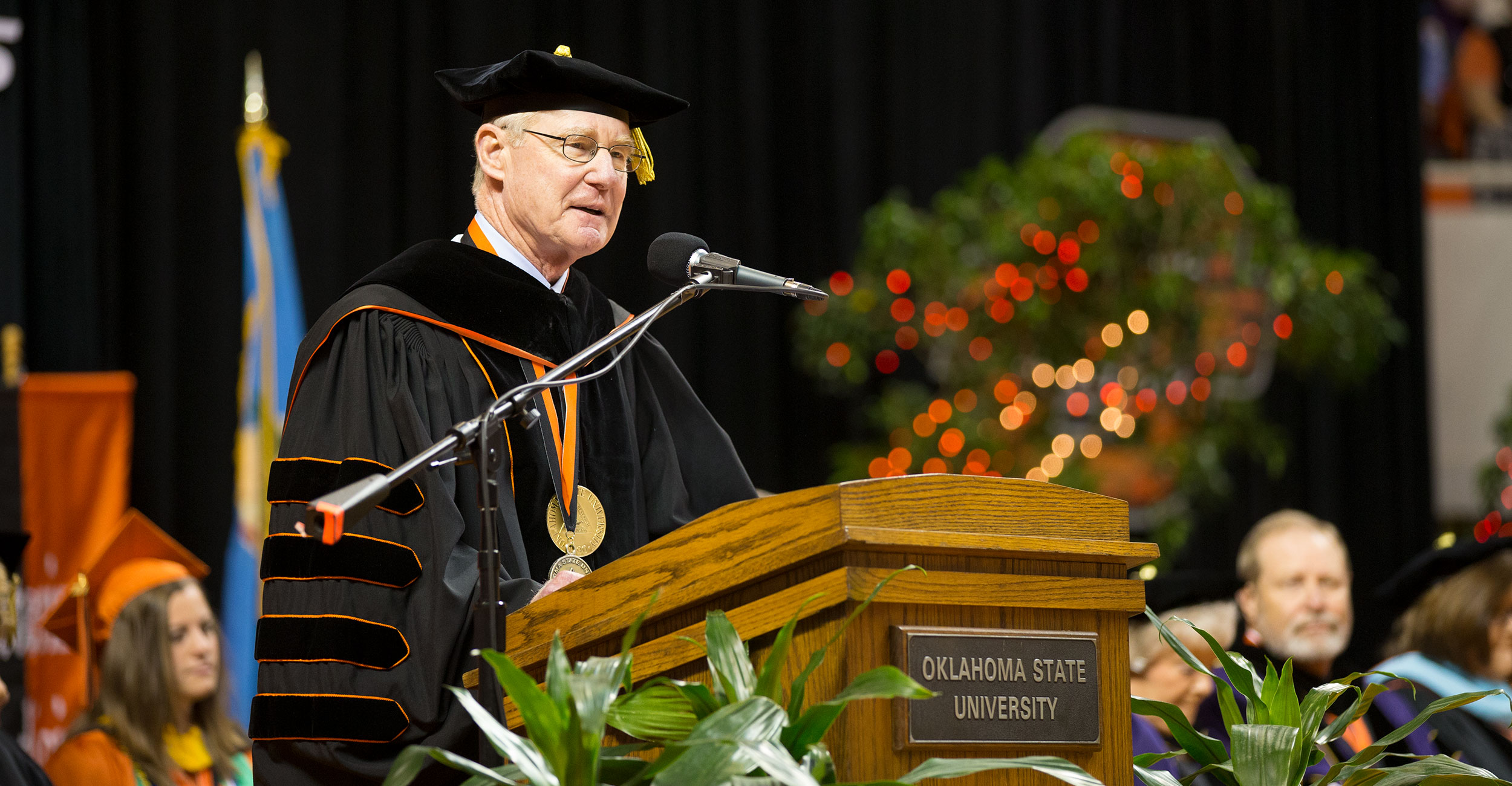 ---
Photos By: Phil Shockley
Story By: Gary Shutt | STATE Magazine