OSU bolsters its strong commitment to diversity, equity and inclusion
Wednesday, April 28, 2021
Media Contact: Mack Burke | Editorial Coordinator | 405-744-5540 | editor@okstate.edu
Opening minds will lead to a brighter world
At a time of deep division throughout the country, Oklahoma State University is looking inward to improve diversity, equity and inclusion for all.
With that goal in mind, the recently formed Diversity, Equity and Inclusion (DEI) Task Force — made up of more than 40 OSU students, faculty, staff and alumni — hosted the Dr. Martin Luther King Jr. Celebration Week in January as its first event.
"Dr. King was the leader in advancing civil rights in America in the 1950s and '60s," said Dr. Leon McClinton, director of Housing and Residential Life and co-chair of the Diversity, Equity and Inclusion Task Force. "He promoted and organized non-violent protests and won a Nobel Peace Prize for his efforts to fight racial inequality in a non-violent matter."
Hundreds of students, faculty, staff, alumni and community members wore face masks with King's "I have a dream" quote on them. King's 17-minute speech, made in 1963 from the Lincoln Memorial in Washington, D.C., echoed off the Edmon Low Library and newly named Nancy Randolph Davis building as marchers wove their way across campus.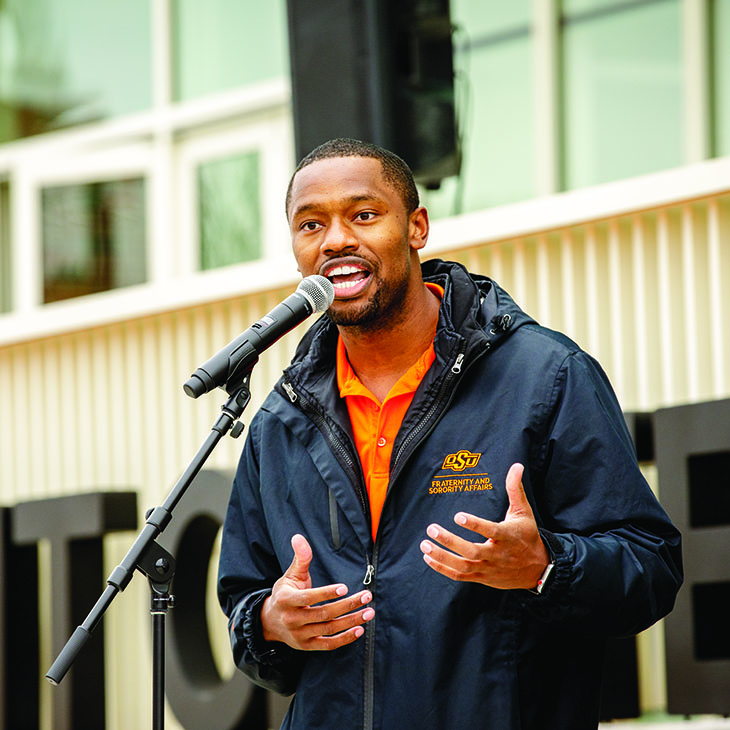 "Dr. King gave his life to make this country great for everyone," McClinton said. "Our students need to understand there is still work to do."
Caileb Booze, OSU's first black Interfraternity Council president, certainly realizes this.
He is expected to graduate this semester with an applied sociology bachelor's degree and minor in criminology and criminal justice, with a pre-law option. After law school, Booze plans to pursue a career in advocacy for underrepresented and disadvantaged people.
Booze, now a former Interfraternity Council president, spoke on the steps of The McKnight Center for the Performing Arts.
"I think the celebration of Dr. King in this time is very, very timely," he told the marchers. "It seems you can't turn on the TV or listen to a conversation for more than 30 seconds without hearing some sort of division, disruption or disaster. As that rhetoric continues, or if we buy into that, it's really hard to think that things can change and you end up in the headspace of 'it is always going to be like this and there's nothing we can do about it.' So days like today are very important because Dr. King believed in something different, and in the middle of that, he believed that the best was yet to come."
Fifty-eight years ago, King penned a letter from a Birmingham, Alabama, jail that Booze quoted.
"He said, 'I'm convinced that men hate each other because they fear each other. They fear each other because they don't understand each other. They don't understand each other because they don't communicate with each other. They don't communicate with each other because they are separated from each other.'
"I was thinking about that quote, and it is so, so good and so timely. Because if we are going to get where we want to go, if we are ever going to progress as people, then we can't be separated from each other," Booze said.
Unity is needed, Booze said, and that requires embracing uncomfortable truths.
"Right now, we are living in a world of chaos," he said. "Unity is something that has to be intentionally sought after in order to be achieved, but the enemy of unity is always going to be comfort. It takes leaning into discomfort to get to the other side. Unity is where we can go. That is what Dr. King strove for. That's what his vision was. The Civil Rights Act was his mission, but it wasn't all of his mission. It was just the beginning. The mission of Dr. King was actually to bring people together, to unify them at a heart level, so that we could all flourish. So, I would hate for us to settle and not keep going, not keep pressing, not keep trying to progress and move forward as a people. That is my hope for us as a university that we would be different. That people could see us and see us unified when everything else is going crazy."
New Campus Statement
At Oklahoma State University, diversity, equity and inclusion (DEI) matter. Providing a wide range of ways to understand and engage with the world, identifying opportunities and creating solutions are core to our mission as a land- grant university. We fulfill our mission
and enrich our campus community by maintaining a welcoming and inclusive environment that appreciates, values and fosters a sense of belonging for all.
The definitions of these three key words are important:
— DIVERSITY means a variety of different and unique identities, characteristics, experiences and perspectives.
— EQUITY is defined as making available to everyone what they need to succeed by increasing access, resources and opportunities for all — especially for those who are underrepresented and have been historically disadvantaged.
— INCLUSION is what we do. Inclusion creates a welcoming culture where differences are celebrated and everyone is valued, respected and able to reach their full potential.
We also humbly recognize there are events in the university's 130-year history that
at times have not upheld these values; however, we are continually working toward a future that instills pride for all in our community.
Incidents of social injustice — both historical and recent — unfortunately exist within our society but are not welcome on the OSU campus. While the First Amendment allows considerable latitude with respect to free speech, we denounce acts, behavior, language or symbols representing or reflecting intolerance or discrimination toward any subpopulation affiliated with our university. OSU pledges to support and reinforce diversity, equity and inclusion efforts as they are significant to our campus culture and mission, improving the quality of life for all.
Maddie Ward, a junior studying applied exercise science with a pre-physical therapy option, marched with her Alpha Chi Omega sorority sisters.
"I wanted to show support and honor Martin Luther King's life and what he stood for," she said. "We are all sharing the dream now; it's not just his dream anymore."
She is part of a new sorority committee that focuses on diversity, equity and inclusion.
"I think the university is taking the right steps to becoming a more diverse and inclusive school," Ward said.
For Dr. Udaya DeSilva, that's good to hear. DeSilva is an associate professor for the Department of Animal and Food Sciences, past faculty council chair, and a member of the Diversity, Equity and Inclusion Task Force.
"Dr. King is very well known around the world for what he did and what he stood for," said DeSilva, who grew up in Sri Lanka. "I've been a big fan since I was very little."
While marching south on Monroe Street, DeSilva said, "We are walking in between two of the biggest achievements on this campus."
The first was a statue of the university's first African American student, Nancy Randolph Davis, who crossed racial barriers and became a civil rights pioneer when she started her master's degree in home economics in 1949. The statue was unveiled in 2019 in the courtyard of OSU's Human Sciences building, which has been renamed the Nancy Randolph Davis building.
The second was the removal of the name "Murray" from Murray Hall — now the Social Sciences and Humanities building — and North Murray Hall — now the Psychology building. The building's namesake, Oklahoma's ninth Gov. William H. "Alfalfa Bill" Murray, had a record of advocacy for racist policies including segregation and the promotion of Jim Crow laws, which in effect stripped many Black Oklahomans of their constitutional right to vote.
"I was on the committee to get the buildings' names changed," DeSilva said. "This was huge progress, but we still have a long ways to go."
Accomplishments
OSU's enrollment for undergraduate students of color increased 103 percent from fall 2009 to fall 2020 with the following increases by ethnicity:
---
---
Task Force Work
"The objective of the OSU Diversity, Equity and Inclusion Task Force is to develop and publish a new comprehensive universitywide DEI plan detailing timed, measurable goals and specific initiatives that will be implemented across campus in coming years," said McClinton, who co-chairs the task force with Dr. Jeanette Mendez, the interim provost. "The ultimate goal is to help foster an environment where OSU students, faculty and staff all have equal opportunities to find success as was outlined by the OK State Stand United organization in its list of urgencies published in the summer of 2020."
As of press time, the new plan is expected to be published by the end of the spring semester, McClinton said.
The importance of the task force can't be understated.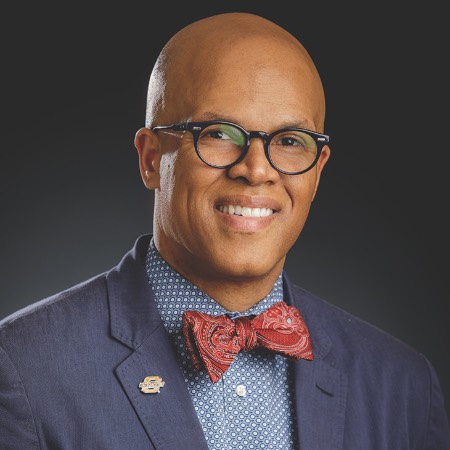 "There are still subpopulations who feel as if their voices are not heard and that there aren't adequate support systems in place to help them be successful in a predominantly white setting," McClinton said. "This task force is responsible for developing a plan to address our shortcomings in this area."
That said, OSU's continued commitment to creating a culture of inclusion has been recognized with a multitude of national awards.
"We are the single most highly decorated institution in the nation in terms of nationally prestigious diversity and inclusion awards over the past several years," said Dr. Jason F. Kirksey, OSU vice president and chief diversity officer. "We have plenty of room to grow and work to do, but it is important to recognize and acknowledge the work that we have done."
---
Photos By: Phil Shockley and Gary Lawson
Story By: David Bitton | STATE Magazine