OSU College of Osteopathic Medicine alumna tackles challenges in battling COVID-19
Wednesday, April 28, 2021
Media Contact: Mack Burke | Editorial Coordinator | 405-744-5540 | editor@okstate.edu
OSU education prepared doctor for pandemic
Dr. Julie Ledgerwood, D.O., has spent her career studying viruses and developing vaccines against them through her work with the National Institutes of Health's Vaccine Research Center (VRC), part of the National Institute of Allergy and Infectious Diseases (NIAID).
But nothing prepared the OSU College of Osteopathic Medicine alumna and her team at the VRC for COVID-19.
"I couldn't have imagined what it would be like. We've been responding and conducting research on outbreaks for almost 20 years in our center, we had a lot of experience, but nothing fully prepared us for this," said Ledgerwood, who serves as deputy director, chief medical officer and chief of the clinical trials program.
But thanks to her nearly two decades of experience with the VRC, as well as her education and training at OSU-COM, she said she was as prepared as she could be to take on the monumental task of being part of the largest — and fastest — vaccine response in U.S. history.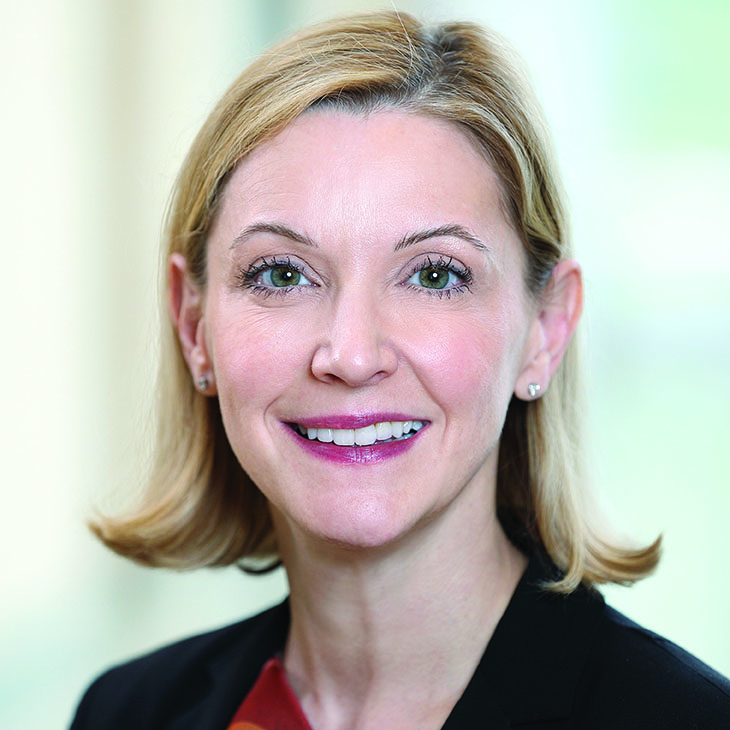 Research and medicine coincide

While attending Phillips University in Enid, Oklahoma, Ledgerwood spent her summers doing entry-level research projects in the science labs, sparking her interest in research. When she started thinking about medical school, she said she really only considered the two in Oklahoma.
"I really just felt more excited and interested in the OSU-COM campus and the faculty and students I met. The engagement was really positive," she said. "Growing up in Oklahoma, I had a lot of exposure to D.O. physicians, and I worked in an osteopathic physician's office in college, so I had a lot of positive experiences with osteopathic medicine in my life. OSU-COM was the obvious choice for me."
And it only got better once she was attending OSU's medical school.
"I loved it— I made really strong friendships and had really great experiences, not only pure educational experiences, but also the rotations I had throughout the state and even outside the state," Ledgerwood said.
In medical school, she continued to seek out research opportunities as well, spending summers and part of her internship in the immunology and renal physiology labs.
"My interest in research coincided with my interest in medicine, they went hand-in-hand. They were never distinct, they were always coupled," she said.
Ledgerwood went to Baltimore to complete her internal medicine residency at Johns Hopkins Bayview Medical Center before being accepted into the allergy immunology fellowship program at the National Institutes of Health, which proved to be a pivotal moment in her early career.
Becoming a vaccine researcher
In 2002, during Ledgerwood's first year at the NIH, the allergy immunology fellowship was closely aligned with the Walter Reed Army Medical Center's allergy immunology fellowship so both program's fellows trained together.
"I spent a lot of time at Walter Reed with my Army colleagues in training. … I was on the team that launched the smallpox vaccine re-initiation campaign at Walter Reed. In doing so, I was completely immersed in vaccine immunology, vaccine adverse event evaluation, special population considerations — all those topics became very interesting to me," she said.
The second and third years of the fellowship were primarily spent on research, so Ledgerwood chose to complete her fellowship at the Vaccine Research Center.
"That's how I became a full-time vaccine researcher. The VRC was very new at that time, and I was able to be there from the earliest days," she said. "As I trained, it just became more and more clear to me that I wanted to become a vaccine researcher."
She officially joined the VRC in 2005 as staff member conducting clinical research. She has since been promoted to chief of the clinical trials program, chief medical director and deputy director. She leads a team of 64 clinical researchers and regulatory experts, has authored more than 85 publications and has conducted more than 60 clinical trials studying vaccines and monoclonal antibodies targeting HIV, influenza, Ebola, malaria, Chikungunya and Zika in over 13 countries.
"It was just a natural progression of my career to remain there but accept greater responsibility and take on a broader role over time," she said.
And Ledgerwood loves her work.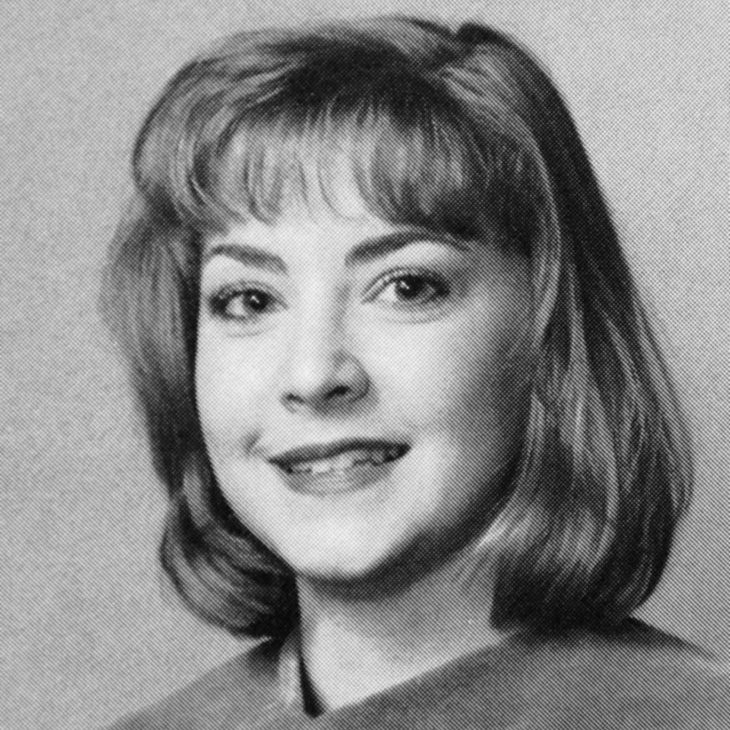 "I love conducting research in a setting that is devoted to improving public health, pure and simple. There is no other motivation behind what we do. It gives me a chance to do fun, exciting and cutting-edge research with an important, valuable mission," she said.
VRC Director Dr. John Mascola, M.D., called Ledgerwood an important contributor to the VRC and the field of clinical research.
"Dr. Ledgerwood is an outstanding physicianscientist committed to advancing biomedical solutions for public health needs," Mascola said. "She has dedicated her career to conducting clinical research both domestically and abroad, and her work has led to major advances in the development of novel vaccine and antibody products, including those targeting COVID-19."
'Never been done before'
Ledgerwood said the VRC has been involved in the research component of every pandemic or outbreak since SARS-CoV-1 and West Nile in the early 2000s.
"A component of our work has been to respond with a research agenda for those pandemics, so we have to pivot each time," she said. "In each case, we're responding by developing medical countermeasures, usually vaccines or antibodies."
Whenever there is evidence of an outbreak, especially of a viral disease, Ledgerwood said the VRC and NIAID are watching closely and ready to be part of the research response. By December 2019, her colleagues were already watching the outbreak in China and talking with their collaborators there.
Less than a month later, on Jan. 10, 2020, colleagues and collaborators at Moderna had determined the sequence to make a COVID-19 vaccine.
"I love conducting research in a setting that is devoted to improving public health, pure and simple."
— Dr. Julie Ledgerwood
"We had a pre-existing long-term collaboration with Moderna on another vaccine project and separately we have a pre-existing coronavirus vaccine research program at the VRC that started with our first SARS vaccine. There was a lot of obvious expertise and existing relationships that allowed us to move quickly to help create this first vaccine," she said. "The sequence was selected, and 65 days later the first subject was injected with the vaccine in Seattle. That's a record that had never been done before."
Ledgerwood said the first part of 2020 was an intense time getting regulatory documents together and utilizing existing knowledge of SARS vaccines and prior mRNA vaccines to make the case to the FDA that vaccine testing could move quickly into humans.
"In early January, we weren't sure how COVID19 was going to be, but by February we knew this was different. After following outbreaks for many years, you just have a sense," she said. "That was a busy time — January, February and March. Around that time, it became clear that this was a big problem, bigger than anything we had handled or been involved with before and that it would essentially need to be an all-hands-on-deck, allgovernment pivot to respond, so our entire center became focused on COVID research and response."
The U.S. government developed project coordination teams for the different vaccines being developed, and Ledgerwood was assigned to multiple efficacy trial teams including the Moderna team. She also served as the U.S. government lead for the predictive analytics work group.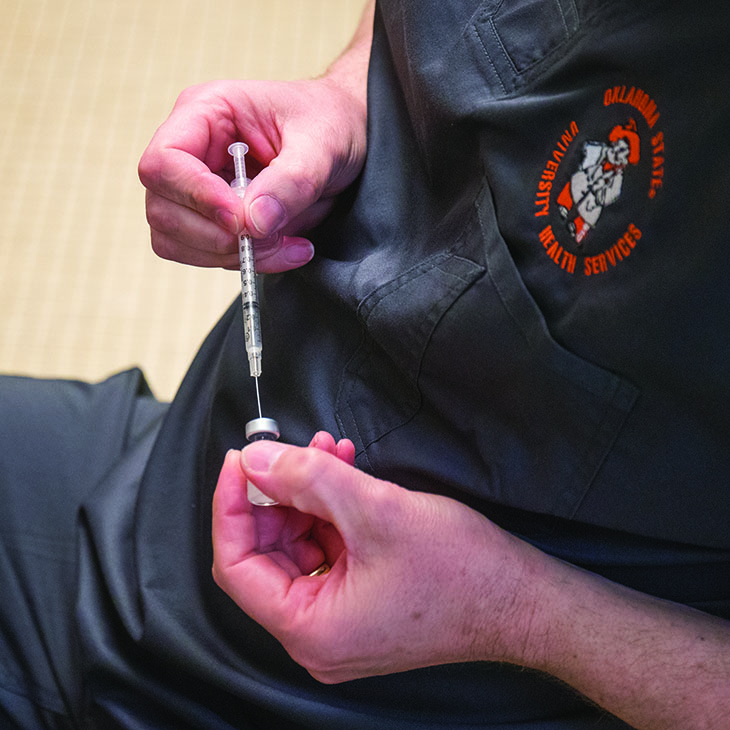 "Those were my main COVID-related jobs. That's how I spent my year, working on those teams while also maintaining the Vaccine Research Center's clinical trials and regulatory programs; those are my day jobs," she said. "It was a really busy year, everyone worked really hard seven days a week, almost around the clock. There were no holidays, there were no weekends; we just worked all the time to get the work done."
How to make a vaccine
There are many kinds of vaccines, but when it came to developing COVID-19 vaccines, the U.S. government chose three types: mRNA, which included Moderna and Pfizer's vaccines; viral vector, which included Johnson & Johnson and AstraZeneca's vaccines; and protein vaccines, which included Novavax and Sanofi.
Ledgerwood was most involved with the Moderna vaccine, which was built on pre-existing research on SARS and MERS as well as Moderna's research on previous mRNA candidates. The annual flu vaccine is quite different because it's developed from inactivated virus, but that wasn't a type chosen for COVID vaccines, Ledgerwood said.
"We took newer technologies, newer approaches. What's most important to know about mRNA is it's fast, and it's a platform. That means that you can make it in almost the same way for SARS-CoV-1 as you can for another virus. You're not reinventing the wheel for each vaccine," she said. "The platform is consistent and the antigen, the viral gene, is what's new. That makes it very reassuring for regulatory and safety experts because very little is changing from vaccine to vaccine — unlike with a protein vaccine or an inactivated vaccine, which are all very distinct."
Ledgerwood said she understands some people are concerned about the relatively quick development of the COVID vaccines.
"In vaccine development there are required elements that generally always occur in a series — you do some studies in a lab, then you analyze the data, you do some studies with animals, then you analyze the data, then you launch a regulatory packet to go into human studies and you analyze the data," she said, and that data analysis often takes months or even years. "What we did with the COVID vaccines was … move in parallel. We did laboratory work, animal work and the regulatory packet simultaneously, and then started the human trial."
No corners were cut, and no steps were skipped, she said.
"Think of it as trying to build something quickly. If you have more people, more resources involved and you worked around the clock, you could build it more quickly. It wouldn't be built any less robustly, it was just all built at the same time and then it came together," she said. "It's not that we skipped steps — we didn't skip any steps, we did them as fast as humanly and technologically possible, and as much as possible, we did everything at the same time."
'I'm really proud'
Ledgerwood said even though there are now several COVID-19 vaccines being utilized around the world, it doesn't mean the job of researchers and scientists is done, noting another pandemic could happen anytime.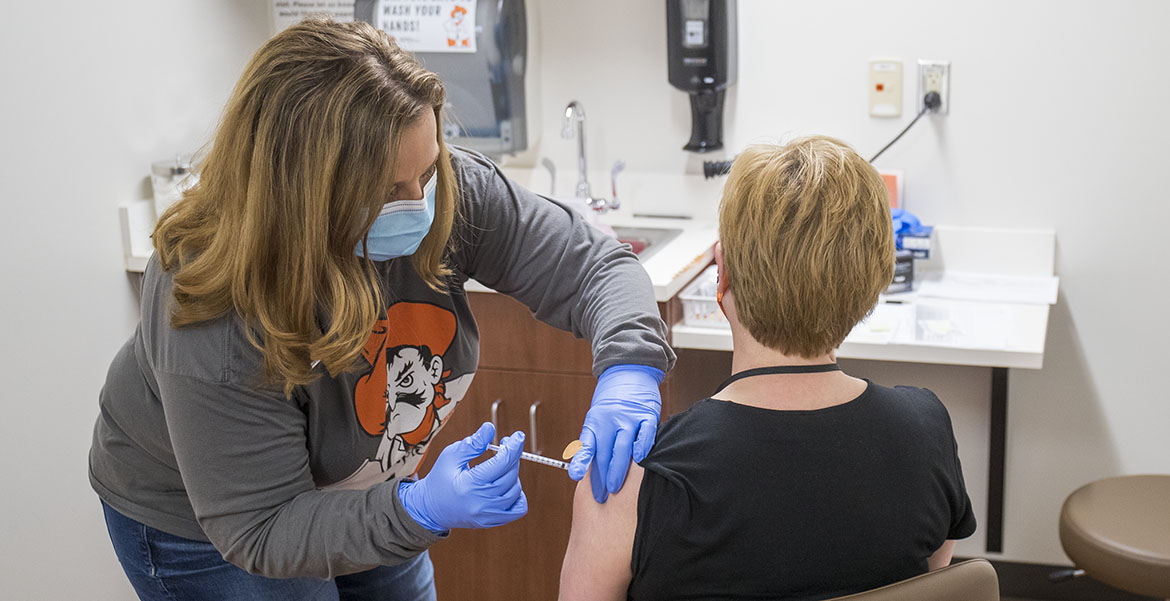 That's why it's important epidemiologists, immunologists and vaccine researchers around the world are prepared with advanced technologies and anticipate the most likely needs in the next outbreak or pandemic.
And Ledgerwood said the next time may be different and more difficult.
"Some viral families we don't know as much about, and we should. Having some pandemic preparedness research occur for all the major or most likely virus families involved in an outbreak is essential. If you're prepared with the knowledge to respond quickly, you can do so," she said.
Still, her home state is doing impressive work on the vaccination front, she said.
"Oklahoma is doing really well; it's one of the frontrunners for the whole country. I'm really proud of what Oklahoma is doing, and it's great to see you all are doing so well getting those vaccines out," she said. "I'm super proud to be part of this endeavor."
---
Photos By: provided by Dr. Julie Ledgerwood and Phil Shockley
Story By: Sara Plummer | STATE Magazine