OSU's College of Veterinary Medicine launches institute to find health care innovations for both animals and people
Wednesday, April 28, 2021
Media Contact: Mack Burke | Editorial Coordinator | 405-744-5540 | editor@okstate.edu
Oklahoma State University's College of Veterinary Medicine is making strides in research that can help both people and animals with its new Institute for Translational and Emerging Research in Advanced Comparative Therapy (INTERACT), which focuses on developing and translating new discoveries into therapies for patients.
"The idea for INTERACT came from our long successful history in conducting clinical trials in diseases that affect both small and large animals to develop or discover new therapies and diagnostics," said Dr. Carlos Risco, dean of the College of Veterinary Medicine. "With our collaborations, INTERACT will provide our faculty and our college with the resources and expertise needed to innovate in animal and human health, and we are excited to launch it."
Directed by Dr. Ashish Ranjan, professor and Kerr Foundation Endowed Chair, INTERACT includes faculty participants from almost all OSU colleges, as well as industrial, nonprofit and academic institutions across the country. The institute aims to fulfill one-health research by doing parallel investigations in humans and animals.
"Our short-term goals include identifying clinical trial opportunities that involve pet patients in the OSU Veterinary Medical Teaching Hospital," Ranjan said. "I have been involved in clinical trials utilizing veterinary patients for some time.
INTERACT will provide a strong footing to pursue and move these efforts further. It will allow me to collaborate with other faculty members from the teaching hospital as well as across the campus.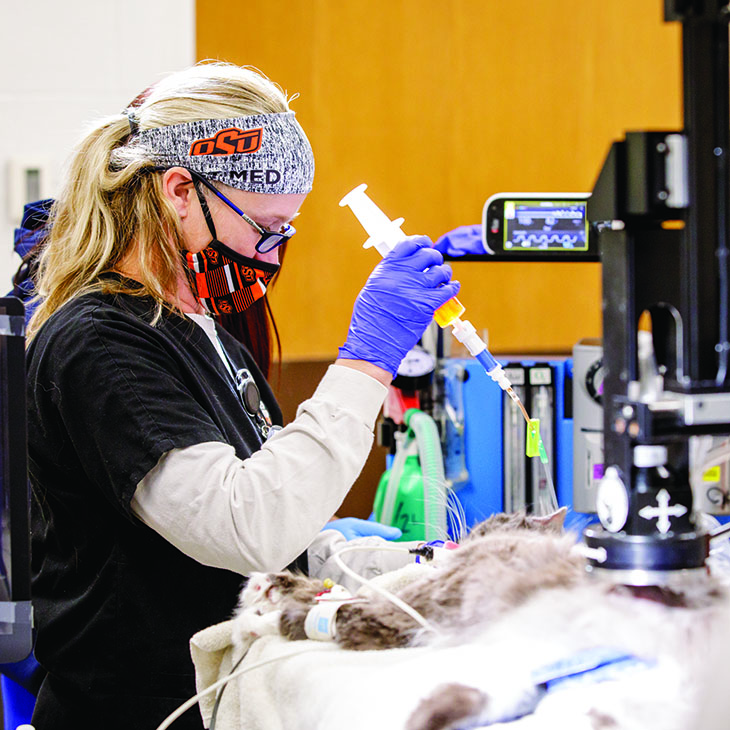 "As the name suggests, INTERACT is a platform to support collaborative research. We hope these open interactions move the needle toward figuring out new treatments for our patient populations — both animal and human. We welcome partners to work together to figure out new therapeutic and diagnostic solutions."
On Dec. 3, OSU President Burns Hargis toured and officially launched INTERACT. He watched a demonstration of what non-invasive treatment technologies (high-intensity focused ultrasound or HIFU) mean for animal and human health in treating cancer tumors.
"We're at the cutting edge of research in this area," Hargis said. "It's a fantastic revolution to not be invasive in treating these tumors. We're moving toward One Health where you're dealing with animal, human and plant health. This is just another example that is completely transferable to human treatment. We're really at the center of this, and it's very exciting."
Dr. Danielle Dugat, associate professor of small animal surgery in OSU's Veterinary Medical Hospital, said INTERACT is a large part of her work. "We have been able to treat quite a few cancer patients with HIFU. My goal is to continue to develop research that ultimately advances the care of my patients. When you bring together individual researchers and clinicians, you can develop a plan that is far beyond what your initial idea might have been."
"INTERACT provides a platform for researchers from many disciplines to answer the question of 'How do I take my research and get it out there in the public sphere?'" said Dr. Jerry Malayer, associate dean for research and graduate education at the veterinary college. "How do we develop these approaches that we're thinking about and identify resources and partners and collaborations that help us accomplish that goal? INTERACT helps us bring One Health principles into our college, our programs and our general thinking. The things that help our companion animals and livestock are developed with the same biological interfaces that apply to human health and in some cases to environmental health."
"INTERACT is a group of people who really understand that in this day and age, big science is team science. It has to bring people together from different disciplines and from different parts of the research community to solve the big problems, and that's what I see this group doing," said Dr. Kenneth Sewell, vice president for research at Oklahoma State University and president of the OSU Research Foundation.
"INTERACT, in my opinion, is going to have benefits for many parties, but especially at the Veterinary Medical Teaching Hospital," said Dr. Jeff Studer, hospital director. "It's going to lead to research that we can translate from bench-side to application for our patients in the Veterinary Teaching Hospital. I think the impact for our patients, and thus our clients, our referring veterinarians and our students will be significant."
---
Photos By: provided by Gary Lawson
Story By: Derinda Blakeney | STATE Magazine