100 years of memories: the past, present and future of America's Greatest Homecoming
Tuesday, December 14, 2021
Media Contact: Mack Burke | Editorial Coordinator | 405-744-5540 | editor@okstate.edu
The Cowboy family flocks to Stillwater every year to celebrate America's Greatest Homecoming. As the OSU community looks back on the past 100 years of the beloved tradition, the OSU Alumni Association is taking a look at the history of this iconic week.
OSU's first Homecoming was unofficially held as part of the Harvest Carnival in the fall of 1913, but it wasn't until seven years later that the Former Students Association (now the OSU Alumni Association) hosted its first official Homecoming celebration.
On Oct. 30, 1920, 90 Oklahoma A&M alumni returned to Stillwater for the festivities, including the OAMC football game against Texas A&M, plus a dance and a dinner hosted by Alumni Association President Monroe Otey.
The following decades saw the addition of many special events that still take place today as alumni celebrate the university they once called home. Some of these traditions include the Harvest Carnival, the Sea of Orange Parade and the house decorations, which led to what is undoubtedly Homecoming's most famous event, Walkaround.
OSU Homecoming is an award-winning, nationally recognized alumni event. The Council for Advancement and Support of Education (CASE) has recognized OSU's Homecoming as a Circle of Excellence Award recipient. This is CASE's highest honor in alumni relations and is given only to programs that serve as models for others. OSU was recognized for the widespread participation and outstanding organization of its student-led Homecoming program.
Over the years, tens of thousands of Cowboys and Cowgirls have contributed their talents and their time to support OSU's most revered tradition. This look back through the first 100 years of Homecoming is dedicated to their efforts and the course they have set for the next 100 years.
1913
Oklahoma A&M hosts the first Harvest Carnival, a precursor to official Homecoming events. Each class nominated a Harvest Queen candidate, and the queen's coronation kicked off the Homecoming festivities that included a parade and night carnival. Campus organizations created moneymaking booths at the carnival that helped fund the college yearbook.
1916
The first class reunion is held on campus.
1920
The Former Students Association (now the OSU Alumni Association) hosts the first official Homecoming events with 90 attendees.
1920s
Sororities begin decorating the doors of their houses for Homecoming, which evolved into the tradition of house decorations.
1928
For the first time, more than 1,000 attendees are recorded at the 1928 Homecoming events.
1930
The first Homecoming parade is held. Entries stretch more than a mile long.
1931
The Great Depression threatens to scale back Homecoming decorations and activities, but traditional festivities are held following a large student debate.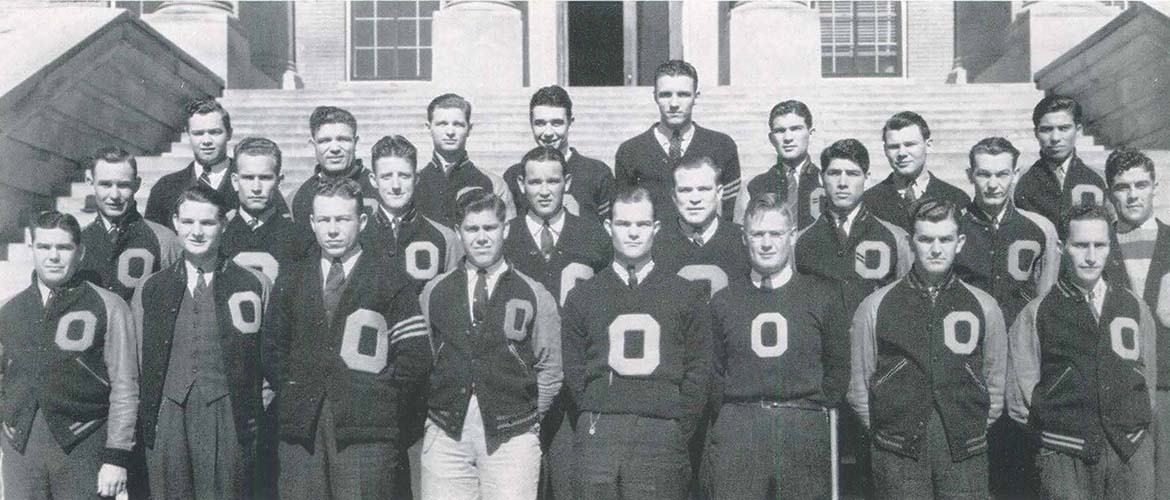 1936
A push for a separate Board of Regents to be created for Oklahoma A&M triples Homecoming attendance as alumni turn out to advocate for their alma mater.
1938
Lois Falkenburg is crowned by the O-Club as Oklahoma A&M's first Homecoming queen.
1940
The Homecoming Parade stretched more than two miles.
1942-44
Due to World War II, Homecoming events are combined with Mom's and Dad's Days on campus.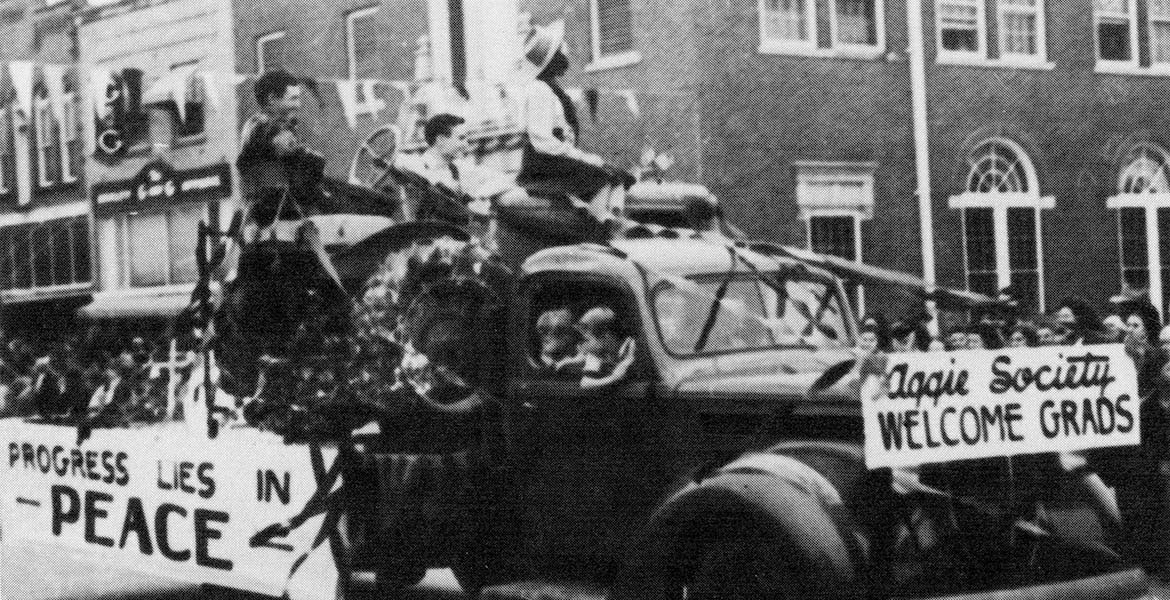 1946
The first Homecoming Parade following the war had a record number of entries and a record attendance of 20,000.
1956
The first honorees of the new Alumni Hall of Fame — Edward C. Gallagher, George H.C. Green, Thomas M. Lumly, Gerald McCullough and Clarence McElroy — are named at Homecoming.
1958
A caricature of Pistol Pete is introduced as the university's mascot following the death of Frank Eaton.
1964
President Lyndon Johnson's daughter, Lynda Bird, rides in the Homecoming Parade. Watch this historic event at okla.st/1964.
1966
As house decorations became more elaborate, the streets around campus would become clogged with cars as returning alumni drove around to see them. This was the first year streets were closed — an experiment so attendees could "walk around," and a new tradition was born.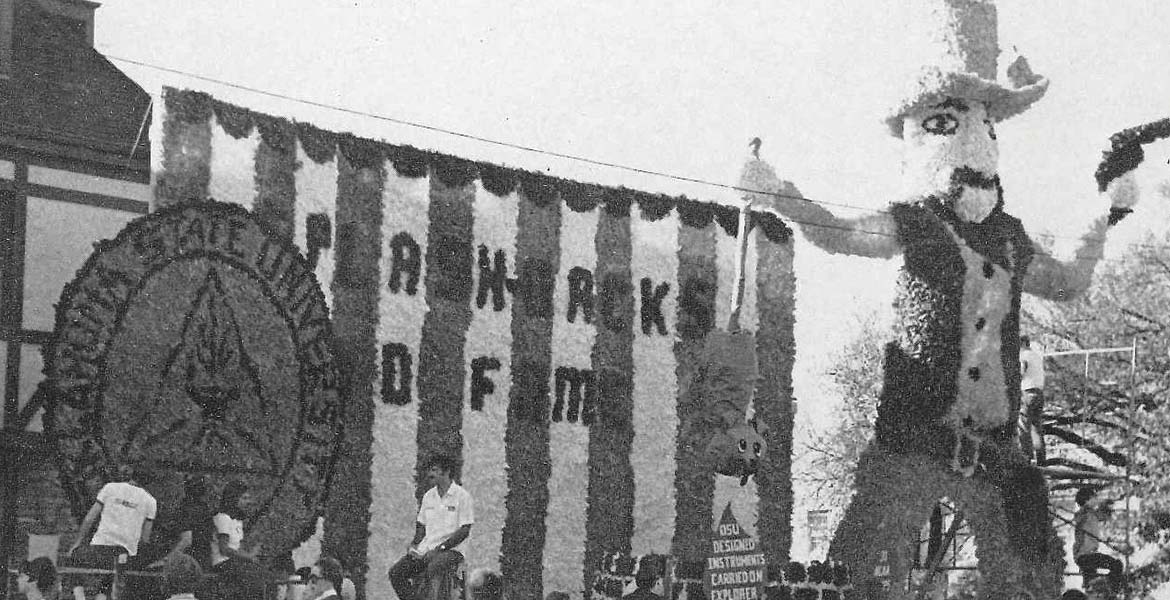 1969
For the first time, house decorations are judged by a group put together by the Alumni Association, and the best entries win awards.
1977
Three members of the Alpha Gamma Rho fraternity are tragically killed while working on their house decoration. The accident leads to new safety regulations that are still used.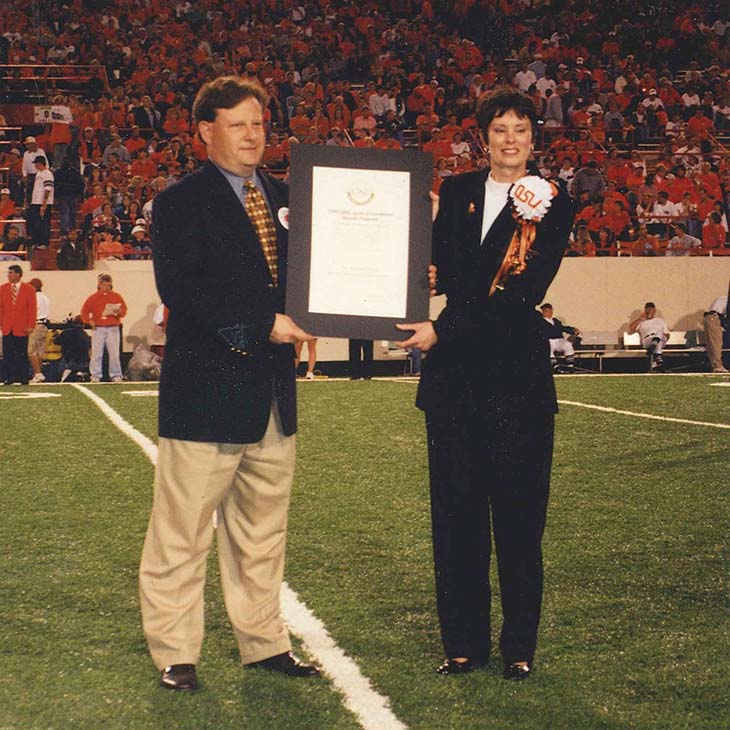 1986
Legendary OSU athlete Allie P. Reynolds serves as the Homecoming Grand Marshal, and fans attend the first game under new permanent lights at Lewis Field.
1988
A new student volleyball tournament is introduced, which would ultimately turn into today's Football Frenzy and Basketball Bonanza events. OSU basketball's first 7-footer, Bob Kurland, served as Homecoming grand marshal, and the Alumni Association recorded 20,000 attending Walkaround and 26,000 at the parade.
1990
The Homecoming theme "Cowboy Cheers for 100 Years" honors the university's centennial year. At the time, OSU's Homecoming events were considered the second-largest in the nation.
1999
To kickoff Homecoming week, a new tradition of dyeing the Edmon Low Library fountain orange is created. It takes only 72 ounces of dye to turn the 5,000-gallon fountain America's Brightest Orange. The Council of Advancement and Support of Education (CASE) awards its highest honor — the Circle of Excellence Award — to the Alumni Association for OSU's Homecoming celebration. The award is the impetus for the America's Greatest Homecoming motto.
2009
Garth Brooks, Barry Sanders and Robin Ventura are inducted into the Alumni Hall of Fame during a special ceremony at halftime during the Homecoming game. The three also served as grand marshals of the Sea of Orange Parade.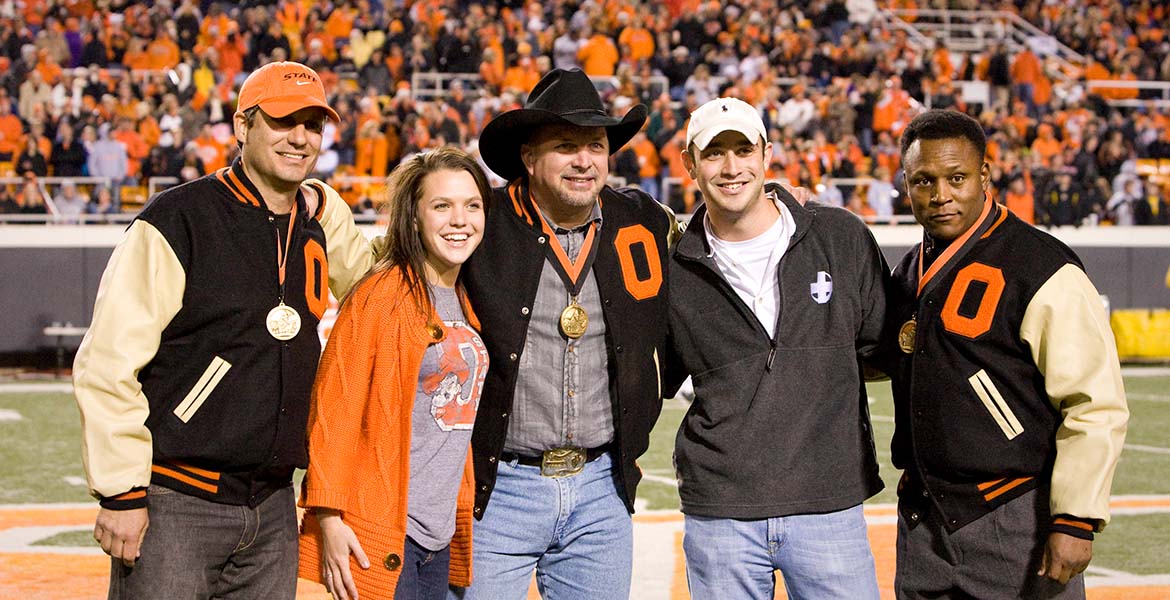 2010
As part of the Campaign for OSU, the Homecoming endowment is created with alumni and students alike beginning to donate to support the future of OSU's greatest tradition. The fund surpassed $1 million in 2014 and helps offset costs incurred by participating student groups on campus.
2015
Four Sea of Orange Parade attendees are tragically killed when a vehicle runs through several barricades into the crowd. A memorial at the corner of Main Street and Hall of Fame Avenue now stands in their honor.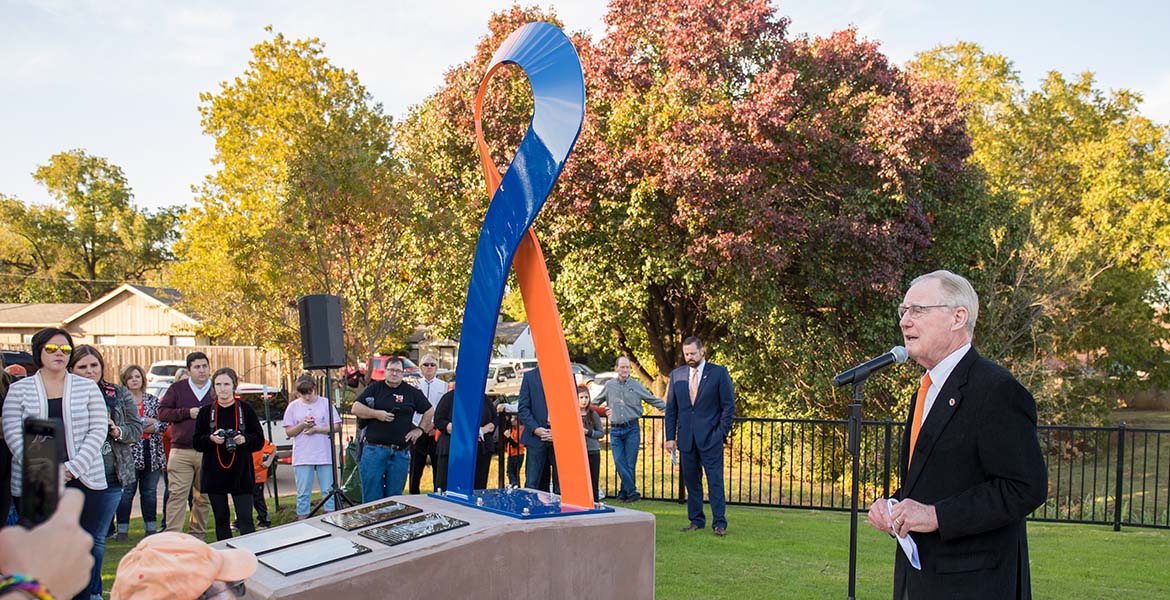 2021
Following a one-year postponement, the centennial edition of America's Greatest Homecoming is hosted by the Alumni Association with Love's Travel Stops signing on as the new sponsor for OSU's greatest tradition.
---
Sight and sounds from Homecoming 2021
The centennial edition of America's Greatest Homecoming was filled with celebrations honoring longtime traditions, as well as glimpses of the event's bright future. After being delayed for a year due to the COVID-19 pandemic, the celebration was memorable for the tens of thousands in attendance.
Former Oklahoma State University President Burns Hargis and First Cowgirl Ann served as grand marshals of this year's festivities, which included nearly two dozen events from Oct. 22-30. OSU's Homecoming continues to be one of the largest student-run events in the U.S. and was voted OSU's most beloved tradition earlier this year by alumni, students and fans.
Along with our sponsor, Love's Travel Stops, the Alumni Association invites you to relive this historic celebration. You can also watch the highlight video at okla.st/hc100 and learn about supporting the next 100 years of America's Greatest Homecoming.
Sights of America's Greatest Homecoming
A view of events such as the Harvest Carnival, Walkaround and the football team's win against Kansas
---
Alumni Association forming partnership with Love's
There's no denying the OSU tradition that Cowboys love the most: Homecoming.
The first 100 years have shown us how this tradition can bring the Cowboy family together, through good times and bad. It's a tradition we all point to with pride — one we all want to endure for another 100 years and beyond.
With future generations of Cowboys in mind, the OSU Alumni Association and Love's Travel Stops have entered into a multiyear agreement to support America's Greatest Homecoming at OSU. The new partnership officially makes Love's the presenting sponsor of OSU's greatest tradition through 2023, including the centennial celebration this year.
"We're honored to have the support of Love's as the presenting sponsor of one of our signature programs," said Rob McInturf, OSU Alumni Association president. "Love's is an Oklahoma-based company that shares the values of our Cowboy family nationwide, and we're excited to share their story alongside our own through this strategic partnership."
"Love's is excited to partner with the OSU Alumni Association to help continue the proud tradition that is America's Greatest Homecoming," said Love's President Shane Wharton, '90 accounting. "We look forward to continuing to support Oklahoma State as it creates tomorrow's leaders for our state and the nation."
Love's has been a fixture in the Sea of Orange Parade for many years with its OSU-themed fuel truck rolling down Main Street. With the new partnership, Love's is an active participant in all aspects of Homecoming.
"OSU's Homecoming is one of the largest student-supported celebrations in the nation, and through their work, our students develop highly sought-after leadership skills," McInturf said. "We're excited to be able to bring Love's executives together with our student leaders and facilitate new opportunities for growth among our students and future alumni."
This fall, Love's executives personally met with members of the Homecoming Executive Team and Steering Committee. It's the start of what the Alumni Association hopes will be many more opportunities to connect Cowboys with one of Oklahoma's greatest success stories.
"Hearing about Love's growth, its journey and subsequent passion for Oklahoma State was very affirming for all of our committee members as we head into Homecoming," said Ariel Scholten, 2021 Homecoming executive director. "Making time to spend with our students is a fantastic show of support, and it makes us excited for the future of the partnership."
---
Photos By: OSU Archive, Gary Lawson, Phil Shockley and Bruce Waterfield
Story by: Will Carr and Chase Carter | STATE Magazine