1959 Homecoming Queen's family supports OSU to this day
Tuesday, December 7, 2021
Media Contact: Mack Burke | Editorial Coordinator | 405-744-5540 | editor@okstate.edu
For a full century now, America's Greatest Homecoming has served as a bridge between generations of Cowboys. A prime example of this connection is Gaytra Harris Coggins and her family of OSU alumni.
Coggins, a 1961 family relations and child development graduate and life member of the Alumni Association, now lives in Poteau, Oklahoma, but her OSU story began long before she settled in the eastern part of the state. Coggins was named Homecoming queen in 1959, and her journey through the application process helps tell an even deeper story about her family's OSU roots.
"They asked me why I wanted to be Homecoming queen," Coggins said. "I told them the story about how my grandfather was a member of the [Oklahoma A&M] football team. I wanted to be out there on that field for my grandfather, and he was there watching at the Homecoming game in 1959."
Coggins' grandfather, Burt Lyle, was also roommates with an important figure in OSU's history.
"My grandfather had a special friendship with Ed Gallagher (A&M's famed athletic director and wrestling coach) while they were in school together," Coggins said.
The announcement that Coggins had been named Homecoming queen was a unique experience — members of the OSU marching band spelled her initials on the field during the announcement. She also remembers the reactions that continued after Homecoming week, and how it illustrates the family feeling she experienced across campus.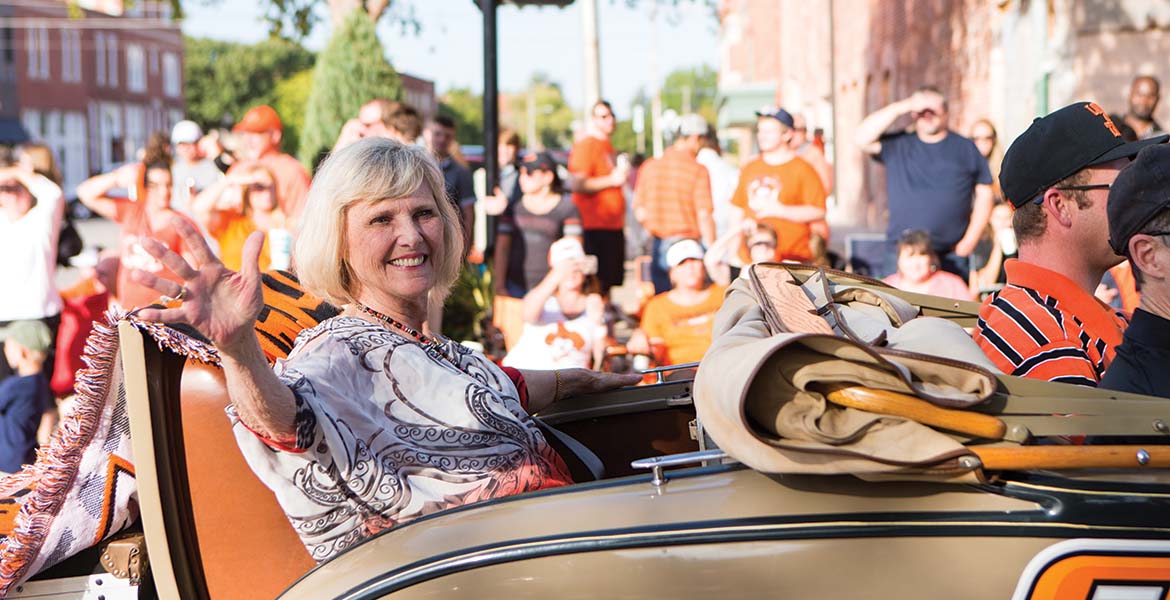 "I remember the day after Homecoming, my sociology professor, Dr. Duncan, walked in and said there was special royalty in the class," Coggins said. "I loved that a professor would even say something about it. I kept in touch with some of them long after I graduated. They really made me feel at home."
Multiple generations of Coggins' family continue to attend the university she is so proud to have attended. Her grandson, Nicholas Gootos, a junior studying management information systems with a double minor in information assurance and data science, is the latest addition to a family tradition that now spans five decades.
"OSU is a part of our family," Gootos said. "We wouldn't be the people we are without Oklahoma State shaping us. I am beyond thankful that I am even a part of this."
That connection can be felt throughout the year, but it strengthens when Homecoming comes around. While Gootos says Coggins is too humble to regularly bring up that she was named Homecoming queen, he knows the honor means a lot to her.
"She only brings it up when people start to bring up football or OSU," Gootos said. "She doesn't like to boast about it too often, but she definitely wears it with a lot of pride."
Coggins participated in the 2017 Sea of Orange Parade as a former Homecoming queen and again this year at the centennial. While riding in the parade was definitely a high point for her, Coggins mentions 2017 as her favorite Homecoming memory because all of her family was in attendance.
"My son and his children came up from Grapevine, Texas, and my youngest son brought his two sons," Coggins said. "We all met up for Homecoming. That really meant a lot to me to have my whole family around."
Both Coggins and Gootos realize how special OSU's Homecoming is to not only their relatives, but also the entire Cowboy family. Gootos sees how the events throughout the week truly embody the Cowboy spirit that runs deep in Stillwater.
"It is the environment and the culture we have at Oklahoma State," Gootos said. "Everyone buys into the idea of making it America's Greatest Homecoming. When you have all those facets and parts coming together as one, you know it is going to be the best."
Coggins is proud of the fact her family has attended OSU for many generations. She looks back on the commitment to the university and appreciates the impact it has had on her family throughout the decades.
"I almost get teary just thinking about it," she said. "I can't believe it. Just to think that everyone in my family has been so loyal to Oklahoma State. It's a memory I shall always cherish and treasure."
---
Photos By: OSU Alumni Association and Gaytra Harris Coggins
Story By: Will Carr | STATE Magazine