A day in the life of recruiting future Cowboys
Tuesday, December 14, 2021
Media Contact: Mack Burke | Editorial Coordinator | 405-744-5540 | editor@okstate.edu
Copan Combs jokes that he sometimes feels like a parent when he sees one of his students starting college. But, rather than 18 years, he only gets to know them for a little over a year.
Combs is a senior admissions counselor at Oklahoma State University. For a lot of students and their families, he is their first impression of OSU.
Whether visiting high schools in his territory — southwest Oklahoma and North Texas — or welcoming potential students on their visit to OSU, he is representing America's Brightest Orange all the time, from his orange blazer all the way down to his orange shoes.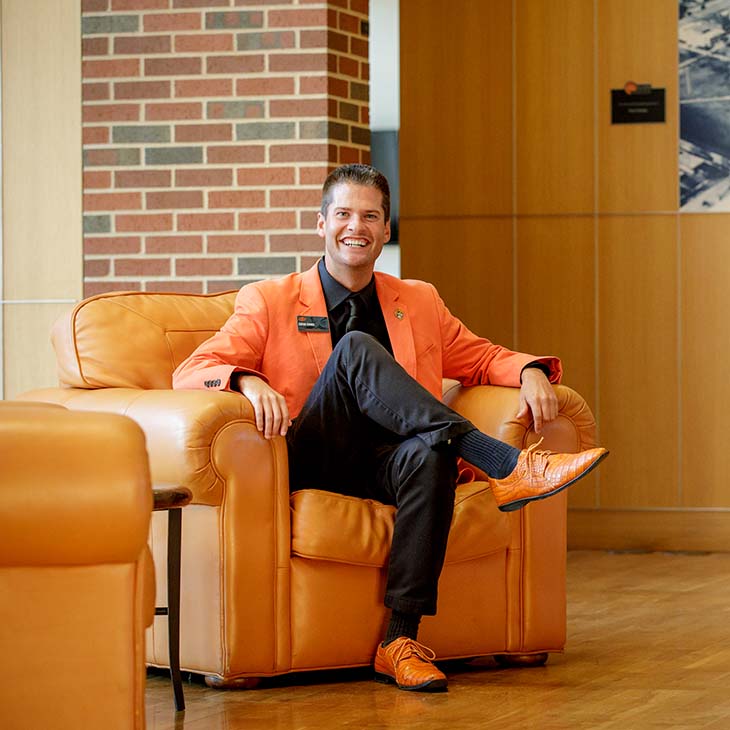 OSU has 25 admissions counselors who cover all of the United States and the world. Some, like Combs, are based in Stillwater. In other areas where OSU brings in a lot of students — such as the Dallas-Fort Worth Metroplex, Tulsa and Oklahoma City — there are counselors who live and build foundational relationships in those communities.
Combs understands how important his job is. It isn't always about recruitment, either, as he helps parents understand scholarships and financial aid options and answer questions they might have about OSU or the college selection process.
"We have passion for a lot of things," Combs said. "Obviously we're passionate about OSU, but we're proud to help out in general. There are so many things. If we don't know an answer, we connect future students to someone on campus who does. For example, the Free Application for Federal Student Aid (FAFSA) is confusing for a lot of people and we connect them with our Scholarships and Financial Aid Office team to help."
Combs earned his degree in marketing and sports management, but after interning with OSU Athletics, he realized he wasn't meant to be in the background. He wanted to be out meeting people and telling them about OSU.
He has the unique position of getting to work in the territory where he grew up. A native of Sentinel, Oklahoma — a town of about 900 southeast of Elk City — Combs understands how important it is for students in those small towns to see someone from any college, let alone the largest land-grant university in the state, come to their high school.
"When I was growing up, bigger high schools had other colleges come up, but we didn't really have anybody from any university come out there," Combs said.
It's why admissions counselors are almost always on the road representing OSU in a small town in Oklahoma — or Tulsa, Dallas or somewhere in California. They also have to stay on top of the latest grant and scholarship dates, as well as who their contacts are at all of the high schools in their territory. When they can't make it to a school, they are in touch with high school counselors and keep up with students by phone, email or text.
"Pre-COVID, we could find a Panera Bread or a Starbucks and set up for like four hours so parents could come and talk with us," said Suzanne Edwards, an admissions counselor based in the DFW area. "The pandemic made that more challenging but admissions counselors created ways to stay connected with students virtually."
Since Edwards is a parent, she said she has gained a newfound respect for how OSU reaches out to prospective students compared with other schools.
"We have a passion for a lot of things. Obviously we're passionate about OSU, but we're proud to help out in general."
— Copan Combs, Senior Admissions Counselor
OSU admissions counselors spend a large part of their time communicating with prospective students and their families. Each text and email coming from an admissions counselor is uniquely tailored to each student in an effort to get to know them better.
"If you ever wonder if all the work you do and if the effort pays off, it does make a difference," Edwards said. "Kids know us by name. They see a picture on the website and actually hear us on the phone and know we are genuine."
No matter how many road trips they take, how many handwritten postcards they send out and how many campus introduction videos they have to watch on rerun, admissions counselors always keep their energy high for every visit. When students come to visit OSU, it could be their one and only impression, and that comes with a high level of pressure.
It takes the effort of the whole campus to recruit a student, but admissions counselors are often the face of the university, day in and day out.
Combs believes the best part of his job is genuinely establishing a relationship with a student, their family and their school.
"I had a mom a couple of weeks ago whose daughter is a sophomore [at OSU] now call me," Combs said. "I hadn't talked to her in about two years, but she started asking about tailgating, and I was getting those questions because I was her OSU contact.
"Sometimes those relationships carry on."
---
Photos by: Gary Lawson
Story by: Jordan Bishop | STATE Magazine