Alumni return to Stillwater to perform at McKnight Center
Tuesday, December 14, 2021
Media Contact: Mack Burke | Editorial Coordinator | 405-744-5540 | editor@okstate.edu
Bill Scott Sheets remembers looking at his tour schedule and seeing one location jump off the page: Stillwater.
The 2015 Oklahoma State University alumnus knew about The McKnight Center for the Performing Arts because he performed at the Night of Orange and Black fundraiser when he was still in school.

In fact, a photo of him singing "The Impossible Dream" was used in ads for The McKnight Center, but he actually has never been in the building.
That is all changing this year. Sheets is just one of a few alumni who will be making their McKnight debuts: vocalist Sarah Coburn will finally get to perform after her show was canceled last year and French hornist Ernesto Tovar Torres will be on stage with the Philadelphia Orchestra.
"I have to say that it is definitely very humbling," Sheets said. "A lot of my professors will be there. Nervous isn't the right word, but I will have a little bit more anxiety. I just want them to know that, hey, I turned out pretty good.
"I will definitely have a lot of pride going in to perform not only near my hometown of Owasso [Oklahoma] but also where I went to school and learned to do all of this."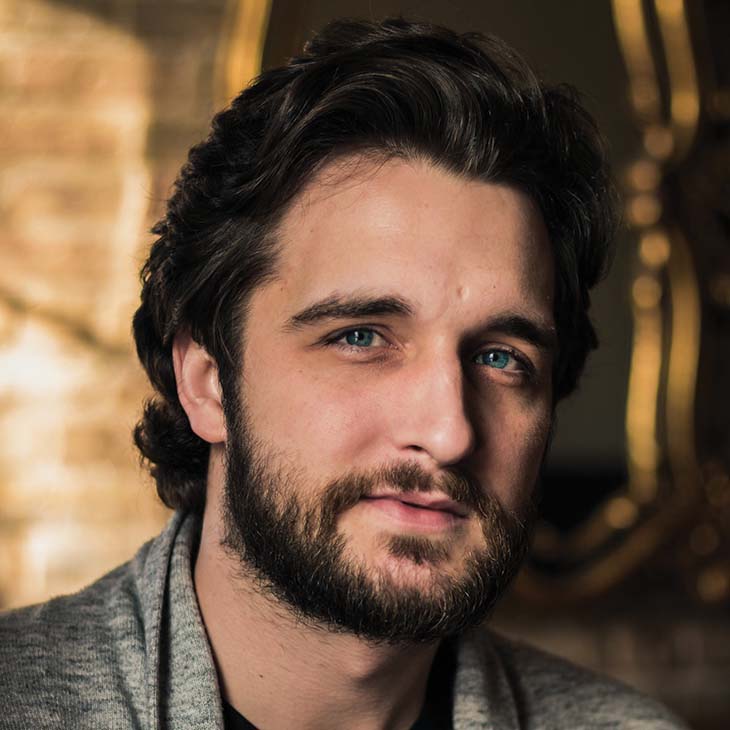 Sheets was scheduled to portray Johnny Cash in a new take on a show he has been performing for the last five years: Million Dollar Quartet Christmas. Performers portraying Jerry Lee Lewis, Carl Perkins and Elvis Presley round out the quartet in the show, which took place in November.
It is a role that Sheets relishes getting to do, which is beyond the dreams he held when he first came to OSU. A singer by trade, acting was not his forte. But after working with B. Peter Westeroff in the Theatre Department and professor April Golliver-Mohiuddin on his voice, he became a multifaceted talent.
"As a music education major, our motto was to be a lifelong learner," Sheets said. "That is the kind of mindset I try to have with this kind of role. Even though I know it so well now and do it so many times, there is always something new. There is always something more that you can add to it to make it a better show."
Golliver-Mohiuddin hopes that when students from the new Greenwood School of Music see Sheets, Coburn and Tovar perform, they will see where their studies can take them.
"I think often you hear these world-class performers, and you think, 'Oh, well they are from New York or they went to Juilliard,'" Golliver- Mohiuddin said. "They have all of these extra opportunities. But Bill is from Owasso, Oklahoma. He came from a good choral program in his high school, which is what most of our students are coming from. They can come to OSU knowing that you can be like Bill Sheets or Sarah Coburn.
"They see these people coming from New York and Europe and know that these are native Oklahomans and if they can do it, I can do it. It is fantastic."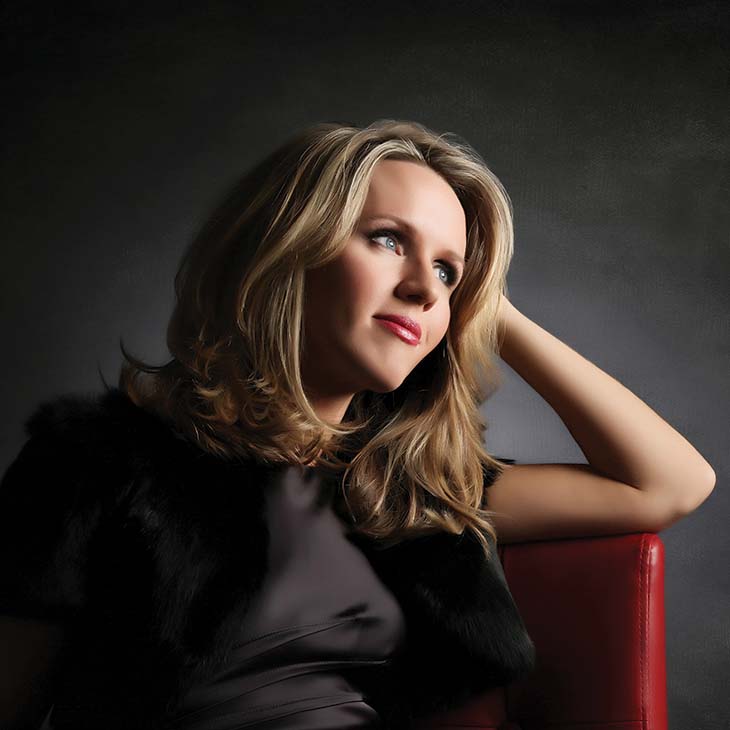 Coburn has traveled to Europe to perform in Vienna, as well as all over the United States including Seattle, Washington, D.C., and of course, New York City. Now, the 1999 OSU graduate gets to add Stillwater to her list.
Initially invited to perform as part of The McKnight Center's inaugural season, Coburn's concert became one of the many events canceled worldwide because of COVID-19.
It was an especially rough year for Coburn as she lost her father, former U.S. Sen. Tom Coburn, to cancer and was diagnosed with breast cancer herself. Since it was caught early, surgery was an option for her treatment. With in-person events starting to become the norm once again, though, Coburn is excited to finally get on stage at The McKnight Center.
"Not only am I so grateful for the opportunity to perform in front of a live audience, but I am so grateful to actually sing again," said Coburn, a soprano. "My body went through a bit of trauma this year, and singing feels like the most healthy thing I can do right now."

Coburn, set to perform Jan. 29, is ready for audiences to hear her with accompanist Lyndon Meyer and violinist Rossitza Goza.
"When choosing songs for a performance, I am a bit old-fashioned," Coburn said. "I like beautiful music. Life is short, and I am not really that interested in challenging the audience with something crazy or odd right now. Call me sentimental if you like, but I prefer beautiful melodies and lush accompaniments."
With The McKnight Center and the Greenwood School of Music, OSU now has visual beauty to match.
"It is spectacular and an amazing blessing for OSU," Coburn said. "I loved every minute of my time in the OSU music department; the training and education was first-class. Having the facilities to match the caliber of the faculty is the icing on the cake."
When the alumni were in school, all their performances took place at the Seretean Center for the Performing Arts, which — while historic — was lagging behind other institutions.
"You could tell that our building, the Seretean Center, that while I loved it and loved performing there, it was dated," Sheets said. "They needed something more akin to the level of quality that they were putting out. The music program there is so good, as well as the choir program and the opera program. Now, they have a place that is more suited to the level of quality that they can produce."
The high quality that OSU produces has drawn notice from the top tiers of the music profession. Coburn and Sheets have performed all over, and Tovar is playing for a "Big 5" orchestra.
"We have always had really great teachers, but to have world-class performers be graduates of Oklahoma State University - it really has changed everything."
- Lanette Lopez Compton
Looking back, he said it is surreal to see how far he has come.
"I think I was just focusing on trying to put my best sound out there and best product and tried to do well in auditions like every other musician," Tovar said. "You win some and you lose some so I think you learn more from your failures. You sort of learn what not to do. You put in the hours and the work. It is a lot of practicing and a lot of late nights."
Tovar — the fourth horn in the Philadelphia Orchestra — said it took him a lot of time and effort, as well as help from his instructor, Lanette Lopez Compton.
"I think what stuck out to me about OSU was that they had a really good marching band and a really small music department at the time," Tovar said. "Lanette Compton and I really sort of thought that it would be a great fit for me. I think more than music, it was just learning how to work well with others, being yourself and trying your best."
Tovar made it into Rice University's Shepherd School of Music after graduating from OSU in 2014. Before he finished his master's degree, he earned a spot in the Atlanta Symphony, where he played for two years, which launched him into a position to audition for the Philadelphia Orchestra.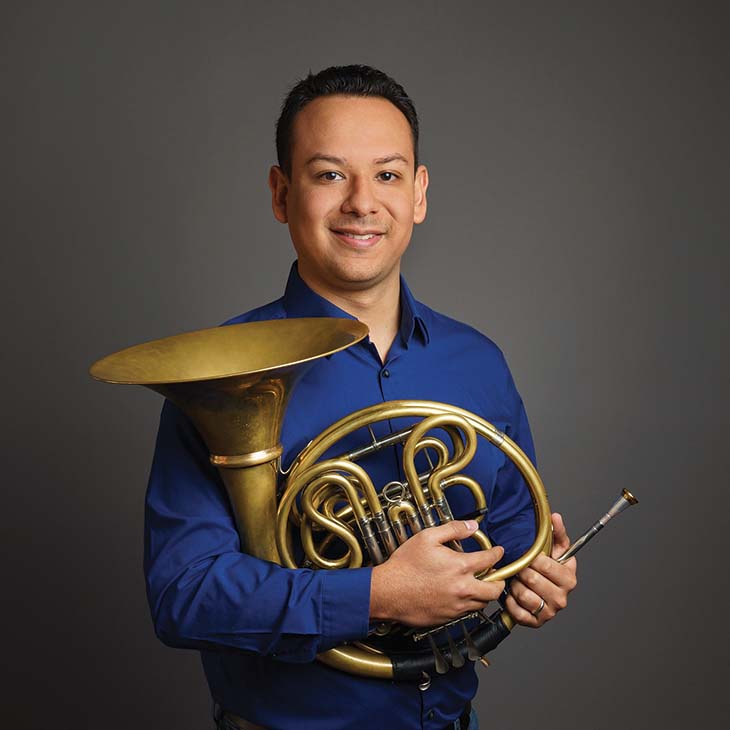 "Making it to one of those orchestras, to a "Big 5" orchestra, is like Marcus Smart making the Boston Celtics," Compton said. "You don't know they will make it. They all have that dream. All these horn majors have that dream. He came out of high school in Frisco and was very talented, but so are thousands of other students, and that's just from Texas.
"Potential is a bad word for us. I see potential all day long, but it is really nothing without incredible work ethic and perseverance."
Having The McKnight Center host these highprofile performances allows the professors to see how well their former students are doing in their careers and gives current students a look into what their life could be.
"We didn't have these beautiful practice rooms and beautiful offices with these great acoustics," Compton said. "We didn't have these world class symphonies like Philadelphia coming through to help us inspire these students. A lot of these students who come from Oklahoma have not seen a huge orchestra. I didn't do that until I was much older. They can literally walk down the street and see the best players in the country, if not the world.
"I get emotional thinking about those students who have succeeded after graduating coming back and giving back. We have always had really great teachers, but to have world-class performers be graduates of Oklahoma State University — it really has changed everything."
---
Photos By: Gary Lawson, Susan Rodebush, Jessica Griffin and provided by Bill Scott Sheets
Story By: Jordan Bishop | STATE Magazine