Looking at OSU's Top 5 traditions
Tuesday, December 14, 2021
Media Contact: Mack Burke | Editorial Coordinator | 405-744-5540 | editor@okstate.edu
We asked Oklahoma State University fans and alumni to vote for their favorite Cowboy traditions. After receiving more than 80,000 votes on social media, we're ready to share our Top 5.
5. Pistol Pete
Michael Albright remembers the first time he saw Pistol Pete, he thought he was seeing a superhero.
"He was this gun-toting Cowboy who was rough and tough and going around the field showing who was boss," said Albright, an accounting senior from Stillwater. "I saw him and thought, 'That is a superhero.' So I would dress up as a Cowboy and walk around, spin my gun, and I wanted to be Pistol Pete."
Albright got his wish — he and Parker Wilson are the two current Pistol Petes. They take the job seriously. Everyone who has ever portrayed the OSU mascot is a member of a larger fraternity where everyone knows everyone else on the list and the years they were Pete.
Wilson knows this firsthand — his father, Rick, portrayed Pete from 1984-86.
"I think that is really cool that when we all get together, we all have thousands of stories," said Parker Wilson, a fifth-year finance major from Sapulpa, Oklahoma.
When they put on the head and costume, they both know they are representing more than the university — they're also portraying the namesake of the character they play: Frank Eaton.
A legendary U.S. marshal, Eaton became famous for getting revenge on six men who shot his father down in cold blood before embarking on his career working for "hanging Judge" Isaac Parker.
Eaton appeared in a 1923 Armistice Day parade in Stillwater. Students who saw him decided his Old West Cowboy appearance was much more suitable for their university than the Tigers, which they had been previously. Pistol Pete became the official mascot in 1958.
"Yeah, I am a mascot, but I am playing a real person, and that plays a lot into the way that Pete carries himself," Wilson said.
Albright, who has visited Eaton's homestead in Perkins, Oklahoma, many times, said every potential Pistol Pete is required to read a book titled "Veteran of the Old West" before they try out.
"I think it is phenomenal. It really makes us unique and something that we can tie ourselves to as part of the Cowboy family," Albright said. "It is so close to us. This guy was an OSU fan, he represented our university. The tradition is really great. You can't find it anywhere else."
4. Eskimo Joe's
For almost half a century, Eskimo Joe's has been synonomous with Stillwater and OSU.
Although it is a global brand, it will forever be home at the corner of Elm Avenue and West Street. Founder Stan Clark is proud to this day, that no matter how far away someone moves after college, they will always be able to get cheese fries when they come back to OSU.
"It is the highest honor," Clark said. "I poured my heart and soul into it for the last 47 football seasons, so there is nothing more exciting or humbling than to see people coming back to talk about the great time they had at Joe's."
Since its opening on July 21, 1975, Joe's has gone from a little bar hosting "the coldest beer in town" to the two-story establishment that still has the homey feeling of "Stillwater's Jumpin' Little Juke Joint."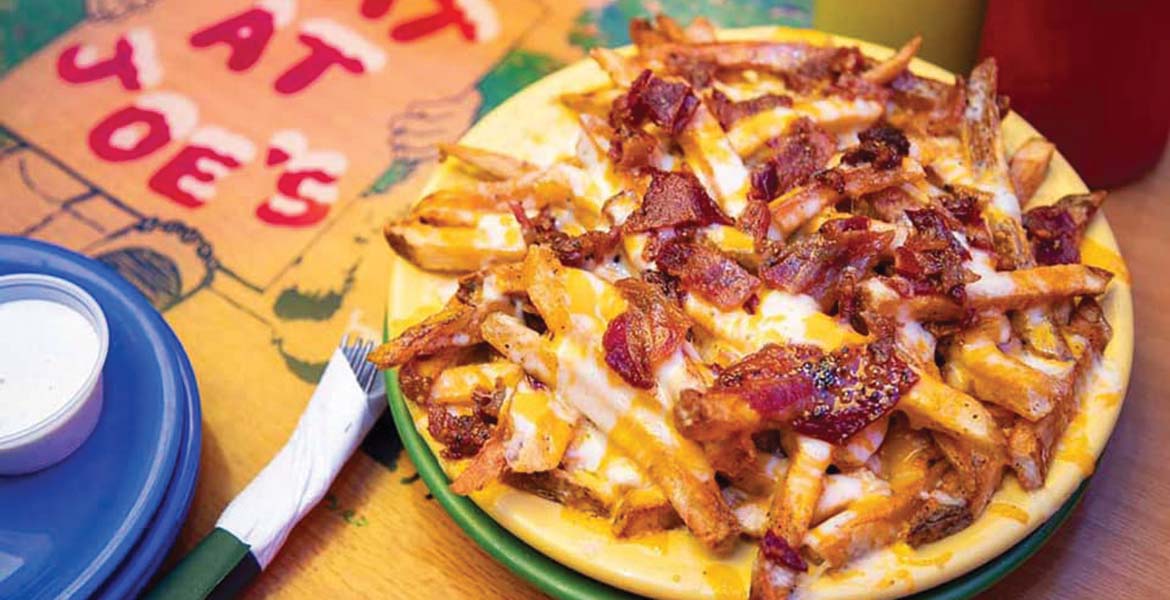 "People always tell me they met their wife there or met their husband there," Clark said. "They had their first date there. Literally, thousands of love stories have started there over the last 47 years. I hear that all the time. It is kind of amazing just to be a part of somebody's life."
Clark is proud of his partnership with OSU. Over the years, coming to Joe's whenever you are back in town or after Walkaround during Homecoming week has become a time-honored tradition.
Clark was even the grand marshal of the Sea of Orange Parade one year, an experience that he will remember forever. Joe's also participates every year during the parade and has had a collaborative Homecoming cup for years.
What has kept Joe's the same experience as it was 20 or 30 years ago? Clark thinks it is how the employees always treat customers like they are family.
"Our mission statement is very simple, it is 'To delight every guest by giving my best,'" Clark said. "We didn't ever plan to be the biggest, but we did plan to be the most special. We wanted to mean something to this community."
3. Tailgating
Brian Campbell, Harry Clawson and Robin Herrod like to get out early to start setting up their tailgate tents.
The trio have been tailgating for the last eight years at their spot right next to the Seretean Center for the Performing Arts. It is prime real estate as it has become a stop for friends and family.
"It is like a big orange picnic, it really is," Campbell said.
Queso is always on the menu at their tailgate and entrees depend on the weather and time of day.
"We've done breakfast, lunch and dinner here," Campbell said. "You name it, we have done it. Burgers, dogs, Robin makes unbelievable sliders. Today, we are doing tacos. We will do chili when it gets a little cooler."
As for what makes OSU's tailgating special, the participants say it is a combination of things. First off, there is more land to tailgate on compared with other Big 12 Conference schools they have visited. The fact that Eskimo Joe's, Tailgating Hideaway and The Strip are so close to campus helps, as well.
But the main thing everyone points to is the friendly atmosphere.
"It is really the perfect meshing of community and university because all the people who come here are pretty respectful," Campbell said. "Where we sit at the football games, some of the people we see every year are coming back, and we have friends who are right over there. There is definitely a family feel to it, and there is camaraderie and it's almost like a big pep rally before the game."
The University of Georgia fans who followed their team to Stillwater in 2009 were especially complimentary of OSU's tailgating setup, Campbell said.
"We are the brightest orange, that is for sure," Campbell said. "We have had other people from other schools who have come here and told us how great our tailgating was.
"All the other colleges need to come here and see how it is done."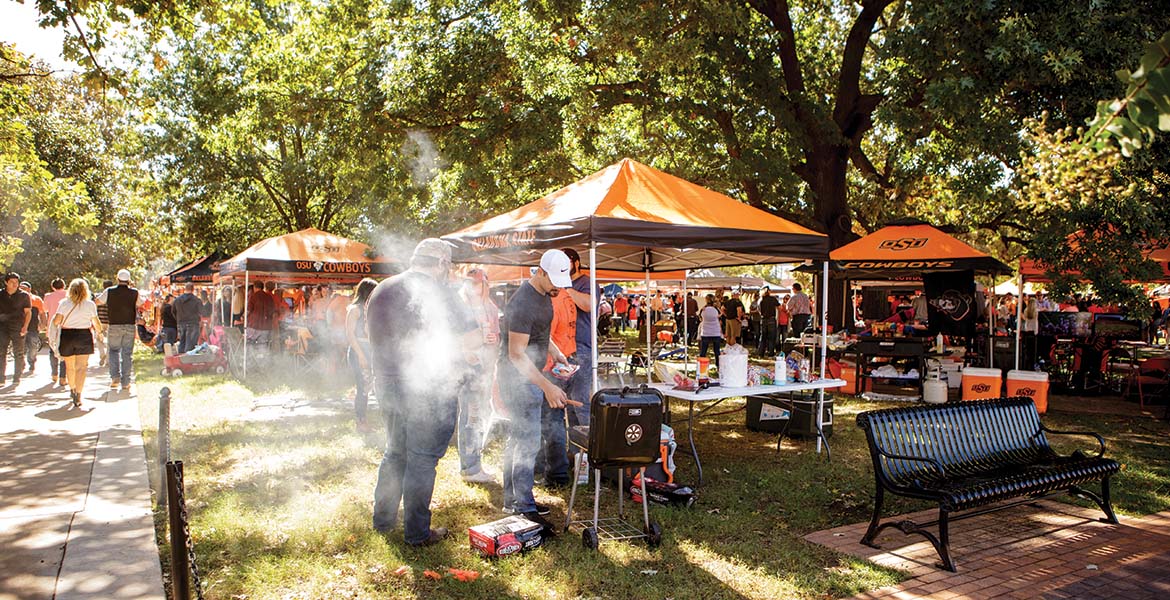 2. 'Go Pokes'
No matter where you go, the "Pistols Firing" hand gesture and yelling "Go Pokes" at the top of your lungs have become one way everyone knows you root for America's Brightest Orange.
No one seems to know where the saying came from, per se. David Peters, head of the Archives Department at OSU's Library, said the saying probably came when Oklahoma A&M changed its name to Oklahoma State University.
Although OSU was initially known as the Tigers because of its reputation as the "Princeton of the Prairie" not many were fans of the moniker. It eventually changed to the Aggies, but there was still a growing call to change the mascot to the Cowboys.
Reporters covering the team even started referring to the team as the A&M Cowboys with nicknames like the Waddies, Cowpunchers and Cowpokes. Pokes is apparently what stuck, and now it's everywhere.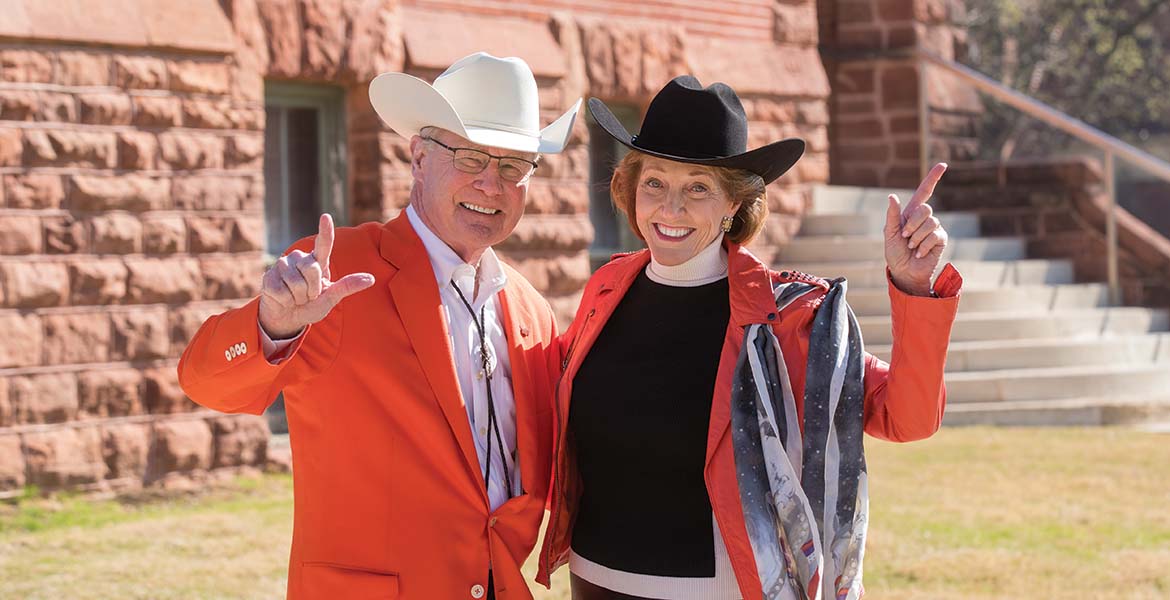 When the Cowboys and Cowgirls are playing, "Go Pokes" is often heard. But what about when you are ending a phone call with a friend? You got an A on your chemistry test? You have to say "Go Pokes," of course.
It is something that never leaves you, either. A few years ago, Heisman Trophy winner Barry Sanders was back in town at Boone Pickens Stadium and of course, he had to say "Go Pokes" when the camera found him on the sideline.
Even back in May, when former President George W. Bush threw out the ceremonial first pitch at O'Brate Stadium, he learned how to do the Pistols Firing gesture and got wild applause for it.
"Go Pokes" is part of the everyday lexicon of an OSU fan. Along with the Pistols Firing hand symbol and words, which you can hear play-byplay announcer Dave Hunziker say for every touchdown, they are true OSU traditions.
1. Homecoming
This fall saw the triumphant return of America's Greatest Homecoming after a 2020 cancellation because of the pandemic, and for everyone at OSU and in Stillwater, it was huge.
Chase Carter and the rest of the OSU Alumni Association staff had been waiting for this moment for two years.
Carter, director of marketing and engagement systems for the Alumni Association, said it was a hard decision to postpone the 100th Homecoming celebration last year, but it was the right thing to do.
"Nobody wanted to have a centennial celebration where we weren't able to have the house decorations or the Sea of Orange Parade like we remember," Carter said. "We wanted to celebrate it like it should be celebrated."
Homecoming is what truly separates OSU from other universities when it comes to traditions, Carter said. While others can claim to be older or more historic, OSU's claims of the greatest are hard to argue with.
Walkaround alone averages about 80,000 people looking at the different Greek house and residential hall decorations, and it has become a can'tmiss affair for many cowboys.
"We hear from people all the time who come to it for the first time and are really blown away by the magnitude of it all," Carter said. "It is a really great showcase of the Cowboy spirit and that family mentality of bringing everyone together for this one fantastic event."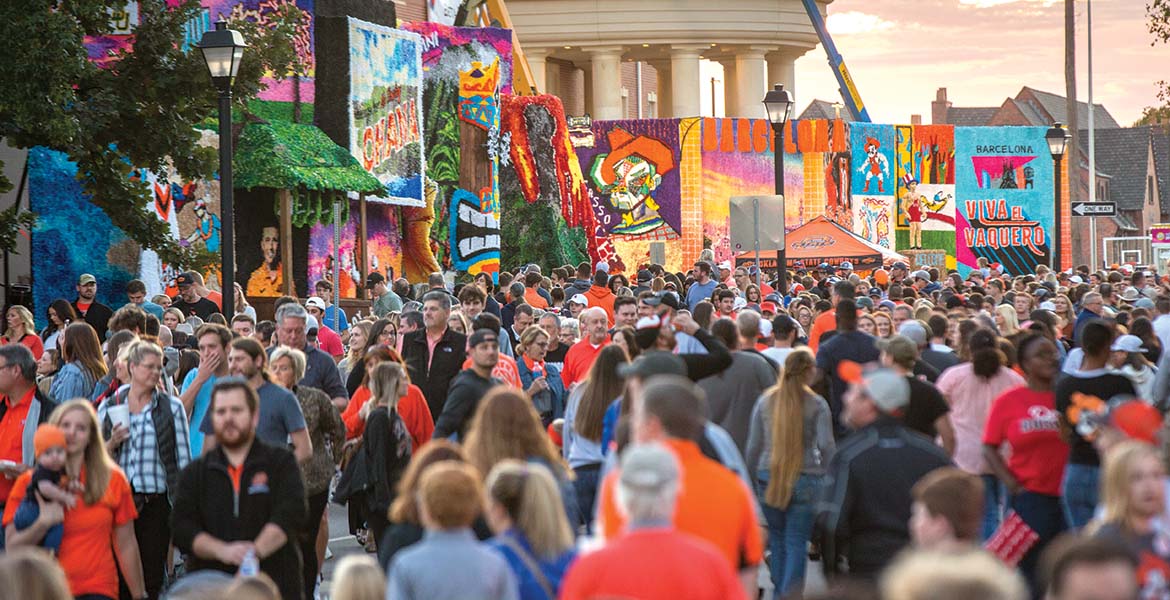 What makes Carter and the Alumni Association most proud is that while it has been around for a century, a family can come and feel like they are seeing Homecoming at the magnitude it was 30 or 40 years ago.
Homecoming hasn't dwindled down or faded away, but it has remained a crucial stitch in the fabric of OSU.
"I think it is a testament to the students who for so many years have viewed this as a celebration of welcoming alumni back to campus, and they recognize the significance of that. I don't think they want to be part of losing that tradition; they love that tradition," he said.
There is a reason Homecoming was picked No. 1 by so many fans and alumni — all of the events and dedication put into it can't be found anywhere else.
"OSU is a relatively young school compared with a lot of institutions," Carter said. "We don't have a lot of traditions we can point to and say, 'Yes, this is something that is specific to Oklahoma State.'
"But that is really something that our students and alumni get to do with Homecoming."
---
Photos By: Gary Lawson, Phil Shockley, and Courtesy of Parker Wilson
Story By: Jordan Bishop | STATE Magazine