Celebrating one monumental year: Shrum looks back on first year as president
Wednesday, August 31, 2022
Media Contact: Mack Burke | Associate Director of Media Relations | 405-744-5540 | editor@okstate.edu
July 1 marked the one-year anniversary for Dr. Kayse Shrum as president of the Oklahoma State University system — the first woman to hold the post at a research university in Oklahoma. It's been a transformative year full of accomplishments, partnerships, perseverance and 365 days chock full of opportunities.
When Shrum became interim dean of the OSU College of Osteopathic Medicine in 2011, she saw it as an opportunity to make some positive changes. But as with the best laid plans in any organization, unforeseen challenges emerged. Returning home each evening, her husband, Darren, would ask about her day. In that safe space, she outlined the difficulties in each situation.
One day before she returned home, she decided focusing on the negative was counterproductive. She knew he would ask, so she made the choice to reframe how she talked about her experiences.
So, this time when he asked, she said, "There were a lot of opportunities today."
It became her mantra, a valuable mental reframing that helped her through the first 365 days as president of the OSU system.
Early Challenges
Shrum took office on July 1, 2021, the same day as Athletic Director Chad Weiberg. On July 20, the athletic world was rocked by the news that two Big 12 Conference universities were set to leave the conference in favor of the Southeastern Conference. She hadn't even unpacked her office or assembled her leadership team when the news broke.
How OSU would react to the news was pivotal. Shrum took a strong stance, vowing to fight for what was in the best interest of Oklahoma State. It was round-the-clock phone calls and strategizing for her first non-COVID challenge since taking office. And what did Shrum say about the ordeal?
"The Big 12 shake-up added a whole other level of complication to things, but it gave me a really good opportunity to spend some time with Chad Weiberg," she said. "We got to know one another and work through a challenging situation right off the bat. Retrospectively, I think it has turned out very well. You know, we can find opportunities in all of those challenges."
How Shrum dealt with the shake-up impressed Weiberg.
"She didn't back down and she didn't shy away from the difficult questions or decisions. Instead, she stepped up and did what good leaders do — she led," he said. "And in the process, she provided confidence to our coaches, our staff and our faculty, as well as our alumni and donors, that Oklahoma State was going to be just fine. In fact, we were going to find the opportunity in the midst of the change."
Since then, more changes have been announced for the Big 12, providing a new slate of possibilities in 2023. Shrum believes the new arrivals — Brigham Young University, University of Central Florida, University of Cincinnati and University of Houston — will be great additions, and she plans for OSU to be at the top.
"We certainly have the strength in all of our athletic programs with the leadership and energy," she said. "I'm very excited about it. We hired a new women's basketball coach, Jacie Hoyt. I think she's going to do amazing things here, and I'm excited to see what she does. [Football] coach Mike Gundy had a tremendous year last year, and we anticipate that that will continue to build."
A primary focus for Shrum over the past year has been assembling the leadership team that will lead the entire OSU system. One of the key positions was that of Dr. Jeanette Mendez — former interim provost who was named to the position permanently in June after a nationwide search. Dr. Johnny Stephens filled another key position, taking over as president of the Center for Health Sciences and interim president at OSU-Tulsa.
"Dr. Shrum's background as a student-athlete and pediatrician really informs how she leads, even today," Stephens said. "She's all about the team. She's collaborative and listens well, which I think is influenced by the athlete and the physician in her. This background and perspective really set her apart and contribute to her success as president."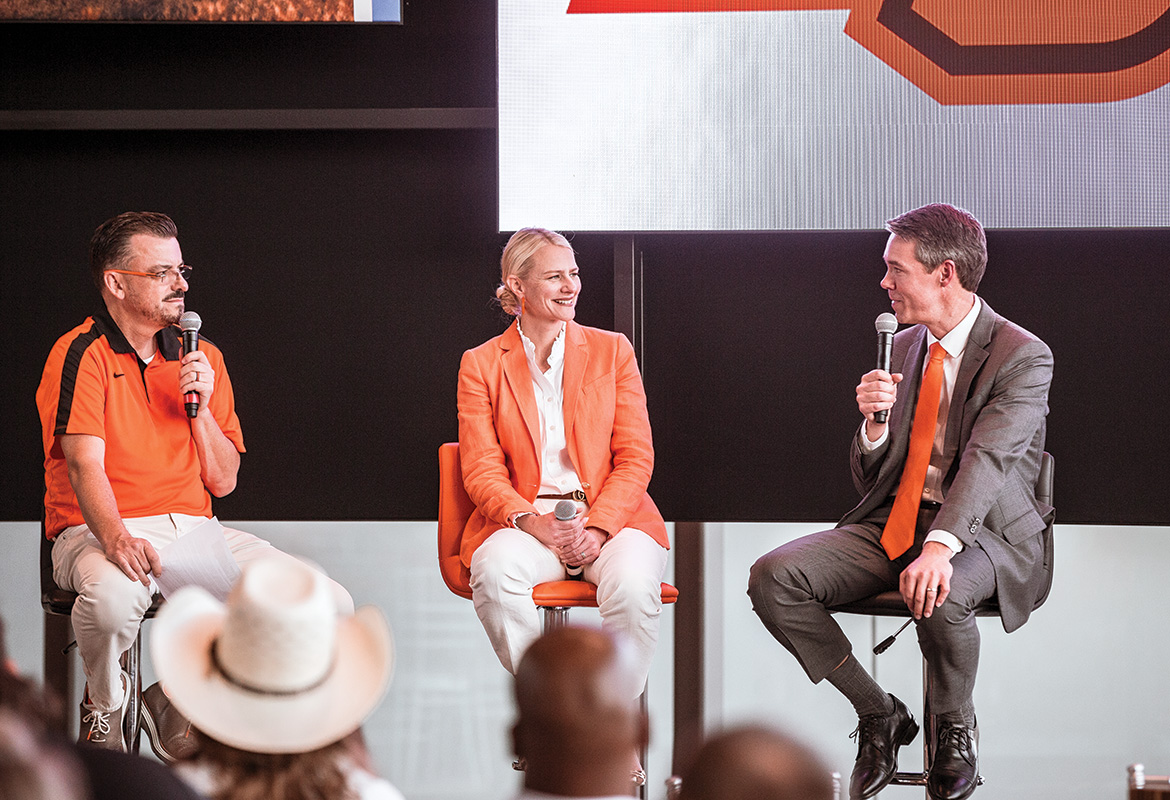 Shrum and the Students
With experience as president of the Center for Health Sciences, Shrum had an idea of the roles and responsibilities that would come with being president of the OSU system. The notoriety, though, was surprising, she said.
People stop her at the airport and gas station, and her go-to hairstyle, the "Shrum bun," is instantly recognizable. Social media accounts have popped up following Shrum's sense of fashion. As she moves through campus, students stop her in hopes of getting a photo with her.
Shrum always agrees. With her training in medicine, Shrum is most comfortable in her element one-on-one. Connecting with people individually and caring about them personally is her greatest joy.
"A fun surprise, I think, is just how much I've enjoyed the students and the opportunity to walk across Library Lawn and have them there," she said. "It's been really rewarding for me having the opportunity to visit with them. When the equestrian team won the national title, I got to go visit with them. And that was a really special moment for them and for Coach [Larry] Sanchez, and we got to be a part of that and so many other amazing moments."
Shrum made national news when she was arriving at an event at the Student Union in heels just the right shade of orange. As she was getting out of Darren's truck, she heard a student, Jami McKibbin, comment on her shoes; she had been looking for a pair but couldn't find any in the right color.
"What size do you wear?" Shrum asked McKibbin.
The answer was close enough to the right size. Shrum loaned the heels to the student for a few special shots, then took some photos with her. The photographer was so moved she was crying. A colleague rolled up on the scene, surprised to see a barefoot Shrum, holding someone's else's shoes and watching a student have her picture taken. So, they took a photo of Shrum in that moment that went viral.
Shrum had no idea anyone would care other than the student. It was an opportunity to bestow kindness, to give a meaningful moment disguised as borrowed orange heels. It cost Shrum nothing but time, and she found joy in the student's delight.
The photos made the rounds on social media. Then, the president's office was inundated with other students who wanted to take their picture with Dr. Shrum. A serendipitous moment soon evolved into an event. Shrum set aside an hour to take pictures with any graduate who wanted to come by. And more than a hundred did.
"It's those moments that I think you can't anticipate, that you don't plan for, that have been the most special to me," Shrum said.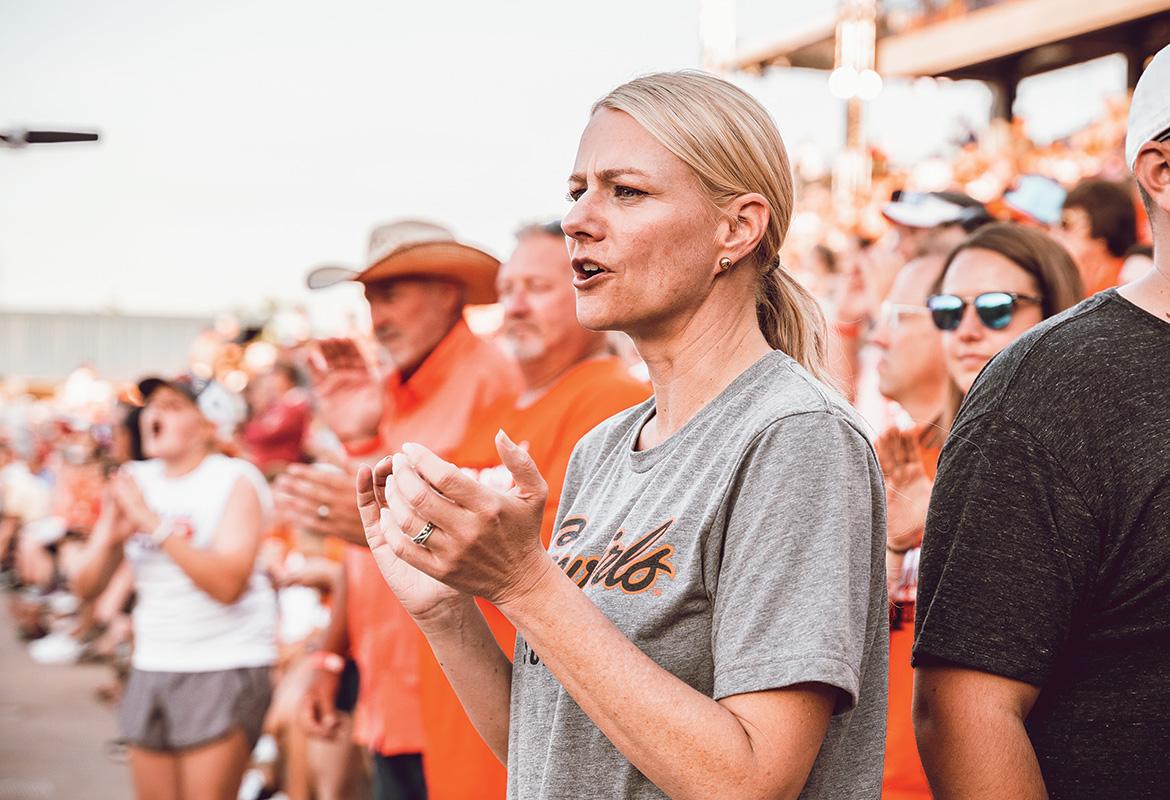 The Future
In November 2021, Shrum announced the imminent launch of a process to create a guiding strategy to move OSU forward, digging deep into the meaning and responsibilities of being a land-grant university and opportunities to leverage the entire OSU system for the greater good.
"My desire is for us to be the premier land-grant university," she said. "As we move forward, we're looking at what our strengths are. How do we create an educational opportunity for students that's unique to Oklahoma State University and that other universities will be looking towards and asking, 'How do they implement that?'"
A steering committee was selected at the end of 2021. The working groups were in place in January 2022.
"I don't think changing lives is a new thing for Oklahoma State University," she said. "That's why so many people love Oklahoma State."
Slated to be unveiled this fall, the strategy will be systemwide and student-centric, with a goal of providing a clear vision to maximize the possibilities of a diverse, five-campus system.
"The next year is really about rolling that out and implementing it — of bringing everyone around the same goals," she said. "Having everyone buy into the plan and support it moving forward together is going to determine its success."
Besides outlining the broad pillars that will become the foundation for OSU's future success in key areas, she also intends to highlight all the areas that make the university unique, like having the highest number of STEM grads of any university in the state and having Oklahoma's premier College of Veterinary Medicine.
"It's the only one in Oklahoma and it's really a crown jewel," she said. "Investing in elevating that college is something I want to be able to do this year."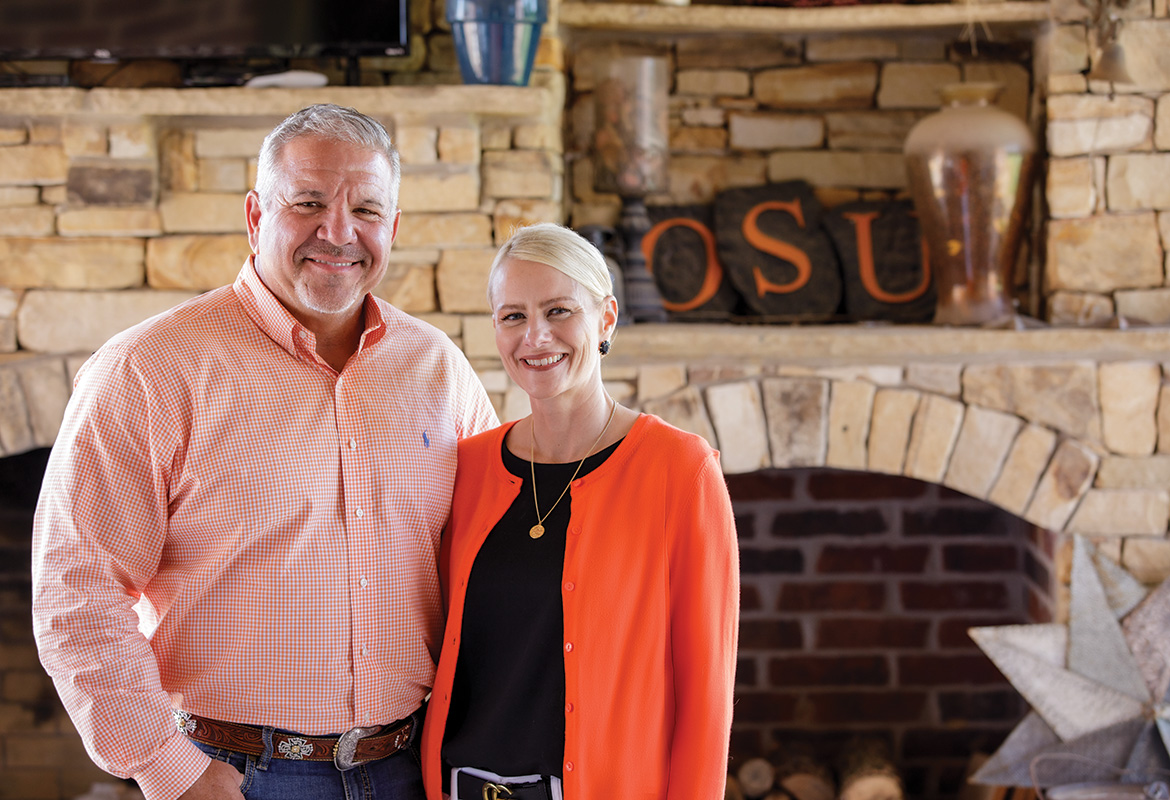 Life at Home
The Shrums have been living in Stillwater for a year now, after more than a decade on a Coweta farm. They've grown accustomed to living with nearby neighbors while they wait for construction on the OSU president's residence — named University House — to be finished. Some adjustments have been necessary, though.
"Darren likes to cook. When he made bacon at our home in Coweta, if the smoke detectors went off, you fan them and then it's OK," she said. "We found out that ours here are connected to the fire department. We had a great moment meeting the firefighters and police."
Later this year, the Shrums will move to the new house. It will have space to host events, as well as private living quarters.
"We are really looking forward to that," she said. "It's a beautiful home and has a beautiful space to be able to host events. I think it's going to be a special place for everyone at the university."
Getting used to new living arrangements hasn't been the only adjustment for the Shrums. Darren — a gregarious entrepreneur — has embraced his role as the First Cowboy, meeting people, making friends and cooking the occasional breakfast for groups on campus such as the staff at University Health Services and the OSU Police Department.
"Honestly, I think he was made for this particular role," she said. "He has really enjoyed getting to know people on campus and experiencing what the students do academically — engaging really with almost everybody on campus."
The pair recently celebrated their 30th anniversary, and this is the first time they've had an opportunity to be part of the same organization and have their paths cross during the workday. Shrum said it's been a blessing for the two of them to work together in a new way.
In the spring, Cowgirl softball player Chelsea Alexander approached Darren about a new fundraiser for the Special Olympics: the Chilly Cowboy. Darren dove in with both feet, helping launch what will become an annual event that brought in more than $30,000 for Special Olympics Oklahoma in 2022.
"I always say Darren is living his best life because every day is an opportunity for him to meet new people and engage in new things and he just loves it," she said. "It's wonderful."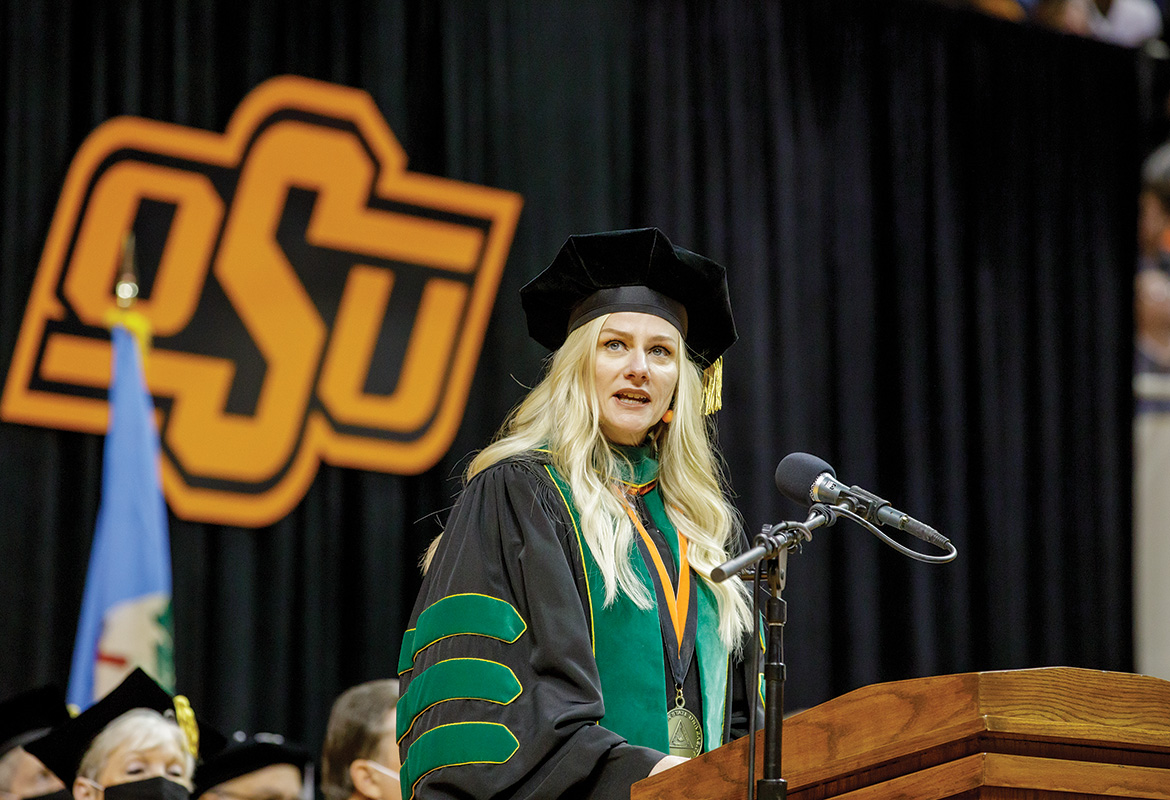 Accomplishments
Shrum's first year in office was a whirlwind for OSU, but it was also a year punctuated by incredible milestones, vision and victories both on and off the field.
There were moments of connection and joy, like her first Homecoming Walkaround as president. She and Darren delivered cookie cakes to all the Greek houses. They met students, made friends and went on tours.
There was the Fiesta Bowl triumph — an unforgettable come-from-behind win over Notre Dame. Shrum worked with students on philanthropic endeavors like the Cowboys for Veterans drive, which provided Christmas gift bags to veterans across the state.
And there were accomplishments that will shape OSU's future. The creation of the Hamm Institute for American Energy at Oklahoma State University, the launch of Oklahoma Aerospace Institute for Research and Education (OAIRE) and a new research partnership with the University of Arizona.
"The partnership with the University of Arizona is a tremendous opportunity," she said. "And the opening of the Hamm Institute was an amazing experience. I'm excited about what that will do for the university, our students and for the world. The university is on course to make significant advances in key fields in the years to come. I'm delighted about what we have accomplished in the last 12 months. I think where we go from here will be revolutionary."
The past year has been a mixture of the expected and unexpected, difficult decisions and too many late nights to count. All of it though, has been laced with opportunities because that's how Shrum has trained herself to see both the difficult and the mundane.
"I remain honored and humbled to be chosen as Oklahoma State University's president," Shrum said. "I would not trade this opportunity for anything. So many great things have happened this year. I would say the best part for me is always the people and interacting with the students. And I am excited about what's ahead. With our worldclass faculty and a vision solidifying our path for the future, there is not another university system better positioned to effect meaningful change in the lives of students, the state and nation.
"There's no limit to what the Cowboy family can accomplish together."
---
Photos by: Phil Shockley and Gary Lawson
Story by: Shannon Rigsby | STATE Magazine