Expanding Services: OSU-CHS growing footprint in Tulsa, NE Oklahoma
Wednesday, August 31, 2022
Media Contact: Mack Burke | Associate Director of Media Relations | 405-744-5540 | editor@okstate.edu
It's been said that if you don't change, you don't grow. For OSU's medical school, change and growth have been almost constant.
In 1972, it was founded as the Oklahoma College of Osteopathic Medicine and Surgery, then in 1988 it became Oklahoma State University College of Osteopathic Medicine. Nine years later it expanded to become the OSU Center for Health Sciences.
Now, through historic and exceptional partnerships, the OSU Center for Health Sciences continues to change lives in Oklahoma and across the country.
North Hall Offers Advanced Lab Spaces
The newest addition to the OSU-CHS campus is the 120,000-square-foot North Hall, located next to Cowboy Park.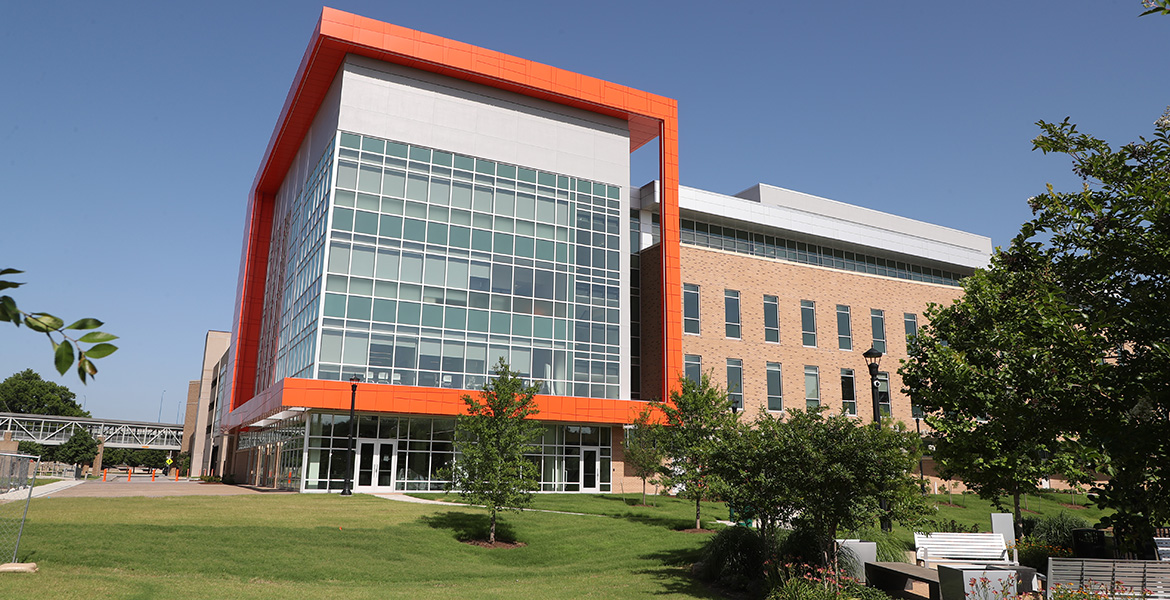 The $55 million building houses the new Office of the Chief Medical Examiner for the eastern region of Oklahoma. The Medical Examiner's Office takes up 23,000 square feet of the first and second floors of the four-story North Hall.
The anatomy and neuroanatomy labs have been relocated to the new building as well as three additional classroom and lab spaces. There are also 55 dedicated study workspaces for graduate program students, and the physician assistant program and School of Health Care Administration will be housed in the new facility.
"We are so excited to welcome students, faculty and staff to North Hall on the OSU-CHS campus," said OSU-CHS President Johnny Stephens. "We can now offer our medical students state-of-the-art anatomy and neuroanatomy labs and give some of our graduate program students their own dedicated study space. This beautiful building would not have been possible without the support of our Oklahoma legislators who helped fund this project because they understand the importance of having an advanced and modern space for our state medical examiner's office as well as lab and teaching spaces for our future physicians and health care professionals."
Other departments located in the new building include the Office of Diversity, Equity and Inclusion; Office of American Indians in Medicine and Science; Center for Rural Health; Center for Health Systems Innovation; Information Technology; Budget and Finance; Office of Research and Sponsored Programs; Office of External Affairs; Office of the Provost; Office of the President; and other administrative and leadership offices.
North Hall also adds 136 office spaces and 21 conference and meeting spaces to the OSU-CHS campus, as well as several collaborative spaces throughout the building.
The North Hall ribbon-cutting ceremony and celebration honoring OSU College of Osteopathic Medicine's 50th anniversary was held in late July.
"I want to say thank you to everyone — our faculty, staff, students, leadership at OSU Center for Health Sciences and across the OSU system, our state regents, alumni, leaders at the local, state and federal levels, our tribal partners, our nonprofit and philanthropic partners, and our countless supporters. You are why we can continue to advance our mission to serve the health care needs of rural and underserved Oklahoma," Dr. Stephens said. "It truly is a time to celebrate the accomplishments of the past 50 years and look forward to the future."
Historic Partnership to Improve Rural Health Care
Four years ago, OSU-CHS announced a historic partnership with the Cherokee Nation to open the country's first tribally affiliated medical school.
On July 31, 2020, leaders from OSU and the Cherokee Nation came together to attend the White Coat Ceremony for the inaugural class of 54 students. Six months later, a small ribbon-cutting ceremony was held to officially open the OSU College of Osteopathic Medicine at the Cherokee Nation.
"As we mark the official opening of the first tribally affiliated medical school in the United States, we know that we will one day look back on this day and what will matter most is whether our efforts have changed lives for the better," said Cherokee Nation Principal Chief Chuck Hoskin Jr. at the ceremony. "I believe that this partnership will advance quality health care for all by allowing us to teach a new generation of medical professionals to serve our communities for years to come."
"This partnership is an example of the tremendous good that can occur when trust is the foundation of a relationship."
— Dr. Kayse Shrum, President, Oklahoma State University
The $40 million, 84,000-square-foot medical school site is located on the W.W. Hastings Hospital campus in Tahlequah, the capital of the Cherokee Nation.
OSU President Kayse Shrum said the opening of the site was the culmination of a nearly decade-long journey to transform a dream shared by leaders at OSU and the Cherokee Nation into a reality.
"This medical school site is here because the Cherokee Nation and Oklahoma State University endeavored to find a common solution to their individual challenges through a shared vision," Dr. Shrum said. "This partnership is an example of the tremendous good that can occur when trust is the foundation of a relationship. My hope is that the students who train at OSU-COM at the Cherokee Nation will strive to emulate the special relationship that we are blessed to share with our good friends at the Cherokee Nation."
Ashton Glover Gatewood, a member of the Choctaw Nation, said she wanted to be part of the OSU-COM at the Cherokee Nation inaugural clas specifically because of the school's tribal affiliation.
"I feel a responsibility to represent this campus — OSU-COM at the Cherokee Nation — and I also feel a responsibility to represent my tribe. I love being a member of the inaugural class," she said. "We've been through a lot, not just because everything was new, but with the COVID-19 pandemic everything was constantly changing. I think we've had a unique set of challenges; we've really grown together, and we uplift each other and we help each other. It's a very supportive environment and we celebrate each other's successes inside and outside the classroom."
Revolutionizing Care in Downtown Tulsa
In addition to helping meet the need for more rural physicians in Oklahoma, OSU-CHS is also working to meet the health care needs of those in the Tulsa area.
For decades, the OSU Medical Center has been the only hospital in downtown Tulsa, but that is about to change as a new veterans hospital and psychiatric hospital will open just across the street.
These will be the pillars of the OSU Academic Medical District, which also includes OSU Medicine's Physicians Office Building and Houston Center, which house several clinics. Future phases will include additional research and medical facilities.
The VA Hospital in Tulsa project is a collaboration between OSU, federal, state and local governments as well as Tulsa-area philanthropy, led by the Anne & Henry Zarrow Foundation.
The 275,000-square-foot, 58-bed veterans hospital will be located in the former Kerr-Edmondson buildings, which the State of Oklahoma gifted to the project.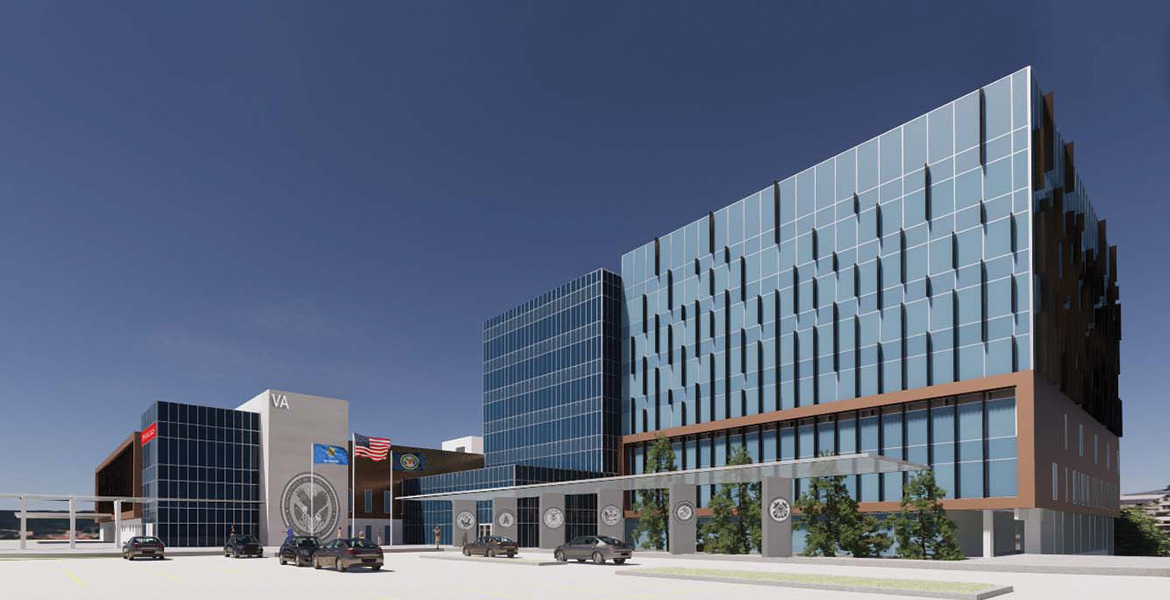 "Our veterans in northeast Oklahoma deserve a much-needed, easily accessible modern medical center where they can receive quality, compassionate care in a timely manner," said Shrum, who previously served as OSU-CHS president. "For OSU-CHS, it's been a great privilege to be part of this visionary project. While caring for veterans is a top priority, the affiliation with the Veterans Affairs hospital near our Tulsa campus will benefit our students and residents tremendously and further enhance our medical school nationally."
The next major piece of the OSU Academic Health District will be a new 150,000-square-foot psychiatric hospital — operated by the Oklahoma Department of Mental Health and Substance Abuse Services (ODMHSAS) — which will more than double the number of beds in the current facility.
"What Tulsa and northeast Oklahoma need is a modern psychiatric hospital with expanded bed space and one that is designed to meet current and future treatment needs," said Carrie Slatton-Hodges, ODMHSAS commissioner.
OSU Medicine physicians and residents, as well as third- and fourth-year medical students on rotation, will treat patients at both new facilities. An estimated 100 additional residency spots will be created between the new VA and psychiatric hospitals, along with about 30 new clinical faculty positions.
"The new mental health hospital in the OSU Academic Medical District will offer the chance to expand care and services to these patients while at the same time enable us to grow our behavioral health staff and residency programs," Stephens said. "This will be a tremendous offering for our medical students, residents and physicians in terms of more learning and patient care opportunities."
Joining Forces to Combat Addiction And Pain
In April, OSU and the University of Arizona formally announced a partnership between the two institutions' academic health centers which aims to combat the opioid crisis and chronic pain through research, treatment and education.
Through this partnership, institutional resources will be shared among the three research centers — OSU-CHS' National Center for Wellness and Recovery (NCWR); the University of Arizona Health Sciences' Comprehensive Pain and Addiction Center (CPAC); and UA's Center for Excellence in Addiction Studies (CEAS).
"As a modern land-grant university focused on offering research that solves society's most pressing problems, OSU is tackling a major issue head-on by addressing chronic pain and addiction in our state and nation," Shrum said. "So many lives will be impacted by this partnership, and I am confident our collaboration will truly make difference."
The NCWR was established in 2017 to help combat the opioid addiction crisis in Oklahoma. With the addition of a $200 million endowment following the state's settlement with Purdue Pharma in March 2019, the center broadened its scope to a national level and expanded its addiction and treatment research.
The partnership between NCWR, CPAC and CEAS involves sharing research assets and knowledge, as well as preclinical and clinical expertise gained from years of research and treatment by scientists and clinicians at both OSU and UA.
"The goal of NCWR is to identify and pursue innovative technologies to help address the opioid addiction crisis in our country," NCWR CEO Don Kyle said. "Scientific collaboration is crucial for success in the challenging areas of pain and addiction research and this unique partnership represents a significant step in the right direction."
The inherent synergies among the three centers will accelerate impactful scientific research and new medical treatments on a national scale.
"The collaboration with Oklahoma State University and their National Center for Wellness and Recovery will exponentially grow research, clinical care, education and training programs at both universities," said University of Arizona President Robert C. Robbins. "This is one of those true, rare, win-win situations. We believe by tackling chronic pain and opioid use disorder together, the University of Arizona and OSU will lead to the discovery of novel, non-addictive treatments for those with chronic pain while discovering new ways to treat substance use disorder."
Facilities Expand Reach of Care and Research
While the new North Hall is the most visible example of growth at OSU-CHS, improvements are taking place across campus.
The Barson Building recently underwent an exterior facelift with new windows, fresh paint and the removal of berms around the building that have been replaced by brick and new landscaping gardens.
A much less visible project is the renovation and buildout of the fifth floor of the Forensics and Biomedical Sciences building, which will house state-of-the-art research and vivarium laboratory spaces.
"I'm excited to see this space become a worldclass research laboratory for the National Center for Wellness and Recovery," Stephens said. "The research and lab space will provide an opportunity for our faculty and researchers to make profound discoveries related to addiction and treatment."
The research team at NCWR works closely with forensic and medical researchers at OSUCHS to study epidemiology, neuroscience, genetics, biomedical sciences and behavioral sciences. The fifth floor will include research space to hold the thousands of biosamples NCWR has collected and acquired, as well as an animal vivarium and advanced research equipment.
"Our increasing number of faculty and research scientists are not only advancing addiction and pain research, but are also engaged in research that impacts other critical areas of medicine," Stephens said. "In fact, we are pursuing key biomedical research related to COVID-19, obesity, cardiovascular disease, cancer and psychiatric disorders."
Over the last year, growth has happened outside of the OSU-CHS campus as well.
In July 2021, leaders from OSU, NCWR, Tulsa and the state of Oklahoma came together to celebrate the opening of the Hardesty Center for Clinical Research and Neuroscience to aid in research and clinical trials related to NCWR's mission of addiction research and treatment.
The Hardesty Family Foundation donated $2 million for the establishment of the center that houses the OSU Medicine Biomedical Imaging Center, which utilizes an advanced MRI to support clinical studies of brain structure and function as well as other advanced technology to measure brain activity in infants, children and adults.
"The Hardesty Center for Clinical Research and Neuroscience is equipped with space for clinical trials and is home to the most advanced MRI system in the state," Shrum said. "The generous gift from the Hardesty Family Foundation will allow OSU and NCWR to find personalized, evidence-based therapies for those struggling with addiction."
Nine months later, a ribbon cutting ceremony was held for Legacy Plaza West. The tower was donated by the Anne & Henry Zarrow Foundation, which was also recognized during the event.
"Our increasing number of faculty and research scientists are not only advancing addiction and pain research, but are also engaged in research that impacts other critical areas of medicine."
— Dr. Johnny Stephens, President, OSU-CHS
Formerly the Dollar Thrifty headquarters, Legacy Plaza comprises three office buildings that were renovated by the foundation and donated to seven nonprofit organizations in Tulsa. Legacy Plaza West's 14 floors were donated to OSU-CHS and Family & Children's Services.
Several OSU-CHS programs and initiatives were relocated to Legacy Plaza including the OSU Behavioral Medicine clinic; OSU Medicine Primary Care clinic; Project ECHO; the Center for Indigenous Health Research and Policy; and the OSU Health Access Network. NCWR's Addiction Medicine clinic is also located in the west tower.
"We are so grateful to the Anne & Henry Zarrow Foundation for their immense generosity in gifting OSU the significant footprint at Legacy Plaza," Stephens said. "It's an amazing space where we can treat patients in a modern facility, expand our Project ECHO service lines that provide health and mental health resources to rural care providers and offer dedicated space to research better health outcomes for Native American populations."
OSU-CHS celebrates 50th anniversary for OSU College of Osteopathic Medicine
For more articles from this edition of STATE magazine on OSU Medicine:
OSU College of Osteopathic Medicine's legacy is growing: https://okla.st/3AFEAzL
Couple to donate bodies, most of estate to OSU-CHS: https://okla.st/3wLioTr
Athletic trainers fill critical roles for teams, patients: https://okla.st/3RtpEvn
---
Photos By: Matt Barnard
Story By: Sara Plummer | STATE Magazine