Give Orange adds new fundraising challenges and sets new record
Wednesday, August 31, 2022
Media Contact: Mack Burke | Associate Director of Media Relations | 405-744-5540 | editor@okstate.edu
On April 5-6, a record-setting 2,430 gifts were made during the 1,890 minutes of Give Orange — Oklahoma State University's annual day of giving.
Representing all 50 states, the OSU community made more gifts during the 2022 giving campaign than in each of the previous four years and raised $1,050,630 in total donations. The donations support several aspects of the university, including scholarships, programs, students and faculty. This year's Give Orange also featured new successful fundraising challenges.
OSU alumna and donor Leslie Hyer-Wright provided matching funds for one of the new challenges — the purchase of four hospital bed warmers for the College of Veterinary Medicine.
"I like to support underutilized programs that don't get as much attention," she said. "I love an underdog story, and I wanted to contribute to something that would have a big impact."
During Hyer-Wright's visit to the College of Veterinary Medicine last fall, Dr. Kim Carter, a clinical associate professor in the CVM, explained to her the post-surgery recovery for animals, which often requires them to share bed warmers. Once Hyer-Wright learned that four bed warmers would fill a significant need, she didn't hesitate to create and support this new challenge.
"I thought right then and there, 'I am going to make sure that they get these four warming beds,'" Hyer-Wright said.
For every donation made to the challenge, Hyer-Wright matched dollarfor- dollar up to $5,000.
After Hyer-Wright left campus, she reflected on how she might make a bigger impact at OSU. She consulted with the OSU Foundation Annual Giving team to determine another area to support — the Daybreak Endowed Program Fund that supports former foster youth at OSU.
Although she doesn't have a connection or experience with the foster care system, once Hyer-Wright learned how she could meet the financial need to unlock more challenge dollars, she quickly agreed to donate.
"If you grew up in the foster care system, particularly if you had to move around from home to home, you don't have that sense of security," she said. "To be able to help these students who want to go to college, I thought this was really great."
Hyer-Wright matched each donation to the Daybreak Endowed Program Fund dollar-for-dollar up to $5,000. Once the $5,000 was matched, it unlocked an additional $25,000 from the Paul Milburn Foundation.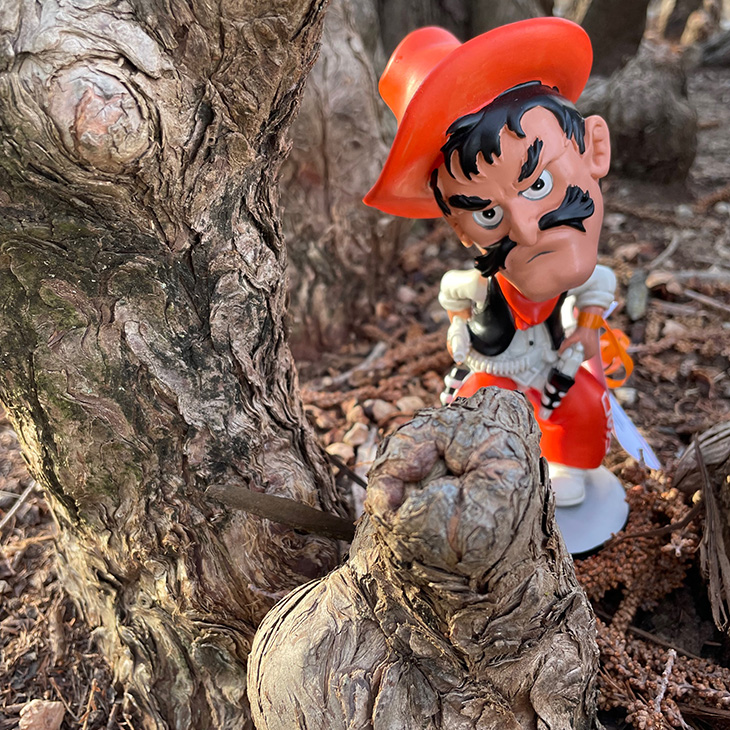 For Hyer-Wright, it's emotional to discuss the impact her generosity made on the OSU community.
"They were areas that were underutilized that I was able to support. It's just a really good feeling," she said.
The Hide 'N Pete challenge was another new feature of this year's Give Orange. Both mornings of the campaign, five Pistol Pete bobbleheads were hidden throughout the Stillwater campus. The OSU Foundation donated $100 to each finder's orange passion.
Jacob Stephenson, a graphic design major from Oklahoma City, spotted one of the Hide 'N Petes at the Welcome Plaza on the first day of Give Orange. Excited to be a winner, he proudly carried it to his classes.
Stephenson chose to donate to an important aspect of the OSU experience that is enjoyed but oftentimes overlooked — Campus Beautification.
"I was checking each area of donation and it seemed that Campus Beautification had the lowest amount of money donated toward it," he said. "I figured that it would have more of an impact there. Plus, the campus always looks so beautiful and is probably taken for granted."
For OSU alumni who may be interested in participating in Give Orange, Hyer-Wright encourages them to create their own matching gift.
"Getting involved in Give Orange helps highlight their passion and gets other people involved," she said. "It really takes a village and not an individual person."
OSU Foundation President Blaire Atkinson believes Give Orange offers meaningful opportunities to support the mission and vision of the university.
"Give Orange is a direct way the Cowboy family can support OSU," she said. "When donating any amount to your orange passion, you are helping meet the dollar-for-dollar matching gifts, which elevate the impact. We appreciate each person who participated in this successful event."
Plans for next year's event are underway, and you can make a difference by creating matching gifts. To learn more about how you can get involved in Give Orange, contact Adrian Matthys at amatthys@osugiving.com.
---
Photos by: OSU Foundation
Story by: Samantha Hardy | STATE Magazine