Half-Century Highlights: OSU College of Ostopathic Medicine's legacy is growing
Wednesday, August 31, 2022
Media Contact: Mack Burke | Associate Director of Media Relations | 405-744-5540 | editor@okstate.edu
In 1976, Ronnie Martin was accepted into the third class of medical students at the new Oklahoma College of Osteopathic Medicine and Surgery in Tulsa.
After serving in the Army and leaving active duty in 1969, Martin decided to go back to school.
"It became clear to me I wanted to get involved in health care," he said. He went to pharmacy school and then worked at a hospital in Enid, Oklahoma, where he became acquainted with several of the osteopathic physicians who worked there.
"I got some letters of recommendation from them and applied to OSU, which wasn't OSU then, it was the Oklahoma College of Osteopathic Medicine and Surgery (OCOMS), and I was accepted," Martin said. "I always say I can never pay back the osteopathic profession and that college for what they gave to me — the ability to raise my family, practice medicine and help other people."
At the time, Oklahoma was combating a rural physician shortage so severe that in 1972, state leaders came together to create and pass Oklahoma Bill 461 establishing the osteopathic medical school.
OCOMS was the first free-standing, state-supported osteopathic medical school in the country, and its mission was to train doctors to meet the health care needs of rural and underserved Oklahomans.
"Fifty years later, we are still fulfilling that mission," said OSU Center for Health Sciences President Johnny Stephens. "OSU College of Osteopathic Medicine (OSU-COM) is a family. We continue to advance the mission of the college to train health care providers for rural and underserved Oklahoma. Our students are part of that long legacy."
We felt the best way to stabilize the osteopathic school in Oklahoma was to become a part of OSU.
- Dr. Ronnie Martin, 1979 OCOMS Graduate
In 1974, two years after the bill was signed into law by Gov. David Hall, OCOMS welcomed its first class of 36 students. The campus at Southwest Boulevard and 17th Street, just west of the Arkansas River, was still under construction, so the inaugural class met in a building in downtown Tulsa at Ninth Street and Cincinnati Avenue, now the location of Tulsa Community College's downtown campus.
The school's founding president — Dr. John W. Barson — had previously served at Michigan State University as professor of medical education in the College of Human Medicine and associate dean of the College of Osteopathic Medicine.
His son, Dr. John V. Barson, was in the medical school's third class of students, along with Martin. Because of his unique position as student and son of the president, Barson was able to bridge some of the communication gaps between students and the faculty and administration.
"Me coming to the school, it was a bit of a mixed blessing for my parents. They were proud of me, but also worried how that would be perceived by people, so I had to get in on my own abilities," Barson said. "My brother went to the University of Oklahoma medical school because he didn't want to be where our father was, but the D.O. program was what I wanted. I knew my father and the type of program he and his team were developing, and that was very important to me."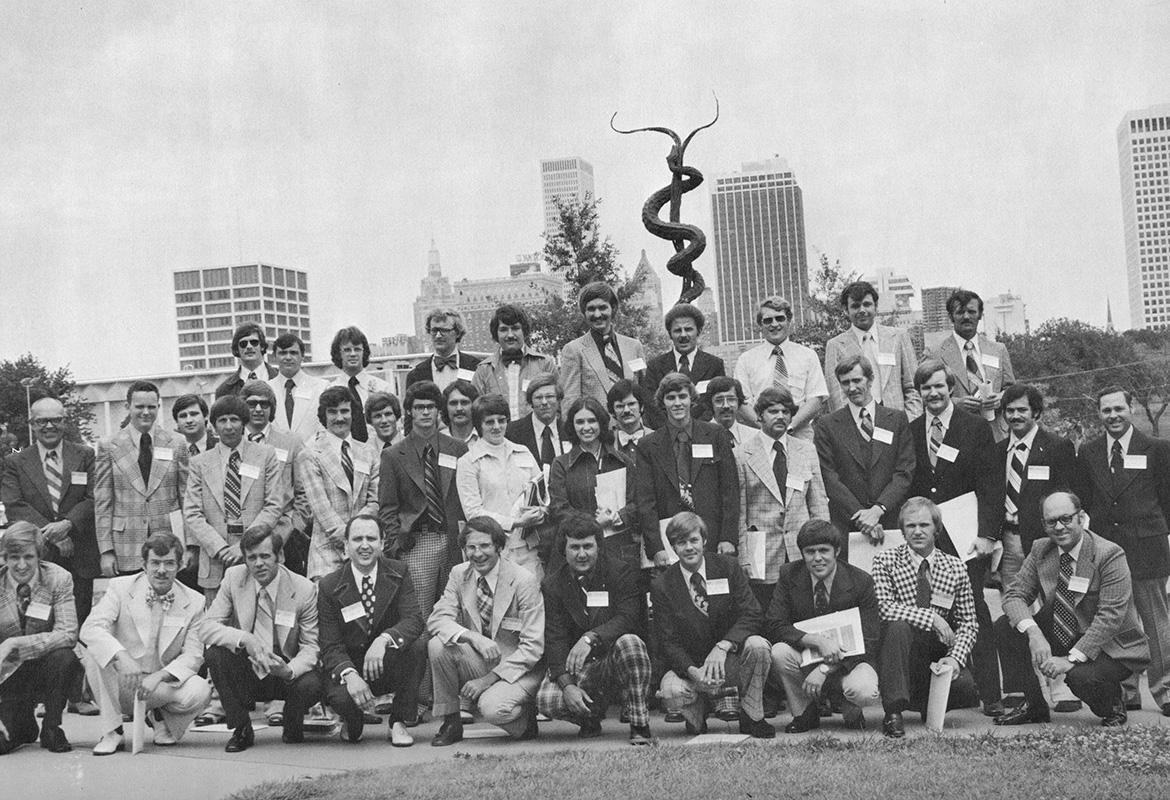 During their second year as medical school students, Barson, Martin and their fellow classmates moved to the new OCOMS campus before going out on rotations across the state.
"We'd go out to these small towns and their clinics, hospitals and doctors' offices, and people were just excited to be part of this. They gave us all sorts of experiences that I'm not sure a lot of students at other medical schools had," Barson said. "The towns would welcome us. We would go to the local café and people would say, 'Hi, Doc' and they meant it. Even though we were medical students, we were their doctors. That was exciting."
Martin remained involved with the school after graduating with his doctorate in 1979. He served as alumni president and worked with leaders in state government on the merger of OCOMS with Oklahoma State University in 1988 to become the OSU College of Osteopathic Medicine.
"We felt the best way to stabilize the osteopathic school in Oklahoma was to become a part of OSU. In my opinion, we've been a contributing part of OSU since then," said Dr. Martin, who went on to serve on OSU-COM's advisory board and as chairman of the school's capital campaign a few years later.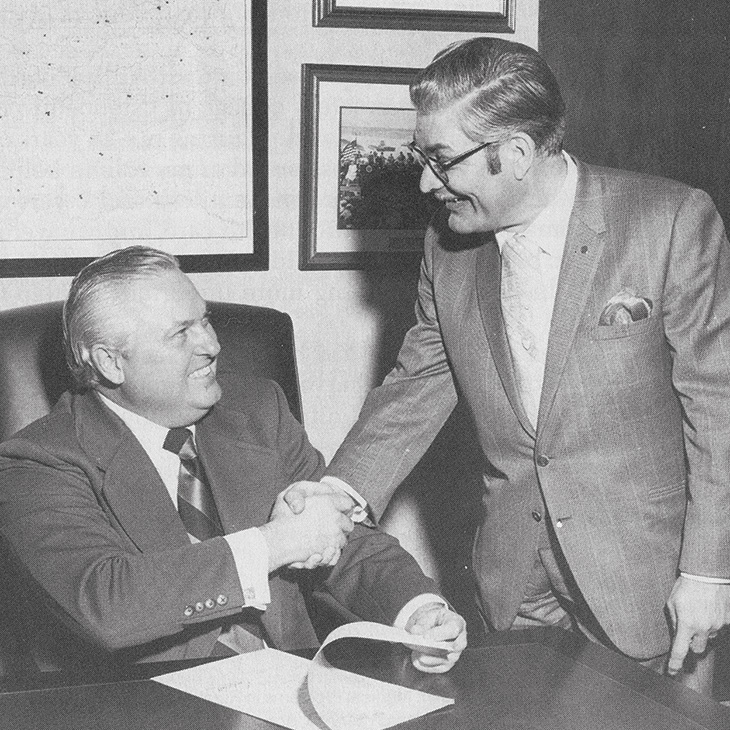 "It gave me an opportunity to remain involved with the school and contribute to the school. At one point we contributed two daughters, who are now physicians and leaders in their fields, so it's a big part of our family. They gave me the opportunity and I've been trying to pay them back ever since. I'm extremely appreciative of OSU and I've tried very hard to support them."
After OSU took over the osteopathic medical school, the next step was growing the institution, which meant adding graduate programs and turning the medical school into a broader health sciences center.
In 1997, the School of Biomedical Sciences was established, and other graduate programs were soon added, including the schools of allied health, forensic sciences, health care administration and the newest graduate program — the physician assistant program, which launched in 2021.
The institution was renamed OSU Center for Health Sciences, with the College of Osteopathic Medicine under the OSU-CHS umbrella. During the 2021-22 school year, nearly 900 students were enrolled in OSU-CHS graduate programs, and the medical school had a total enrollment of 565 students.
Enrollment isn't the only thing that's grown. The campus has undergone several major changes and transformations in its 50-year history. OSU-CHS and OSU Medicine have continued to extend their reach across Oklahoma.
Between 1997 and 2010, OSU-CHS celebrated the opening of the Center for Advanced Medical Education (C.A.M.E), Founders Hall and the Forensic Sciences and Biomedical Sciences building, which also houses Tulsa Police Department's forensic lab.
Leadership at the institution also focused on building up OSU Medicine's presence in the Tulsa area and working closely with the medical school's teaching hospital, which was called Tulsa Regional Medical Center at the time.
Jim Hess, interim vice provost for graduate programs, has worn a lot of hats and served in several roles during his 20 years at the OSUCHS campus. When he moved from OSU-Tulsa to OSU-CHS in 2002, he worked to create an OSU physicians group as well as strengthen ties to the Tulsa Regional Medical Center in order to better the experience for residents and physicians.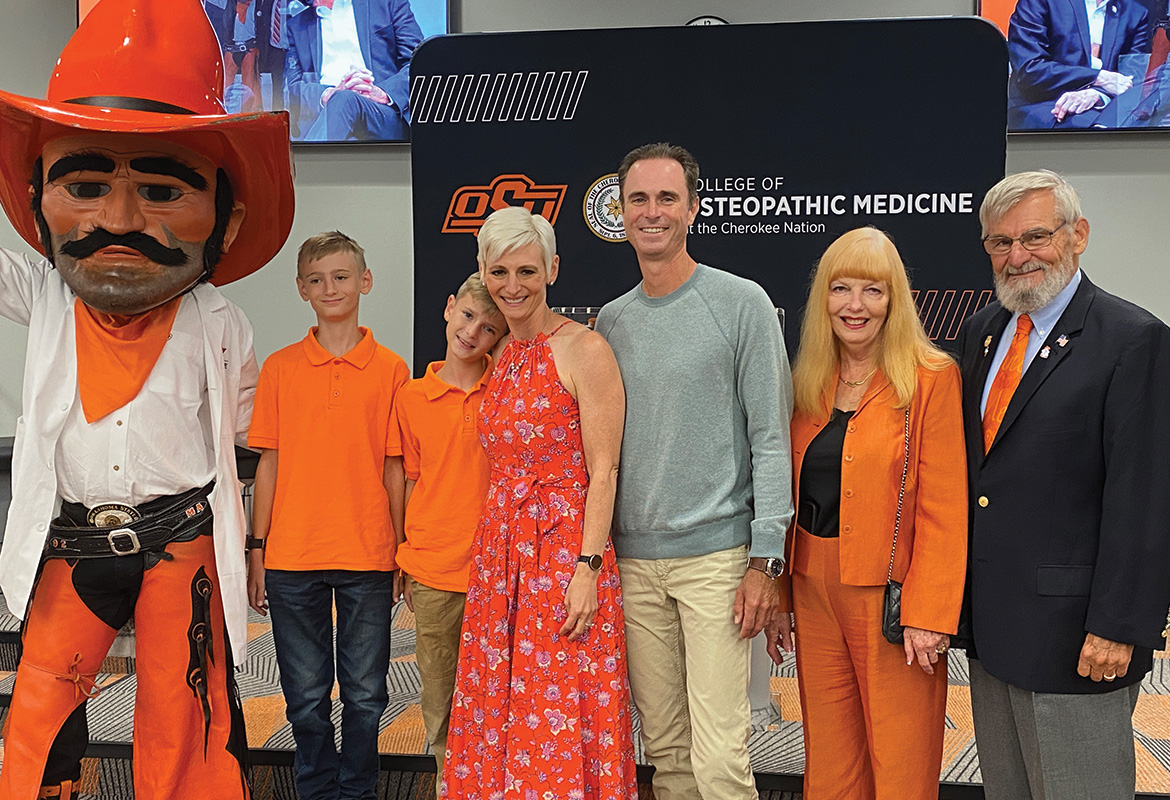 "At the time, it was a much different institution," Hess said. "We were trying to take what was just a college of osteopathic medicine and turn it into an academic health center. The requirements to become an academic health center are you have to have a medical school, a partnership with a teaching hospital, and then have at least three graduate programs. The idea was for OSU to belong to that prestigious group of academic health centers."
There are only 250 academic health centers in the U.S., according to Hess.
"It's been really fun for me to be there during these two decades of growth," he said. "The things that are the most important for the future are the hardest to attain. I give a lot of credit to the different leaders along the way. Each in their own right identified something that was going to be hard to do, but it would greatly impact the future of the institution."
One of those leaders was OSU President Kayse Shrum. Dr. Shrum, a 1998 graduate of the College of Osteopathic Medicine, was named president of OSU-CHS and dean of the medical school in 2013, becoming the first woman and first alum to lead the school.
During her time as OSU-CHS president, Shrum oversaw the opening of the A.R. and Marylouise Tandy Medical Academic Building in 2017.
Around that same time, the Center for Wellness and Recovery was established to combat opioid addiction in Oklahoma and the nation through research and treatment. It later became the National Center for Wellness and Recovery after a nearly $200 million endowment from Purdue Pharma was established.
She was also instrumental in developing and cultivating partnerships with key organizations and leaders including the Anne and Henry Zarrow Foundation, which led to OSU-CHS and OSU Medicine becoming recipients of six floors of Legacy Plaza West for clinic and program space, and the Hardesty Family Foundation donating $2 million for the establishment of the Hardesty Center for Clinical Research and Neuroscience.
But perhaps the most important and lasting partnership Shrum developed while leading OSUCHS was with the Cherokee Nation and its tribal leadership.
That partnership led to the creation of the OSU College of Osteopathic Medicine at the Cherokee Nation — the country's first tribally affiliated medical school. The goal of the additional medical school site in Tahlequah is to attract more Native American and rural students interested in becoming physicians and returning to their hometowns to practice medicine.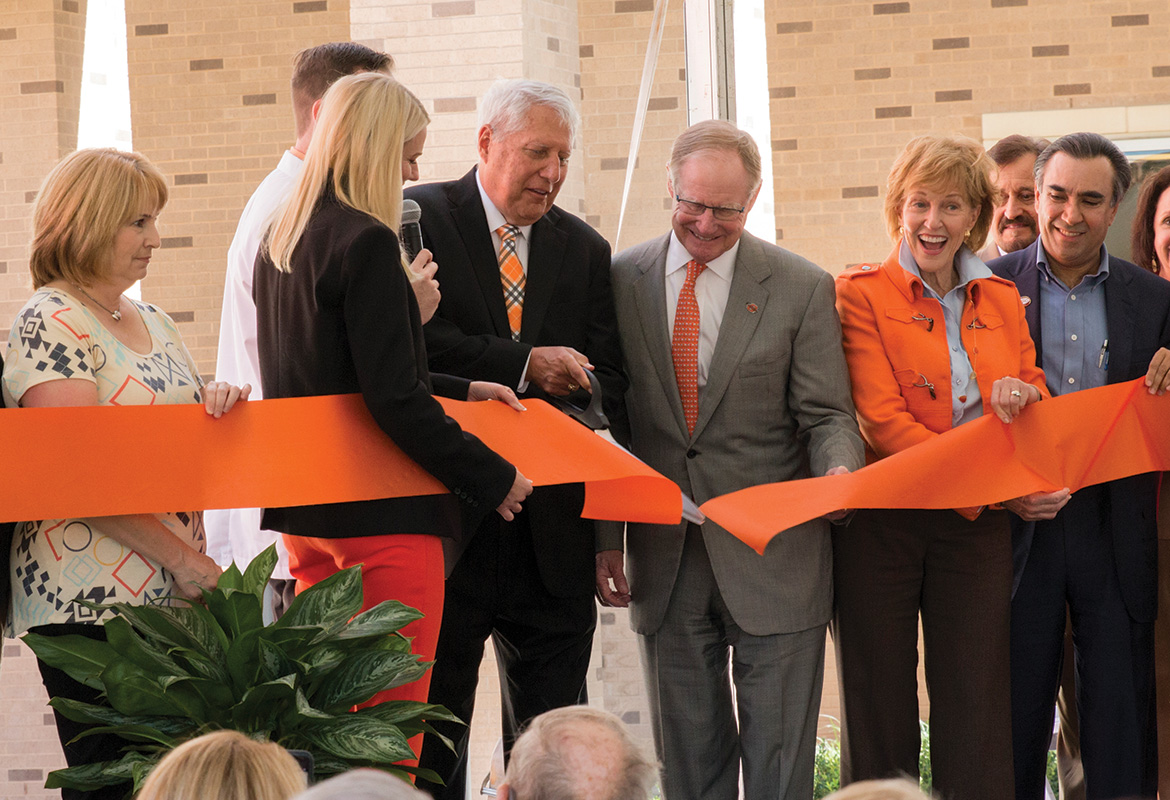 "The opening of the OSU College of Osteopathic Medicine at Cherokee Nation is a historic achievement for all of Indian Country as we produce more Native and rural doctors for our people," said Cherokee Nation Principal Chief Chuck Hoskin Jr. at the school's official ribbon cutting ceremony in January 2021. "We know that Native Americans make up only 0.2% of medical students nationwide and through this partnership, we can now actively increase the shortage of diverse physicians and recruit them to work upon graduating. Through these efforts and our partnership with Oklahoma State University, we will continue to make advances in our tribal health system."
Fifty years after it was established, OSU-COM remains dedicated to its mission to educate and train doctors to meet the health care needs of those in rural and underserved communities, and OSUCOM at the Cherokee Nation is a shining example of that dedication.
"The students can attend medical school, complete their residency training and practice medicine all right there in Tahlequah under the auspices of both OSU Medicine and the Cherokee Nation," Shrum said. "I can't think of a better way to attract and train primary care physicians for rural and underserved Oklahoma."
OSU-CHS celebrates 50th anniversary for OSU College of Osteopathic Medicine
For more articles from this edition of STATE magazine on OSU Medicine:
OSU-CHS growing footprint in Tulsa, NE Oklahoma: https://okla.st/3PXGbq8
Couple to donate bodies, most of estate to OSU-CHS: https://okla.st/3wLioTr
Athletic trainers fill critical roles for teams, patients: https://okla.st/3RtpEvn
---
Photos By: Archives, Matt Barnard and Sara Plummer
Story By: Sara Plummer | STATE Magazine