Proud and Immortal: OSU inducts nearly 70 new members to elite donor society
Wednesday, August 31, 2022
Media Contact: Mack Burke | Associate Director of Media Relations | 405-744-5540 | editor@okstate.edu
Tara and John Awezec never expected to be counted among Oklahoma State University's most ardent supporters.
But on April 12, they celebrated joining the Proud & Immortal Society at a black-tie function in the Student Union Ballroom.
The Proud & Immortal Society is made up of individuals, companies and foundations whose cumulative giving to OSU has reached at least $1 million.
"The individuals and organizations who make up the Proud & Immortal Society have had a transformational impact on Oklahoma State University," OSU Foundation President Blaire Atkinson said. "They will forever be recognized alongside the most celebrated figures in our university's history."
Including the Awezecs, 69 inductees were welcomed to the group while others were honored for their continued giving. The Proud & Immortal Society, which now has 442 members, has given more than $2.4 billion to OSU in total.
"We have incredible leadership in Dr. Shrum and we are nowhere near finished making a difference in the world around us. In fact, we're just getting started," said Atkinson of OSU President Kayse Shrum. "The generosity of this elite group has been the foundation of our success and will transform our future."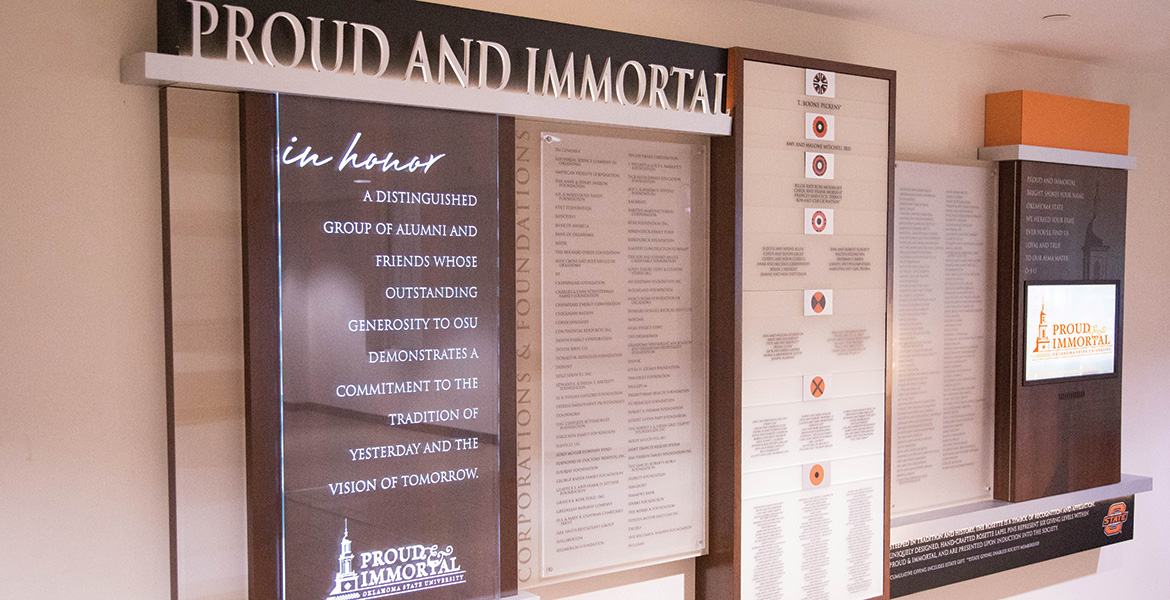 The event was held for the first time since 2019 after being postponed the past two years because of the COVID-19 pandemic. Kelly Ogle, an OSU alumnus and longtime news anchor at News 9, hosted the evening. OSU leadership including Dr. Shrum, Athletic Director Chad Weiberg and Senior Vice President of Executive Affairs Kyle Wray, among others, were also in attendance.
"The event was a wonderful reflection of the commitment of the Cowboy family," said Scott Roberts, OSU Foundation vice president of development. "As we charge forward with President Shrum's leadership, we will take on bold challenges that reflect our land-grant mission and commitment to our state."
The Awezecs were honored to be in the room with so many people who share the same commitment to the university and its mission of supporting students in their pursuit of academic excellence.
The Dallas couple has deep OSU roots. Tara's dad is a 1960 OSU graduate. While Tara was growing up, her father made it very clear he had a preference for which university his kids would attend.
"The education that both of us received at OSU allowed us to be very successful and competitive in the marketplace. We want to offer that opportunity to other students."
— Tara Awezec
Her husband's OSU loyalty doesn't have any family ties. Rather, John's Cowboy spirit was established as a junior in high school at Owen Field in Norman. He can still recall every detail of his first college football game, a Cowboy comeback victory against Oklahoma.
"The Cowboys grit and determination they showed down on the field just hooked me," John said. "That, along with the undying support of the OSU fans."
OSU ended up bringing the couple together, and both earned their master's degrees at the university. After graduating, John and Tara went on to have long, successful careers in civil engineering and business, respectively. The Awezecs credit OSU for giving them a strong foundation to succeed, and they've long wanted to help future students get that same opportunity.
Recently, they decided to make an estate gift to OSU that will fund undergraduate scholarships and graduate fellowships in business along with civil and environmental engineering.
"We both feel that education is extremely important for success," Tara said. "The education that both of us received at OSU allowed us to be very successful and competitive in the marketplace. We want to offer that opportunity to other students."
Aside from their personal connection to the areas of support, both John and Tara see significant value in receiving an education in those fields.
John's engineering resumé features projects from Florida to Alaska, ranging from highways to nuclear power. He worked each day to shape his community and world into a better place to live.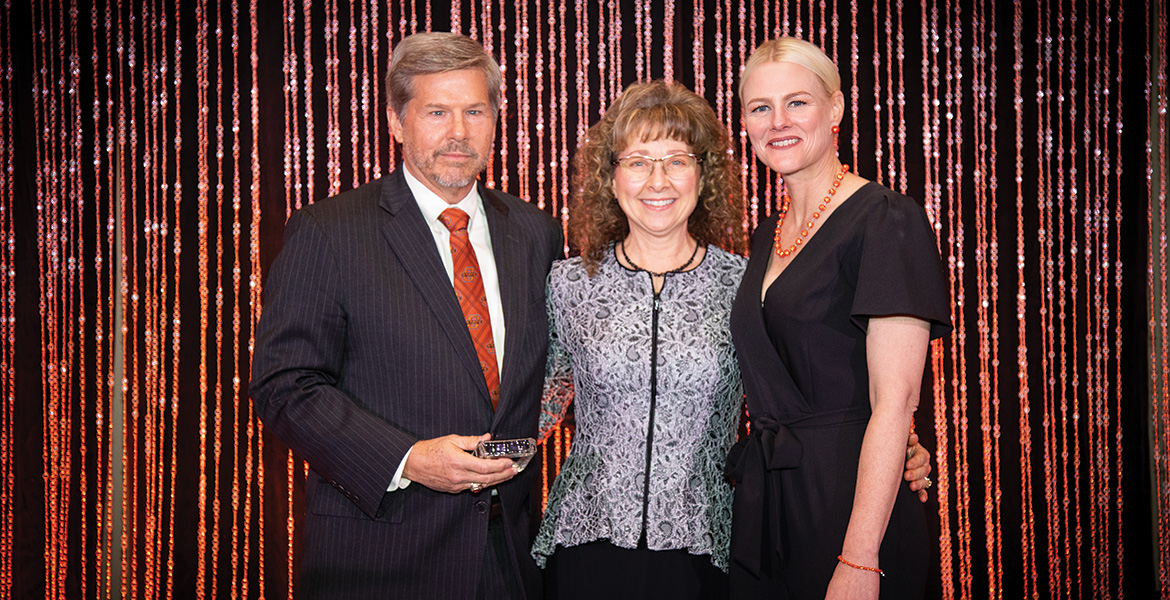 "Modern life as we know would not be possible without the skill and education of civil and environmental engineers," John said. "We are the quiet engineers. People don't recognize us until they don't have water or they're stuck in traffic."
During Tara's 33-year career at IBM, she worked in roles across four different departments, including sales, professional services, procurement and intellectual property licensing. Her ability to make those transitions smoothly and continuously learn new things were developed in the OSU Spears School of Business.
"Studying business provides a great background that will help an individual no matter what career he or she decides to pursue," Tara said.
Each member of the Proud & Immortal Society has an equally compelling story. And just like the Awezecs, they've all left an immeasurable impact on OSU and future generations of students.
"Generosity is truly a defining characteristic of the Cowboy family," Shrum said to the crowd. "And your generosity creates a ripple effect that continues for generations.
"From scholarships to endowed faculty positions, to facilities like the New Frontiers Agricultural Hall, the Hamm Institute and the Booker Flight Center — you transform dreams into reality."
---
Photos by: Chris Lewis
Story by: Grant Ramirez | STATE Magazine