Library's Creative Studios offer patrons access to new and emerging technologies
Wednesday, April 27, 2022
Media Contact: Mack Burke | Editorial Coordinator | 405-744-5540 | editor@okstate.edu
Built in 1953, the Edmon Low Library is a building steeped in history. It's also at the cutting edge of reimagining the modern university library.
Nowhere is that more apparent than the Edmon Low Library Creative Studios — an impressive collection of suites on the first floor's east side, which houses a smorgasbord of technology. From 3D printers and flight simulators to professional audio-video equipment and so much more, the Creative Studios offer patrons the chance to check out their own curiosity.
"I believe that a library is more than books, and students don't just learn through books. They learn through doing," said Sheila Johnson, dean of libraries. "Our library is a place of scholarship and research; it's also a place of collaboration and inspiration. The role of libraries on a campus and in a community is evolving, and the Creative Studios is an example of that.
"We wanted to create a space where students can experiment with some of the latest software and devices. We want to make these tools accessible to all OSU students, and provide opportunities for students to develop proficiency and a comfort with the kinds of technology they will need to be successful at OSU and beyond."
Creative Studios Specialist Shannon Austin said it all began with Johnson, who had a clear vision for a creative space in the library. Implementing it became a question of what students want and need, and — of course — funding.
"In 2012, the library embarked on a multi-year program we called 'The Library Futures' series," Johnson said. "We brought in speakers from libraries around the country to talk about how they were innovating spaces, operations and services. We also dedicated time for all our employees to come together to discuss what the future of our library might look like.
"One of the most important outcomes of this process was solidifying a work culture where people aren't afraid to try new things. When we launched the Creative Studios, it was an experiment, but one we were excited to try."
With ambitious ideas and a start-up budget from the library's general fund, the studios first launched in 2012. The first round of purchases included simple point-and-shoot cameras patrons could check out for three days at a time. Austin said microphones were soon added and things really began to take off with the acquisition of the studios' first GoPro cameras.
"With the realization of just how popular these devices were, it became really apparent that we had opportunities to grow this service," Austin said.
Thankfully, the library has friends.
"The Friends of the OSU Library is a dedicated group of donors who are passionate about supporting students and the library," Johnson said.
"Our friends have stepped up again and again to expand library services and resources."
The library team soon began to reach out to students and set up workshops. They also launched a feedback campaign called "What if the library ..." that called on OSU students to submit their own creative suggestions.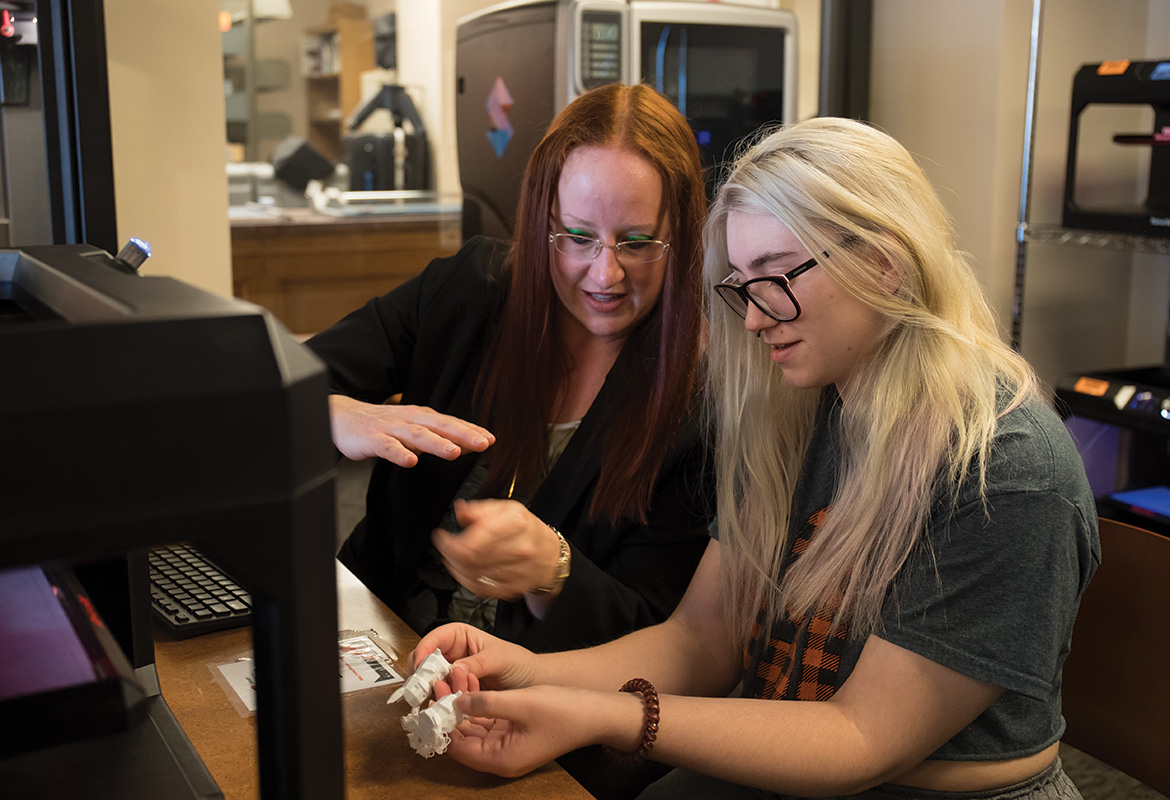 "That's actually where we got a lot of our ideas," Austin said. "Someone said 'What if the library checked out telescopes?' So, we got the funding together, and now we have telescopes for people to check out. We have five different styles, everything from a Maksutov-Cassegrain to a Ritchey- Chrétien, which is similar to the Hubble. It's amazing."
Johnson said it wouldn't have been possible without support from groups like Friends of the OSU Library and other generous donors. Johnson estimates 75 percent of Creative Studios' budget is directly from private donations.
"Our 3D Studio was cosponsored by the School of Entrepreneurship, and our Data Visualization Studio was underwritten by the McCasland Foundation," Johnson said. "Friends of the OSU Library board member Dr. James Wise and his wife, Liz, have funded a number of Creative Studio offerings, including our Virtual Reality Suite, the Audio Studio and equipment for 3D scanning and Tech to Go checkout."
Similarly, Austin said the Riata Center at the Spears School of Business was instrumental in helping the library acquire its first 3D printers.
"That was probably our largest start-up cost," Austin said. "The Riata Center offered to partner with the library, and we bought our first lot of four printers with their help."
That led to Austin being brought in to teach 3D modeling and printing. Her role expanded as the Creative Studios grew, and now she oversees one of the coolest spots on campus. But in a way, there's more to this collection of cool tech than meets the eye. Sure, students may have fun 3D printing Boone Pickens Stadium, but Austin says the real gift the Creative Studios provides is access.
Austin keeps her ear to the ground (or eye to the internet) to monitor the latest tech trends and explore new ways that the library can offer more. Ideas for new offerings come in from library staff, faculty across campus and the student body.
"If we find the funding, we purchase the technology and implement it," Austin said. "And it gets used pretty much immediately. On an average day, we're assisting and providing access for at least 200 people."
And that's just on site. Johnson said the Creative Studios' reach isn't limited to Edmon Low.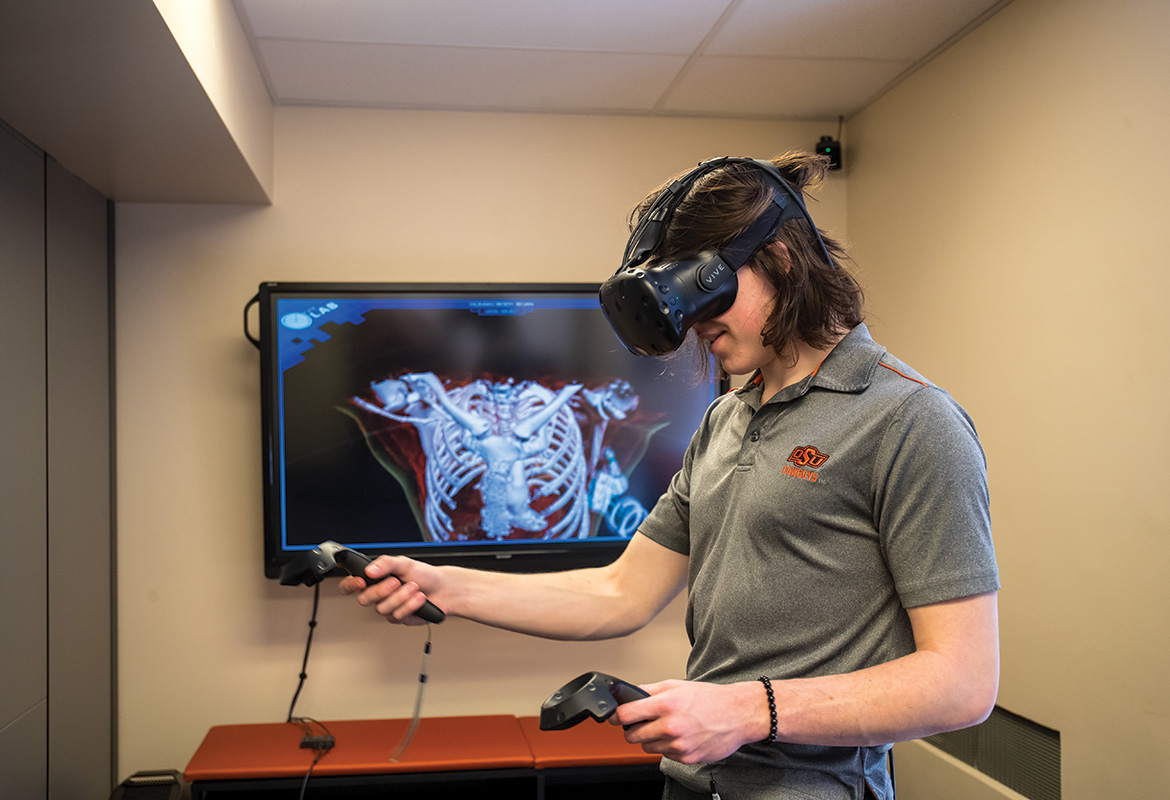 "The Creative Studios are more than the studios themselves," she said. "The Tech to Go desk is a vital component of the Creative Studios and a service that allows us to quickly respond to the needs of students. The space is also used for events, tech demonstrations, and training."
Of course the pandemic has negatively affected library foot traffic. Austin said COVID-19 has brought challenges, but it also has provided library staff with new opportunities.
"It's changed the way we think about providing access," she said. "During the height of the pandemic lockdown, we adapted our services to be more mobile, extending checkout periods and adding contactless pick-ups. We even mailed out over 200 laptops so students could continue to do their school work. Even some faculty members used those resources."
Austin said the biggest challenge now is a familiar one — spreading the word. With a new crop of students coming in every year, the Creative Studios can take on the dubious moniker of "best-kept secret on campus."
"We have to keep reminding people that our services exist," she said. "It's always brand new to the students — every single year."
Austin said that during the campus tour prospective students can get a closer look at what's on offer at Edmon Low.
"These resources are great tools for our future students. It's important for them to understand they will have free access to technology like DSLR cameras and 3D printers and the UAV flight simulator. You want to get a 19-year old excited about coming to Oklahoma State University? Let them see what we have in store for them," Austin said.
"Our patrons and donors seem to understand more than most that libraries are about more than just books; they're about access. The library, as a large institution, is able to provide access to emerging technology that a normal person may not be able to afford on their own. It's about offering that experience. Where else can you get the experience of learning 3D modeling and printing for free as a part of campus life? Where else can you get access to a telescope that you can take to the lake to watch the eclipse? I don't know if you know anybody who owns their own telescope, but when I meet people that do and they find out that we check them out, they're dumbfounded."
They usually ask how, Austin said. That answer is simple — strong telescope cases. But the why is more important.
"It matters because access matters and providing access to emerging technology in an academic setting gives people a chance to experience, to play, and to test the boundaries of what they think they're capable of," Austin said.
---
Photos by: Phil Shockley
Story by: Mack Burke | STATE Magazine