Newman, Stephens step into new leadership roles at OSU-OKC and OSU-CHS
Wednesday, April 27, 2022
Media Contact: Mack Burke | Editorial Coordinator | 405-744-5540 | editor@okstate.edu
More than 20 years ago, two young men from small-town Oklahoma started career paths that would some day make them presidents of university campuses in the state's two largest cities.
Dr. Johnny Stephens was just out of pharmacy school when he began working for Oklahoma State University as a clinician in 2001.
He stayed in Tulsa and in 2021, became president of OSU Center for Health Sciences. He was also named interim president of OSU-Tulsa and senior vice president of health affairs on OSU President Kayse Shrum's cabinet.
Dr. Scott Newman also joined the OSU family around the turn of the century, working as an information technologies faculty member at OSU Institute of Technology. Last summer, after years of service at OSUIT in Okmulgee, Newman was appointed OSU-OKC president.
The two are testaments to OSU's land-grant mission and the kinds of opportunities it affords rural Oklahomans. Stephens grew up in Barnsdall and Oologah whereas Newman came from Henryetta.
Those humble beginnings have played a role in the way the two lead their institutions. Growing up, Stephens' family physician was an OSU alumnus. Throughout northeastern Oklahoma, OSU Medicine clinics are the primary health care resource for many people.
"I think, as it does with President Shrum, it helps to live there," Stephens said. "You go to the coffee shop, you go to the donut shop and you are looking at people you are helping. That helps every day."
Dr. Shrum — who grew up in Coweta, Oklahoma — and Stephens had many discussions about OSU-CHS's role in the land-grant mission when she was president there and Stephens was in the role of chief operating officer. Those talks continue today, he said.
"You have to be much more intentional in rural settings to make things work," Stephens said. "OSU has a longstanding track record of doing that. That is part of our core mission and part of why we were founded in 1972. This year is our 50th anniversary. We have that long-standing tradition of 'We were rural before rural was cool.' Everyone is trying to dabble in it now, but you can't dabble in rural. You have to be focused and intentional and live it to be able to bring it forward."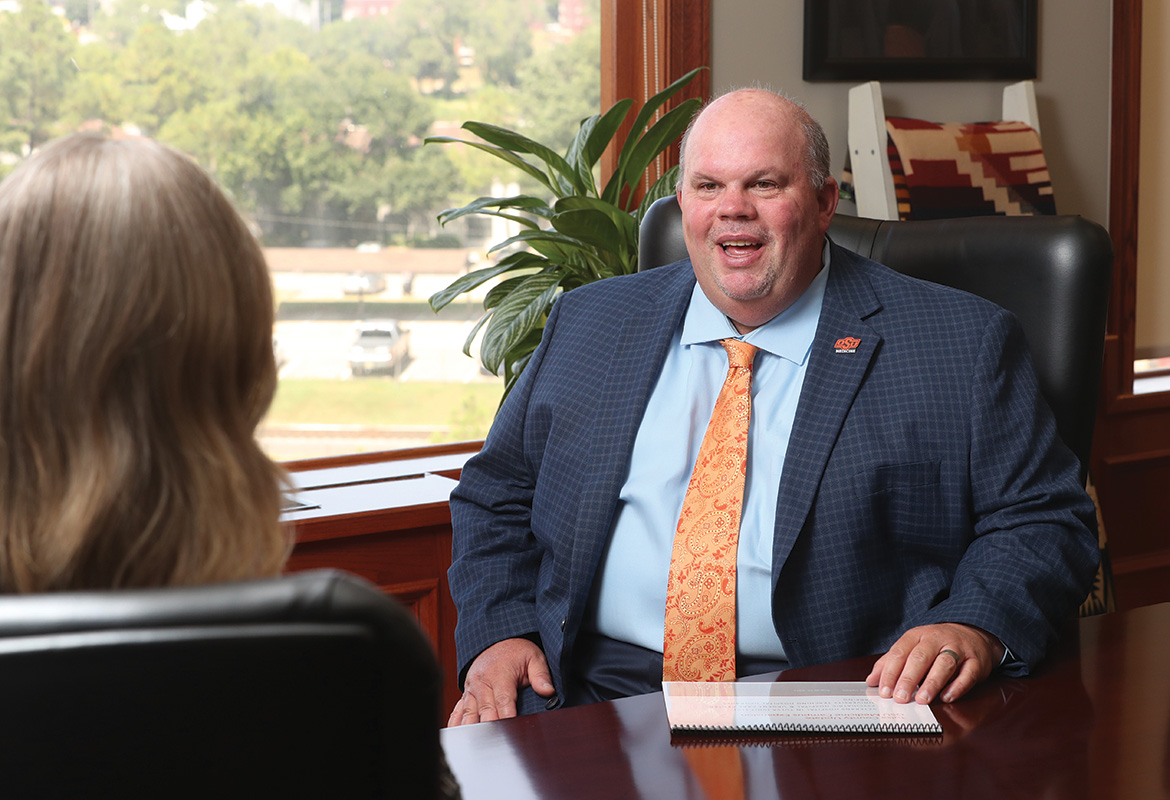 Stephens entered the medical field because he wanted to help others. After earning his doctorate of pharmacy from the University of Oklahoma, he started working at the Schusterman Center in Tulsa. There, he split his time by going through clinicals for OSU as part of the Ryan White program on HIV research.
Stephens would have been content continuing to pursue a career in internal medicine. But after meeting Shrum as part of the institutional review board, he started thinking of the difference he could make in administration.
Then, in 2016, he became senior vice-president of OSU-CHS. One of the first projects he helped Shrum on was the OSU College of Osteopathic Medicine at the Cherokee Nation in Tahlequah.
"That was very fulfilling and could be career defining if President Shrum didn't have so many other successful initiatives going on," Stephens said. "That campus now has two classes and will be adding a third class in July/August of 2022."
Since Stephens took over OSU-CHS, he has looked to grow OSU Medicine's role in underserved communities like Shrum did with the Tahlequah campus.
"We heavily recruit students in rural communities," Stephens said. "If they attend OSU and then attend a rural-focused medical school, they are going to eventually go back to those rural communities."
Some of the strategies for recruiting include an outreach specifically for FFA students, as well as the statewide Operation Orange program that introduces high schoolers to medical school opportunities.
Next for OSU-CHS under Stephens is expanding its telemedicine services, the new veterans hospital in Tulsa, along with more commitment to diversity, equity and inclusion (DEI) practices.
Stephens has worked closely with Shrum and OSU Vice President for Institutional Diversity Dr. Jason Kirksey to create more opportunities for underrepresented students in a historically restrictive field.
"We won the national Osteopathic Medical School Award for DEI and the programs we put forward," Stephens said. "It is something to be proud of and something to build on. We need to continue doing better."
Stephens has also been put in the unique role as interim president of OSU-Tulsa following Dr. Pamela Fry's retirement at the beginning of the year. He said he has enjoyed the challenge of working with undergraduate programs after a career in the graduate medical field.
"I have really loved the time and the experience to really jump into OSU-Tulsa and the opportunities that are there," Stephens said. "It is Tulsa's four-year, urban-serving public research university. Fulfilling that mission is really key to northeast Oklahoma and opportunities here."
Newman has gotten used to serving a larger student population as well after two decades at OSUIT. Although Oklahoma City is significantly larger than Okmulgee, Newman recognizes that OSUIT and OSU-OKC are primarily workforceoriented, so that has helped his transition. Another asset, he said, are the lessons he learned from his parents. His dad managed a hardware store and worked in heating and air while his mother was an elementary school teacher.
"There's nothing like that to impress upon you the importance of education, as well as having specific skills and knowledge that you can use to support yourself and your family," Newman said.
Newman attended OU, where he earned bachelor's and master's degrees before earning another master's from the University of Oxford and a doctorate from OSU.
He was the founding dean of OSUIT's School of Information Technologies and was involved in a number of major institutional initiatives while there.
During his time as dean, Newman had a conversation with former OSUIT president Bob Klabenes, who impressed upon Newman that he could one day be a university president.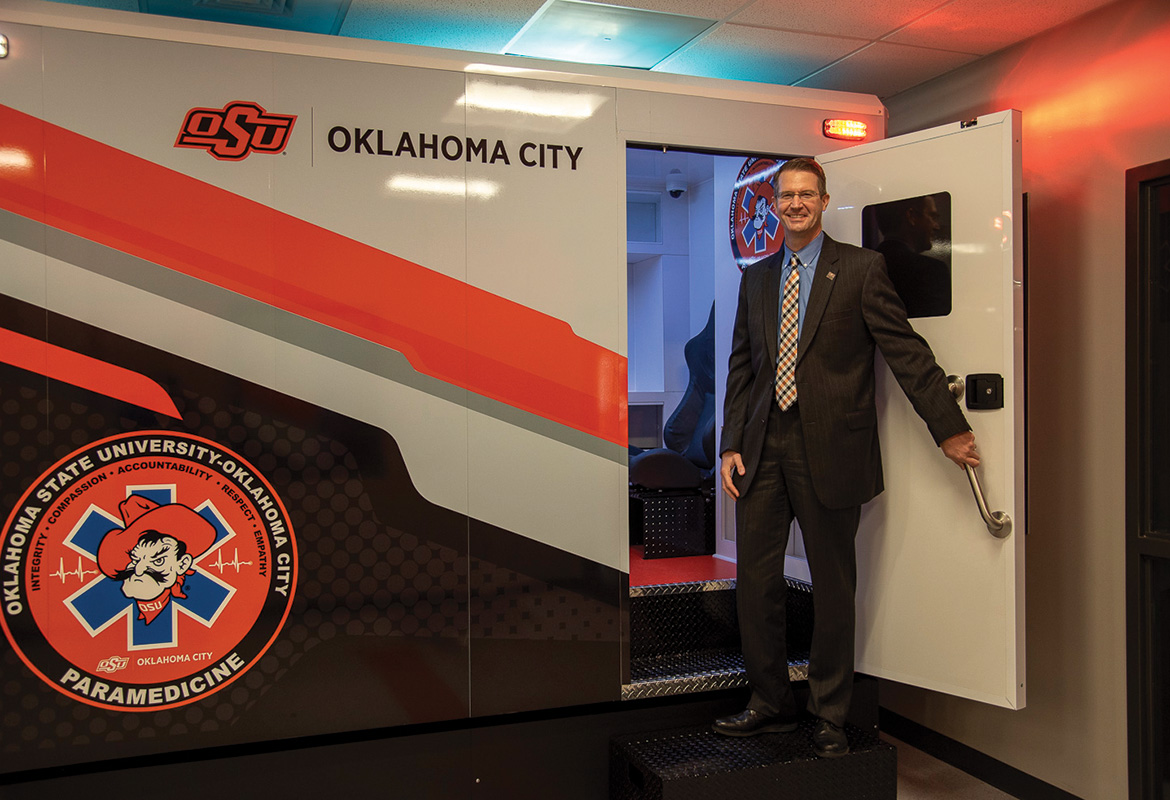 "We were talking about some issue," Newman said. "And he said, 'Well, that's the kind of decision you'll have to make when you're a university president.' It was just the two of us having a conversation. Until that moment, it never occurred to me that I could even aspire to do something like that."
Newman eventually became provost under current OSUIT President Bill Path. When former OSU President Burns Hargis and Shrum appointed Newman to the OSU-OKC campus in May 2021, Newman was ready.
"Any time you move from one role to the other, you take the toolkit that you had in the previous role with you," Newman said. "So I definitely came into this position with a strong orientation toward working collaboratively to create great workforce programs and finding ways to help students be more successful."
OSU-OKC has a diverse student base because of its location and role as a commuter school so Newman recognizes it has an opportunity to aid underserved communities.
"It's all about creating opportunities for our diverse student body and addressing the needs of business and industry," Newman said. "By making those connections, we help address the talent challenges that employers have, create rewarding and exciting career opportunities for our students and advance the economies of Oklahoma City and the state of Oklahoma. So everybody wins."
Both Newman and Stephens are poised to lead their institutions into a new era and continue to build OSU's foothold in OKC and Tulsa. They said they are thankful to have stayed at OSU and for the opportunity to lead.
"There are always opportunities to jump around and I do see people who do move around some, but at OSU, we don't see that as much," Stephens said. "We have become family. It is the Cowboy way. A  lot of  us come here and really embrace that and love to stay with the culture. It is one of those things that is hard to put your finger on. Whether it is the campus at Stillwater that I spent a lot of time on over the last couple of years to the campus at Tulsa, here at the medical school, Okmulgee, Oklahoma City — there is just something different about OSU. It is home."
---
Photos by: Ned Wilson and Matt Barnard
Story by: Jordan Bishop | STATE Magazine