OSU alumnus works his way up to PGA Championship Director
Wednesday, April 27, 2022
Media Contact: Mack Burke | Editorial Coordinator | 405-744-5540 | editor@okstate.edu
When Bryan Karns entered Valhalla, he knew what he wanted to do with the rest of his life.
Valhalla Golf Club in Louisville, Kentucky, that is.
Karns stood on the edge of the 17th green that September 2008 afternoon watching fellow Oklahoma State University alumnus Hunter Mahan sink a 40-foot putt that guaranteed he wouldn't lose to England's Paul Casey. Karns, then a hospitality staff member for the Ryder Cup, knew once Mahan made that putt, there was no chance Europe was coming back. The United States was going to win for the first time in nine years.
And they did it without Tiger Woods, who was recovering from a leg injury.
"Our guys were really underestimated that year," Karns said. "And for me sitting there, just feeling that energy and being such a diehard Oklahoma State guy — having Hunter be there and be the guy that did it — I think that was probably one of the peak moments for me."
Fourteen years later, Karns is now a championship director for the PGA of America. For the past couple of years, the Stillwater native has had chances to return to Oklahoma, for the 2021 Senior PGA Championship and this year's PGA Championship — both at Southern Hills Country Club in Tulsa.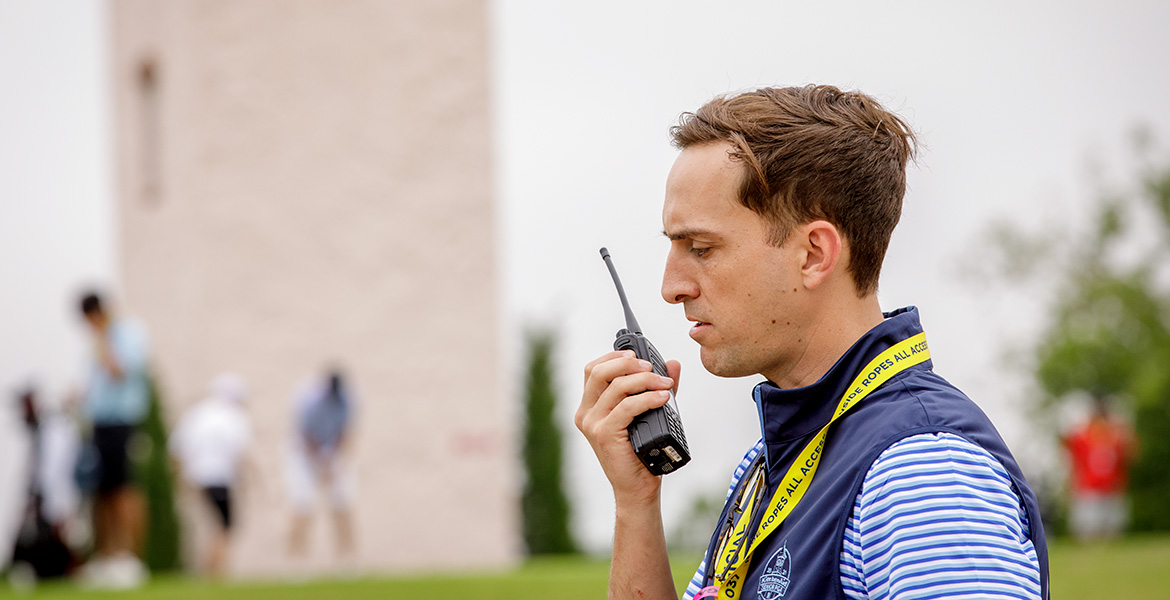 Southern Hills was originally supposed to host the PGA Championship — one of golf's four majors alongside the Masters, U.S. Open and British Open — in 2030, but was moved up to 2022 on short notice last year.
For Karns, it has been quite an undertaking, as he is in charge of most planning for the tournament. Luckily, the senior tournament last May served as a primer of sorts.
"I think one of the great things about my job is that every day is different," Karns said. "One day, I'm trying to find a parking lot for people. The next day, I'm recruiting volunteers. The next day, I'm sitting down with the CEO of, let's say, ONEOK, talking about a significant investment from them. And so you get up every day with something new. And that's probably what I enjoy the most."
While Southern Hills has hosted the PGA Championship a record five times — along with three U.S. Open tournaments — it hasn't been home to a major tournament since 2007, when Woods won by two strokes.
"You're talking about 15 years and it's unlikely to host another one for another seven to 10 years," Karns said. "So you really look at it as a once-in-a-25-year type event."
Karns embraces the challenge, though. When he was first getting into the business as a media relations intern at OSU, he was known as the guy who would get things done.
A journalism major, Karns covered the Cowboy football team for the O'Colly, but quickly realized he would rather work on the other side so he could cheer and wear his orange and black proudly.
About the same time, Senior Associate Athletic Director Kevin Klintworth had come to Stillwater from the University of California-Berkeley. He was starting late and since it was only coach Mike Gundy's second year, Klintworth needed some student workers who were quick on their feet.
"This upcoming PGA Championship in May is obviously like a 15-years-full-circle moment."
— Bryan Karns
"Coach Gundy was brand new to being the head coach, coming off a 4-7 season, so there were a lot of different things to balance," Klintworth said. "And those student workers were a luxury. I just didn't have those kinds of students at Berkeley. I had intelligent kids, but they weren't really just dying for the experience that someone like Bryan was. He was really anxious to learn as much as he could in a short amount of time."
Karns knew from his time at OSU that he wanted to go into sports, but didn't know what route he would take. When an offer to work at that 2008 Ryder Cup emerged, he jumped at the chance.
He had played golf around Stillwater growing up, mainly at the Country Club with his favorite course being Cimarron Trails in Perkins, Oklahoma. However, he knew early on he wasn't going to one day be playing on a Sunday in a major.
"This upcoming PGA Championship in May is obviously like a 15-years-full-circle moment," Karns said. "Because it was that summer of '08 that I did the internship at the PGA I was like, 'Oh my god.' It was like one of those lightbulb moments … I didn't really know these jobs existed or nobody had sort of clued me in that you could go work for the golf industry and not necessarily have to be good at golf. I'm a 15 handicap. I like playing golf. I'm not a great golfer and fortunately, that's not a prerequisite for my position."
Karns returned to OSU to get his master's degree following the Ryder Cup and spent a year working for the Tulsa Shock, the city's then-WNBA team, for a year. He then received an offer to come back to the PGA of America to work in corporate sales for the 2012 Ryder Cup in the Chicago area.
Since then, Karns has continued to build his resume, going from tournament to tournament every couple of years. Tulsa is the sixth place he and his wife, Ashlie, who is also an OSU alumnus, have lived during his time in the industry. Karns said roaming the country has been interesting, to say the least.
Karns' first championship director role came at the 2015 Senior PGA Championship, which required the couple to live in French Lick, Indiana, for a few years.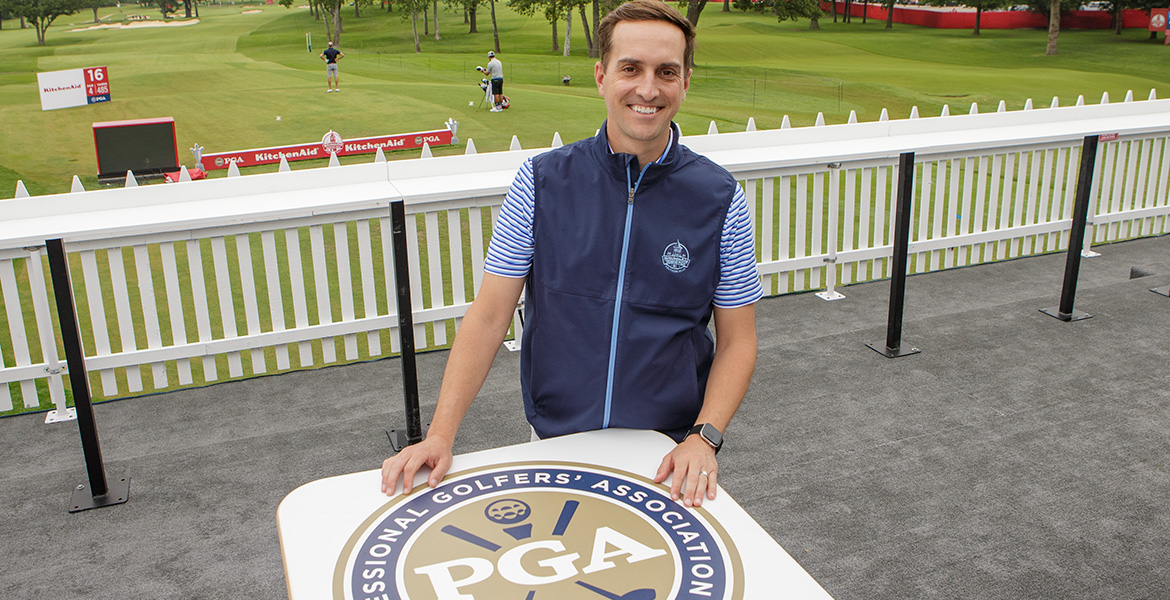 "Larry Bird was from there and that's really the only thing there," Karns said.
He went on to serve as director for two more senior PGA championships — 2017 in the Washington, D.C., area and 2019 in Rochester, New York — before coming back to Tulsa.
Through it all, Karns said Ashlie has been a rock, even as the Okie couple has rolled all over the country. When this year's tournament is over, the couple will move to Charlotte, North Carolina, to prepare for the 2025 PGA Championship.
"She has really made that sacrifice and she has always been my biggest supporter and knowing that this is an opportunity for me that's not going to probably last forever," Karns said. "I think I have been very fortunate to be married and find someone who is so willing to support this and be a part of it."
Karns recognizes how special it is that he works in a field where his alma mater is so prevalent, as well. He played football with Josh Fields at Stillwater High School and loved watching Robin Ventura play baseball. He bleeds orange and black. He knows an OSU men's golfer has only won one major — Bob Tway at the 1986 PGA Championship — but Karns believes with the number of Cowboy golfers on tour now — around 15 at any given time — another will be coming soon.
He hopes it can happen at Southern Hills in May. With how excited Oklahomans are to host a major in Tulsa again, an OSU golfer taking home the trophy would be the cherry on top.
"Oklahoma is such a great golf state. It's got a great history of golf," Karns said. "I think the number of courses and just the people playing in the state is obviously very high and then I think when you throw in how incredible Oklahoma State golf is … it's definitely added an extra layer of excitement, I think, when you talk to people, particularly Oklahoma State fans, having that opportunity to to go see Rickie Fowler, Matt Wolfe, Viktor Hovland and Talor Gooch is huge."
Speaking of opportunity, Klintworth said Karns' success is one of the many stories he tells student workers every year.
"I feel like we put a lot of people in position to get that first job," Klintworth said. "And then it's just their skill level, their training, their experience that helps them become successful in the real world. And Bryan's got a big, big job. Running that tournament is a big thing.
"I am very happy for him, very happy for us. Glad to see his efforts paying off. … We obviously have great admiration for what he's done."
---
Photos by: Gary Lawson and Mary Elizabeth Cordia
Story by: Jordan Bishop | STATE Magazine