OSU-Tulsa alumnus, US Army corporal donates Purple Heart to alma mater
Wednesday, April 27, 2022
Media Contact: Mack Burke | Editorial Coordinator | 405-744-5540 | editor@okstate.edu
After retiring from his career at the Army Corps of Engineers, Oklahoma State University-Tulsa alumnus Shannon Matthews knew he wanted to dedicate his time to inspiring others.
Matthews, now a motivational speaker, had established a scholarship in his name for older veterans at Tulsa Community College. But when it came to thinking about how he could make an impact at his alma mater, he wanted to make a bigger impression — one that symbolized the indelible impact OSU-Tulsa made on him.
"I was with my daughter one day and she said, 'You should make the same impression on OSU-Tulsa that they made on you. Do something to show them that you appreciate what they did for you,'" Matthews said.
Matthews' daughter, Milecia McGregor, holds a bachelor's degree in mechanical engineering and a master's degree in mechanical and aerospace engineering from OSU. She encouraged her father to give a gift as unique and powerful as his story: his Purple Heart medal, earned in service nearly three decades prior.
"My Purple Heart was up in a box, dusty as you know what. We thought, 'This was a chance for me to do something different, something other people haven't done,'" he said.
Matthews believes the donation marks the first time a living veteran has donated their Purple Heart to any institution.
"A lot of people know about the Purple Heart, but how many people have seen one? OSU-Tulsa provided me with the opportunity to show the world what I have," Matthews said. "Now I want to give something back to OSU-Tulsa."
Military Beginnings
Matthews grew up in Tulsa just north of downtown, graduating from Nathan Hale High School in 1989 and joining the Oklahoma Army National Guard shortly thereafter.
He served in the Gulf War before enlisting in the U.S. Army in 1992. In 1994, Matthews was sent to Haiti as part of Operation Uphold Democracy.
"A lot of people know about the Purple Heart, but how many people have seen one? OSU-Tulsa provided me with the opportunity to show the world what I have. Now I want to give something back to OSU-Tulsa."
— Cpl. Shannon Matthews
That October, Matthews encountered a couple of men attempting to enter the Army compound where he was stationed. When he told the men they couldn't enter, they attacked him.
"One guy slugged me, they both started beating me up pretty good," Matthews said. "One of them had a knife covered in barbed wire and I got stabbed in the leg."
Other members of Matthews' unit arrived and took control of the situation, bringing the men into custody.
"I don't know what happened to them. I just know I had to go get sewed up," he said.
Three days later, Matthews found himself healing in Fort Bragg, North Carolina. Recovery took longer than he anticipated.
"I had got really, really, really sick while I was in. Come to find out I was suffering from multiple sclerosis," Matthews said. "Couldn't run, couldn't do anything. So I had to ease on out and move on to something else."
The Impact of Education
After completing his time with the Army, Matthews headed home to Tulsa to pursue a career in business. He used his G.I. Bill benefits to enroll at TCC and graduated with an associate degree in 1997. From there he decided to complete his bachelor's degree at OSU-Tulsa.
"I was really close to campus," Matthews said. "I used to walk to class every now and then. Sometimes I had to take my daughter up with me, and I'd have her hang out in the library while I worked."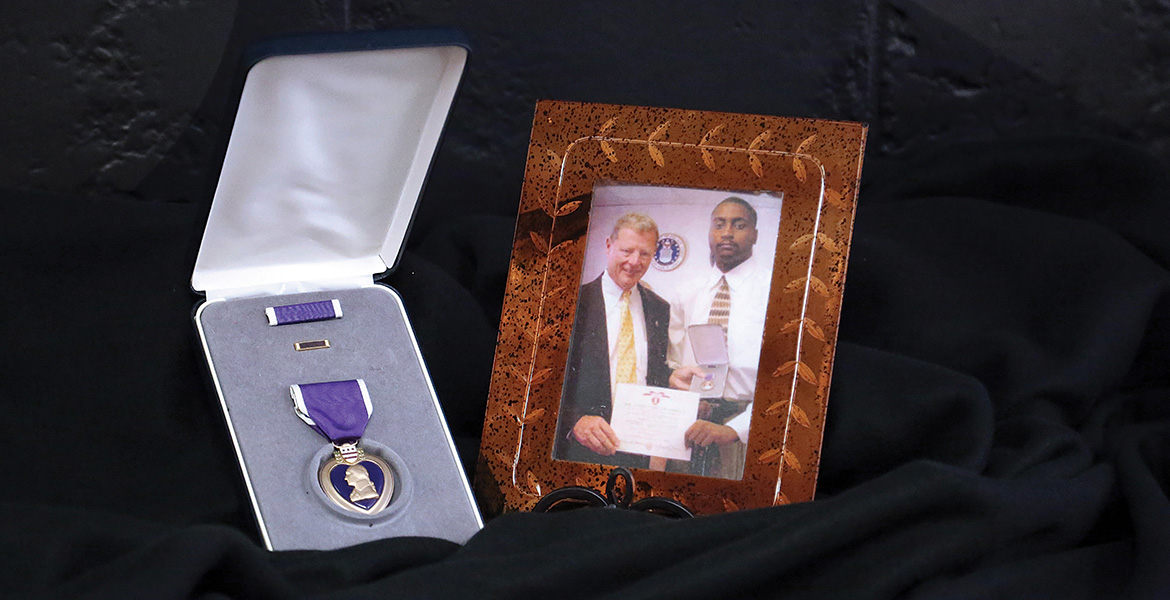 During his time at OSU-Tulsa, Matthews continued to work and raise his daughter. The act of balancing classes on top of the other responsibilities in his life wasn't easy. At one point in his education, he felt like giving up — but one of his professors gave him the push he needed to keep at it.
"I had missed a few weeks of class and was sick with chickenpox the week before a big presentation when my professor, Dr. Henry Migliore, called me up and wanted to know where I'd been," Matthews said. "Even after I told him I couldn't do it, he insisted he'd see me on Monday — so I showed up."
Matthews put together the assignment, got the transparencies for the overhead projector and delivered his presentation on time. With encouragement from his professor, he passed the class with a B.
"After that, I took every class he had. He demonstrated that he really cared, and that impacted me. He took the time to call me and tell me what I ought to do," Matthews said.
Matthews completed his bachelor's degree in business at OSU-Tulsa in 2001 and was recognized as a "Who's Who Among American Colleges and Universities." He then worked with the Department of Veterans Affairs, Army Recruiting Command and Army Reserve Contracting Agency before retiring from the Army Corps of Engineers in 2012. Even after years away from Tulsa — and long after completing his career — the influence of his favorite professor continued to shape him.
"Dr. Migliore and I, we still talk. I graduated decades ago, but I call him up and talk to him, you know? He made an everlasting impression on me," Matthews said.
A Symbol of Service
On Jan. 18, 2022, with his daughter watching from the crowd, Matthews honored OSU-Tulsa with a gift that only he could give.
"First let me congratulate Shannon," said Brig. Gen. Thomas H. Mancino, Oklahoma National Guard adjutant general. "We always think you do the service for a high and mighty reason — and that may be why you got in. But at the end of the day, men and women are fighting for their brothers and sisters to their left and to their right. And I know Shannon, that was part of your service as well."
Matthews' unique donation to the university will be treasured as a lasting symbol of service for years to come.
"When you think of symbols of service and sacrifice, few are more sacred than the Purple Heart," said Chris Benge, interim senior vice president for OSU-Tulsa. "As I learned about Shannon Matthews in preparation for this event, it became apparent that this gift is emblematic of a life lived in service. Matthews has dedicated much of his life to giving back to veterans and investing in the success of Tulsans, and through this gift to OSU-Tulsa, he will continue to inspire students through his example of service and dedication."
To fulfill the mission of inspiring students, staff, faculty and guests at OSU-Tulsa, Matthews' Purple Heart is currently on display in a glass case in the OSU-Tulsa Student Union, surrounded by other accolades and memorabilia belonging to the university.
"If you give a Purple Heart, you just can't get another one," Matthews said. "It has an everlasting impact."
---
Photos by: Provided
Story by: Aaron Campbell | STATE Magazine