Ray and Linda Booker Flight Center marks new chapter for OSU Aviation
Wednesday, April 27, 2022
Media Contact: Mack Burke | Editorial Coordinator | 405-744-5540 | editor@okstate.edu
Linda Booker finally got to see her husband's dream realized.
On Feb. 26, she had a front row seat at the grand opening of the Ray and Linda Booker OSU Flight Center, an event that ushered in a new chapter for Oklahoma State University Aviation.
The facility was named in recognition of a $1 million gift from Linda Booker and her late husband, Ray, who graduated from OSU A&M in 1957. They both held private pilot licenses, were passionate about aviation and wanted to increase the number of OSU-trained pilots around the world.
After a battle with Parkinson's Disease, Ray suffered a life-ending stroke in 2019 at the age of 84. But Linda was determined to carry out his vision.
Looking down at the build site from their helicopter, Linda said the facility was hard to envision at first. But now that the project has come together, it's a dream come true.
"(Ray) would be so excited," Linda said. "For him to have started out as a financially struggling student 60 years ago at OSU, and now to be able to help and further the flight center would have been beyond his biggest dream back then."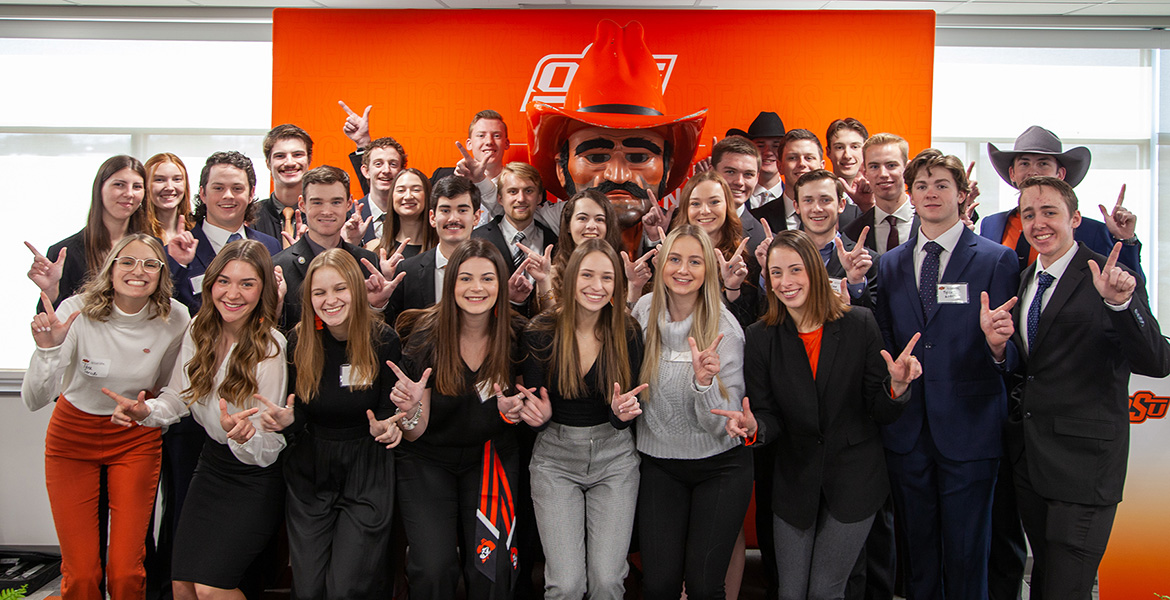 So many aspects of the building reminded Linda and her family of Ray, including a bronze statue that greets visitors near the doorway. It models a boy playing with a toy airplane, reminiscent of Ray's wonder for flight. It's a duplicate of the statue that sits outside Ray and Linda's home in Tulsa.
His legacy and passion for flying lives on and will give countless students the chance to earn their wings or prepare for a career in aviation at OSU.
"With this new flight center, we now have a home that matches the energy, passion and success of our students and faculty," said Dr. Jon Pedersen, dean of OSU's College of Education and Human Sciences.
Enrollment in the OSU Aviation program has boomed, growing by 40 percent in recent years. The state-of-the-art facility gives the program its first new home in decades and a much-needed upgrade.
The previous facility was crammed. Up to four flight instructors shared the same desks, and there was no private space for students to be debriefed after a flight. If a pilot performed poorly, the whole room could hear the critique.
"When you're a student, you have good days and bad days," said Brian Ward, a flight center donor and former Flying Aggie. "You want your flight instructor to be able to correct you and tell you bluntly how things are going. And you don't want to have that conversation in public."
At the Ray and Linda Booker OSU Flight Center, space is no longer an issue.
The 11,600 square-foot building replaces OSU Aviation's outdated facilities, more than doubling the space available to students and flight instructors. Inside, the Burnstein Foundation Training Center is roughly the same size as the entirety of the old building.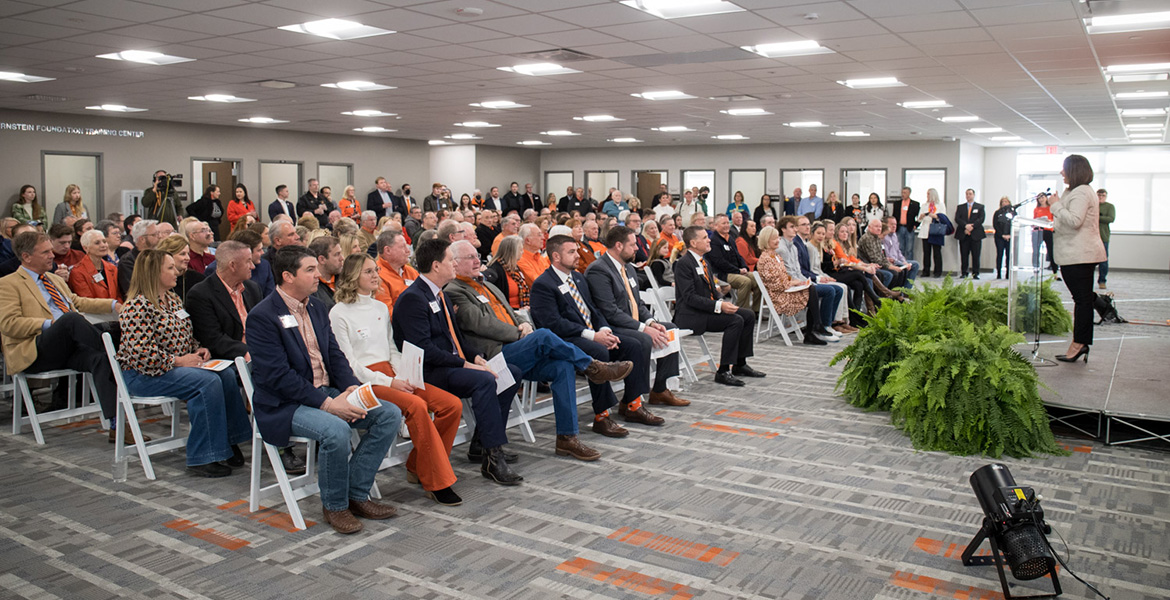 Building highlights include 35-plus workstations for flight instructors, debriefing rooms where student pilots will receive feedback, an academic suite and flight simulation rooms. It also features a student lounge, kitchen and locker room to make students feel more at home.
The flight center will make it easier for students to reach their full potential and gives the program room to continue to grow.
"Oklahoma State University is proud of our aviation program, and this new center positions us well for future growth," said Kyle Wray, senior vice president of executive affairs, who spoke at the event on behalf of President Kayse Shrum's office. "It will also provide the best educational experience to our students wanting to work in the aviation field. There are many like Ray and Linda Booker who gave generously to this project, and we are incredibly thankful for their contributions."
OSU is one of fewer than 20 universities in the U.S. to offer graduate aviation degrees. It's become a pipeline for trained professionals to start careers in an industry with a dwindling workforce.
"With this new flight center, we now have a home that matches the energy, passion and success of our students and faculty."
— Dr. Jon Pedersen
Amid a nationwide pilot shortage, OSU Aviation aims to help fill that need.
"We met students and we could see that they are just as enthusiastic and passionate about flying and aviation as Ray was when he started out," Linda Booker said. "This flight center is going to expand the number of students this program can take. And the demand is there."
With the new facilities, the program is bound to draw more attention from prospective students across the country.
The Ray and Linda Booker OSU Flight Center will help it attract and retain high-caliber students.
"I think when you're trying to sell our program over others, you need a facility that is going to reflect that commitment to the type of education you're getting," Ward said. "I think you can find education from an outdated building. That won't make a bad pilot. But this new center just presents the whole package. That all the details matter.
"It just has a feel, like we're really serious about this. It's not a side gig."
In addition to producing quality pilots, the program also prepares students for careers in aviation management, aerospace security and technical service management.
"Staying true to our land-grant mission, Oklahoma State University will help fill the demand for trained and skilled professionals in the aviation industry," Pedersen said.
Including the Bookers, a total of 17 families and organizations named spaces inside the facility through private donations. Each was given a named space in honor of their contributions. Ward wanted to use that opportunity to recognize someone who had made a significant impact on the aviation field and the university. Wally Funk quickly came to mind.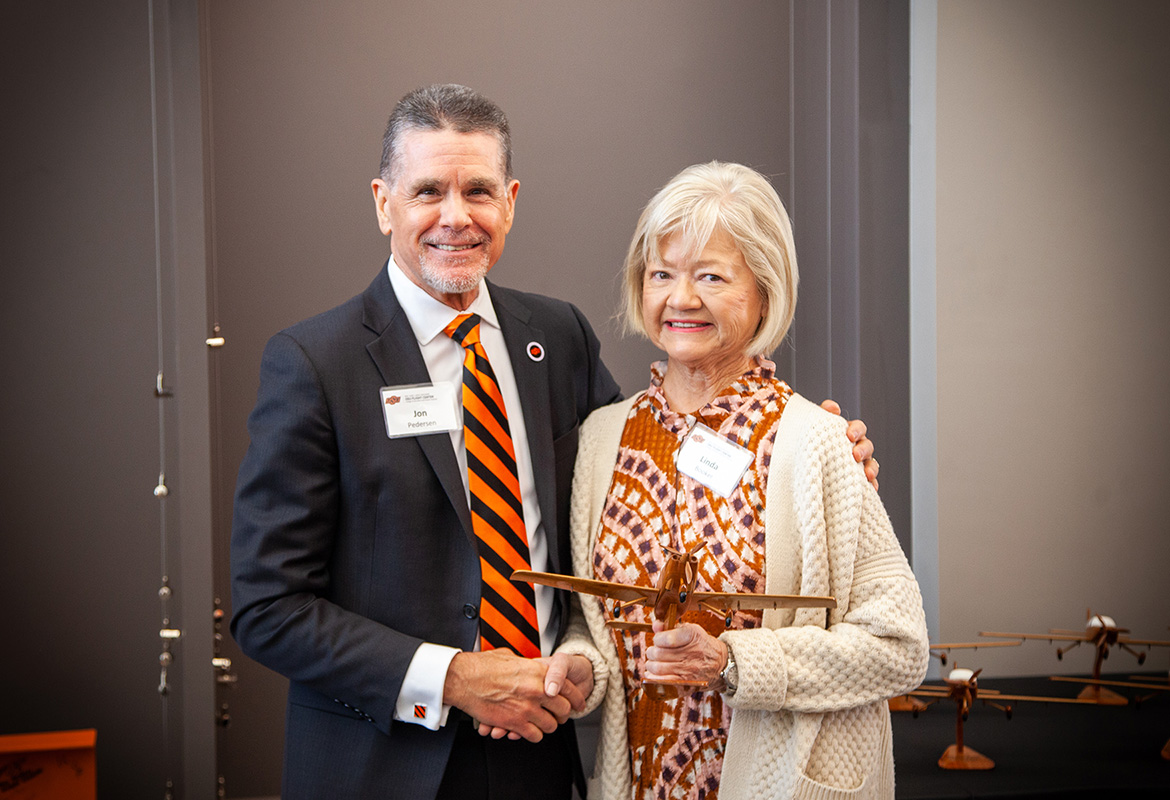 "I don't think you can meet Wally and forget her," Ward said. "She definitely leaves an impression."
Ward met Funk, an OSU graduate, when she returned to Stillwater after becoming the oldest person to go to space at age 82 last summer.
While at OSU, Funk earned every certificate the aviation program had to offer. She went on to become a trailblazer for women in the aviation field, boasting a long list of accomplishments.
Her name is now attached to a chief pilot office in the Ray and Linda Booker OSU Flight Center.
"At Oklahoma State, and particularly with the Flying Aggies, we have a very proud history with what we have accomplished and what our graduates have accomplished," Ward said. "And I think that Wally personifies that. She's just a very remarkable person."
Another donor, Jill Hainkel, also chose to honor someone with a deep connection to the aviation field with a gift to the facility. Hainkel credits her father, the late JJ Hamilton, for her love of flying. Hamilton was a flight instructor for American Flyers, and Hainkel spent her childhood in airports and airplane hangars, surrounded by the aroma of jet fuel.
Soon after graduating high school and motivated to join war efforts, Hamilton hitchhiked from Texas to Ontario, Canada, to join the Royal Canadian Air Force. By the end of World War II, he had achieved the rank of captain.
After the war ended, he became a flight instructor where he leveraged his passion for flying and taught students from all over the world.
"Through his wonderful students, aviation opened the whole world to my family," Hainkel said. "I have witnessed the special bond of aviators, a brotherhood that brings people together in their passion for flying."
She named a chief pilot office in Hamilton's honor.
"JJ loved sharing his passion for aviation and would be so supportive of this OSU center for the development of future pilots," Hainkel said. "He also encouraged women and people from many countries to learn how to fly. My dad lost some very close friends in plane
crashes so he strived for accredited training that will be provided by this center."
With the upgraded facilities and the passion of the students, OSU Aviation is ready to soar to new heights.
Pedersen said he hopes the Ray and Linda Booker OSU Flight Center will continue to grow into an aviation complex that would include a new maintenance hangar and aircraft storage for the school's growing collection of planes. It recently added five Cirrus Aircraft SR20s to its fleet.
"Thanks to the generosity of so many donors, this facility will quite literally launch the dreams of future pilots and professionals in the aviation industry," Pedersen said.
---
Photos by: Benton Rudd
Story by: Grant Ramirez | STATE Magazine