Screen Time: Inside OSU celebrates 10 years of highlighting university through video
Tuesday, December 20, 2022
Media Contact: Mack Burke | Associate Director of Media Relations | 405-744-5540 | editor@okstate.edu
On a Saturday night in mid-October, Coleton Gambill sat in a production control room on the Oklahoma State University-Stillwater campus, framing camera shots for a livestream of the Greek show, "Follies." Meanwhile, across town at the Payne County Fairgrounds, fellow associate producer Timothy Cole was directing the livestream of the Cowboy Stampede rodeo final from a mobile production unit.
That's a typical day for Inside OSU. The official video platform of OSU was originally launched as OStateTV 10 years ago. Now, it's home to more unique and exciting OSU content than ever before, streaming upwards of 200 live events annually, including commencement, Greek shows, the Sea of Orange Homecoming Parade, invited speakers, Greenwood School of Music concerts and so much more.
Viewers can watch these events live or on demand at insideosu.com, or via the Inside OSU app available for Amazon Fire, Apple TV and Roku.
"Video is key to outreach, and outreach is part of our land-grant mission," said Andy Wallace, who has managed the video network since its launch. "The potential for Inside OSU continues to grow as technology improves, and the new name and updated website were created to reflect the changing media landscape and meet audiences' growing appetite for streaming content."
When it first launched in 2012 under then-President Burns Hargis, the goal was to deliver the OSU experience to the world. The mission remains the same, but much has changed over the last decade in the realm of video, and Inside OSU has evolved as well.
"The landscape is very different in 2022 than it was in 2012. OSU has grown a lot, and so has the demand for video," Wallace said. "With how fast it's changing, we're not just thinking about the audience of the 2020s, but the 2030s, too. I think we've really tried to focus on a storytelling approach and watching how we connect our story with the public."
Inside OSU has a wide variety of shows, including "Game Talk" with coaches and players, "Oklahoma Gardening" and "SUNUP" from OSU Agriculture, and "The Front Row," which gives prospective students a real video preview of specific classes from the front row. Wallace said Inside OSU has something for everyone in the Cowboy family, and audiences often end up discovering something completely new. The platform showcases OSU to the world, but it also connects the OSU community with opportunities, events and resources on campus.
Like so many endeavors at the university, Inside OSU is a collaborative effort. The Institute for Teaching and Learning Excellence (ITLE) delivers on most of Inside OSU's livestreaming, audio and video production needs.
"There is no Inside OSU without the production and engineering teams at ITLE," Wallace said. "They shoot the video and produce the livestreams. We've also had a very close relationship with the School of Media and Strategic Communications. A lot of their students have worked for Inside OSU, and it has provided a launchpad for successful careers in media."
Wade Pearson, ITLE production service manager, said it's a challenge to cover the breadth of OSU content produced for Inside OSU, but it's one he enjoys.
"It's been cool because it helps give people on campus a kind of behind-the-scenes look at what goes on," he said. "I mean, this is such a big place, a lot of people don't even know all the things that go on behind the scenes and how it happens."
Meghan Robinson, award-winning Inside OSU multimedia reporter and producer, has been a familiar face (and voice) for Inside OSU fans since 2020. She formerly worked as a producer at ESPN on shows like "College Gameday." Since joining the OSU Brand Management team, she has produced a prolific slate of content.
Highlights include a documentary on the OSU wrestling team and new series, such as Student Organization Spotlight (SOS), which showcases the 500-plus student clubs on campus. Robinson also has teamed up with First Cowboy Darren Shrum to host the Inside OSU Podcast, which focuses on a wide range of topics within the OSU community.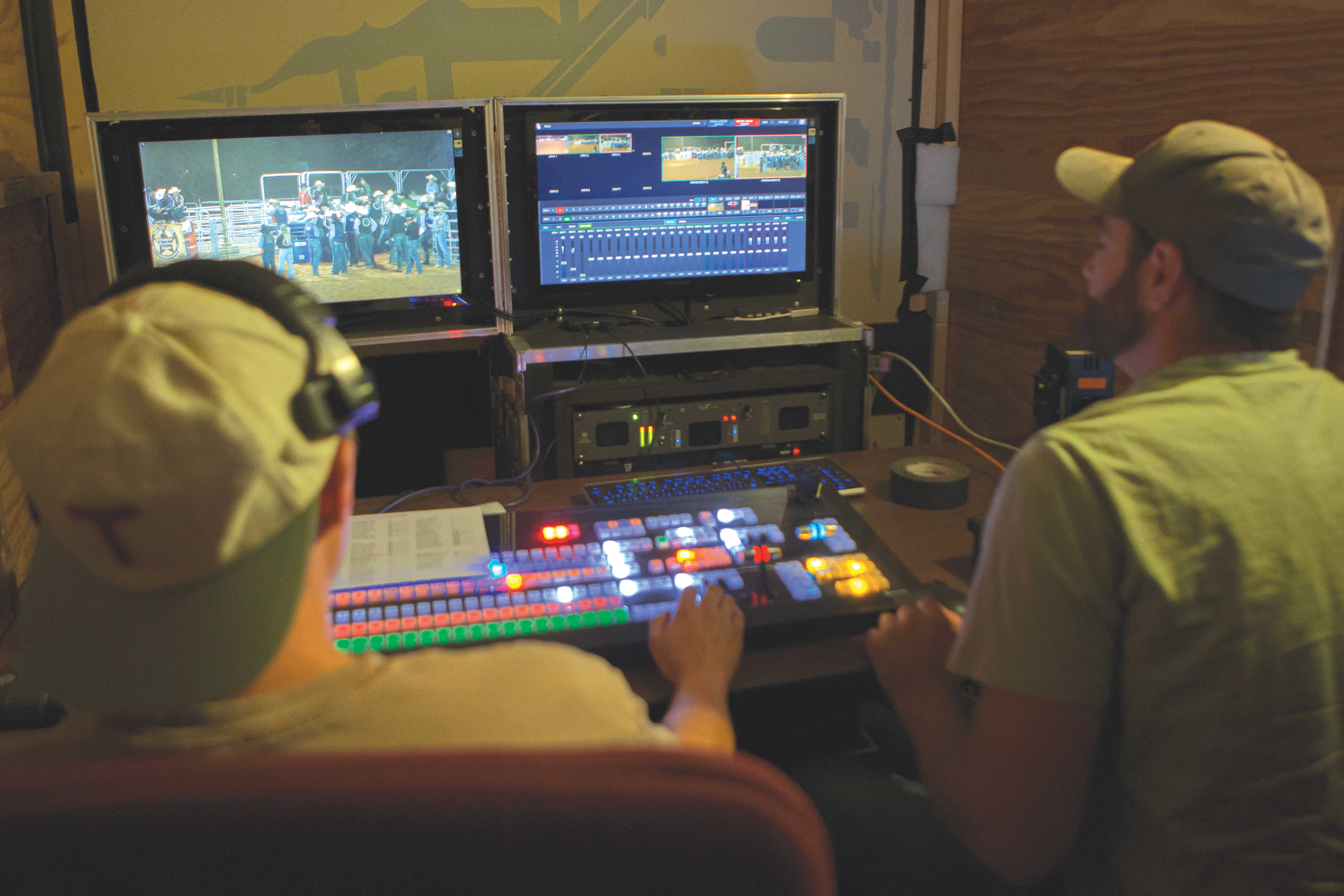 "The first episode Darren and I worked on together, we interviewed Mike Gundy. A couple of episodes later, we interviewed Brooke Taylor, a former OSU homecoming queen who has survived having breast cancer twice," Robinson said. "Those are two very different stories. The Cowboy family is a big family, and we try to cover it all.
"The OSU campus is rich with video opportunities, and this platform connects us with the audience in a way that we've never had before. I feel like there's so much potential here and we can only go up. I just think that there's so much room for growth and so much room for potential that it's exciting to see what the next 10 years will bring."
---
Photos by: Garrett Kirksey
Story by: Hadley Dejarnette | STATE Magazine