Signature Moment: New Frontiers reaches $50 million campaign goal, continues to raise funds
Monday, December 19, 2022
Media Contact: Mack Burke | Associate Director of Media Relations | 405-744-5540 | editor@okstate.edu
Oklahoma State University launched the New Frontiers campaign with an overarching goal in mind — to help feed the world. Now, it's one step closer to achieving it.
In July, New Frontiers reached its $50 million campaign goal, marking a monumental milestone for OSU Agriculture. It will make possible a new, state-of-the-art building that will put OSU at the forefront of agricultural advancement.
"This new building will serve as a hub of teaching and discovery for one of the most successful agricultural programs in the world," OSU President Kayse Shrum said. "It will strengthen OSU's position as a leader in innovation and help attract the best and brightest faculty and students."
New Frontiers kicked off in January 2020 with a historic $50 million gift from the Ferguson Family Foundation, which was split evenly between the campaign and an endowment to support college operations. It has since become one of the fastest capital campaigns in OSU's history, surpassing its goal in less than three years.
It's also the university's first academic capital campaign of this magnitude to reach its fundraising goal prior to the building's grand opening.
More than 613 members of the Cowboy family made generous contributions to make the achievement possible. In total, 854 gifts have been made from across 32 states, including 120 major gifts and 10 cornerstone donations of at least $1 million.
The campaign even received additional support in gifts of stock, land, wheat and a truckload of soybeans.
"Everyone's hard work and dedication led us to this incredible milestone," said Dr. Thomas Coon, vice president and dean for OSU Agriculture. "It was the commitment and generosity of so many supporters who invested in the future of not only our OSU Agriculture family, but also the state of Oklahoma."
In recognition of the achievement, OSU hosted a Sweet Success Celebration on the north lawn of Agricultural Hall in July — with construction of the new building underway across the street.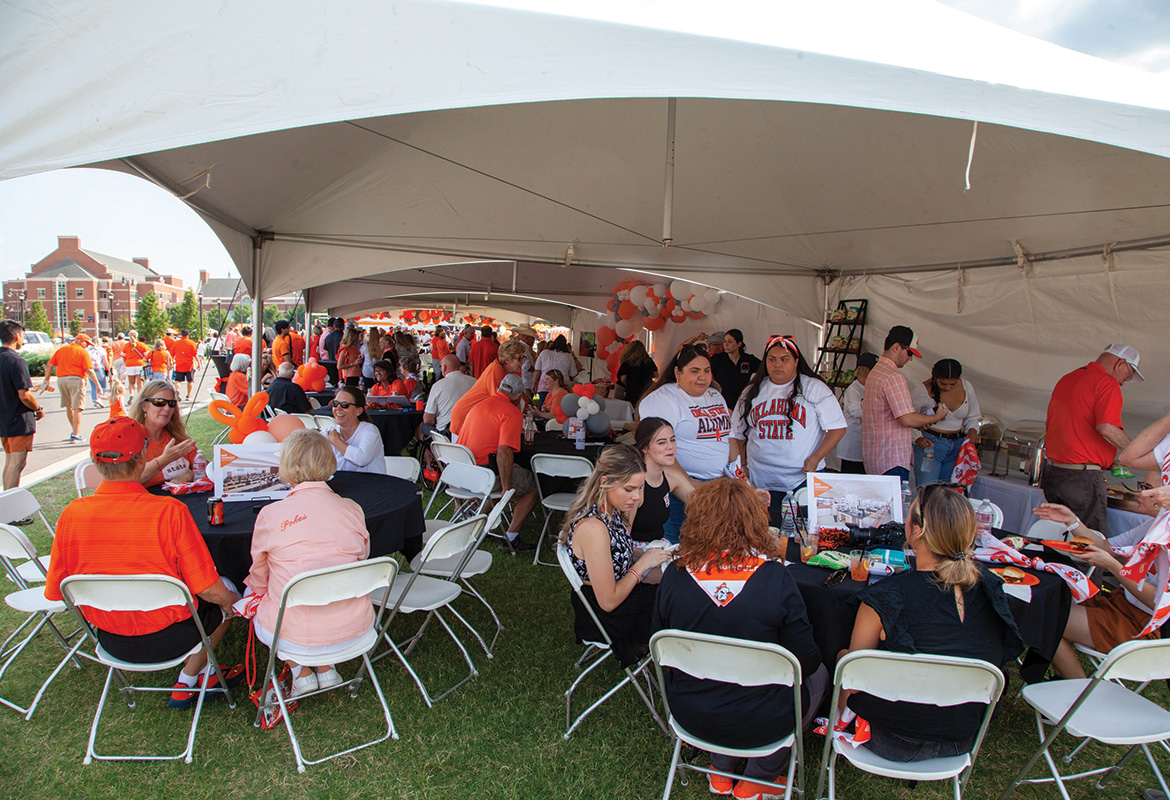 A large crowd of donors, alumni, students, faculty and staff braved the summer heat to witness the raising of the OSU Agriculture flag above the construction site. Attendees heard remarks from Dr. Shrum, Coon, Larry and Kayleen Ferguson, and OSU Foundation President Blaire Atkinson.
A couple of students shared their excitement for the new agriculture building.
Roy Grant, a senior studying agricultural business, always planned on attending a land-grant institution after growing up on a farm in Muskogee, Oklahoma. He currently works at the Agronomy Research Station in Stillwater and will be studying for his master's in plant and soil sciences when the new building is scheduled to open in 2024.
"For students like me, the state-of-the-art classrooms and labs are going to be better suited for teaching in today's world," Grant said. "I can't wait until we get to move in and use all the features of the new building."
Grant was also one of more than 300 people who stopped by the New Frontiers Tailgate and Beam Signing event on Sept. 10 before the Cowboy football game against Arizona State.
At the tailgate, friends of OSU Agriculture were able to reconnect with each other while enjoying pork sliders and Cowboy spirit. Guests were encouraged to walk over to the New Frontiers Agricultural Hall construction site, where a bright orange beam that will be used in the building was available to sign.
By game time, the beam was covered in black and silver signatures. Even Shrum stopped by to sign and visit with students and alumni.
"New Frontiers is a physical manifestation of our land-grant mission. Using our teaching, research and Extension to solve one of society's most pressing problems: food insecurity," Shrum said.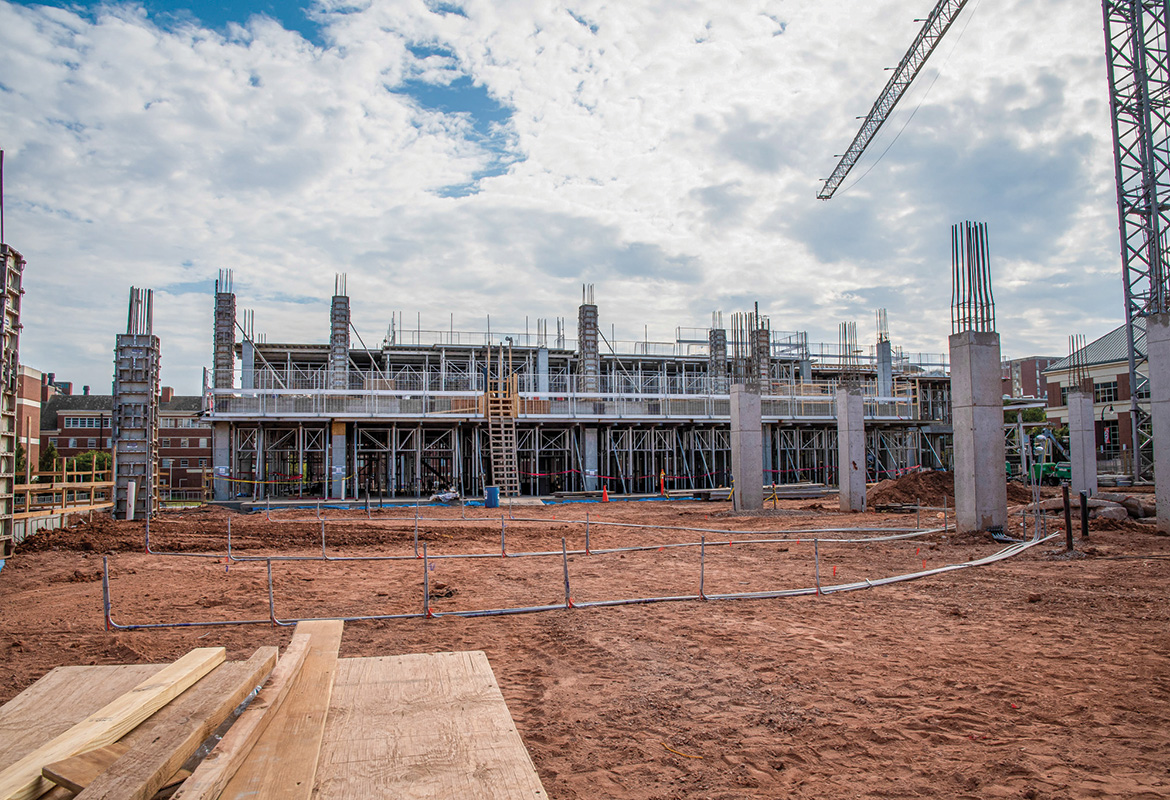 Originally a $100 million undertaking, the project received another $15.2 million in financing this year, which allowed construction to continue while protecting against future inflation.
OSU hopes to add additional features to the building such as a media wall, exterior colonnades and an artistic monolith, but those add-ons will only be possible through more donor support.
"Our work is not done," Coon said. "Although we have reached our $50 million goal, we are going to continue to raise support for features of the building that will enhance our teaching, research and Extension efforts."
To learn more about how you can make your mark on the New Frontiers campaign, visit OSUgiving.com/new-frontiers.
---
Photos By: Benton Rudd and Mandy Gross
Story By: Grant Ramirez | STATE Magazine