'Standard of Excellence': McKnight Center partnership with New York Philharmonic resonating with students
Tuesday, December 20, 2022
Media Contact: Mack Burke | Associate Director of Media Relations | 405-744-5540 | editor@okstate.edu
As Chris Seay perused the internet looking for a graduate school, he looked for a place that he felt could offer him something unique.
He came across Oklahoma State University's Greenwood School of Music and saw an article that made his decision a simple one — "The McKnight Center and New York Philharmonic Announce Multi-Year Partnership, Residency."
"Seeing that OSU used the resources and had the accessibility to basically the top echelon of performance, it doesn't get much better than the New York Philharmonic," said Seay, a native of Belmont, North Carolina, who earned his bachelor's degree at Western Carolina University. "In order to reach a standard of excellence that you are going for, you kind of have to be surrounded by it."
When the Philharmonic visited OSU in late September, Seay played in a masterclass with principal tuba Alan Baer, where Seay performed Paul Hindemith's "Symphonic Metamorphosis."
"It has been one of my favorite pieces and he is one of my favorite composers personally," Seay said. "It is also one of the excerpts that I have struggled with the most. Having that opportunity to grab the bull by the horns and have a principal player give the instruction on it, that is why I chose that one."
Those teaching moments in masterclasses are mainly for the students, but the performers also gain an incredible amount of insight from them. Rebecca Young, associate principal viola who has been in the Philharmonic since 1986, said these masterclasses help classical music reach an all-new demographic. To help in that respect, Young started filming videos on TikTok and has since seen her celebrity skyrocket.
"I got so many comments from people who said, 'This is changing how people feel about classical music.' Just to get involved. That is keeping me alive," Young said. "Because if we had to do the same thing over and over and over, I would never last.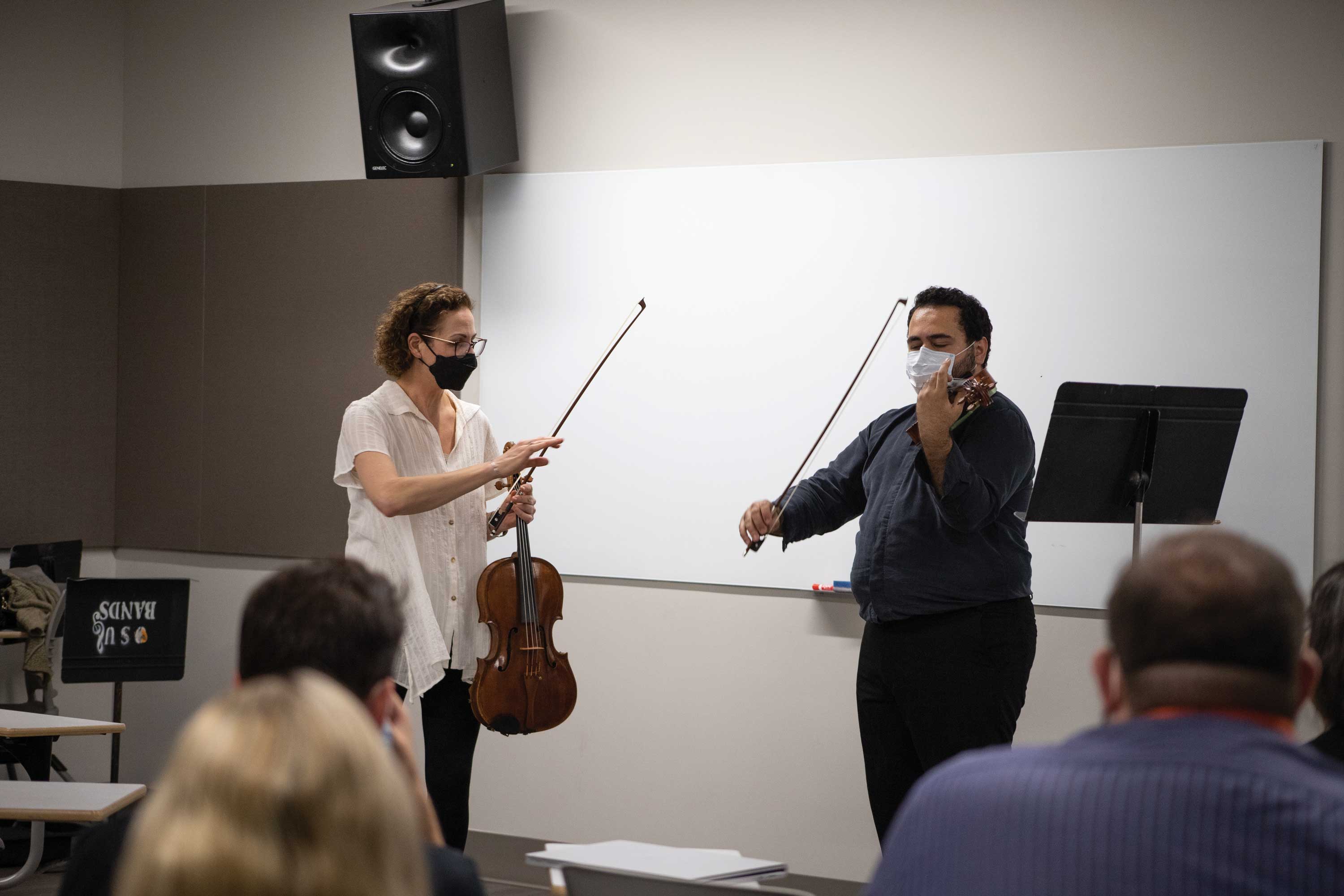 Hearing that personal insight from professional musicians is inspiring to aspiring ones such as sophomore percussionist Cheldon Gatz, who had the opportunity to perform with principal percussionist Christopher Lamb and principal timpanist Markus Rhoten.
Gatz learned how to improve his technique and personally enjoyed the constructive criticism he got from two world-class musicians. As a percussionist, Gatz plays several instruments and getting to see someone play a triangle or tambourine with the same precision as they would a snare drum was inspiring.
He particularly enjoyed hearing how each of them got to where they are now and realizing that struggles will happen in the music industry, but they persevered.
"The dream for me now is to be in the position they are in," said Gatz, a Piedmont, Oklahoma, native. "That would be a nice gig to work. It was eye-opening on what I need to do to get better to be able to achieve that spot."
Choral conducting major Amanda Barber has aspirations for the stage, as well. Her aim is to lead an orchestra, whether it be at the high school, college or professional level. Barber attended a masterclass with tenor Thomas Cooley, but she had the added experience of performing alongside the Philharmonic at The McKnight Center.
At the opening night gala, more than 100 students, alumni and community members joined the Philharmonic's performance of "Ode to Joy," which Barber said she had been practicing for a month. Seeing conductor Jaap van Zweden was a dream come true to the Fort Worth, Texas, native.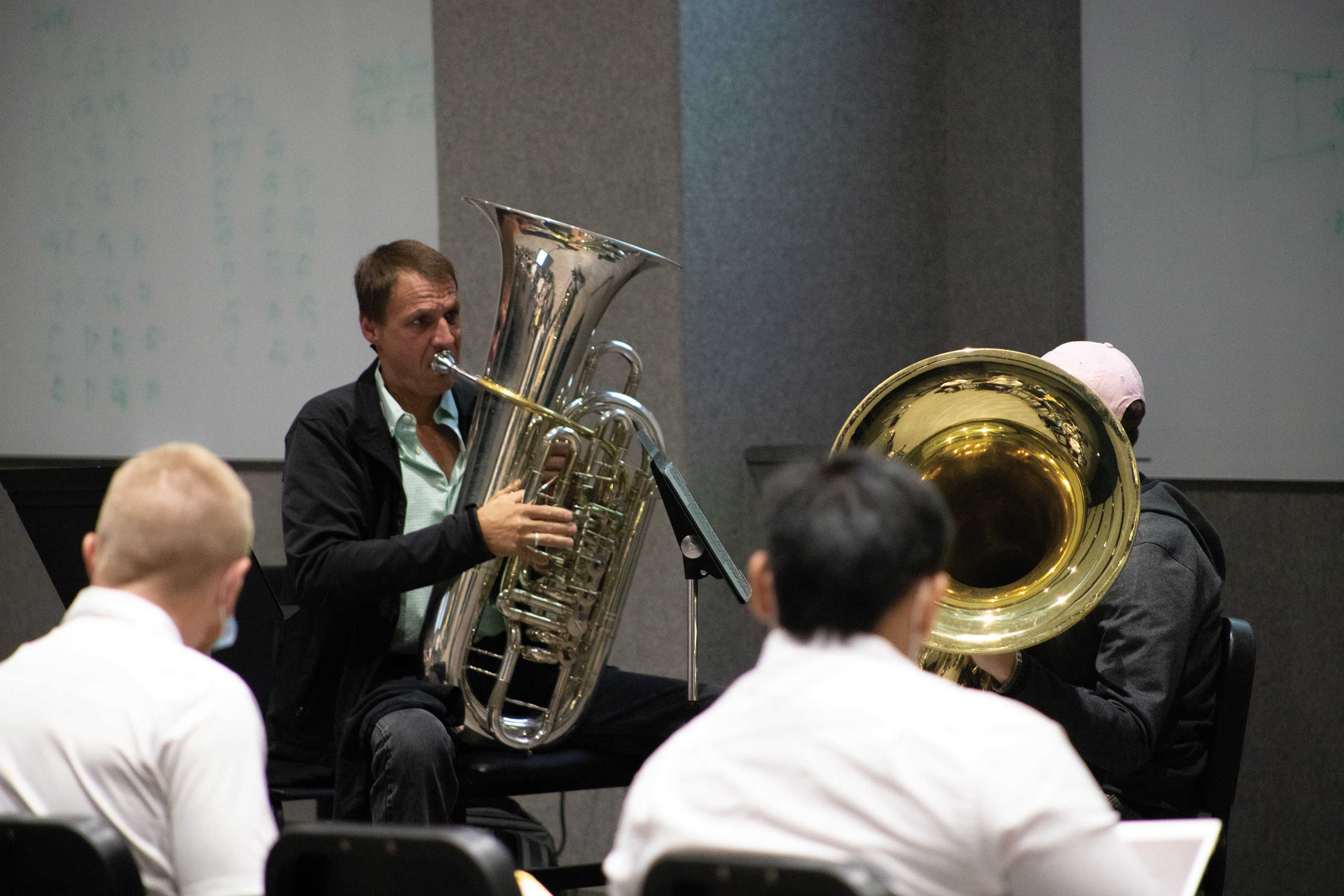 "I never would have imagined that I would get to have a front row seat to a world-renowned conductor and watch him make music," Barber said. "It was incredible to see him make these moves and he could move his hand just slightly and the ensemble would follow. … I was speechless after the performance. It was a once-in-a-lifetime opportunity that I am so incredibly grateful to have experienced."
OSU's partnership with the New York Philharmonic also includes a student trip. A select group of students will visit New York City each spring to learn from the Philharmonic in their element firsthand.
Oboist Jacie Gray attended the masterclass with associate principal Sherry Sylar, who personally helped Gray with her reed making, as well.
Gray heard about the opportunity to go to New York from a friend, who told her if they won a competition, they would be invited. They were successful, and Gray heard the news in the middle of her Japanese class.
A product of Scurry, Texas (population 681), who learned music from her parents' bluegrass band, Gray never thought she would have the opportunity to go to the Big Apple and learn from one of the world's greatest orchestras.
"The New York Phil doesn't usually leave New York, so for OSU and The McKnight Center to have given the students and community an opportunity to see such world-class musicians is something that really speaks for OSU's true character and their good intentions for everyone," Gray said. "They just care."
---
Photos by: Phil Shockley and Luis Mejia
Story by: Jordan Bishop | STATE Magazine