State of Orange: OSU celebrates inauguration of Dr. Kayse Shrum
Tuesday, December 20, 2022
Media Contact: Mack Burke | Associate Director of Media Relations | 405-744-5540 | editor@okstate.edu
At a ceremony steeped in academic tradition that dates back centuries, Dr. Kayse Shrum was looking toward the future.
Amidst the pomp and circumstance of her presidential inauguration, Shrum reflected on her first year at the helm of Oklahoma State University, all the institution has accomplished since its founding in 1890 and innovative ways it can grow and evolve in the future.
On Aug. 26, Cowboy faithful from across the state and beyond came to celebrate Shrum's inauguration as OSU's 19th president. Students, faculty, staff, alumni and state leaders gathered at Gallagher-Iba Arena to hear her vision for the future and experience the excitement of the joyous occasion.
The inauguration ceremony, which was delayed a year due to pandemic precautions, included speeches from Oklahoma Gov. Kevin Stitt, Sen. James Lankford, Rep. Frank Lucas and Chickasaw Nation Gov. Bill Anoatubby. On July 1, 2021, Dr. Shrum made history, becoming the first woman to lead a Tier 1 research institution in the state and in August, she was formally installed.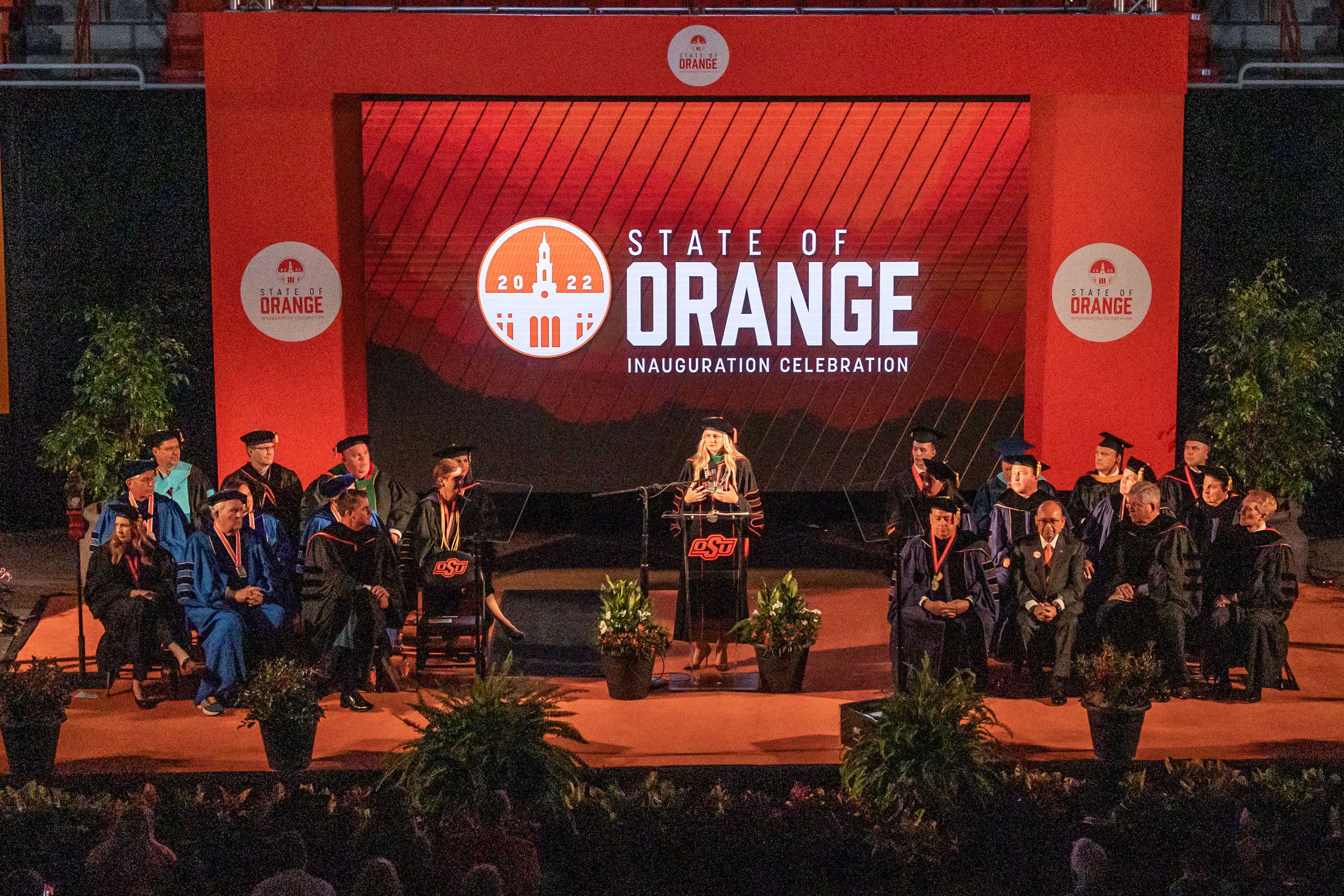 "Today is not about me," Shrum said. "It's about us, and it's about how we can take this remarkable place and leverage it to create the opportunity for the next generation of servant-leaders."
That excitement and future-facing optimism dominated the State of Orange event, which served as a ceremonial milestone in Shrum's presidency.
"Today, I invite all of you to join me in embarking on a new era of ambitious progress at Oklahoma State University," Shrum said to the crowd. "Here at OSU, we know we belong to the land.
"I invite you to join me as we go where no land-grant has ever gone before."
Since taking office, Shrum has led OSU through conference realignment, a pandemic and the strategic planning process. Shrum also has crafted bold new partnerships, paving the way for the creation of the Oklahoma Aerospace Institute for Research and Education (OAIRE), the Hamm Institute for American Energy at Oklahoma State University and the new OSU Academic Medical District in Tulsa.
Stitt emphasized her many accomplishments, both as OSU president and as president of the OSU Center for Health Sciences.
"Kayse Shrum is always the smartest person in the room, but she never acted like it. She is always more eager to listen than to speak," Stitt said. "This university is so lucky to have someone that is innovative, is a hard worker and above all else, what I love about her, she
has a get-it-done attitude. And that is Oklahoma."
Dr. Ki Cole, Faculty Council chair, thanked Shrum for her leadership and for serving as an inspiration to both students and faculty.
"When Shrum shared her story at convocation, she noted one professor's guidance that completely changed the course of her life. It is a reminder that we have the opportunity to be that person, to inspire and make a lasting impact on the students we serve," Cole said.
Riley Pritzlaff spoke on behalf of the student body, highlighting Shrum's candor and passion for supporting students.
"President Shrum has shown through action that we have a team in our administration that will make decisions with students in mind," said Pritzlaff, Student Government Association president. "Students are drawn to her energy and positive spirit. It is clear that she loves the students, and it is equally clear that we love Dr. Shrum."
Students at the ceremony echoed that sentiment.
"I just love Shrum. She's just iconic," said Anna Hemm, a sophomore majoring in accounting. "I support her in everything she does."
Mikyah Davis, a sophomore majoring in hospitality, said Shrum's leadership inspires confidence in students.
"She's a normal person who just started as an Oklahoma girl. I'm from Oklahoma. I've lived here my whole life," Davis said. "So it's just inspiring to see what she's done. Even though she's 'just a girl from Oklahoma.'"
During the inauguration, Anoatubby expressed excitement for the future of OSU and the ongoing partnership the university has with tribal nations.
"For many years, the Chickasaw Nation and Oklahoma State University have worked in partnership for the benefit of higher education in our state. This is a working relationship which we have enjoyed," he said. "We have seen the impact on countless students, faculty and staff. And now, we are excited for the future of Oklahoma State University under the capable leadership of President Shrum."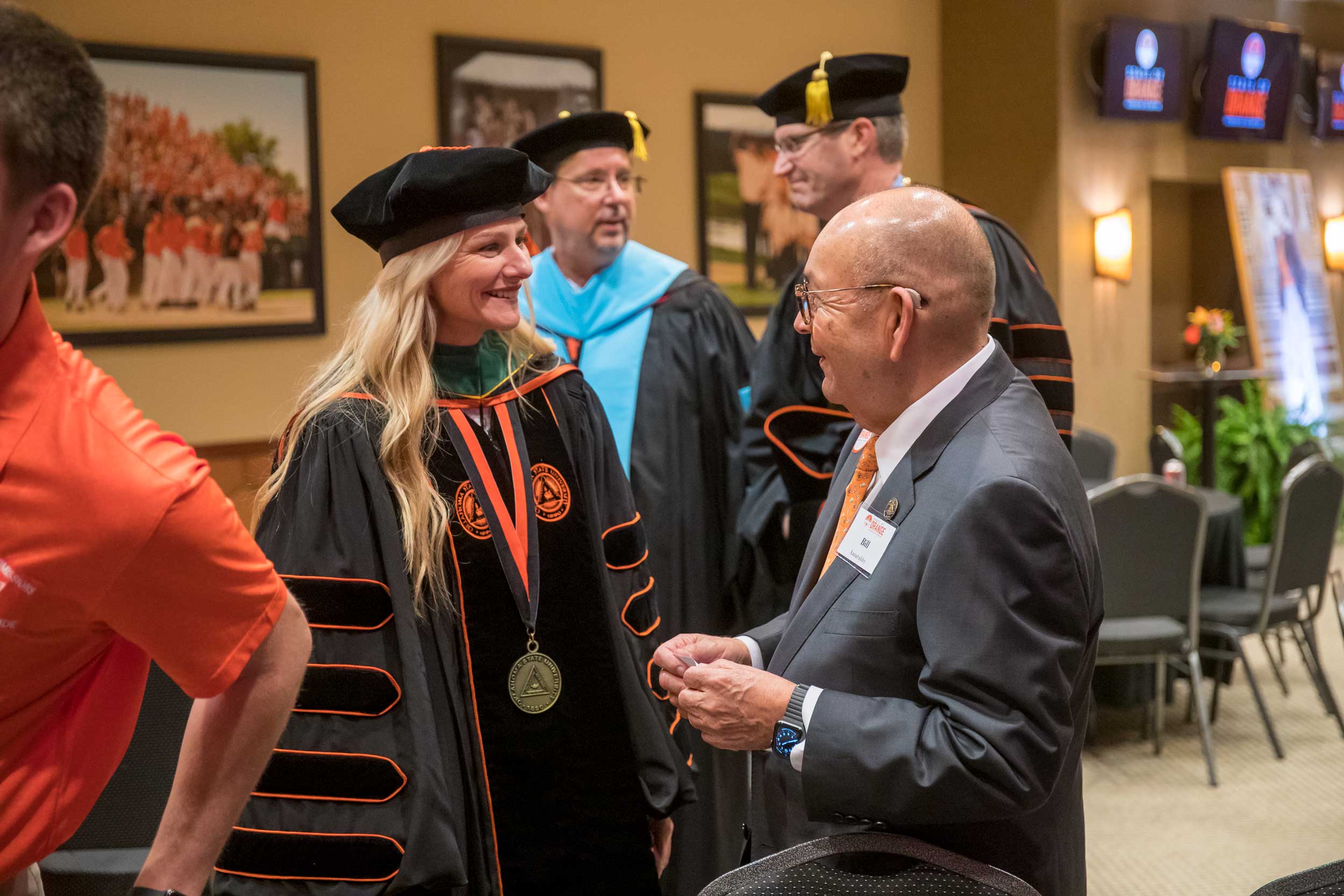 In the latter half of the 1800s, Vermont congressman Justin Smith Morrill recognized the need for a new model of higher education. President Abraham Lincoln agreed, signing the historic Land-Grant College Act of 1862, better known as the "Morrill Act," which established the land-grant university system.
"I am here today because our forebearers dared to dream what a landgrant university might do," Shrum said. "... And in the coming days, we intend to seize on that very vision to carry Lincoln's ideal forward with renewed energy and fierce commitment."
In November 2021, Shrum announced a process to guide the university to land-grant preeminence. At her inauguration, she announced that after months of listening, hundreds of hours of information gathering and diligent service from the steering committee and working groups, that the plan was nearly complete. She gave a glimpse that afternoon at GallagherIba Arena.
"We are land-grant — and that means we step into a singular tradition," she said. "Through teaching, research and Extension, we steward a timeless responsibility."
Lankford said that responsibility can aid in many areas throughout the state and nation.
"We need leaders coming out of this university that will solve a lot of issues like food insecurity across the world, the future of aerospace and health care professionals coming to places where we desperately need quality health care," Lankford said. "We need innovators in energy, we need well-equipped teachers, we need research scientists and artists, and leaders in Oklahoma hospitality … to solve some of the toughest problems we face in the world.
"As a dad of a recent Oklahoma State graduate … to know that there was another role model that was here that was pushing and asking someone to dream, is a great gift to my family and families across the state."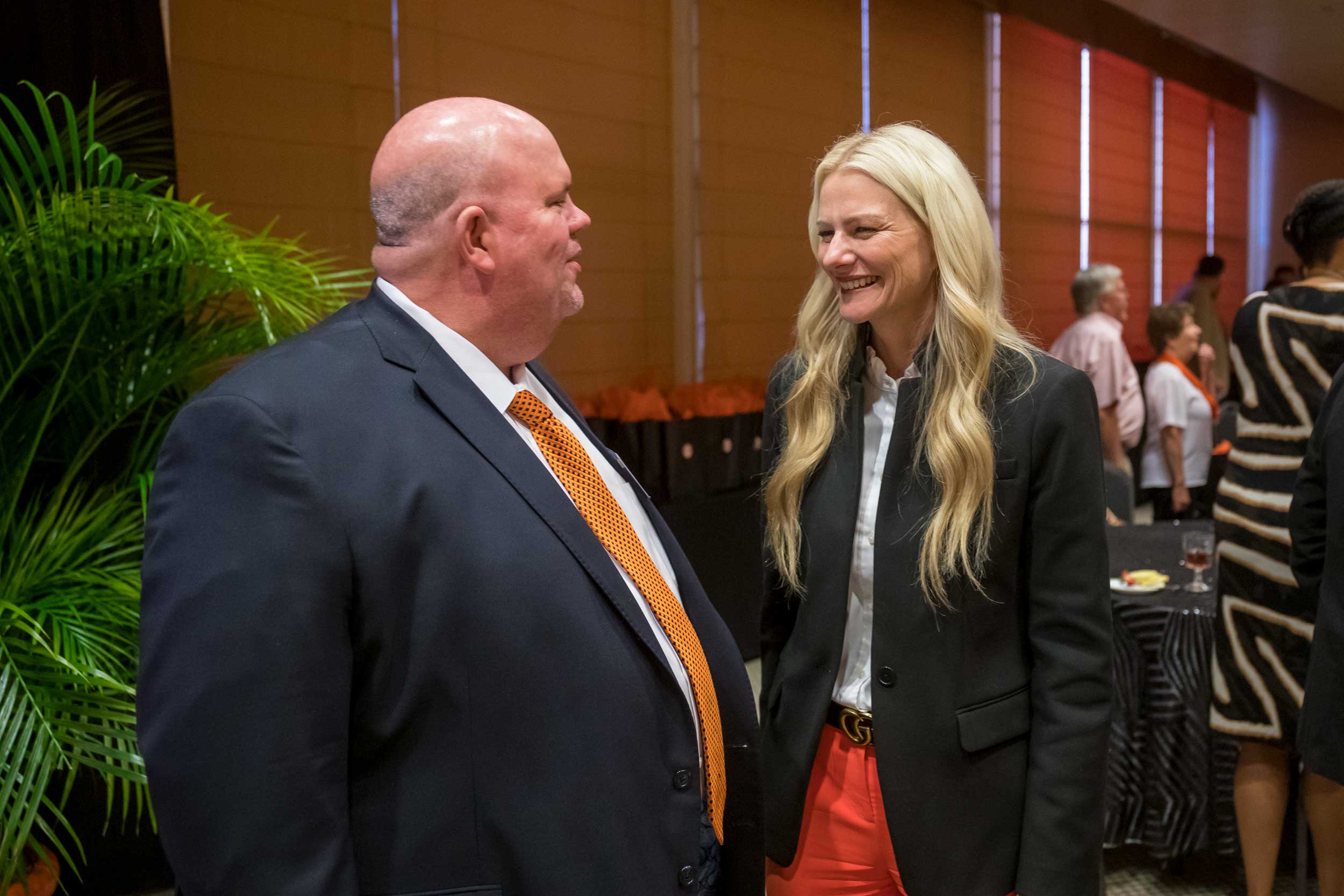 Lucas said he is looking forward to what will emerge from OSU during Shrum's tenure.
"Madam President, I can't imagine anyone else sitting in your shoes right now," Lucas said. "But I will pledge to you — and I think pledge on behalf of the federal delegation — we will do what is necessary to help you and all of our Oklahomans."
Shrum said land-grant universities have persevered through challenges throughout their history, and now it is OSU's time to become the nation's preeminent land-grant institution. While Shrum is undoubtedly visionary and aspirational, she remains humble, and was quick to share her gratitude with the inauguration crowd.
"It is the privilege of a lifetime to serve as your president," Shrum said.
---
Photos By: Phil Shockley and Gary Lawson
Story By: Harrison Hill | STATE Magazine