2023 Women for OSU Symposium recognizes leaders in philanthropy
Tuesday, September 5, 2023
Media Contact: Mack Burke | Associate Director of Media Relations | 405-744-5540 | editor@okstate.edu
With more than 640 in attendance, the 2023 Women for OSU Symposium's recordbreaking crowd celebrated the power of women in philanthropy and another significant milestone — the program's 15th anniversary.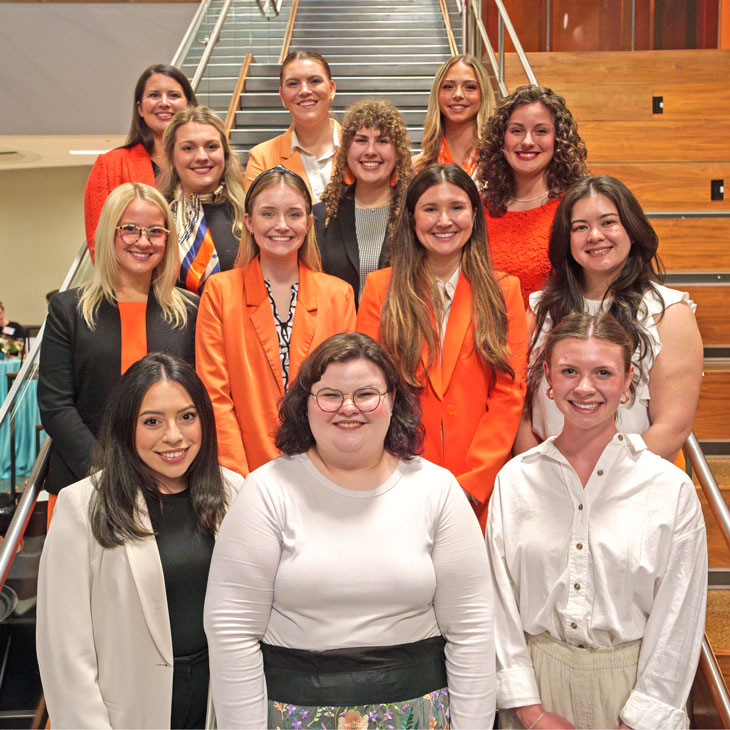 Since 2008, Women for OSU's success has been a culmination of giving and service from its council and within the Cowboy family. It is a diverse group of women who share a passion for inspiring leadership and financial support to the university.
On April 27, Women for OSU recognized Carol Morsani as Philanthropist of the Year. Alongside her husband, Frank, Morsani has committed more than $28 million to OSU. Their collective desire to make an impact at the university earned them honorary doctorates and the Henry G. Bennett Award for Distinguished Service, OSU's highest humanitarian honor.
"Carol represents 'loyal and true,'" OSU President Kayse Shrum said. "Throughout her lifetime, Carol has stayed connected to the university. She has this infectious, positive attitude, and she lights up when you talk about Oklahoma State University. She truly is an ambassador and very worthy of being Philanthropist of the Year."
Fittingly, Women for OSU honored 15 outstanding student scholars — undergraduate and doctoral — studying various disciplines such as education, medicine, agriculture and science.
The council awarded the inaugural recipients the Student Philanthropists of the Year Award.
This distinction recognizes OSU students who are highly engaged in philanthropic efforts and demonstrate inspiring leadership. The 2023 recipients were senior Jentry Lemons from Ardmore, Oklahoma, who is studying physiology and pre-medicine; and Del City, Oklahoma, native Liza-Ann Suba, who is pursuing a doctorate of osteopathic medicine.
The event honored the impact of influential and unprecedented female leadership at the university.
Four of OSU's most prominent executives and honorary Women for OSU council members were in attendance: Dr. Shrum, OSU Provost Jeanette Mendez, OSU Foundation President Blaire Atkinson and OSU Alumni Association President Ann Caine.
Since its inception, Women for OSU has awarded more than $558,000 in scholarships to 127 students. When speaking to the audience, Atkinson recognized the historical impact female-driven philanthropy has on society.
"As we see in the leadership of Women for OSU, the role of women in philanthropy is more important than ever," Atkinson said. "In the last decade, we've seen an increase in women in leadership positions in both the private and public sectors. Women are key decision makers in business and at home. With such growth and possibilities for women, philanthropic initiatives led by females — such as Women for OSU — have the potential to grow and impact our communities like never before."
For the third year, Women for OSU recognized Partnering to Impact grant recipients. Partnering to Impact's mission is to support unbudgeted projects across OSU that benefit health and wellness, education, campus beautification or arts and culture. The program has experienced incredible growth due to the increase in Partners — those who give a minimum of $1,000 annually to the Partnering to Impact Fund or $500 annually for those who are younger than 35. This year, the program funded five additional projects, making a total of 15 recipients since it began in 2021.
One of those recipients is the OSU Student Farm. Dr. Justin Quetone Moss, instructor and head of the OSU Department of Horticulture and Landscape Architecture, said the grant will expand the Student Farm's mission to grow and supply food to the community through Our Daily Bread Resource Center while providing OSU students with hands-on learning.
"We're going to use the funds to help us build a produce washing and sanitation facility," Moss said. "We're ready to produce and to harvest, and we're ready to get the food to the people who need it."
OSU Institute of Technology's Growing DivHERsity is another 2023 Partnering to Impact grant recipient. Taler Adney, OSUIT instructor, said the grant will provide the necessary funds to recruit and retain female students in an effort to increase women represented in the IT industry.
"The funds will continue to build on other scholarships that industries are already providing female and minority students by alleviating their debt to the institution, and helping them be more successful through this program," Adney said. "I am very appreciative and thankful to Women for OSU for offering this grant and for being the foundation that they are. This opportunity allowed me to create this program for female students."
Women for OSU Director Jayme Ferrell said Partnering to Impact addresses significant campus and community needs that make a difference in the lives of students, faculty and programs.
"Partnering to Impact continues to advance OSU in several important areas," Ferrell said. "It provides the funding to support current OSU initiatives and new ones that will improve the student experience, our campuses and communities. It's truly incredible work and we are thankful for our Partners who make it possible."
Philanthropist of the Year
Carol Morsani has always wanted to do what she could for those in need.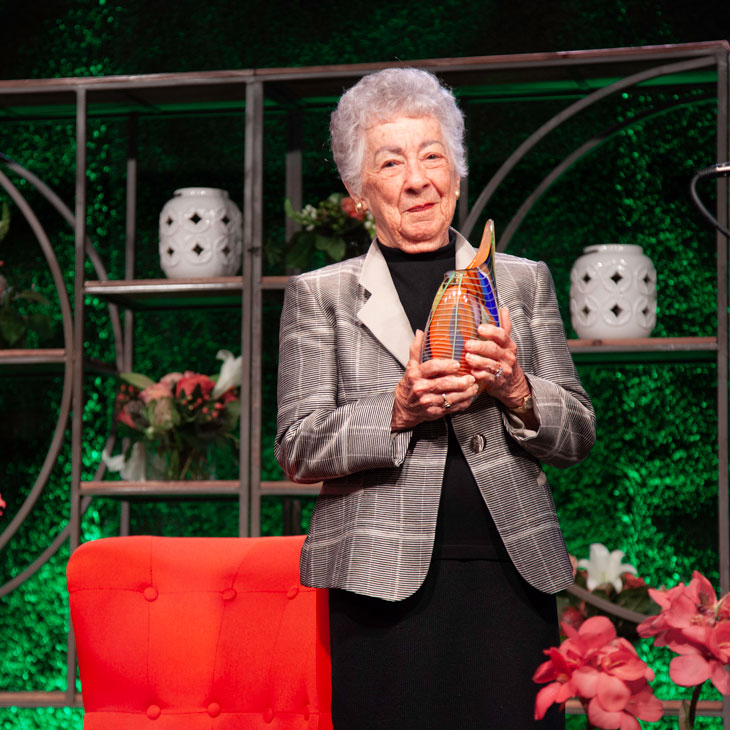 Born during the Great Depression, she was exposed to struggles at a young age. While her father was able to hold a steady job, many others were not as lucky. A Tulsa native, Morsani remembers men going up and down the street looking for work, accepting a few pennies for whatever job they could find.
"My home was stable, but there were so many people out of work, in bread lines," Morsani said. "Growing up during that time and seeing all that certainly influenced my desire to give back."
Morsani didn't have the money to give at the time, but she looked for the little ways she could help out in her community, like being a role model as a Girl Scout leader and decorating her local children's library with artwork. Since making those small gestures as a child, Morsani has impacted countless lives across the country through her philanthropy.
"Over the course of my career in higher education, I have not known or met another individual who embodies the ideals of Women for OSU like Carol," said Dr. Jon Pedersen, dean of Oklahoma State University's College of Education and Human Sciences.
OSU President Kayse Shrum said Morsani's philanthropic spirit is an inspiration to others.
"What we really want in our Oklahoma State family is someone who is dedicated to serving others in any capacity they can, and to me that's something I hope others can see in Carol. She serves as a great example," Shrum said.
Alongside her husband, Frank, the Morsanis have committed more than $28 million to OSU, including more than $10 million to The McKnight Center for the Performing Arts. In 2007, the Morsanis announced a $5 million gift to the College of Education that established the Frank and Carol Morsani Center for Ethics and Creative Leadership on the Stillwater campus. They've also funded numerous chairs, professorships and scholarships, with many of them focused on education and leadership.
The couple's commitment to making a difference at OSU earned them honorary doctorates from the university as well as the Henry G. Bennett Award for Distinguished Service, OSU's highest humanitarian honor.
"The Women for OSU Philanthropist of the Year award recognizes women who have played a significant role in supporting their communities and Oklahoma State University — Carol Morsani is the epitome of that role," said former OSU President Burns Hargis and his wife and 2022 Philanthropist of the Year, Ann.
"Carol and her husband, Frank, exemplify the Oklahoma spirit and the American dream more than any other individuals I've ever met," said former OSU-Tulsa President Pamela Fry. "They share qualities and values that reflect genuine success comes from hard work, honesty, humility and that a person should always help others and maintain a spirit of hope and optimism even during those challenging times."
The Morsanis' philanthropy isn't limited to Oklahoma. They are incredibly involved in their community in Tampa, Florida, and at the University of South Florida, where they also were awarded with an honorary doctorate. Recently, they gave a historic gift to name the Morsani Honors College at the University of Tampa.
"Women are taking over the world, and we need to know how to do it. My hope is that these organizations are teaching women that sort of information and giving them these opportunities."
— Carol Morsani
In the region, a large focus of theirs has been on health. The Morsanis donated a molecular lab and family patient room at the Moffitt Cancer Center, where they also serve as board members.
On the USF campus, they helped found the Morsani College of Medicine as well as the Carol and Frank Morsani Center for Advanced Healthcare. Morsani said the clinic is one of her proudest gifts.
"We are very eager to assist the medical field," Morsani said. "And in Florida, we have the largest elderly population, so we need innovative medicine and research. We really want to invest in that sort of thing."
Carol and Frank live by the mantra of "learning, earning and returning." Giving back is a priority, and they want to leave their communities better than they found them.
Morsani's involvement with Women for OSU inspired her to help start a similar program at USF, Women in Leadership and Philanthropy.
Both programs have a similar mission: to bring women together to make a difference at their universities and in their communities.
"Women are taking over the world, and we need to know how to do it," Morsani said. "My hope is that these organizations are teaching women that sort of information and giving them these opportunities."
Hope and healing after tragedy
Abduction survivor, author and activist Elizabeth Smart served as the keynote speaker for the Women for OSU Symposium. Smart is the founder of the Elizabeth Smart Foundation and is a vocal advocate for change related to child abduction and sexual violence.
At 14, Smart was abducted from her home in Salt Lake City in the middle of the night. After nine grueling months of abuse from her captors, the police found Smart and she was reunited with her family. Smart's work focuses on overcoming trauma, finding peace with the past and embracing the future. Smart's inspirational message is of hope and healing. She believes each person has a story to share.
"Because we all experience different things, that means we all have something unique to offer that nobody else can offer," she said. "You have the ability to reach people that maybe no one else has the ability to reach because of your story and what you have been through."
Smart detailed her story of survival while she advocated for change and prevention related to child abduction and sexual violence. As painful as her story is, Smart is determined to use it to instill hope in others' healing.
"We do not have control over what happens to us. It's easy to feel like 'it's so unfair' or 'this has ruined my life' and 'I didn't deserve that,'" she said. "And you're absolutely right. You probably didn't deserve it. No matter what someone has done to you, nobody can take away your value or your worth."
Smart encouraged the audience to reclaim their voice. She noted everyone has the power to control their life's trajectory after tragedy.
"You define who you are," Smart said. "We do that through our decisions. We can all get to a point in our lives where we can acknowledge that we are works in progress. But, when you look at yourself in the mirror in the morning you can say, 'I am really proud of who I am. I am really proud of what I achieved. I am really proud of myself that I didn't' give up.' This is something to be cherished."
The event also included the announcement of the 2024 Women for OSU Symposium keynote speaker — Deborah Norville. Norville is a television journalist and a two-time Emmy Award winner and a "The New York Times" bestselling author. She is the host of the nation's top-rated syndicated news magazine, Inside Edition.
---
Photos by: OSU Foundation
Story by: Samantha Hardy and Grant Ramirez | STATE Magazine