OSU alumnus's company named 2023 American Indian Business of the Year
Tuesday, September 5, 2023
Media Contact: Mack Burke | Associate Director of Media Relations | 405-744-5540 | editor@okstate.edu
Chad Johnson came to Stillwater to play football but ultimately found the path toward his future.
Now president of Akana Group, Johnson remembers Oklahoma State University as the place where he found his love for international business.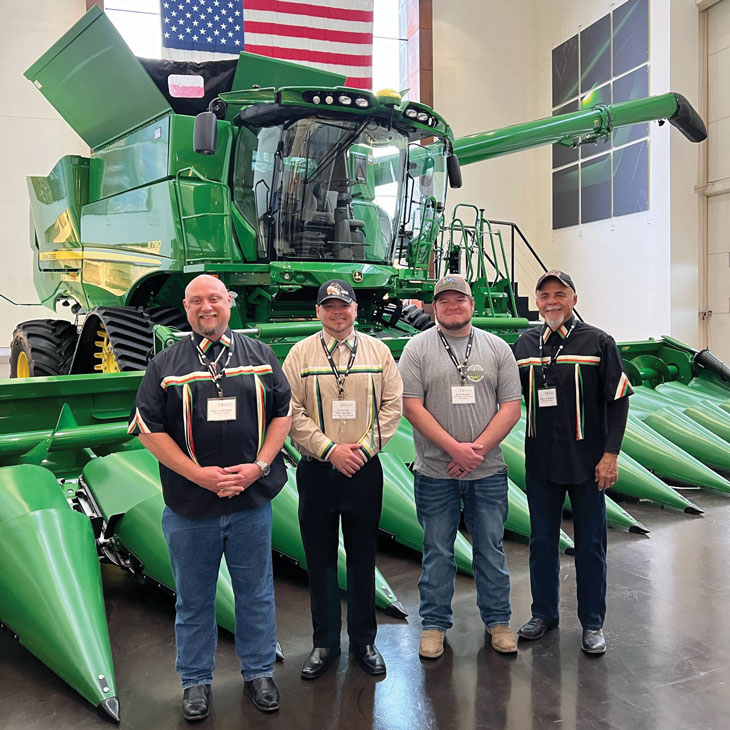 Johnson's family moved every few years because of his father's career with the United States Department of Agriculture. After moving up and down the I-35 corridor, throughout South Dakota, Kansas, Texas and Oklahoma, Johnon returned to his father's home state after high school graduation to pursue his bachelor's degree at OSU.
Johnson was a defensive lineman on the Cowboy football team and studied political science with a focus in international relations. He said the athletic department had to hire tutors specifically to help him with Japanese because the courses were so new at the time.
"Being in Stillwater provided me with this insatiable curiosity," Johnson said. "A curiosity for knowledge, but I learned the languages because I didn't know them and that bothered me."
Johnson now speaks five languages: Choctaw, English, Japanese, Mandarin and Vietnamese. He discovered a passion for international business on a study abroad trip to Vietnam.
"Back when Vietnam first gained our most favored nation status, there was a group of Oklahomans that went over there on some type of trade mission," Johnson said. "Oklahoma State was involved because a lot of it involved agriculture. I got to go along. I think that's really where I got into my languages and got into the business of international trade."
Johnson graduated from OSU in 2004 and quickly became involved with business.
In 2013, he started the Akana Group, which is a Native American-owned business focused on building strategic partnerships with the federal government. The group is an equipment provider specializing in agriculture construction, forestry, seasonal maintenance and commercial cleaning equipment.
"Akana means ally in Choctaw," Johnson said. "Out of the 574 tribal nations in the United States, we work with a little over 300 of them. We provide the original land stewards equipment service and support to farmers, ranchers and producers."
The Akana Group is made up of seven separate entities. Akana Equipment developed quickly after Johnson and his team made their first deal with John Deere. Today, Akana Equipment is the largest Native-owned equipment provider in North America and the only fully Native-owned provider partnered with John Deere.
Recently, Johnson and his team started trading with foreign nations like Australia. His team traveled to Australia and started making deals on equipment. Akana has now incorporated in Australia, becoming the first Native American company to do so.
"We really see a great value of cultural connection and connecting Indigenous people globally," said Benson Saulo, Australian consulgeneral and senior trade and investment commissioner. "There is amazing opportunity in Australia to be able to partner and collaborate with Indigenous communities and indigenous enterprises. The Akana Group is the first Native American owned enterprise established in Australia and we see it as a huge opportunity to grow that relationship but also open doors for other partnerships in the future."
After 10 years of building Akana into the business it is today, the company was recognized as the 2023 American Indian Business of the Year.
Despite their remarkable success, Johnson still defines Akana as a small business and credits his talented team for all their accomplishments. He loves to say his job is to just get out of the way and let his people do what they do best.
"It was really my team's award. I learned very quickly that you don't know what you don't know," Johnson said. "My job is to empower the people around me to make decisions and do what they do best. They are the ones who lift the brand and sell the brand."
As an OSU alumnus, Johnson encourages students to be curious and look outside of their comfort zone. With just a little bit of curiosity, students can have the ability to see the world and connect with people anywhere.
"Just because you're graduating, doesn't mean your education stops," Johnson said. "Wisdom is taught in many different venues, and you'll have a lot of different teachers over your lifetime."
---
Photos by: Courtsey of Chad Johnson
Story by: Jillian Remington | STATE Magazine