Success Unleashed: Veterinary medicine alumni share the impact of their OSU degrees
Tuesday, September 5, 2023
Media Contact: Mack Burke | Associate Director of Media Relations | 405-744-5540 | editor@okstate.edu
While a veterinarian's focus may be on animals, their impact goes far beyond our four-legged friends.
Since Oklahoma State University's College of Veterinary Medicine was founded in 1948, more than 2,300 individuals have graduated from the program and gone on to personify our land-grant mission of teaching, research and Extension, highlighting the critical need for a vital veterinary medicine program in Oklahoma.
For Drs. Jeremy Cramer and Rebekah Hartfield, the training they received from OSU paved the way for careers of service and success.
Adopting a Passion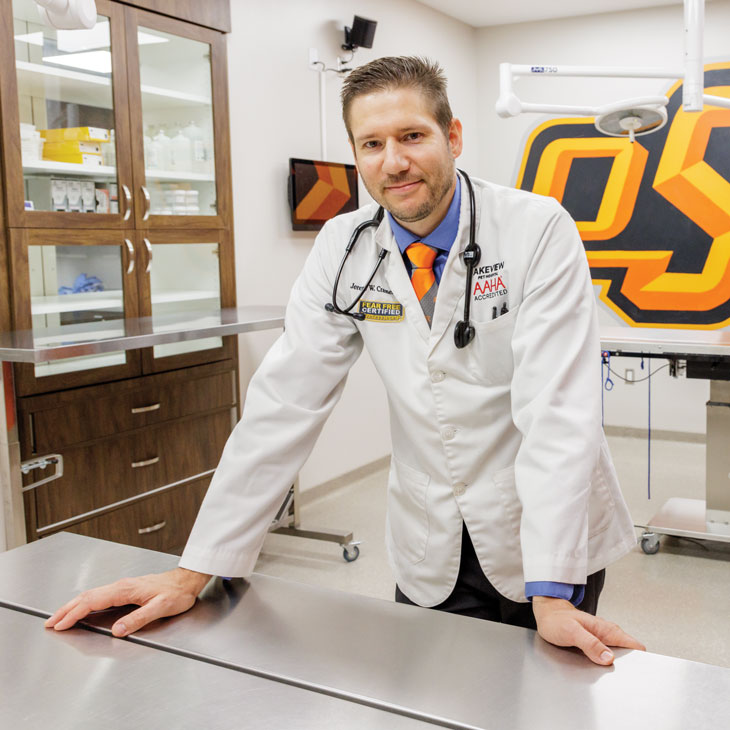 Cramer, a small animal veterinarian in Oklahoma City, grew up on a small ranch in southeastern Colorado. He came from a rural area where there was only one veterinarian in the entire county. For many rural areas, that remains the case.
"I actually wanted to be a professional wrestler," Cramer said. "I did everything Hulk Hogan said I needed to do to succeed, but clearly, I just didn't end up with the body for wrestling. So, I had to give up that dream. A little bizarre but I don't have the story where I had a sick pet as a little kid and wanted to fix it. I was in high school and about to go into college when I started to realize my goal."
Born and raised in Texas, Hartfield always knew she had a love for horses and life on her grandparents' cattle ranch. She never thought she would work toward a veterinarian career in Oklahoma, but after working in a veterinary clinic in Texas, she decided to pursue a degree in veterinary medicine.
Hartfield applied to OSU CVM. After receiving her acceptance, she decided to stay in Oklahoma.
On campus, each veterinarian experienced their own hardships and trials while completing their degrees. And they have all taken different paths after graduation.
On Call
After graduation, Hartfield took up a position as a veterinarian in Cushing, Oklahoma, alongside Dr. Brian McNeil. After two years, an opportunity to purchase a clinic in Holdenville, Oklahoma, came up, and Hartfield took it.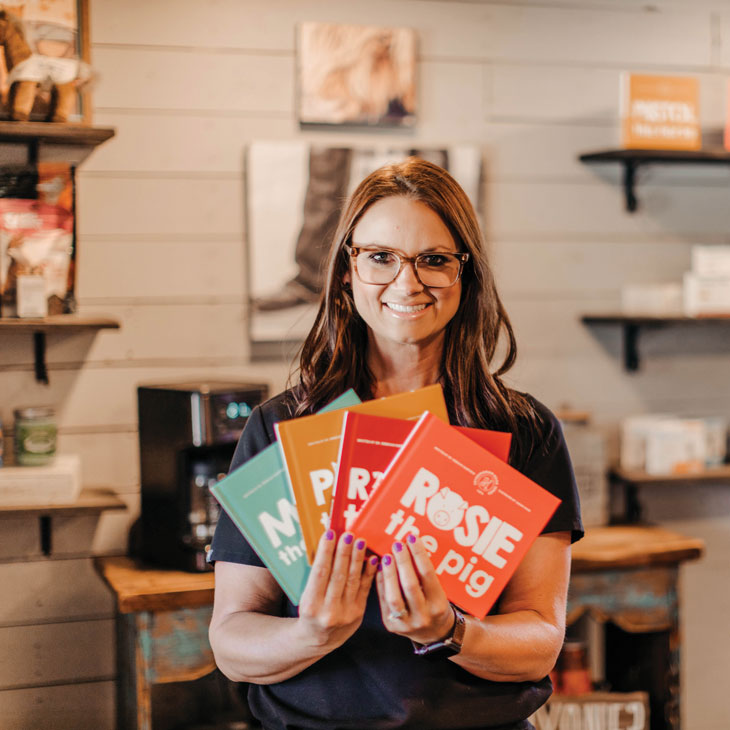 "I see a mix of small and large animals," Hartfield said. "During breeding season, I see a lot of horses. I do enjoy working on cattle, and I have quite a few large animal clients. But I am the only vet in the county, so I see a variety."
Hartfield spends her spare time working with the animal shelter in Holdenville and writing children's books geared toward teaching the importance of veterinary medicine. She wrote her first book, "Rosie the Pig," while attending OSU, which is also where Hartfield treated the pig for pneumonia. She has since written three more books — "Pistol the Horse," "Maud the Cow" and "Rowdy the Dog."
"My fourth year of vet school is when I decided I wanted to do something else," Hartfield said. "Other than being a veterinarian, I kept asking myself what else I could do to help encourage kids to want to go into this field. So, that's when I got with my sister and decided to write a book."
Nestled in the northwest corner of Oklahoma City, Lakeview Animal Hospital provides a safe, fear-free environment for small animals under Cramer's leadership. He has prioritized the experience animals have while visiting his clinic.
"We are one of three practices in Oklahoma City accredited by the American Animal Hospital Association," Cramer said. "We are the only hospital in Oklahoma that is both Fear Free Certified and AAHA accredited. We work hard to recognize fear, anxiety and stress in animals, and in recognizing those, we try to find ways to minimize them."
Cramer also heavily prioritizes their involvement with Oklahoma City and surrounding communities. He said if he was not connected with the community, he wouldn't relate to the people. He loves the aspect of medicine, but also the importance of relationships.
"A few Christmases ago, our medical director saw a post from clients of ours online about their little boy who had a stuffed monkey," Cramer said. "He loved this monkey, but their dog got ahold of it. She told them we're not a seamstress, but we're surgeons and we would love to take a crack at putting your monkey back together. Long story short, we fixed the monkey with the little boy watching — gowned him up and everything.
"It was a cool thing for our team and for that family."
Paying It Forward
Another important trait many CVM alumni share is a desire to give back to the university and support future Cowboy family veterinarians.
Cramer and Hartfield each host current CVM students in their clinics during preceptorships.
Cramer works every day inside an operating room fully decorated in America's Brightest Orange. Outside of his unique facility, he enjoys staying connected with OSU by serving on the selection committee that interviews potential students for the veterinarian program.
"I feel a duty to select the best students coming into OSU because they're going into our profession going forward," Cramer said. "That has been a great volunteer opportunity for me, and I've done it for about four consecutive years."
"I think OSU really is a big family. I feel now more than ever, any time I go back, professors and clinicians are asking about me and my life. I always feel so welcome when I go back."
— Dr. Rebekah Hartfield
In addition to her mentoring current CVM students, Hartfield has served all of Oklahoma as one of four veterinarians on the Oklahoma Veterinarian Board, which serves as a voice for the public to help with licensing veterinarians and client concerns.
Both veterinarians say they continue to give back to OSU because they have each been individually impacted by the university.
"I think OSU really is a big family," Hartfield said. "I feel now more than ever, any time I go back, professors and clinicians are asking about me and my life. I always feel so welcome when I go back."
---
Photos by: Gary Lawson and Taryn Larae
Story by: Jillian Remington | STATE Magazine