Educating Students to Lead4Success: Program focuses on the four fundamental skills of leadership
Thursday, April 27, 2023
Media Contact: Mack Burke | Associate Director of Media Relations | 405-744-5540 | editor@okstate.edu
The Hargis Leadership Institute's Lead4Success program is transforming leadership development at Oklahoma State University, and it's at no cost to students.
Lead4Success is a 16-hour weekend training that features hands-on, real-world application of the four fundamental skills of leadership: self-awareness, leadership agility, influence and communication. OSU is the only university in the country to partner with the internationally recognized Center for Creative Leadership to offer the program, and all accepted students receive a $300 full scholarship through the Hargis Leadership Institute.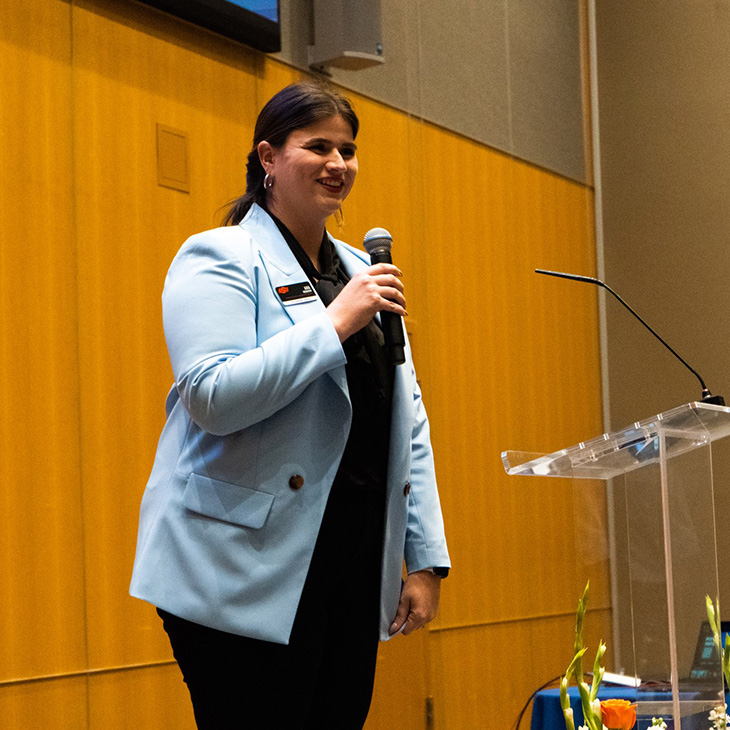 OSU's Lead4Success pilot program launched in spring 2022 with one cohort of 24 students. Since then, it has expanded each semester. Josh Taylor, director of the Hargis Leadership Institute, said that if the funding is available, their goal is to double their enrollment next academic year.
When students apply to Lead4Success, they are asked to identify a real and current leadership challenge. During the training weekend, students use the program's framework to navigate their leadership roadblock.
OSU junior Andre Abit, a biochemistry and molecular biology major, attended the training in the fall.
He said the experience struck the right balance between education and application.
"The weekend was aimed to teach us about ourselves and how to improve, but there was a unique aspect that everyone had their own mission," he said. "We could pick and choose what we wanted to utilize in order to meet our own specific goals."
Taylor said using current, relevant issues have long-term benefits.
"The program is rooted in a real experience and gives students an opportunity to practice the things we are teaching. It anchors all the learning," he said.
Lead4Success training weekends start on a Friday evening with dinner and networking with key university leaders and alumni and conclude with a distinguished alumni speaker. In the past, students have heard from Joe Eastin, CEO of ISN, and Piyush Patel, an entrepreneur and bestselling author. On Saturday and Sunday, students take a deep dive into the program's curriculum.
"We don't see leadership as titles and positions, but rather as influence and decisions."
— Josh Taylor, director of Hargis Leadership Institute
The institute is committed to growing Lead4Success because it is a life-changing experience, Taylor said.
"It can absolutely change the trajectory for a student," Taylor said. "It's going to increase the students' influence and it gives the students not only the skills, but the confidence to step into leadership opportunities."
The institute reduces Lead4Success' operating costs by licensing a small number of the program's graduates to be facilitators, who are selected after an application and interview process. As Lead4Success grows, the in-house facilitators will lead the cohorts. It costs $1,500 to train one facilitator, but all training expenses are covered by the institute's scholarships Taylor and Ana Morrow, coordinator of leadership programs at the Hargis Leadership Institute, said their long-term goal is to host Lead4Success cohorts across OSU campuses after securing more funding.
"We want to eventually be able to have cohorts running in each of the academic colleges," she said. "The curriculum is all the same, but we could cater conversations and the focus group conversations and our debrief work to be congruent with their respective majors and colleges."
Taylor said Lead4Success is a natural fit within the institute because its outcomes align with its definition of leadership.
"We don't see leadership as titles and positions, but rather as influence and decisions," Taylor said. "It's not that we're waiting for someone with a title to say, 'This is what we need to do,' but instead it's a shared responsibility that says, 'As you step in and take initiative, you create positive change and momentum.'"
Morrow believes students who complete the program will feel empowered because it fosters leadership self-efficacy.
"The program is a commitment, but the training and education they are receiving is very impactful," she said.
Abit said the personalized feedback around the four fundamentals of leadership was the most valuable aspect of the experience.
"It was eye-opening how, if given constructive feedback in the proper tone at the right time, it can be very useful," he said.
The program's graduates earn a certificate, and the experience is part of their professional resume and digital portfolio.
"The student facilitators have a license from the Center for Creative Leadership and The Hargis Leadership Institute so they can facilitate Lead4Success as a trained professional," Taylor said. "At that point, they are professional leadership educators."
Taylor and Morrow see a bright future for Lead4Success at OSU. With more funding and scholarships, they are confident the program will not only enhance the OSU student experience, but equip them with the professional training and skills to be successful leaders after graduation.
---
Photos By: Nathan Slater
Story By: Samantha Hardy | STATE Magazine